CRISIS is the on-line magazine of Tony Jasper. Enquiries should be made to a.jasper1@virinmedia. com. Articles are welcomed and should be sent by email. At this moment there is no monetary reward.
CRISIS is aimed to appear every month, but there may be qualification to that. Space is willingly given free to any charity but vrification must be given.
FIGHTING FOR HEARTS AND SOULS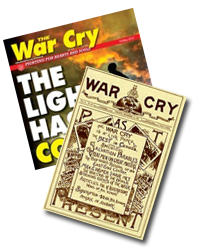 It may have been there since creation – I mean The War Cry, the publication of the Salvation Army. Well, obviously, not, but it's been a round for a long time. 
Once it appeared in newspaper form rather than magazine, and I think I vote for the former, but then I'm a lover of newspaper print. However, the point behind all this is to commend the publication. Its content is wide and varied, and it avoids those simplifications that often best religious based works. There is no obvious in 'yer face' text, but that is not to say that ethical and moral questions are absent, let alone some kind of Gospel call.  Take this past May issue – it runs from sculpture to film, to the emotional draining of learning to drive a car, to telling about a Job Centre, a double page spread on comedy writer Paul Kerensa (who it seems is a strong Christian believer), another double spread by editor Nigel Bovey on questions of God's existence, and in the 'Comment' column focus on what the Archbishop of Canterbury has been saying about the financial crisis in Britain. Here, the editor cannot resist reminding that it was Jesus who said you cannot serve God and mammon, and that the love of money is the root of all evil.
Little army tit-bits find their way, including the information that the Army's New Testament Bible Challenge is seeing people reading five chapters a week, over the course of a year. Each day comes with a reading plan and discussion notes.
At 20p The War Cry joins the 'I' daily newspaper as extremely good value. Good on the Army – still alive!
BOOKS
Recommended books of the moment:
1 A Hungry Man In A  Greedy World. Jay Rayner (William Collins)
2  Thinking Fast and Slow – Daniel Kahneman (Penguin) If you haven't yet caught up with this gem.
3  The Last Testament– Don Cupitt (SCM)
4  The Recovery of Love – Naomi Starkey (BRF)
5  Aquinas on the Web –Jana Marguerite Bennett (T&T Clark)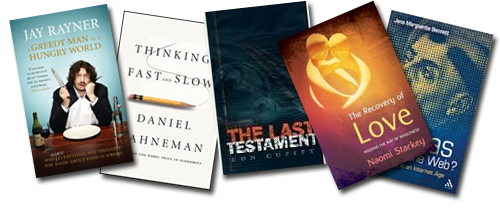 DRAMA REVIEW
The Impossible God – Mark Topping. St. Piran's  Hall,
Goldsithney. Cornwall.
On, this comes with an incisive and sometimes brilliant script  by actor, broadcaster and poet Frank Topping, and yes, Mark is his son. Mark does everything from programming music and lighting, to playing a host of people involved in the latter aspects of the Jesus story, and costuming in appropriate fashion. Sister of Mark, Anne provided the directing element. Village halls are meant for many things, and Mark copes well with difficulties that include not least a large stage area. This was a packed house that enjoyed his skills and heard the lines. Perhaps he might have taken things out to the audience and clamoured off stage, suitable for instance in the story of the two downcast men on the Emmaus road where the one person dialogue could have been flung across the audience . Arguably to the production might do with some pauses from a relentless verbal script, but that is perhaps somewhat nit-picking for in the end this was a very good evening.

TONY JASPER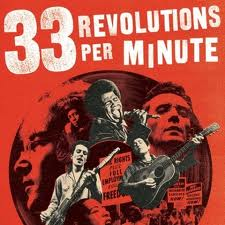 BOOK REVIEW
33 Revolutions per Minute
new edition, reviewed by tony jasper
At the last count I possess around 1500 books on popular music. 33 Revolutions Per Minute by  the Guardian writer Dorian Lynskey (Faber and Faber . £12.99)   now ranks as one of the finest volumes to adorn my creaking shelves. ' As the present title stands it could be a book about vinyl albums. The sub-title tells you more about the book, and so  ' A History of Protest Songs' Lynskey has written a detailed and informative text on this far reaching subject in a weighty bulky  tome of nearly 900 pages  that comes in at an extraordinarily low price.
In term of coverage, the writer takes us from the classic Strange Fruit song so bitingly sung by Billie Holliday to the more recent sometimes in favour Green Day with their rage against the Iraq War. Along the way we meet hundreds of music people who in some way or the other have used their songs and music to say 'things ain't right.' out there. . One of the joys of this book is Lynskey's willingness to narrate the 'dirt' that often runs cheek-by-cheek with apparent goodness. In other words, this is no fanzine text, nor one where each and every music star is seen as some kind of minor saviour of whatever might be the cause.
Much of the material is US based, and so among other things, from folk and the acid heads and Vietnam protest, to black consciousness by way of  Motown and the black politics espoused by  artists such as The Last Poets, Gill Scott-Heron, Sly and the Family Stone and Curtis Mayfield to the great man himself,  James Brown. The latter  could none- the-less  could lower temperatures from  the all-time memorable 'Say it Loud' to his next single, Santa Claus Go Straight to the Ghetto.' Brown of course is an enigma as he seemingly effortlessly moves at times from  black consciousness, and having the 'left' on side, to respect for Nixon and playing at his inaugural ball, and otherwise running at times with the gospel  of capitalist self-sufficiency.
Jamaica gets a` visit before we eventually hit something British, on page 339, via  a cocaine wrapped David Bowie, and who speaking in 1975 to the New Musical Express, from New York rambled on about 'Philistine' culture and moral decline before throwing in the thought that the next step was a dictatorship. Soon Lynsky brings on to the stage the Clash,  the Sex Pistols, Jamaican born 
Linton Kwesi  Johnson and perhaps to bring some blushes now, Eric Clapton. The revered British guitarist is reminded  of how on 5 August 1976 he asked on stage 'Do we have any foreigners in the audience?"' as the drunken singer said there was need to stop Britain 'being a colony within ten years.' Here, on the British race issue, as in many other moments both sides of the Atlantic Lynsky merges music into the social and political realities, and on the latter in early times the National Front, Enoch Powell and on the other side Rock Against Racism and the British Black Panther Movement. Some of the former makes chilling reading. 
So much passes before indeed, we meet U2 on page 469., from early times not relaxed with  Catholic dogma and Fianna Fail republicanism.  It's here where a 'Christian' strain has a brief occupancy in the text, and of the religious imperatives that pervaded the early life-style (Bible meetings) to the songs themselves that were often permeated with moving Christian sentiments.  Nearly 200 pages later  the reader is reminded, for good or bad, the 1998 Birmingham International Convention where Tony Blair, Bill Clinton, and other G8 leaders calmly danced to the Beatle anthem, All You Need is love. 
The present century gets its blast on page  667 with Neil Young's 'Living with War' – a song aimed at President George Bush and for the maestro his most overt political song outburst since the highly influential and disturbing 'Ohio'. that talked the death of students at that city's University. Young even had a song 'Let's impeach the President.' Presumably it never made the Bush family turntable either in Texas or Washington DC. By now Britain has largely disappeared from the text, although preceding this there is a visit to John Major's  somewhat ineffectual reign and among  other things  the Criminal  Justice and Public Order bill, and the emergence of The Prodigy.  The US has a final flourish with R.E.M  and of course Green Day. As you might expect from such a good book there is copious information and reference sources  at the conclusion and also an up-date from the 2010 edition. And yes Bob Dylan and John Lennon are wheeled out.
This copy can only visit a few areas of this mighty text. 
Yes, it does cover Band Aid and Live Aid where the writer could have told the story of record company and artist bitching behind the scenes but then he does remind us of Miriam  Makeba's  verbal dagger on the recording of  'We Are the World' as she exclaims with some wonder "Who is the world? Where are the singers from Africa, Europe, the East, the Third World They are all Americans singing 'We are the World.' Oh truly, we say, 'America is the world.'
Through all this of course there were Christian record companies and artists, It can be said that by-and-large  until recently, and outside of small independents such as Simon Laws' Plankton, the  particular` Christian '33 rpm' voice is pretty dumb, although in early times there was an angry folkish Graham Kendrick,  and everlastingly  provoking the somnolent,  we can still speak of Garth Hewitt   The 'specialised' Christian scene, here and the US, and much of the world' in music terms, merits a mere line or two in  A History of Protest Songs. That in itself is some commentary.
(This review was first printed in The Methodist Recorder).