CRISIS 13
Crisis is a monthly on-line magazine that concerns itself almost predominantly with the Arts in general, ,and provides an open-ended Christian reflection. Articles are welcomed, but there is no financial recompense. Material should be sent to
a.jasper1@virginmedia.com
. 
MUSIC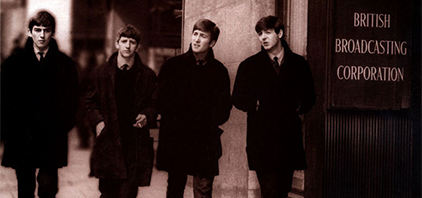 BEATLES AND ELVIS BATTLE FOR SALES
That headline smells of another decade. Yet, the music industry journal in Britain, Music Week, chooses to use some of its first page of copy with the headline 'Beatles vs. Presley in end of year face –off.' 
In its issue of September 13 MW announces that the world's most successful band is back with a set of new recordings! Well, almost. The Beatles' 0n Air – Live at the BBC is a double set that was recorded a long time ago but many of the tracks have never made an album. 19 years ago Live At the BBC   from the fab four hit the top spot in the album chart with nearly 100.000 sales. The album appears on the Apple label with release scheduled for November 11.
Elvis reappears on the same day with The Nation's Favourite Elvis Songs. So the title tells all and it will mean that the great Elvis gospel catalogue may go untouched.  Recommended on this level come His Hand in Mine with the Jordanaires (RCAND83935), Elvis Ultimate Gospel (RCA 88697052362) and two different Christmas sets, Christmas Wishes (RCA 82876 730132) and Christmas pace (RCA 82876 574892) . Needless to say there are some great moments.
JASPER TURNTABLE PLAYS  (* oldie)
1 JULIET LAWSON – SONGS FROM ANOTHER SUITCASE (OWN LABEL/WRITE FOR DETAILS)
2 MAVA JANE COLES – HEATWAVE (MIXMAG)
3 PETULA CLARKE – DOWNTOWN (SANCTUARY) *
4 JUDY
Y COLLINS – FIRES OF EDEN (SONY) *
5 STEVE MILLER BAND – Best of (ARC) *
JESUS MUSIC AND MORE
Avoid at all costs the Jim James album Regions of light and the sound of God  (Atco) if you like things clear cut, instant, and certainly not eccentric.  There are moments on this record when you wonder whether James is losing his marbles, but maybe it makes everything that more memorable. Sometimes he appears overcome by his own thoughts This is a deep and rewarding album that takes a few plays, or more, to even begin travelling   his journey. This is his first full - length solo outing. He asks at the outset 'What  does it mean to be alive? A life worth living?" He prays for the good and wholesome. It all comes in spurts as he delves into life experienced, and his noting of life's sanctity, and the need to be aware of the miracle of ourselves,. There are even thoughts of a 'new Jerusalem' that in   some place is possible, and among the calling places is the now 50th anniversary of the Martin Luther-King   famed speech that began with those words "I have a dream," The album ends with 'God's love to deliver' and there he shouts 'Negating all evil, we had found the Lord, in our hearts reborn.."
0n the musical side you get served   some   wild flamboyant moments  of funk and  hip-hop beats, and more often there are  rich electronic excursions; at times unusual sounds to arrest and disturb. 
You can read this record as very much one man searching for his soul, after all he does repeat "I want a new life " and you might   see this in the context of the lawyer who came by night to Jesus and asked how he might be born again. US journal Rolling Stone says this record is what solo albums are for: the leader of a great band :out on a limb in rapt self-examination, getting weird and interesting." And for a brief note on James: he's hardly the best known artist this side of the Atlantic, Kentucky reared James is the lead vocalist, and major songwriter of the rock band My Morning Jacket, a band  termed by some as a 'Southern Led Zeppelin." 
JESUS MUSIC (continued)
Unfortunately when it comes to the religious company   release domain you expect reasonably safe times for the ear and brain. Bethel Music and their Without Words (Integrity).is as the title suggests an instrumental set, but there are forays into the realm of electronics and what the music world calls 'industrial sounds." And yes there is an air of difference that does suggest Christian based artists can go where they 'wanna go' and not pander to the safe pastures.  
There are two Christians involved in the album Out Here (Mack Avenue), at least it is so, by name. This is a jazz release from the Christian McBride Trio. The other Christian is the piano player Christian Sands. 
Mention here comes from the sometimes   gospellish nature , especially in the track 'Hallelujah Time' and present, if less so, on the oddly titled 'Ham Hocks and Cabbage.'
As good  as anyone in the general secular world – so come City Harmonic, with a sound to awaken the slumbering.  Their much anticipated sophomore September   release is Heart (Integrity) It  has an amazing clear cut sound;  testimony to some great work in the cutting room. The band say their fourteen tracks release is underscored by the 'cinematic and  communal  aesthetic prominent in all their work." Work that one out! Less obscure is their conviction that "only in Jesus   do we have the ability to say: "I'm a whole person, not a broken apart thing, whole but broken." They say it's all about being human, but if a Jim James wants personal salvation then this group know where he can find it.
This release has so much going for it.. Always there ia big sound, the vocal work is pushed forward, the backing surrounds it large and demanding, yet such is the recording mix it doesn't envelope the voice as illustrated for instance in the track 'Alive, Alive'  or 'Take Heart' where there is  energy and fire, especially on the chorus lines. At times everything seems to be happening, just hear the introduction to the track 'Here and There' with initial piano being pushed aside by a pounding orchestra before the black and white notes push things along and then give way to a rock sound that bursts forth and eventually that to for a moment gives way to a classical sounding moment on piano.
<------------------------------------------------------------------------------------------------------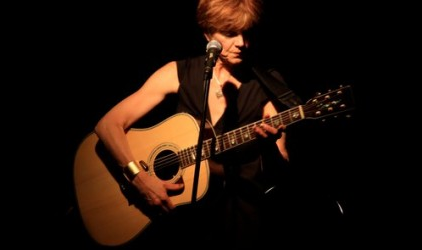 Juliet Lawson: Songs from the suitcase
<--------------------------------------------------------------------------------------------------------
There is a powerful personal testimony side to this album since member Eric was diagnosed with cancer but has had the all clear.  The bass man's story line is told in part on the track 'Strong.'  It came out of a stage during his illness, when he felt   he wasn't really in a place to do anything. "Emotionally I felt like a child who had been let down by his parents   for the first time. I couldn't contact with God. I couldn't see my illness as a blessing. I couldn't connect with  God . To confront that stuff and write 'I am strong in my weakness' was really very difficult because I couldn't deny how I really felt." 
City Harmonic is a worship band from Canada, This album follows the debut set 'I have a dream.(It feels like home) ; where the song 'Manifesto' caught the attention of many. Should you search out this album, I suggest you double up with that first set. Both are very good. Also the Heart cover depicts a picture of the true human envisioned by Leonardo da Vinci in his "Virturvian Man." c 1490. A symmetrical proportional human being inscribed within a circle (the divine) and a square (the human),
(This first appeared in the Methodist Recorder, September 12. 2013).