CASH TREASURES
The end of this month in the UK sees release of new Johnny Cash material, albeit coming from tapes he put down in the 1980s but which did not receive the thumbs up from USA, Columbia, According to his son John it was material that was ahead of its time. Anticipation has been fed by notice and comment, even advance reviews, in a variety of music magazines, and even via the New Musical Express. 
The album Out Among the Stars is in no way a retread, another of those posthumous affairs that drag up sub-standard material in an effort to coin a few shekels. This is not a set of outtakes, demos or doctoring of unfinished material.  The album has complete and finished new material. 12 songs adorn the release. Two of the songs are by the man himself, one of which is the religious I Came to Believe, seemingly written after Cash had closed the door on drug taking.  The song takes us through the saga of a broken man who finds God. US star writer of many decades Sylvie Simmons says it is a "curious composite of Cash trademarks."
POETRY
Brian Frost  has published various collections of his work, and is in many respects within religious circles he is relatively unknown, and more's the pity.
2030
Where have
All the cherry trees gone?
Gone like the nightingales
everyone – when will
we ever learn?
Where have
all the oak trees gone?
Gone like the cuckoos
everyone – when will
we ever learn?
Where have
all the bluebells  gone?
Gone like the rain forests
everyone – when will
we ever learn with our
Inflatable appetite
for money, money to burn?
Where have
All the cowslips gone?
Gone like the red squirrels
everyone. When will
we ever learn –
And reflect for His planet
God's creative concern –
and in every nation
cherish his unique creation
(yes! Hiss was influenced, in style, by Marlene Deitrichs song...)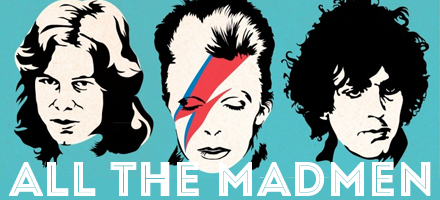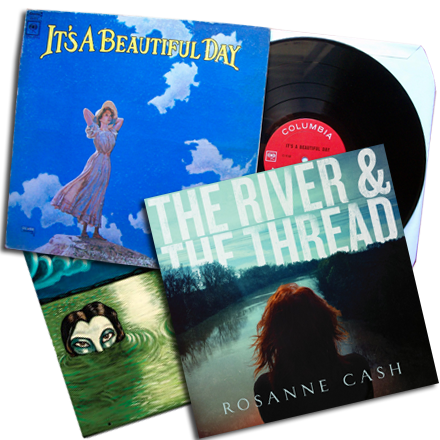 Jasper turntable
Rosanne Cash – The River & the Thread      NEW
Merilee Rush –     Angel of the Morning        OLD
It's A Beautiful day – It's A Beautiful Day     OLD
Bruce Springsteen  -  High Hopes.               NEW
Drive By Truckers – English 0ceans            NEW
BOOKS
The Jasp has been revelling in the Clinton Heylins, book All  The Madmen that has appeared in HMV at presumably a remaindering price of £3.99. This a great read and you might be surprised at how much madness has been part and parcel of the rock world, on the other and, of course you may not. There is particular attention paid to Syd Barrett, Bowie, Nick Drake, The Kinks and The Who.
 
Also on the music must list, and sorry for delay in  mentioning  is Bob Stanley's Yeah Yeah  – The Story of Modern Pop. This is a vast volume of 776 pages = another publication in Faber's great list of rock and associated material. Umpteen books on contemporary rock appear on my creaking shelves and this is one of the best.
 
Steve Turner once edited Beat Instrumental, and has a great list of material under music and religion. In recent there's his Pop Cult World (IVP) and where he applies what the cover terms "thinking Christianity" to considering style, media, and entertainment. To a degree it's a book aimed for discussion groups and for Christians the endless debate of the plus and minus factors of the arts and related forms.. he good thing abut Turner is his lucid crisp style that enables him to be read by student, enquirer, and general interested..
 
Rice's Church Primer (Bloomsbury) is simply a sumptuous affair with the  low- down of most things you might want to know about the vocabulary and grammar of British churches,. That, of course may sound dreadfully dull but actually, it's not so.  This book is fascinating and informative  and for one, it revealed an enormous area of ignorance in this brain of mine!.
 
Why Rousseau was Wrong by Francis  Ward (Bloomsbury) has a more immediate sub-title:  Christianity and the Secular Soul. Beautifully written, the Dean of St Edmundsbury & Ipswich, actually is digging at what is wrong with present-day Britain. She bewails the lack of  nurturing belonging and trust.   She looks at how the Church has shaped Western society. Reviewer on the back-sleeve, the Hon Frank Field  enjoys her willingness to debate "the crucial importance again of developing character and citizenship". That in itself is hefty task for who these days talks of those things?