Crisis is a magazine compiled by Tony Jasper
Copy is welcome and should be sent to
a.jasper1@virginmedia.com. No hard copy.
MILSROF EGLOS ROAD LUDGVAN CHURCHTOWN CORNWALL ENGLAND TR208HG  NO FEE IS PAYABLE. Crisis is concerned with the Arts in general, and from a Christian perspective.

NEW MUSIC
Leonard Cohen
Lucinda Williams
Ray Stevens
Simple Minds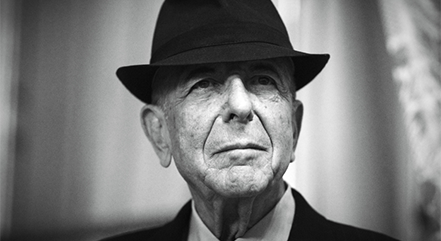 LEONARD COHEN
Straight from the first seconds there's a mean moody feel to the new glorious album from Leonard Cohen. Popular Problems (Columbia). It's so beautifully arranged. so cool the piano with of course an enchanting rhythm section, frequent delightful violin forays, and gospellish organ outings,  plus the now famous Cohen femme back-ups that hover and hover, and  are  so superb in their own right.
This is album 13 from Cohen, but there's no sense of anything ill-fated, even if an overriding theme is simply the fast moving narrative of a  life that from birth has death in its storyline, which for some reason drives into my head the first chapter of Mark's Gospel where Jesus is announced and soon comes the plotting to be rid of this prophet. Cohen has the line "I thought we had all night."
In his reflection on the "end' simply cries for more time Cohen, yet he is aware that he lives in a world that is unsteady. "There's torture and there's killing." Strings take us into 'Born in Chains' and where even if all 'out there' seems bad he says he  still sings He outs it this way -  "You got me singing the 'Hallelujah' song."
There's less biblical reference here than some of his album lyrics but even as I write track seven "Nevermind"  takes me into the Old Testament chase for freedom of the Jewish people from Pharaoh. He sings "Blessed is the Name written on my heart." This is fantastic.
LUCINDA WILLIAMS
Lucinda Williams has always explored religious themes in that somewhat broken-up voice that commands attention. She sings country, she can run with gospel, she can rock.  Down Where The Spirit Meets The Bone (Thirty Tigers) is a double CD-set that sells for a single in HMV. It sallies into the hearing with the track 'Compassion' with its message " Have compassion for everyone you meet, even if they don t want it." Her father lyricist Miller Williams produces the intriguing line "You do not know what wars are going on down there where the spirit meets the bone.' As with Cohen she has superb femme vocal back-ups, only here far more strident and aggressive, and less used, although they do sweetly purr in the long play-out to 'West Memphis.' 
While Cohen knows his life time is limited, Lucinda is aware that even if she is 60   "there's "just all kinds of positive, really great changes."  She talks of being fascinated with the idea of God and Satan, good and evil, and so she serves up 'Everything but the Truth' and 'Something Wicked Comes This Way.'
Both Leonard Cohen and Lucinda Williams have top rate musicians to give that extra quality lift, and so to it can be said of those playing on the new Marianne Faithfull album Give My Love (Dramatico). She sings Cohen's 'Going Home' on what  is her first album in three years. This is another set of life musings, caustic and often angry, and at its rawest on 'Late Victorian Holocaust'  with its drug theme, and the singer has known well  at times the negative life-denying blackness substances can have.
RAY STEVENS
Once upon a time Ray Stevens adorned the pop charts and if some might wonder what ever happened to him, here he is back with the Ray Stevens Gospel Collection.(Joining the Dots) The track listing offers the familiar, so we get 'Swing Low, Sweet Chariot', ' "Shall we Gather at the River'. 'Amazing Grace,' even 'Onward Christian Soldiers' and his hit of long time back 'Turn The Radio One.' I expected somewhat laid-back country, but instead as with 'the opening track 'Swing Low' we get a big, big sound. 'The Old Rugged Cross' is anther that after a few moments suddenly assumes the front-foot swagger.
You can sing 'Old Time Religion' with slowness and assumed reverence, whereas here Stevens rides his motor-bike singing version at 120 m.p.h. Things only assume a somewhat hymn-like air when we move into an initial acappella take of 'Onward Christian Soldiers' before it dramatically changes, gone the church bell, instead a fiery orchestra and Stevens obviously wishing to lose weight as it becomes a fast moving stomper of a cut. 'Amazing Grace' is another familiar song given a working-over. Here there's dramatic musical backing, and indeed as with other arrangements, it seems as though someone has thought of building a show around much loved hymns.
SIMPLE MINDS
It's album 16 for Simple Minds. Big Music is exactly what it says – full of great pop that surges away and needs to be heard on some powerful speakers and plenty of room space. It's frequently over the top, so much so that at times you do not hear the lyrics, just a pounding beat that drowns the vocal.. Huge synth lines come rearing their head and it has an 80s feel ,but if somewhat paradoxically it's still with a contemporary edge,  Yea, like it!
BOOKS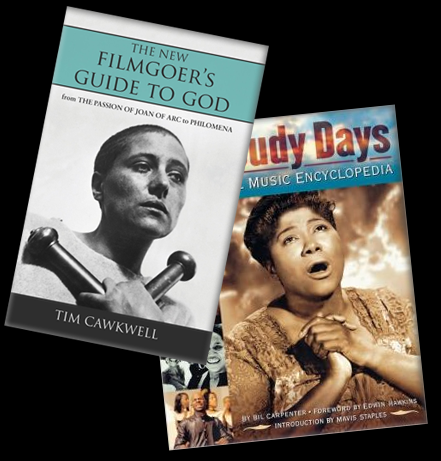 ON FILM
TIM CAWKWELL  - THE NEW FILMGOER'S GUIDE TO GOD (Matador)
Tim Cawkwell is one of a` small number of excellent British writers on film, and indeed from a   Christian perspective, who have put their thoughts down in book form. Two other names who come quickly to mind are Jeremy Clarke (often occupying space in Third Way) and Clive Marsh, a University lecturer. Cawkwell's latest has  the sub-heading on the front cover puts it, this text runs from The Passion of Joan of Arc to Philomena. Stephen Brown, film critic for The Church Times says Cawkwell throws down a tantalising gauntlet to those who refuse to believe there is a spiritual dimension in film.
Brown points out that in this book Cawkwell goes beyond those well-documented religious explorations of certain major film directors. And so the writer is concerned to look at the work of Terence Davies, Michael Haneke and Pedro Almdovar. Excellent stuff!
While mentioning film, it's worthwhile giving a notice to The Celluloid Madonna –from Scripture to Screen, by Catherine 0'Brien, (Wallflower). This takes the reader through films that have featured or claim to be about Mary, the Mother of Jesus.

ON GOSPEL MUSIC
Uncloudy Days – The Gospel Music Encyclopedia  (Backbeat) by Bill Carpenter
This massive book has been out for two years. Yet it's one of those books that defy a date stamp, although of course a 2013 publication does leave a year without mention, but that's the way it is! Someone once said to me that a book of mine could not be published for by the time it was available a ear would have missed – take that argument to its logical conclusion and nothing would be published, even a daily newspaper for say a Tuesday has gone to bed late the previous day. But anyway I discovered this on the shelves of an excellent book and magazine emporium near the tube at Notting Hill Gate, opposite the side window of Smiths, but on the other side of the road. And it is fantastic and goes well with another gem, but now slightly dated and not been revised, Encyclopedia of Contemporary Christian Music (Hedrickson) by Mark Allan Powell. These are tremendous books – so admire the patience and knowledge of the writers. Another info book is The Billboard Guide to
Contemporary Christian Music (Billboard).
ON ROCK MUSIC
GREIL MARCUS
THE HISTORY OF ROCK 'N' ROLL IN TEN SONGS (Yale University Press).
In the world of rock music writers and commentators the American Greil Marcus can claim a place at the top table.. He's been analysing the popular music scene for some time, and perhaps this has something to do with the fact that in his book The History of Rock 'N' Roll in Ten Songs (Yale University Press) six of the chosen titles take the reader back to either early 1960s or the 1950s. The book even opens with a lengthy quote from 1959 -  Eating  People Is Wrong from Malcolm Bradbury.
However a neat 'little jump around the decades' is operative   for most of the ten songs have had a life in up to four decades, as for instance the song 'Money Changes Everything' or In The Still of the Nite. This means we may meet those who recorded these songs from distant times, but also take  in  Beyonce,  and from not too far back, the late  Ian Curtis, and the moving Manchester band Joy Division, and in this instance their  haunting number 'Transmission,' rather than the chilling 'Love Will Tear Us Apart.'
Choosing such a book  project seems a pretty dangerous state of things.  Can the history of popular music be narrowed down to ten? even if by some quirk of things Marcus thought of The Ten Commandments., and surmised 'ten' has a time-honoured privileged state in a history of numbers! Running his ten titles around a few musicos gained only a small   grunt of approval. The only title to correspond with the Marcus listing was 'To Know Him Is To Love Him,' and I chose that, and did so because it seemed to capture the fragility of teen relationships from the 1950s with their vulnerability and unease in a time when there were so many taboos. It did what the best of early 'pop' did – it made people feel it was their song because it touched them where it mattered in their one life. Good songs stand fresh interpretation in the social mix of another time, and , indeed, yes,  the Teddy Bears associated hit  was given a moving treatment by the late Amy Winehouse in 2006, but that wonderful artist made it her own, and  five decades or so from the original,  she sang how it felt  to talk the talk about those time-honoured themes of love, fascination, commitment.
Marcus is a fine writer, and his text is an absorbing read. Occasionally you might think he overdoes the analysis, whether the vocal treatments he has heard or in simply taking in the text of a song. In the ten there is no overt religious title. I suppose, without grasping   too much at straws, Amazing Grace, My Sweet Lord,  Jesus is Just Alright  might have come into play, or even an Elvis religious title moment, and maybe the Cohen, Hallelujah song, which Marcus describes IN PASSING  as "the closest  a mere song has come to sainthood." Religion, usually Christian has found its way impressively into the US music scene and history; it surely deserves a title in the hallowed ten. Outside of these areas, Marcus tells many a good story, as he plucks up some delightful music moments that will delight any music fan.  It's another valuable music writing from the man who was the first reviews editor when the journal Rolling Stone gave rock an important feel