HAPPY CHRISTMAS EVERYONE!

THE LOOK BACK

CHRISTIAN MUSIC
British based, Christian based Worship Central, Rend Collective and Matt Redman invaded various music industry charts during 2014.That in itself should be reason for rejoicing. While there are areas where direct  'Christian' Music receives the cold shoulder, and a bias comes into play, it's possible for a religious based record company to produce hits that speak the faith.
In terms of bias  Matt Redman is  contender for the major bias award. Redman has made the top ten of the US, Billboard chart ,but where is his airplay ? Again, any other UK artist would have surely have been invited to appear on the Jools Holland, Later With Jools show that is one of the few music outlets on our screens. In-fact, you could say that the general   music monthlies have offered no copy for their readers on the successful British singer.  While saying this,  attention is directed to the recent issue 44 of the excellent monthly magazine Shindig. Visions of Paradise is the title given to a feature that  takes in the early days of  pop and rock influenced early Christian music in Britain. The Shingdig  magazine writer Peter Ryder takes the reader to the late 1960s ,and says that are a number of highly regarded collectable albums from that period, and which formed "some imagined world of spiritually –leaning acid-folk."  I'm not persuaded   by the start-date, much was happening previously, but certainly once into the 1970s the world changes with the advent of Key and  Dovetail record labels and the emergence of Buzz magazine. The latter journal and New Christian Music provided predominantly young believers with up-to-date information on people who were making records. Naturally there were interviews with artists and more so there were lengthy UK tours. Later came the excellent Strait paper that came out of the Greenbelt stable, first in newspaper and then in magazine format. And yes, to letter writers, there were others. Strait offered if you like a Christian based paper that in writing quality, and indeed  with a considerable breadth of subject matter, something nit far from such magazines as Rolling Stone. One reason for the high quality of Strait  lay in the simple fact that writers such as Martin Wroe ,and dare I say myself , were taking  huge chunks of space in the music papers of the time.
However, as 2014 fades, even the pleasure expressed in the first paragraph, has to be placed against the continuing relative smallness of the Christian market in the UK. In whatever format you care to name, very few British based artists release material
Go to the major US music trade and entertainment weekly, Billboard and the world still seems good, but to the agony of any JM buyer and collector, hardly any of these US recordings find their way to the UK. Various reasons can be advanced for this. Christian based music programmes no longer find their way into the schedules of independent, let alone BBC local radio stations, and if they do, then it needs an 'early rise' from sleep. Then again, due to a number of reasons,  business  as opposed to lack of buying,  has seen the virtual demise of the 'Christian' book shop world. Many Christian bookshops did carry a limited number of titles., albeit they often had the air of a morgue and played requested music at a volume level that would disturb no one standing as little as twenty feet away. At one time London had several Christian music outlets.  In my travels I've noted less than a handful of churches with well  stocked  book and music areas.
Again to, the demise of the informative magazine has contributed  to difficult times. Obviously downloading and so forth   does spawn some interest but much of that does not involve social inter-action where people chatter and talk about new music, tours,  and  magazines  . Yet, yes, as the earlier mentioned acts from the Integrity-Kingsway world have shown some positive things do happen. Much, if not all, of this stems from the independent Christian world.
Religion, faith, and life issues are of course not the sole province of the Christian world. Indeed there are many general recording people with a Faith, and who do express their understanding in the music they create for general record company releases. This gives  reason for title of this monthly feature to recently utilise the lovely general descriptive word – 'beyond', although over the years this feature has strayed into general releases from people such as Johnny Cash,  Bruce Cockburn, Dylan, Emmylou Harris and  the biblical references  of a Leonard Cohen, or the US  Southern, gothic, hard blues and gospel of   Lucinda Williams..
Every magazine of whatever kind seems to be in the process of 'looking back'.  And choosing the best releases of 2014.. In some quarters excitement has been expressed with the re-issue of Bob Dylan and the B and – The Bootleg Series Vol.11. (Columbia)..There is gospel' to be found. One song is 'I Shall be Released .  This is  much recorded by general and  gospel singers and groups. Another is 'Sign of the Cross.'  Over a hundred tracks make up the album.
Daniel Lanois has  produced several major Christian based artists and he popped up in 2014 to do the honours on the splendid Emmylou Harris album, Wrecking Ball. (Nonesuch),  Bruce Springsteen's recordings have been gathered together  under the title: 'The Album Collection, Vol 1. 1973-1984'  (Columbia) – a classic set. Springsteen's music is lace with religious imagery, and for  that insight  with due references Steve Stockman's, The Rock Cries Out (Relevant Books)  will take you on what may be a surprising journey..  And of course, the return of Kate Bush,  on record and live shows.. Religious permeated group names continue, as album titles that might take the unsuspecting on a musical ride that is far from expected.  Much trumpeted in the music journals has been a double-album release from yester-year-. The Brit-pop outfit  Cardiacs, with a seasoning of punk, prog rock and psychedelia , and their title? – Sing to God. Do not expect that!
Let's hope 2015 will bring some inspiring JM releases! One wish for the year – that someone will issue here the considerable number of Christian releases that make up the US charts.
The Big Mix
In the preceding 'Christian' music article there was mention of the Cardiacs and the title of their re-issued classic album. In recent there has been a flurry of group names and recording tittles having a biblical  shading, but without obvious religious intent.
For those who saw, and who were of a religious inclination, the front cover of  August 16 edition of the music weekly New Musical Express must have induced puzzlement, and even  momentary sense of delight. In the right top and bottom on the right side of its front cover could be found the words "The Holy Bible" and in the latter case prefaced with the stirring revivalistic words "the life-changing power".  Rock fans would know better than to presume the NME was becoming some kind of rock religious organ.
The Holy Bible is the title of an album from  the Manic Street Preachers, and to which previous mention has been made. It was the NME looking look-back to 1994. It was the album's twentieth anniversary. The NME said it was the band's masterpiece. The NME enhanced itself as a source of religious imagery in its September 27 edition.  It centred on the artist Jamie T. 
The front page bore the claim that for Jamie T it was the case of "Back to Life" and delving into the religious image library.
They proclaimed "Divine Resurrection "Obviously with a serious religious bug pervading its system th NME had another symptom outburst on October 2.
When it blazened abroad on its front cover
But that was small fry compared with another headline on page 26 that said

JESUS CHRIST SUPER STAR
Here was copy on the one-time Smiths associated guitarist Johnny Marr, a man who once graced this writer's London flat.
The NME  is not the only journal to launch into religious language. In another journal came the headline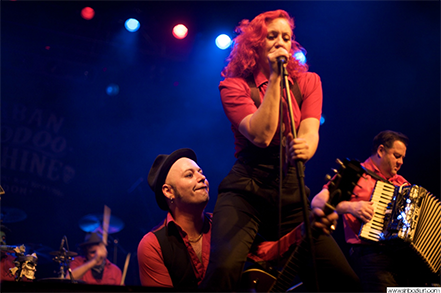 The Gospel According To
The Urban Voodoo machine
and which was accompanied by exciting news that

Vive Le Rock chucked a bible and a bottle at....and got the band's scripture, chapter and verse.
VLR, Vive Le  Rock, Issue 22. P 66.
EMINEM GOES GOD
In the US, the music and entertainment publication Billboard announced that the artist Eminem had broken the world record for the most words on a single. His Rap God came in at an average word count at just under 4.3 three words a second. The single has 1.560 words in the total time of six minutes and three seconds. Some might have been deceived by the title given to the Cardiac's album Sing to God, with due explanation in the Uncut music magazine (September 2014.p 89).

CHRISTMAS REVUE SKETCH
No objection to its performance but any printing in any form, other than for the purposes of presentation,  is not allowed.

COFFEE TIME
This sketch comes from the recent JTC show It's Christmas. FOR LINDA SUBSTITUTE 'WHOEVER' OR SIMPLY 'WAITER' OR 'WAITRESS'. And 'JJASPER, whoever is chosen!!
THE SKETCH FOCUSES ON HOW DIFFICULT SOMETHING SO SIMPLE CAN BE. ALL YOU WANT IS A CUP OF COFFEE BUT............
LINDA  On your own?
JASPER: Yes, I think so.
LINDA: Tea, hot chocolate, hot water or coffee. Your  choice. Personally, I like them all. We're allowed three mugs a shift. So have you made up your mind?
JASPER: Coffee.
LINDA. Good choice that.
JASPER: Why?
LINDA: Well, all of them are.
JASPER:  So, it's always a good choice whatever?
LINDA   Yes. A newspaper.
JASPER: Good choice of newspaper
LINDA  Sorry.. You've lost me. 
JASPER Coffee.
LINDA. Breakfast blend, half caffeinated, Horizons, Costa Rica. Columbia, Guatemala Antigua, House blend, Decaf House blend, Organic
LINDA  Anything there?
JASPER: Well.....
LINDA  You are so right to hesitate, better to have what you really want Expresso roast, Reserve coffee  Aged Sumatra... can offer you six different dark and specially Roast Coffees
JASPER: Well...
LINDA: Of course, and maybe you are waiting to know if we have multi-region blends. There are 11 of them.
JASPER:  Eleven.
LINDA Eleven.
JASPER: Eleven.  Surprised there are no Christmas coffees. Something Father Christmas might like.
LINDA:  Please?
JASPER: Christmas.
LINDA: Christmas.
JASPER CHRISTMAS
Linda. Oh Christmas. You should have said.
JASPER I Did.
LIBDA Half a mo.. have to ask the supervisor.....we have a decaf Christmas blend, a Christmas expresso roast and a` multi-region Christmas blend.
JASPER: I'll have the first coffee you offered.
LINDA The first?
JASPER: Breakfast blend.
LINDA  Breakfast blend.
JASPER: Breakfast blend.
LINDA: I'll just give you a number. Mug or cup? Sugar or not? spoon or not? drink in or take away? Biscuit or cake offer?  small, medium large, extra large?
JASPER: Small
Cake does not come with the small.
JASPER" Medium.
LINDA" Medium. Good choice.
JASPER:  I expect they're all good choices.