CRISIS 25: FEBRUARY 2015
CRISIS is edited and compiled by Tony Jasper and is widely read. You are invited to submit copy via email. Email a.jasper1@virginmeda.com if you want further information and guidance. Advertisement copy is welcome but subject to approval. is always welcome although subject to the tenor and spirit of this on-line magazine.
THIS MONTH:
NEW ARTIST HOLLIE, RAGE FROM CLIFF FANS, DYLAN DOES A 30 MINUTE SPEECH, FAREWELL SOME MORE TO ANDRAE CROUCH, THE ROLLING STONES AND GOSPEL MUSIC, RELIGIOUS MEN'S CLUB IS CLUBBERED AND................

RECORDS
AND RECORDING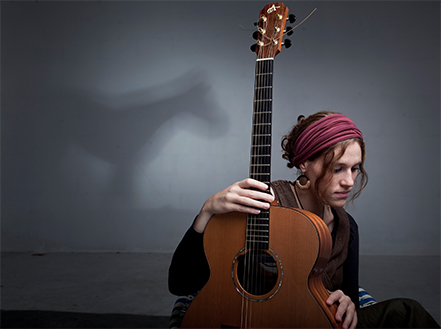 JASPER LISTENING TO:
A comparatively new voice on the music scene with gigs largely in the London area is drama teacher Hollie Rogers. Most artists hate to be compared with anyone, so in due deference, let's say she's in a contemporary music mould of the Melua, Adele, Vega approach, and for mentioning those three that could gain a lethal response! It's not that she sounds like either of them, it's to find an area and company where she might feel reasonably at home – if that makes any sense!
Her forthcoming album All That Fire  is an engaging set of tracks that takes you into her opening cut Skin with gutsy vocal. On the second track we learn she doesn't need sex but likes it all the same – seems fair enough. Here and throughout she gets sympathetic music colouring. And intelligently we get a variety of rhythmic feel that keeps one a-listening. She captivates more on the lower vocal register, where she is winsome and fetching, but there is considerable overall range.  A number of the tracks kick in on femme-male relationship saga and it seems, if personal input,  somewhat up and down times in her life. On the track 'Bones' we get the best of everything, and that includes lyrics. On that cut there's the Adam and Eve saga, and in her line Eve says "let's give it a try." On Nicotine, she says "God made a fool out of me," and for that the statement gets a rocky roughish orchestration while she sings many a - time "0ut of me'.  There's her take on men on 'Make it Quiet' with the offer of her arms, rather than another, when he feels need., and it's all rather melancholy. He track goes out with just the line "If you have to lie with someone make it quick."  Oh 'wow' to that. Like it.  I hear Judy Collins in the vocal – it's  song delightful for those rather sad but so expressive tones of the g,..,reat Amerian.
Oh, as you might expect from someone with drama credentials she knows how to user voice and can keep a line with no difficulty.
Yea, I rather like this set
The Rolling Stones Gospel Call.
Additions to this listing welcome!
Can I Get A Witness
You Can Make It If You Try
The Last Time
Get Off Of My Cloud (1965 studio or Love You Live version)
Salt Of The Earth
You Can't Always Get What You Want (LIB or post 1990 live versions)
Gimmie Shelter
Tumbling Dice (EOMS or post 1990 live)
Loving Cup (EOMS version)
Torn And Frayed
I Just Wanna See His Face
Let It Loose
Shine A Light
Can You Hear The Music
Winter
Winning Ugly
Baby Break It Down
How Can I Stop
Thru And Thru
Saint Of Me
Salt of the earth with  Los Angeles Watts Street Gospel choir.
Thief In The Night
Strictly Memphis
You Gotta Move ( Love You Live version)
JESUS MUSIC
Last month, but too late for my  column in The Methodist Recorder Jesus Music lost one of its most prolific and famed singer songwriters with the death of Andrae Crouch. His death was carried on this web-site but here anyway is the look back for Britain's, Methodist Recorder.
Crouch, and his twin sister Sandra, were born in San Francisco July 1, 1947. They came from a religious family.. His father was pastor of a church that began its days in a garage. In his spare time his dad ran a dry-cleaning business.
Crouch would eventually become pastor of a church that had grown to a thousand. Indeed, the garage was not large enough!
In his teens he had his own gospel group, and for a while into this ministry came the later rock soul legend man, Billy Preston. Sister Sandra was a member of Janis Joplin's Full Tilt Boogie Band, before the now legendary Big Brother and the Holding Company took Janis into their fold and made her a household name of the time.
Crouch was one of the first artists on the emerging Jesus Music scene of the late 1960s. Out of the window went traditional church music of the time. Crouch headed the band of people who infused the traditional feel of gospel with the persuasive influences of R&B and rock 'n' roll.
Crouch bounced off a late 1960s and 70s youth that didn't want to sing hymns. They wanted the music feel of their generation to underscore worship services,  albeit bringing into play Jesus centred lyrics.  Crouch arrived at the right time. In his Californian backyard  he had the Jesus freaks of the West Coast to take note. They numbered, yes amazingly – into the hundreds of thousands!
He would be   instrumental in bringing into the direct religious  arena music and songs that  changed the nature of religious services.  He was at the beginning of 'praise' music. His adventures encouraged other black artists to follow his path. Naturally the conventional church people were out to discredit him, as they opined with some force that he and  others  of similar ilk and ethos seemed to be in love with the devil's music, and were bringing that very world into sacred spaces.. Young people thought the opposite.
His most famous song is Soon and Very Soon We Shall See The King,, with its free flowing tune , strong melody and African rhythms. The lyric deals with the Second Coming, It can be located in Mission Praise, or on his album This Is Another Day.. That album has a definite disco feel, and swims with the music of the time.
Paul Simon would sing the stirring Crouch composition Jesus Is The Answer on his album Live Rhymin' . Elvis Presley recorded his 'I've Got Confidence.' His group The Disciples disbanded in 1978 and he would embark not unexpectedly on a solo career.  However he still leaned toward having a gospel group. The Andrae Crouch Singers became born/ They backed Michael Jackson on his Man in the Mirror and not surprisingly had some in the US religious world spitting fury as they lent back-up vocals to Madonna on her controversial single 'Like A Prayer.' It's not easy suggesting the best album by Andre but I do enjoy the rather soul driven set of songs on Mercy.
At the far end, away from Notting Hill Gate, of London's Portobello Road is a glorious record shop Honest Jons. It's a roots music place where the staff know music, mostly R&B, soul, jazz, and reggae, and prospective buyers hang around and talk music – and this includes gospel. The shop issues its own compilation album The Gospel According to Budgie with 28 tracks. This is funk driven material.. Among the tracks, The Western Family Singers stomp their way in show style  'In The Kingdom of the Lord' This segues into a lovely chorus and soul voice of D.J. Rogers "All I Gave Him Was My Heart.' In-fact it's a non-stop 120 mph affair at times, especially zipping into a driving  piano - led 'You Reap What You Sow' from  The King's Temple Choir directed by Kenny Cunninghams, with male and female singers having their own moments. Before you even take a breath it's a lyric of fire and brimstone,  and a charging paced 'musical' feel for 'Told to Tell You' from Roslyn & Charles.
Non-believers are told they have not much time – so there!
Another gospel album I found  at the shop is Like A Ship (Without A Soul) from Pastor T..Barrett and the Youth for Christ Choir Sings! (Light in the Attic)). This Chicago based pastor and singers open the album with the atmospheric  ear-catching  music underpinning title  track.
So Uncle or is it Grandad, Bob Dylan returns to the record world with Shadows in the Night (Columbia) .Not though a religious inspired set of tracks. It's the man finding his way through some of the great songs penned by citizens of the US.  And like his surprise Christmas carol album a few years back against all odds he wins through. However there is an album Dylan's Gospel  The Brothers and Sisters (Attic). Over the years numerous Christian based singers and groups have picked up religious flavouring in many a song, outside of the obvious moments when the man from Duluth delivered his overt take of his acceptance of Jesus as Messiah, This set comprises ten tracks with among those 'All Along the Watchtower;' with its strong Old Testament  lyric underpinning, the much recorded '  I Shall Be Released' and 'The Times They Are A Changing.' That said, there are several tracks where you might be non-plussed, as "I'll Be Your Baby Tonight." Then again, perhaps not. The pastor takes the piano funk led 'Wonderful' with a Hammond organ lurking in the mix. There's a lovely infectious feel to Dr. Watts Hymn & The Disciples Prayer (yep – Te Lord's Prayer) with electric piano, and the latter half is given a powerful tune and soulful rendition which could easily find its way into general release.. 'Blessed Quietness' rolls along as a fetching instrumental. It's a good b! Honest Jons is 278 Portobello Rd, London. 0208 9699822.