CRISIS 27
CRISIS is an independent on-line magazine that is owned and edited by Tony Jasper.  Copy and advertising is welcome, but it is best to make initial enquiry to a.jasper1@virginmedia.com.  Crisis philosophy is simple and basic – it seeks to gather contemporary material and happening, and  where apt to offer interpretation and comment from a wide Christian perspective.
MUSIC 1
EXCEPTIONAL RETURN OF BONNIE!

Bonnie Dobson
For too long Bonnie Dobson has hid herself away. Now she's back with a superb album. This is the Canadian singer who once rubbed shoulders with the likes of Joan Baez and Judy Collins but somehow found big-time fame eluding her.
For many she is known for her haunting composition Morning Dew, associated yes for many thanks to the Tim Rose vocal version, while indeed, it has been sung by many artists. Toronto born Bonnie moved to England in 1969.
To gallop the years - in more recent she became administrator for the Philosophy department at Birbeck College,  University of London. Somehow and sadly the singing and performing MS Dobson hit the skids. Time now to shout  'hallelujah' -  that's pushed aside -for she's back, and time stands still, she could still be 29 and not a woman now in her sixties. The voice remains, the breath control remains, so chase after the album Take Me Foe A Walk In The Morning Dew (Hornbeam). You may have to chase and chase to find, at least that's how it was for me, but I found it eventually in HMV.  Morning Dew is on this album, second track, as is I Got Stung! It's a mix of new and old and folk-ish, with a lovely sense of ironic humour on such tracks as Mean and Evil and Living On Plastic. . Other songs take in some past catalogue.
How I wish I were still D-jaying on ze radio so I could push this album, and ensure it rises above reasonable sales. Just go and buy this!

MUSIC 2
BACK CATALOGUE OFFERS
Outside of new releases the most noticeable aspect of the record scene comes in the ever-growing catalogue of box sets offers. These offer exceptionally good value of money, and often contain five or six albums for less than £5. Sets come in CD form and not vinyl! The Jasper recent purchase has been a set of Patti Smith albums, Tom Paxton  and Joan Baez – obviously we're talking about back catalogue. Sainsburys is' very much to the fore in this field. Meantime Morrisons offer some extremely good albums for £2 or 3 for £5. A good search in Poundland can offer some interesting buys for a mere £1. Although they stock a huge number of what might be called the 'best forgotten' – that said, for the money you can take a few risks. All three supermarkets annoy with their displays, in so much that a front title hides a set of different albums behind it, so you need time and patience to rampage through countless CD'S. This is even more so in Poundland.  Those CD'S IN Sainsbury and Morrisons tend to be releases from this century while in Poundland they go back further. Sainsburys also is a much better store than Morrisons for stocking the so-called hit albums of the moment. At least this is based on the Penzance Experience!
MUSIC 3
JESUS MUSIC and BEYOND including MATTHEW E WHITE
First  tracks are so important, often they're the only ones people hear before a buying decision,  So  why Rick Lawson  did you not start your self-released album with the title track Love One Another? This is an infectious jaunty affair that sails along with an assurance that immediately hits home. It gets the sound buds blossoming, the body swaying, and the feet a-moving, whereas instead we get a slow uninspiring take of Be Still and Know.' Track two should have been the galloping track six,  'We Believe,' Of course ' we believe' is  yes, ' in the Lord ". The song has a tasty rhythm, could well be one of those hit anthemic songs at festivals, and be a hit song in praise circles, if it were not for the somewhat banal repeated line 'Some believe in princes, some believe in chariots.'  But who does? Romans of old perhaps, but that's a long time ago..  Rick is far more at home when he motors with some aplomb into   a pop country style than trying to sound 'sincerely'  and over-labouring slow ones, and these are usually  the traditional hymns the songs on his album  And track three should be the final cut, the lovely swaying reggae styled 'Do You Not Know? 'There is a  hint of femme back-ups almost near the end, a pity not to be used then, and even earlier, for that would be a plus factor.  In-fact a better track arrangement would add immeasurably to this set, and give it a more immediate feel, perhaps out with some of the hymns.
In the 'Beyond' category welcome Matthew E White. This somewhat whacky man first assaulted record buyers with the album Big Inner. Into this came gospel, R&B, soul, and lyrics venturing into love, death, God.  The final track on that album 'Brazos' went out with the stirring gospel chant of "Jesus Christ is our Lord., Jesus Christ, He is your friend."
On the newie Fresh Blood (Spacebomb)  you are served with another mix of cozy and majestic.  It's not so religious, at least in mentioning Jesus, although the Lord is summoned on the track 'Circle Round the Sun.' He  says plaintively ' if heaven's not my home what shall I do?' He asks to be cradled in the arms of Jesus and 'sheltered from the storm' , the latter words Dylan fans will recognise. It comes in accompaniment, piano prominent, with a steady purposeful gospel feel.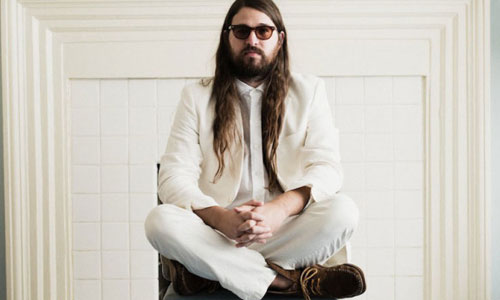 I love his 'Rock & Roll is Cold' with its tasty instrumentation and vocal back-ups, as White suggests there are plenty of pseuds out there.  The seventh track 'Tranquility' is in part devoted to the recent passing of Philip Seymour Hoffman. It has a stern hymn feel, the musical instrumentation almost simulating albeit in different form  the tonal shades of the slow ringing church bell. There is a gravity, an inner sadness, and here, as elsewhere you get White's love of throwing so many sounds into the mix, and here is the great example of  winning among the complexity – you have to have a great studio team and money, and you need a good  amp and speakers to pick up the many fleeting musical nuances. Hear especially delightful horns and brass. Holy Moly takes us into a sensitive child sex abuse arena, and here, as elsewhere vocally, White goes for a muffled texture, and in vocal weight,  Marvin Gaye comes into mind. White is vocally soft on the air, but he can become more demanding and forceful, hear track nine 'Vision.
Now that track is as good as to tell the new recording artist how to make a complex musical outing sound deceptively simple.. This album possesses class. Minor complaint department – couldn't the lyrics be given in an accompanying booklet  e larger than what seems less than 6pt?
US Southern gospel singer Lynda Randle sings her way  through favourites on her latest album Ageless Hymns – Songs of Praise. ( Tiny Dots),  and so we hear hymns and songs such as 'What A Friend We Have In Jesus', My Jesus I Love Thee', 'Just as I am' and 'Where He Leads Me.' Unlike many US albums that come with soaring orchestras arrangement as if trying to outbid a 2001 film score,  here it's simply piano behind the voice. She has such a rich voice, emotive and appealing, at very least authoritative. In a way it's a pity there are no surprises or imaginative re-arrangements of the familiar, so for instance we follow the familiar Converse tune route to 'What a friend we have in Jesus.'  She sings 'Just as I Am' to Bradbury's tune that became especially known through the Graham campaign, even if it goes back many a year before the 1950s.. The final track is a very moving vocal with evocative choir on the song 'Always Remember.
This first appeared in The Methodist Recorder
BOOKS
1   A PIECE OF A ROCK MAN'S HEART Richard Goldstein
He was 22.  He told the editor of the hip publication of the time New York's, Village Voice, that he wanted to be a rock critic. The response was simple, and tells something of the mid-1960s. "What's that?" said the editor. Richard Goldstein won the day.
Goldstein  lays claim as the first journalist to treat rock as a serious art form, or, at least to gain a regular column in an influential journal, He believed music of the time  changed people's lives. Goldstein   was drawn to rock by the lust for ecstasy and the need to escape from himself (p 154). 
Another Little Piece of My Heart  - My Life of rock and revolution in the '60s (Bloomsbury £18.99) is a fascinating and brilliant travelogue from a writer I first came across after his slim paperback The Poetry of  Rock  brought between its covers some of the more thoughtful rock music lyrics. Goldstein brings into play countless artists, sometimes stopping to observe beyond immediate albums and concerts, so he remarks that  Jim Morrison of the Doors and Brian Wilson of the Beach Boys had "rough relationships" with their fathers.
Religion gets little attention, at least in an overall context, and when it does the text  is  fascinating,. Goldstein recalls meeting the Maharishi, of Beatle memories, in a flower-decked hotel room, and whose message he sees as 'odious" with wealth seen as a sign of inner harmony. He notes within many US music fans a desire for the most authoritarian forms of devotion, and this he saw long before the emergence of Charles Manson or the Peoples Temple.   He was well aware  of LSD, so central to youth culture of the time,, with its so-called spiritual dimension  -  a drug  that he sees symptomatic of the American desire for "Short-cuts" to whatever it wants – in this sense it was to God, or so was the claim, even if short-lived for such a momentous moment!. In the drug world Fantasy and reality are often intertwined.
He mentions Christian musicals on Broadway.  In terms of these, and much else, Goldstein is aware of the commercial people. and their bandwagon, the religion of  'sell'. He says:" Every style that had once been transgressive was packaged attractively for the audience; museums and art spaces incorporated every radical gesture."
From his name you might surmise he's Jewish but he does one fair day find his way into a Baptist church, Yes, his fellow Jewish writer  Dylan occasionally pervades the text, and one might have expected Goldstein to talk about Mr Zimmerman's  Messianic Christianity, however, there is but mention of the great Dylan track All Along The Watchtower, without  Goldstein sensing Bob's majestic reading of the appropriate Old Testament passage. For that, you have to read Anthony Scaduto's, Bob Dylan (Abacus) Interestingly Goldstein observes Dylan's eventual move rightward in his sexual politics, toward a nostalgia for patriarchal values," and which he believes has rigidified the great man's work.  He asks how many women have covered Dylan's work
This book may be about music with engaging observations, such as seeing Bowie's persona as 'slippery" but in cultural terms to there is much to absorb, as he runs through the likes of Burroughs, Ginsberg and Norman Mailer. He doesn't seem to really like any of them.  He does applaud Tom Wolfe, a writer who skewered the pretentions of Manhattan's precious.
This is one of those books that once you start reading you read to the end.
2 Republican Theology by Benjamin T. Lynerd (OXFORD)
The author offers an  historical  and theological account of the hybrid position evangelicals has long affected to hold in American culture – as champions of individual liberty and as guardians of American morality. He lays bare the conceptual tensions built into their civil religion. Lynerd gets into the 'plus' and 'minus' of Republican influence and along the way
Of course we meet Republican Billy Graham.