CRISIS 28
Tony jasper writes:
Once more I'm pleased to Include the latest issue from Garth Hewitt. Articles are always welcome and should deal in some form with the Arts and overall media. They should be emailed to
a.jasper1@virginmedia.com
. My email address may have changed since this issue, so if nothing happens and material is returned, please contact Criss, Milsrof, Eglos Road. Ludgvan Church Town, PenzanceTR208HG.
EVENT
LONDON CENTRAL HALL
WESTMINSTER MAY 31 6. 30 p.m.
REVIVAL DAYS
Tony Jasper's  re-creation of the Moody and Sankey revival days  and  Story from the 19th century with choir, quintet, soloists, organ, and actor Ruth James., Radio Personality Tony Miles. Music- Gerrard Brooks. Admission is free and it all kicks off at 6. 30p.m. Nearest tubes: Westminster and St James' Park. WCH was the beginning venue for the United Nations. It is prominent as you stand in Parliament Square for its  size and dome. See ya there!
THE  OTHER M&S – Moody-Sankey
Tony jasper looks back and forward 150 years ago an American evangelist D.L. Moody came to London. The next time he visited it was with a Methodist baritone singer Ira D. Sankey. Some of the most famous moments in British religious history would ensue. May 31 sees history reborn as the Central Hall, Westminster, looks back yes, but none-the less forward for who knows what great times lie ahead, and might even spring from this evening in London 2015.
There was a time when preachers of the Gospel  would  be heckled, given a through coating of flour, have their suits ruined by broken eggs, be stoned, and verbally assaulted in language befitting no one who might claim the word Christian. For other people it was a 'sport' of their days. Such was the lot of say, D.L. Moody, William Booth or  John Wesley, even in much more recent time, the veritable Donald Soper, just to name four.  To that, from a Cornish standpoint add Charles Wesley.  St Ives did not appreciate his gifts, at least, one should add, it was so for the Anglican clergy of the town. They wanted him out and fast.  
I mention Cornwall simply because not so many years ago there were chapels who rather than using the 1933 Methodist Hymn Book preferred the preacher to choose selection from Sacred Songs & Solos, the songbook associated with the revival campaigns in the 19th century by the American preacher D.L. Moody and his travelling mission singer, the Methodist , Ira D. Sankey.. M&S associated hymns remain popular, as was shown by the huge response the BBC received for two Songs of Praise programmes a few years back, the first of which I scripted.
In some quarters, even today, folk still like the 1932 Methodist Hymn Book., It had a Gospel section with lots of songs from the 19th century missions (and other titles are found scattered elsewhere in the book) but  gradually the input of songs from those heady days of the 19th century has been pushed out of official Methodist collections.
Today, the most popular are perhaps To God be the Glory, Blessed Assurance and I Need Thee Every Hour – at Easter, Man of Sorrows, and Christmas, Joy to the World. One delightful song has been recovered by the compilers of Sing Praise, the fresh and inspiring recent collection from A&M.  The song is My Life Flows On. It's also been popularised by the Irish singer Enya, and whose version appears on her album Shepherd Moons.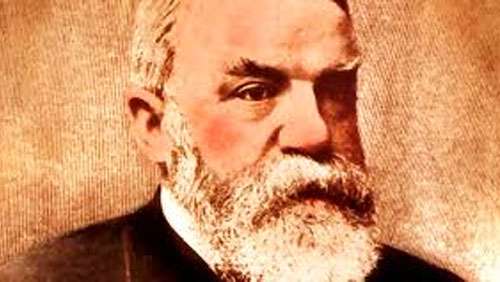 D L Moody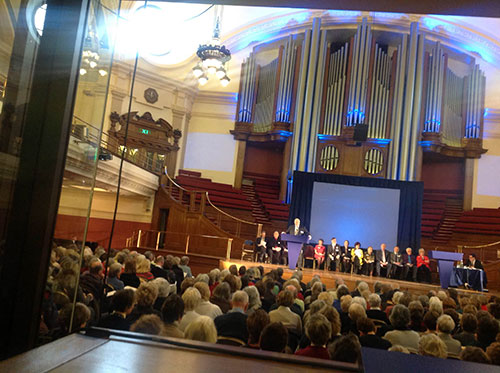 At one point the M&S song collection  books reached 1200 items, and add to that, numerous choir and solo book compositions.. They were, if you like, the pop song creators of their day, with tins to whistle, tunes easily sung, tunes that had repetitive lines.  Sankey wrote some 98 songs, but most of the really popular items came from an endless supply by popular wordsmiths and tunesmiths of the time, Philip P Bliss. Fanny J Crosby, Fanny J Crosy, George C Stebbins, William Bradbury and William H. Doane.. My own theatre show on Moody and Sankey, Feel The Spirit, songs up-dated and arranged by former EMI music man, Peter Bye, toured and toured, and was a major hit at the Edinburgh fringe Festival with the Scotsman saying it could grace an West End stage.
Along the way, and in more recent, there have been plenty of knowledgeable critics. The most alarming for anyone who loves the music input but suffers from heart problems, is the trenchant criticism in John Kent's somewhat passionate Holding the Fort (Epworth), while the most eminent musician Erik Routley  was n not exactly enamoured, and less so the prominent Charles Cleall, who described the Sankey catalogue as 'nursery' songs' and to which Mr Routley fanned the verbal fire by saying "Childish things should soon be put away." Routley, along with  Eric H Thiman  rid the Congregational church of the Victorian sentimentals  that lurked in Congregational Hymnary in their edited and somewhat cold  and clinical Congregational Praise (1951).
Many of the hit M&S songs will receive their airing at London's Westminster Central Hall on May 31 at 6. 30 p.m. A large choir and an expected thousand people or more should ensure they are heard to full effect. However with the songs 
there will come something of the evangelist D.L. Moody, and if we meet that figure of old, so to there is a 21st century Ira D. Sankey, a man yesteryear with a  beautiful voice that called people to the mercy seat, even if Moody had a sore throat. It was the time when often evangelists had a soloist, a tradition on the large scale that has passed with Billy Graham and George Beverly Shea. Still down in the far West, Methodists have several preacher singers including a Mr George Bodily who will suddenly burst into and charm in song. Moody, as with many famous revivalists, heralded from the USA. He entered the world on February 5, 1837, the sixth child of nine, with his father dying when he was a mere four years old.  He was much associated with the work of the YMCA, his employment was to sell shoes, education as for many of this time, in the long evenings.  He would eventually study at the Baptist Theological Seminary. He was aged 30 when he first travelled the Atlantic, and like the much later Billy Graham it was a time for him to be introduced, shown around, with the organiser's intent to persuade the 'importants' that Moody was the man to revitalise faith in Britain.  That meant, among others, Muller and Spurgeon, giants of their time in preaching the Gospel.
Moody would come to mission, and do so on many occasion, and of course bring with him Ira D. Sankey. It was  from 1873 that the big times kept rolling .. He would preach at our great Universities. It is said that Moody was no intellectual but he had presence and a persuading voice, and for someone with a conservative theology he still managed to have on his platform men of  more  liberal persusasion.He could speak with an enviable authority. In his time preachers were seen as 'fair game' and he met the shouters and decriers, those who interrupted meetings. He kept going and often dispelled the critics with humour.
Less recognised is Moody's practical social inputthat saw him found schools, and for girls as well as it might be expected of the time, boys. His supporters say he reshaped Victorian Christianity, and that he reached 100 million people before the advent of radio and television,