Email letters, enquiries, comments to
Tony.Jasper@btinternet.com
Copy welcomed.
CRISIS 29
MUSIC
1 James Taylor
That compulsory monthly buy Uncut magazine includes in its July issue a listing of James Taylor albums: No copyright in a list, so:
James Taylor (1969)
Sweet Baby James ((1970)
Mud Slime Slim And The Blue Horizon (1970)
One Man Dog (1972)
JT (1977)
That's Why I'm Here (1985)
Hourglass (1997)
Covers (2008)
Before This World (2015)
Yep, there's been one mighty gap in his recording activities.  Taylor of course hit the religious world with his early material, especially Fire and Rain, and more so with the much recorded "You've Got a Friend". Many incorrectly assume he wrote the latter song, whereas its writer was Carole King. There could be an interesting list of mistaken writer songs, not least hearing on the BBC, Pete Seeger being described as the writer of 'Where Have All The Flowers Gone, rather than Malvina Reynolds, and also whilst mentioning the legendary Pete, he did not write We Shall Overcome, that was penned by the recent departing  Guy  Carawan (died May 2 2015, aged 87).
However the writer's lyrics are derived from the Charles Tindley gospel song "I'll Overcome Some Day"  with the opening and closing melody from the powerful spiritual No More Auction Block For Me (hear Odetta's wondrous version on the album Odetta at Carnegie Hall.). However other sources have been brought forward.  Initially Taylor found a home on the Beatle, Apple label and where he originally auditioned for George and Paul.  At the time the Beatles were recording their 'White' classic album. Taylor described the whole thing as "a sort of daydream. It was just totally improbable and impossibly good.'
2  THE GARTH HEWITT CATALOGUE
In response to enquirers after CRISIS carrying Garth Hewitt news and activity, here's his PA Isobel's
Listing. Thanks to her.
Albums
I Never Knew Life was in full technicolour

Love_Song_for_the_Earth

Did_He_Jump_or_Was_He_Pushed

I Can Hear Love/Come Out Fighting

Mud on my eyes – Children's album

The Greatest in the Land – Children's album

Scars

Blood Brothers with Ben Okafor

I Shall be Made thy Musique with Penelope Cave

The Greatest Gift – Christmas album

Pilgrims & Peacemakers – meditations in word & song

Journeys 1 – The Holy Land

Journeys 4 – Latin America

The Feast of Life Musical - for Christian Aid

The Dalit Drum with Paul Field – Christian Aid

Journeys – Holy Land re-released

30

Journeys Latin America re–released (new tracks)

Journeys – Africa – Wings of Love over Africa

 
Singles
1    That's why we're here

2    Did he Jump

3    I Can Hear Love/Come Out Fighting

4    The Hungry wind

5    Chain of love

6    Let the world be changed
A/V
Live at Greenbelt

Film "Bethlehem – Hidden from View" 
3 JESUS MUSIC and beyond..
Sister Rosetta Tharpe tribute.
Elvis Presley would have been 80 this year, but twenty ears before the birth of the 'king of rock 'n' roll' in Cotton Plant, Arkansas, the world welcomed Rosetta Nixon. Other than an excellent feature by Richard Williams in the Guardian's G2, there as been no due welcome for a majestic singer. songwriter, guitarist, recording and Gospel shouter known more so as Sister Rosetta Tharpe , and yes here in 2015 she would have been a 100 years of age. In a sense the silence is hardly surprising, for by and large
the great Gospel singer history that has been so influential in US history, and indeed one of the underpinnings of much contemporary music both sides of the Atlantic,  is relatively unknown here in the UK.  At the same time she influenced many in her own country as she pushed spiritual musi into the mainstream.
This amazing woman broke conventions for Jesus. She should not have sung gospel in churches and also  perform in night  clubs. But she did. She should have sung just gospel, but she sang with big bands behind her. She offended conservative churchgoers with her adventures into the pop world.  She would never escape the accusation that she sang "the devil's music," They failed to see that she never  left gospel music, she took it with her.  That said she found life hard when churches began to move into a more secular style of music, and large and somewhat dynamic  church concerts became the norm.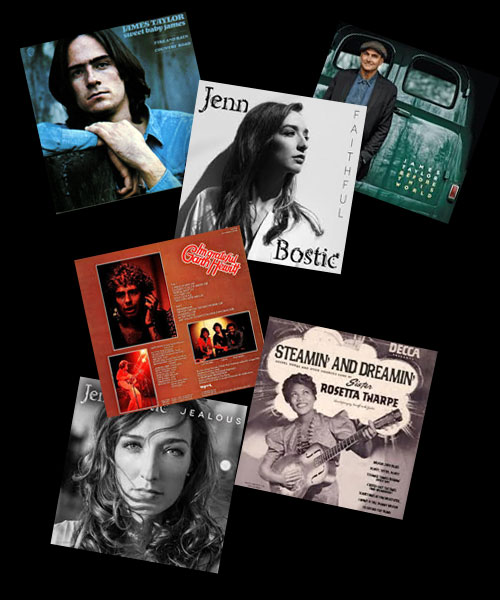 Her 1945 hit ' Strange Things Happen Every Day'  became the first gospel record to crossover from 'gospel' to what was then termed  "race records" chart that later became the R&B chart – such was the racial division of the time. In some circles she is termed the 'Godmother of rock 'n' roll.' Its said that long before Mahalia  Jackson  gospel music to many meant Rosetta.  One of her classics has already been mentioned in arguably three best songs with which she can be associated, the other two being the rhythmic up-tempo 'Up Above My Head' and 'This Train.' All this leads up to saying that there is the recent issue of Volume 1 and Volume Two of her recordings.
That said there are plenty of others lying around, with the pick to include the albums Gospel Train and a self-titled affair. A classic is  Gospel of Blues, a re-mastered collection of 18 songs.  An album hard to find is the 2003 CD, 'Shout, Sister , Shout, that is an all-star gospel tribute to an artist whose final years were marked by a series of strokes. Should a date stamp of yesteryear deter then go at once to YouTube – forget date and time, just take in a vocal that is so individualistic, it will grab you!
In the land of the beyond' and in re-issue territory, there's Bobby Womack's The Preacher  with tracks 'Understanding' and 'Communication'  the top rated cuts. Schooled in the gospel  family his mentor was one of the early gospel singers, Sam Cooke. Womack played on Presley's Suspicious Minds.
And now on DVDB there comes a variety of artists with recordings of McCartney songs under the title of A MusiCares Tribute to Paul McCartney. The pick track in terms of this column rests with Alicia Keys who gives the gospel treatment to the song blackbird -  'unexpected' you might say!
(An edited version of this first appeared in The Methodist Recorder).
4 JEAN BOSTIC
"Faithful" Album release 1st June 2015
Copy is a press release.
Nashville-based singer songwriter Jenn Bostic returns with her new album, "Faithful".
Having gained heaps of confidence from both the success of her last album, "Jealous", as well as three tours in the UK and Ireland, Jenn has learnt to trust more fully in her instincts as an artist.
"I've had the opportunity to tour internationally and reflect on certain things that have made me so much stronger as an artist. There is more of my heart in this album. With 'Jealous' there was so much healing still to be done over losing my dad. In 'Faithful' I feel there is strength and power in the lyrics and I hope people find encouragement from my new songs. I had the privilege of working with some incredible producers, and this album is definitely more pop." 
The CD's anthemic title track, 'Faithful' (released on the 13th April) signifies the idea of keeping faith with yourself. "'Faithful' is a song of integrity. I believe who you are when no one is looking is really who you are," says Jenn. Jenn's delectably seductive vocals put the 'power' in this empowering track about being true to who you are and believing in yourself… "Who you gonna be when there's no one else around?"
'Counterfeit' talks about a pessimistic voice that constantly deters you from following your passion. "It is a song of deceit, uncovering the true colours of someone or something that has misinterpreted the truth."
'Shiny New Toy' will have you grabbing for the nearest hairbrush and belting along in front of the mirror. "This track is about understanding your value and desiring to be loved and appreciated in a deep way," says Jenn.
In 2012, with a few self-booked tours under her belt, Jenn released 'Jealous', which featured 'Jealous of the Angels.' On a shoestring budget, she shot a video for the song, then posted it on YouTube. The U.K.'s Mail Online later reported what happened next: "The song first came to prominence thanks to the veteran DJ Simon Bates, when he played it on his Smooth Radio show … The response was enormous, and soon it was part of the playlist on Radio 2, which led to BBC Breakfast inviting Jenn to play live."
She recalls: "I found out about it on Twitter, when someone wrote to say they'd heard the song on Smooth Radio and was moved by it. I thought, 'An online radio station found it on YouTube – that's awesome.' Then I found out that Smooth Radio is one of the biggest stations in the U.K." 'Angels,' which was followed up the U.K. charts by the 'Jealous' track "Not Yet," went on to win five Independent Country Music Association Awards and Jenn was invited to perform it at the Grand Ole Opry.
Jenn went on to be the first international independent artist to have three singles—'Jealous of the Angels,' 'Not Yet' and 'Missin' a Man' —playlisted at Radio 2, the most listened-to radio station in Europe. Famed BBC Radio 2 host Terry Wogan invited her to the station for a special St. Patrick's Day appearance on his hugely popular Sunday show, Weekend Wogan.
Having achieved huge UK success, Jenn aims to further this with her new single and eagerly anticipated album.
"With 'Faithful', I wanted to get across how important it is that who you are when no one is looking is who you really are. At the end of the day, you have to live with you. If you're going to create art it's got to come from heart. It's not about pleasing other people.
If we set fear aside and run with what our heart wants that's going to give us the happiest life."
5 TURNTABLE
The JASP IS CURRENRLY PLAYING
1 The Church – Anytime Anywhere (oldie)
2  Hindi Zahara - Homeland
3 Jean Knight – Mr Big Stuff.
4 Richard Thompson – Still.
5 Beth Hart - Home