PROFILE Cliff Richard
BOOKS NEW AND OLD
ON THE RECORD DECK
THEATRE -  REVIVAL OF JCS.
DONNA SUMMER
1. PROFILE
CLIFF RICHARD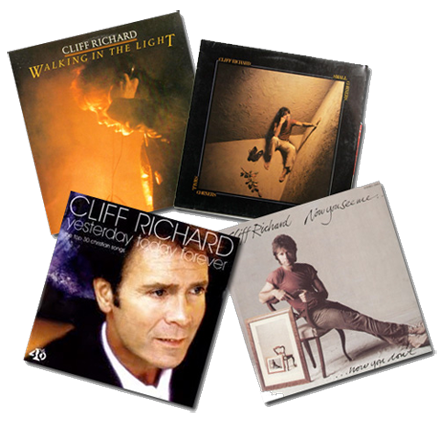 In CRISIS 1 we saluted Whitney Houston, In issue 2 it was Bob Dylan. This time we choose Britain's best-known and most successful solo star.
Cliff  Richard has never been a  revolutionary style figure.
He is most unlikely, other than by  some kind of send-up, to feature in the sole existing British weekly pop paper, NME.
His pronouncements on social and political realities have been few and far between. He has never courted the drug, sex and alcohol scene, nor has  he smashed up hotel rooms, vomited on planes, rammed his car into trees or walls  and basically he has never  been a bad, bad boy. All this has presented a problem to some people, and we wish them well and suggest they re-organise their thoughts and concepts. In other words: "Leave the guy alone." After all, it's his choice, and no one has the right of to demand of anyone that they become this and that, although there are those who think they have the mandate to say how someone shall be.
That isn't to say the man who was once Harry Webb is without criticism. Some would say that in recent years he has had a bad song choice thrown his way. Others would say his considerable vocal talents have been underplayed and he has become too stuck in a time warp, partly forced by fans who want him  to sing hits of forty years ago. However, the fans may disagree, but ff so, then they have to ask why sales and major chart placings of some length
are no longer the norm. The thing is this – he would be capable, well able, to sing say some of the songs we associate with Bono and U2 but he doesn't get that kind of class material. And that's just for starters. Now I'm off, I can hear him singing Light My Fire or All Along The Watchtower. ' Cliff sings Dylan' –  maybe not Cliff sings The Doors but GO FOR IT HARRY!
Paul Baker wrote in the American music magazine  CCM, with its due slant to ' Christian' based performers and music, that for a considerable time Cliff ran two careers in parallel with each other. Baker termed it a "double diary of appointments and performances – one for gospel concerts and fund-raising performances for the benefit of Tear Fund (and on occasions the Arts Centre Group), and another for his standard pop  performances. Over the years lines have become blurred for at his so-called 'secular' outings he has sung various religious lyric styled songs.  Baker not unexpectedly was asking then why Cliff has had little US success, save for a burst of hits on Elton's label but which dried up. Baker seems right in saying his Christian side hasn't meant much across the Atlantic because the pop side success is really meager. It's an open question as to why, although a major factor surely rests in the fact that the US had too many teen stars of their own at the time he began his UK hit stream in 1958. The other is less easy to say – he hasn't taken the time, and it needs a lengthy sojourn, to plonk himself Stateside. Still, it's his choice.
Two of this writer's books on Cliff have made the British top ten best-sellers, hardback and paperback, and sadly the licence to write on Cliff then transferred to at least two others. Not my choice, but thanks Cliff for the time when it went swimmingly well!
BEST OF CLIFF'S RELIGIOUS RECORDINGS.
CHRISTINE WHITEHEAD
is the  EDITOR  of CLIFF UNITED.
Well done Tony for a great start with Crisis magazine.  Reading through your first two issues got me thinking about my favourite Cliff Richard "Rockspel" albums.  A term Cliff uses as he considers these songs a mixture of Rock and Gospel.  When he took to the stage with Billy Graham in June 1966 many predicted the downfall of his career.  Not at all, it just expanded Cliff's range of songs and introduced his fans to many inspirational song writers, and a very important side of Cliff's life..
 
1. Walking in the Light (Word Myrrh label) 1984
EMI were always a little shy of releasing religious albums later in Cliff's career.  Whilst they seemed happy for the odd "Rockspel" track to be included on a commercial album, they weren't keen anymore on a whole album.  Thank goodness for Word, Myrrh and Alliance!  This is my favourite "Rockspel" album released on Word – Myrrh label. Perhaps, because it reminds me of a time, when I was seeing many of the songwriters involved performing and discussing their faith in church or at concerts.  It includes a selection of tracks by classic song writers: Paul Field; Larry Norman; Chris Eaton, Garth Hewitt, and a very under-rated song writer Cliff himself!    Interestingly the mint vinyl copy of this album can fetch as much as £100 amongst the fans!
 
2. Small Corners EMI 1978 (Digitally remastered in 2007)
Good News 1967 / Two A Penny 1968 / About that Man 1970 / His Land / Help It Along 1974
All these were EMI releases with the help of others, for example Billy Graham Organisation and Tearfund.  Then we had nothing on the Christian side, until this album came along, which I still play today.  Why should the Devil have all the Good Music; Up in Canada, Joseph; Yes He Lives; Wish we'd all been Ready.  Rocky numbers to have you singing along and up on your feet. Plus the contrast of When I Survey the Wondrous Cross a song you can hear a pin drop, when performed live in concert..
  
3. Now You See Me….Now You Don't……EMI 1982
Cliff's chance to pull the wool over EMI's eyes by releasing an album that EMI thought was a great love songs album.  Little did they know until afterwards that this was a classic "Rockspel" album.  The Water is Wide; Son of Thunder; Discovering; Where Do We Go from Here and one of my favourite songs: Thief in the Night.  Many fans were happily singing these songs with their own interpretations, until Cliff explained in concert, the true meaning of the lyrics.  Good one Cliff!  
 
4.Yesterday Today Forever (Alliance)
A worldwide poll amongst 15,000 Cliff fans asking them to choose their favourite religious Cliff song resulted in this selection of 30 inspirational songs. Alliance read the list compiled by William Hooper in the Cliff United magazine and were impressed with the list.  Some discussions later and Yesterday Today Forever was born.  A double album featuring a great selection of Cliff's much loved thought provoking songs,by a wealth of Christian songwriters sharing their faith.  Includes a duet with Helen Shapiro on We Being Many.  This is a great album for those who perhaps wouldn't normally buy a Cliff album, and for them some of the songs may be new – La Gonave, Galadriel, Under the Gun.  Yet at the same time some favourites Shine Jesus Shine; Yes He Lives; Why Should the Devil have all the good music…...
2 BOOKS
THE LATEST KAREN BURKE
GENERAL  BOOK RECOMMENDAIONS

Alone In Berlin by Hans Fallada
On Not Being Able To Sleep by Jacqueline Rose
Red Dust Road by Jackie Kay
New Ways To kill your Mother by Colm Toibin
The Poems of Rowan Williams by Rowan Williams.
                 
REVSITING TIME ON THE BOOK FRONT WITH TonyJasper
Born Under the Sigh of Jazz by Randi Hultin
The Dark Stuff  by Nick Kent
God's Long Summer  by  Charles Marsh
Just Kids   by   Patti Smith
White Noise by Don Delillo
 3 RECORDS                
ON THE JASPER
RECORD DECK

1 Benny Goodman 0rchestra feat. Anita 0'Day
recent issue of concert from October, 1959. 76:07 minutes of great music from a 1959 concert.
2 Heritage blues Orchestra – And Still Rise (Raison' Music)) Infectious mix of Southern blues, gospel and folk.
3 Spirit – An Introduction. The Archive.(Acadia) yep, an oldie, still so classy, picked it up in old style record place, Falmouth. Cornwall.
4 Bob Marley and the Wailers – Reggae with Soul (Demon)  Recently appearing in the record area at Morrisons Forty five tracks for the sum of a fiver – 'c'mon!
5 Stuart Townend – Ultimate collection (Kingsway) Jesus Music's big name, creative and often infectious.
And out there with those excellent magazines, including Uncut, Word, Mojo, you get a free CD, and without exception they are always so good. Not savoured a 'bum' one yet!