CRISIS is the on-line magazine of Tony Jasper and it has direct association with the Jasperian Theatre Company
Contact can be made via tony.jasper@btinternet.com.
Copy is welcome, but there is no payment. Material should fit in with the broad nature of this magazine.
Full credits will be given. Reviews of films, television, and book are most welcome. Copy on charitable concerns  is welcome but proof of the genuine nature of material is needed.
THIS MONTH  welcome a great friend of mine Linda Slade – someone who manages to call in on many aspects of theatre and drama.
Fifty Shades: From Vocal Grey to a Platinum Pronunciation
Linda Slade trained in Voice at The Royal Central School of Speech and Drama in London. She has been teaching voice internationally for over 25 years and has worked with some of the world's best actors including two Oscar Nominated Actors and One Bafta Winner.   Linda has also been a Vocal and Dialect Coach for Lifetime Films USA and the BBC and has coached and supported numerous politicians in preparation of their speeches. She has taught at Cal State Fullerton , The New York Film Academy at Universal Studios , Fresno City College , Berlin University and most of the top British Drama Schools.
Linda, as well as having been a voice coach, has also worked as an actress, voice over artist, director and television host and has worked in radio and theatre, film and television, voice over and business presentations. She has presented her voice workshops worldwide and coaches private individuals and groups. Linda studied acting and directing in her Bachelors Degree at Cambridge University , England. She later trained in Movement at Lambeth College in London and Acting at The Drama Studio London. Finally, she combined her early work with the study of voice at The Central School of Speech and Drama, which led to her work as a voice and movement specialist. Most recently she graduated from The University of Santa Monica in California with a Masters Degree in Spiritual Psychology and Consciousness, Health and Healing. Since then she has focused on work that helps to identify and release the underlying psychological causes of vocal repression and inhibition in order to free the client and the voice.
Linda has written six books on voice in total, Vocal Grey to Vocal Color , Vocal Grey to Vocal Silver , Vocal Grey to Vocal Gold, Vocal Grey to A Platinum Pronunciation, Vocal Grey to a Crystal Communication and Vocal Grey to a Diamond Delivery. These books form a series that address vocal issues and provide techniques for readers, through developmental exercises, that will support them in finding their authentic sound, help them release blocks that restrict free vocal delivery and enrich their understanding of some of the basic requirements for delivering a powerful and effective presentation or speech.
"Linda Slade is one of the best voice teachers I have ever had the honor to work with. Her clarity of teaching, dedication to training her student to strengthen the muscularity of their words for clearer articulation and her ability to pinpoint key issues limiting powerful vocal connection is inspiring."
Carolina Berg (Actress.)
General Introduction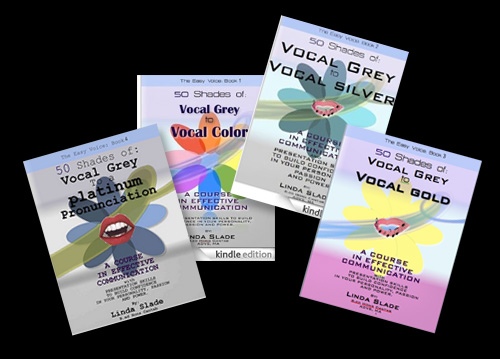 Do you often feel frustrated when the voice you hear in your head is not the voice that comes out of your mouth? Do you feel vocally blocked and intimidated? Do you find yourself stammering in public or losing your confidence and voice when you have to speak? Are you being called to talk in public in order to promote your business but are afraid?
You may already be a confident speaker but want to improve.  You may be a complete novice who is terrified of speaking in public and wants to overcome that. When I refer to speaking in public I am not just referring to the professional who has to stand up to talk in front of a hundred people at a conference, I am also referring to the parent who has to speak at a parent's association for the local school, the neighbor who has suddenly been called on to represent the community on a local issue, or the best friend who is asked to speak at a wedding or funeral. There are also more intimate reasons to communicate clearly with friends, families or lovers.
In all of the above situations your voice communicates much about you and it makes an important contribution to how you are received by other people. It is likely that at some time or other in your life you will be asked to speak in front of others. If you want to improve your communication skills, make a better impression on someone you would like to be closer to, or overcome a fear that is restricting your ability to speak in public, these books are for you.
I've been teaching voice for over 25 years. My work has taken me to exotic locations on film sets, professional business seminars, theaters, schools and universities. I have studied and worked with my own voice in performance, singing, voice-over and animation and have worked privately with Oscar winners, politicians and business professionals.
I started my journey by learning how to overcome my own fears of standing up in front of others and communicating and I still practice these exercises to keep my voice strong. Voice is a muscle and it needs exercise just like any other muscle in the body. If you don't practice the voice will diminish in its power. You have to work the voice regularly to maintain your confidence and strength. Use it and improve it!
In this easy read I will give you simple and practical exercises that you can use daily in the security of your own home. These exercises will not only strengthen your voice but will integrate the authentic part of you with your voice. Ultimately, with practice, you will find that you are better able to express yourself and communicate with truth, confidence and clarity.
Fifty Shades: From Vocal Grey to a Platinum Pronunciation offers you the choice of many exercises.  If you practice them, these exercises will give you greater appeal, confidence and the ability to interest the listener in what you desire to communicate. It will enable you to relax and speak your truth without fear of judgment or vocal let down. Your voice is there to support you. I've seen these exercises benefit many of my clients. Let the beauty of who you are communicate through a vocally strong and articulate voice. Feel the joy of sharing the magnificence of who you are with others.
These books address both the psychological and physiological aspects of vocal production. Issues in both of these areas can so often hinder our confidence. There are ways to clear the psychological blocks and settle back into the natural voice you were born with, and vocal exercises to strengthen it for public communication.
In my books you will learn how to release tensions in the body that inhibit the resonant vocal sound that is your true voice. You will develop skills in strengthening your voice and supporting your voice, and you will develop your articulation. As you free the voice from blocks and inhibitions you may reveal hidden mis-beliefs about yourself and your identity and in releasing these you will free yourself to communicate from your heart. You will discover a 'you', that revels in true vocal freedom: a 'you' that rejoices in the power and confidence that comes with a resonant voice, and a 'you' that is excited to stand up and share your message in public. You will want to communicate and be heard!
Imagine communicating with a voice that reflects who you truly are: a person who is powerful, confident, full of joy and love and success. Imagine yourself connecting with thousands of people with a voice that is vibrant, colorful, resonant and honest, without fear, stammering or tension. Imagine speaking with a voice that people want to listen to. Don't waste time! Read the book and start practicing and give yourself the blessing of a voice that truly expresses who you are. Be seen, be heard and be understood. Read on...
MUSIC
RECORDS
OLDIES AND ANCIENTS RETURN BUT THEY DELIVER!.  RICHARDS AND GILMOUR LAY IT DOWN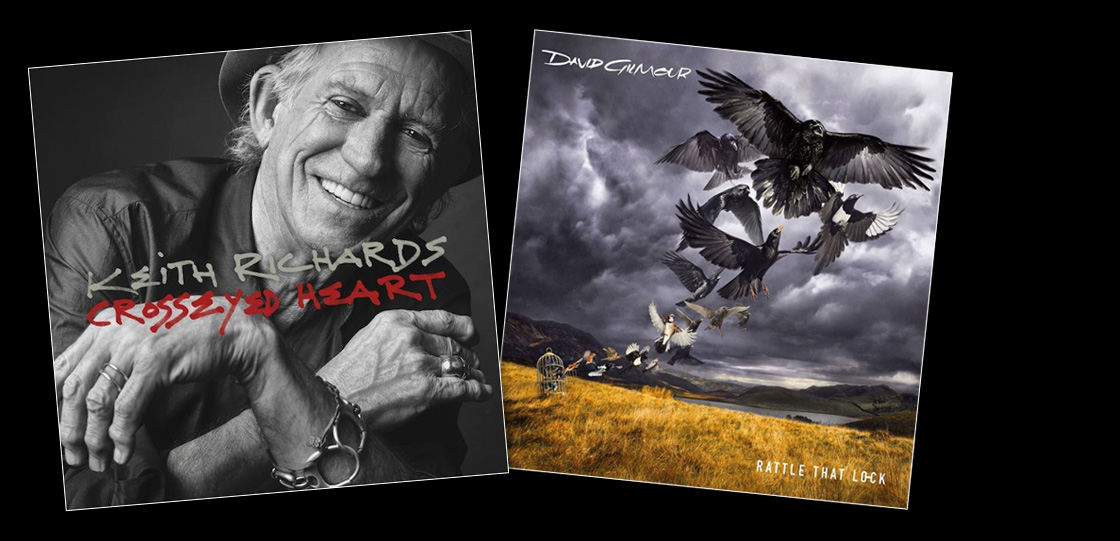 Rolling Stone man Keith Richards  makes his first  solo album in 23 years with Virgin issuing his Crosseyed  Heart.  Blues songs, and rokers and even humour comes from the famous one.  71 year-old Richard is collecting a lovely set of reviews. hHe other grand oldie is the suave Pink Floyd man Dave Gilmour. This is Gilmour's fourth solo set.  The guitar man is usually credited with Floyd's sweeping soundscape music.  here's even a monologue and some vocal work from Crosby and Nash
JESUS MUSIC
JESUS MUSIC AND BEYOND
How can anyone not love the debut album from 3 Winans Brothers, Foreign Land (BMG Absolute).?  Well perhaps not if you are a metal trash fan, or someone whose ears never stray from the classical.
Certainly for anyone who loves soul and gospel , and even dance, this is manna from heaven. In the US this album set has already won various awards and excited record reviewers. 
The Winans is a US family set-up that has carved its name into US Gospel Music history, but here comes the first from the three bothers Carvin, Marvin and arguably the best known Bebe Williams. Bebe has in past times made some beautiful albums with sister Ce Ce.
It was the death of Ron Winans  that for all intent saw the seeming last days of the Winans.  Indeed on this album there is a tear jerking  memory track 'I Really miss you.' Here is a great song but also in its lyric expression of the pain of missing someone precious. "How I miss your voice, how I miss your smile./ I really do/ still tears on my pillow/ Jesus was waiting when you left ere." '
This album  has a veritable mix of musical styles, from rasping house to smooth riding soul to a mix that even briefly transports you to the Bee Gees., and of course Gospel Music in its present contemporary music phase. Well, there is house sampling vocals, and a gospel choir along the way, but of course some fine singing from the trio shines through, all  aided by catchy accompaniments  very much to the fore. To these ears this is a mix of the smooth riding vocals and arrangements that  was once given the title of "Philly' to the raw guts of  present house dance. The best illustration of this is the catchy opening cut  with its funk house edit, and where the title is an appropriate 'Dance'. The sharp girl sample lead and ace girl back-ups steal the show from the guys. It's a track for the floor or designed for a pushy loud car radio sound  from a large convertible riding the wide US street. As it happen the femme vocals come from the fabulous Clark Sisters. In the US they call this 'feel good music." It is also filed under Soulful House Music.
Lovely falsetto guy singing comes on the second track 'Your Love Will Never End' that takes us through the glories of creation and personal assurance of love.  It has a hit riff title line and with the trio comes a gospelling - pop choir – all very fetching.
The choir "Coo" us into a song to some extent based on Romans 8, with its title 'If God Be For US."  You have to wait until track six for the title track, a smooth sounding affair with close-up exquisite vocals. Lyrically it is about a battle within the mind, of attending to the Word of God, of waiting for Christ's return. They yearn for that 'home' of the after-life where there are no tears or fears, and take as you will  they would have us accept our present existence as "foreign land" Ideally this album should be out there pushing the narrow confines of BBC Radio One into black music par excellence for how much soul, let alone Gospel does the station mix into his mainstream programming? – The answer is little. 'Please Don't Let Go' is another smooth riding cut that would sound great pumping through the car windows on a warm summer night – in the US at least. It also has some good sounding sax before the velvet sounding vocals once more take over. By this point we are hitting 40 minutes on this engaging album and if you want to know how three guys singing can have variety, even the unusual, take in track 11, 'Just Between Me and you.' that also has some sensitive and lovely piano to vary instrumentation. 
Brother Carvin believes that when God gives you a gift, you has to nurture that gift, practice and exercise your vocal cords."  Brother Bebe says their father gave them good advice when setting out." Know who you are before people in the world tell you who you are. So if your record is successful you're not easily persuaded to go another route." Brother Marvin says the album take us through some of their life journeying. Oh, 'Dance' gets two outings, there on track two and again at 13.  So there is a double helping of 'I Really Miss You" with the second a soul remix.  And 'Move to Me' is also given a double outing with the second a fiery trumpet funk led feel. And indeed some groove hit vocal back-ups to the lead, as it steams away fast and furious. It fades out at 3"26 but could have been easily extended to really hit the dance floor. Great stuff but then the album is a mighty affair.  Play it loud!
This review first appeared in The Methodist Recorder
Listing records
ROCK  and BANDS  of varying shades AND GROUPS AND SINGERS
THESE CDS FIND THEIR WAY INTO the Jasper library but vinyl albums are not listed.
CDS
AEROSMITH BIG ONES
AFFINITY   AFFINITY
ALLMAN GREGG LOW COUNTRY BLUES
AMERICA  NGREATEST HITS
ARCADE FIRE  REFLECTOR
BARCLAY JAME HARVEST  CAUGHT IN THE LIGHT
BARCLAY JAMES HARVEST RING OF CHANGES
BARCLAY JAMES HARVEST  THE ESSENTIAL COLLECTION
BECKER MARGARET STEPS TO FAITH
BECKER MARGARET SIMPLE HOUSE
BECKER MARGARET  SOUL
BECKER MARGARET  WHAT KIND OF LOVE
BENETAR PAT SOMEBDY'S BABY
BENATAR PAT  BEST SHOTS 
BENATAR GRAVITYS RABY
BLUE OYSTER ULT THE SINGLES COLLECTION 
BON JOVI THESE DAYSBIG COUNTRY SHIPS
BON JOVI HEY GOD
BBONAMASSA, JOE, DUST BOWL.ON JOVI LOST HIGHWAY
BRANIGAN LAURA  THE PLATIUM CLLECTION 
BROWNE JACKSON   THE BEST OF 
BUCKLEY JEFF  GRACE 128
CARS  THE GREATEST HITS  129
FAMILY  STRANGE BAND  130
CAMEL  STATI0NARY TRAVELLER
CARS   THE CARS GREASTEST HITS
CHAGALL GUERVARA   CHAGALL GUEVARA
CLAPTON ERIC  COMPLETE
CLATPN ERIC  UNPLUGGED
CLAPTON  ERIC  CHRONICLES
CLAPTON ERIC  LIVE
CLAPTON ERIC    THE BLUES CONCERT 2 DISCS
COLDDPLAY A RUSH OF BLOOD TO THE HEAD 
COLDPLAY PARACHUTES
COLDPLAY  X7Y
CREED  HUMAN CLAY
CROW SHERYL  SHERYL CROW
CROW SHERYL  THURSDAY NIGHT MUSIC CLUB
CROW SHERYL  SHEERYL CROW
CROWE SHERYL  THE BEST OF 
CROWED HOUSE THE VERY BEST OF
CROWDED HOSE  TOGETHER ALONE
DEACON BLUE WHATEVER YOU SAY SAY 
DEACON BLUE  OUR TOWN  THE GREATEST HITS  
DEACON BLUE WHEN THE WORLD KNOWS YOUR NAME
DEEP PURPLE  DEEPEST
DEEP PURPLE THE BATTLEPLAYS ON
DEEP PURPLE ?!
Dr john LOCKED DOWN
EELS  ESSENTIAL EELS
FLEETWOOD MAC  THE VERY BEST OF 
FLEETWOOD MAC  SAY YOU WILL
FFLEETWOD MAC  THE DAN
FRANZ FERDINAND   FRANZ FERDINAND
HACKET STEVE PLEASE DON'T TOUCH
HART BETH DON'T EXPLAIN
HART BETH SEESAW 
ELY JOE LETTER TO LAREDO
ELTON JOHN DON'T SHOOT ME
ELTON JOHNGOODBYE YELLOW BRICK ROAD
ELTON JOHN TUMBLEWEED CONNECTION
ELTON JOHN GOOD MORNING TO THE NIGHT
ELTON JOHN CARIBOU
ELTON JOHN  CLASSIC YEARS
ELY JOE  LETTER TO LAREDO
FACES THE BEST OF   good boys.
FEEDER  COMFORT IN SOUND
FEEDER PUHING THE SENSES
FEEDER ECHO PARK
FLETWOOD MAC  THE DANCE
FOREIGNER THE BEST OF LIVE
HART BETH  37 DAYS
KASABIAN  KASABIAN
KILLERS   SAMS TOWN
KILLERS DAY & AGE
KNOPLER MARK WITH EMMYLOU HARROS ALL THE ROADRUNNING
LED ZEPPELIN CELEBRATION DAY
LED ZEPPELIN REMASTERS
LEE ALBERT  PURE BLUES
LIFEHOUSE   NO NAME FACE
LITTLE FEAT SAILIN' SHOES
MYLO   DESTROYER
LOFGREN   NILS   SILVER LINING
LYNYRD SKYNYRD  LAST OF 
MAGIC NUMBERS   MAGIC NUMBERS
MANIC STREET PREACHERS  THE GREATEST HITS
MANIC STREET PREACHERS  THE HOLY BIBLE
MANIC STREET PREACHERS LIFEBLOOD
MANIC STREET PREACHERS GENERATION TERRORISTS
MANIC STREET PREACHERS  EVERTHING MUST GO
MANIC STREET PREACHERS   KNOW YOUR ENEMY
MANIX STREET PREACHRS  THIS IS MY FAITH TELL ME YOURS
MARS VOLTA   DE-LOUSED IN THE COMATORIUM
McVIE CHRISTINE IN THE MEANTIME
MOTT  THE HOOPLE MOTT
MUSE ABSOLUTION
NIRVANA  IN UTERO
NIRVA`NA NEVERWIND
NO DOUBT THE SINGLES 1992-2003
OASIS  DON'T BELIEVE THE TRUTH
PAXTON TOM RAMBLIN' BOY
PAXTON TOM AIN;T THAT NEWS
PETERS MIKE BREATHE
PETTY TOM AND THE HEARTBREAKERS GREATEST HITS
PLANT ROBERT JOY
PLANT ROBERT MIGHTY REARRANGED
PRETENDERS  LAST OF THE INDEPENDENTS 
RADIOHEAD HAIL TO THE THIEF
RADIOHEAD  OK COMPUTER
RAIT BONNIE  LONGING IN THEIR HEARTS
RAIT BONNIE YOU
RAIT BONNIESILVER LINING
RAIT BONNIE ROAD TESTED
RAIT BONNIE  LONGING IN THEIR 
RAMONES  GREATEST HITS
RED HOT CHILLI FINGERS  WHAT HITS?
REED LOU  MAGIC LOSS
REED LOU  TRANSFORMER
ROLLING STONES THE  STICKY FINGERS
ROLLING STONES  2120 MICHIGAN AVENUE
ROLLING STONES DECCA RECORDINGS
ROLLING STONES GET YER YA-YA'S OUT
RONSTADY LINDA  WINTER LIGHT
RONSTADT LINDA THE COLLECTION
RUNRIG AMAZING THINGS
RUNRIG  MARA
RUSH  RETROSPECTIVE
SCAGGS BOZ A FOOL TO CARE
SHACK   H.M.S. FABLE
SORENSON TAYLOR  THE OVERFLOW
SMITH PATTI  BANGA
SNOW PASTROL  FINAL STRAW
SPRINGSTEEN BRUCE WRECKING BALL
SPRINGSTEEN BRUE HIGH HOPES
SPRINSTEEN BRUCE  GREATEST HITS
SPRINGSTTEN BRUCE  STREETS OF PHILADELPHIA
STORM  THE STORM
SUPERCHICK  ROCK WHAT YOU GOT
TEN YEARS AFTER  see Albert Lee.
TEXAS  SOUTHSIDE
TEXAS  CAREFUL WHAT YOU LIVE FOR 
TEXAS  WHITE ON BLONDE 
TEXAS RED BOO
TRAFFIC MR FANTASY
TRAVELLIN WILBURYS  COLLECTION
U2  BOY
U2 RATTLE AND HUM
U2 THE JOSHUA TREE
U2 ALL THAT YOU CAN'T LEAVE BEHIND
U2 HOW TO DISMANTLE THE ATOMIC BOMB
U2 THE BEST OF 1990-2000
U2 OCTOBER
U2 ACHTUNG BABY
U3 POP 
WILSPON NRIAN presents SMILE
ZZ TOP LA FUTURA
COMPILATIONS   
LOVE ROOTS
DAZED AND CONFUSED  guitar greats 
HEART OF SATURDAY NIGHT
MIDDLE OF THE RODA AND 50S
ZEE RECORDS STORY
RESOURCE MATERIAL
DRAMA
REVUE SKETCHES 
FOR NOW 
FOR CHRISTMAS
These sketches by tony jasper can be presented but recognition of the writer should be given.
SKETCH CALL THE POLICE
VOICE A FEW WEEKS AGO NEWS BROKE THAT THE POLICE may focus on cyber crime, terrorisms and protecting children, and not have time to investigate such a mundane  thing as someone reporting they've been burgled. We have had access to one phone call from a Mrs Daisy Plant.
MRS PLANT:  HELLO. AM I THROUGH? IS THAT THE POLICE STATION?
OFFICER; IT MIGHT BE.
MRS PLANT:  MY NAME IS MRS PLANT I need help.
OFFICER: CONTINUE MADAME IF  YOU WANT ASSISTANCE. I CAN SAY THIS IS NOT THE RAC AA OR GREEN SHIELD. I CANNOT SAY MORE.
MRS PLANT.   MY NAME IS MRS PLANT.
OFFICER THANK YOU  FOR THAT INFORMATION AND FOR USING OUR SERVICE MRS PLANT.  EVERY CALL IS VALUABLE. WHAT CAN WE DO FOR YOU ONTHIS LOVELY DAY?
MRS PLANT:I AM 82 AND I AM BEING BURGLED.
OFFICER; I AM SORRY TO HEAR THAT.
MRS PLANT   I NEED HELP.
OFFICER ; THAT SEEMS A REASONABLE THING TO SAY IN VIEW OF WHAT YOU REPORT.. PLEASE BE ASSURED THAT YOUR CALL IS BEING RECORDED AND MONITORED FOR FUTURE TRAIING PURPOSES.. SO WHAT CAN WE DO FOR YOU?
MRS PLANT: YOU ARE THE POLICE?
OFFICER; I AM WILLING TO SAY THIS IS NOT THE AA OR RAC BUT I RESERVE THE RIGHT NOT TO SAY WHETHER THIS IS GREEN SHIELD OR NOT GREEN SHIELD.
MRS PLANT  YOU MUST KNOW.
OFFICER I HAVE TO KNOW WHAT BRINGS YOU TO THIS CALL BEFORE I CAN DEFINITELY SAY.
MRS PLANT :I AM BEING BURGLED AT THIS VERY MOMENT. I AM HIDING IN THE BATHROOM.
OFFICER: I AM IMPRESSED YOU HAVE A SIGNAL. IN VIEW OF YOUR DESCRIBED SITUATION  YOUR LOCATION  SEEMS A REASONABLE. CHOICE. 
MRS PLANT: YES, BUT. I AM BEING BURGLED. 
OFFICER: UNFORTUNATELY YOU CANNOT MAKE A CUP OF TEA. BUT TO BE POSITIVE AND PRO-ACTIVE WHICH IS VERY IMPORTANT WHEN UNDER STRESS, IF YOU ARE TAKEN SHORT YOU ARE IN THE RIGHT PLACE.
MRS PLANT. ARE YOU GOING TO HELP ME?:
OFFICER": IN VIEW OF WHAT YOU SAY I AM WILLING TO SAY WE ARE THE POLICE.
MRS PLANT: I AM BEING BURGLED. TIME IS MARCHING ON.
OFFICER: I AM SORRY TO HEAR OF THIS INCONVENIENCE,. I WOULD LIKE TO FFER YOU OR MORAL SUPPORT, AND FOR SOME OFFICERS HERE, A PRAYER SUPPORT.
MRS PLANT: ARE YOU SENDING SOME 0FFICERS?
OFFICER: THAT'S A VERY OLD FASHIONEDD CONCEPT. GENERALLY  BURGULARS DO NOT SPEND TOO MUCH TIME ON ANY PARTCULAR 
MRS PLANT : I DON'T UNDERSTAND. PREMISEWILL SOMEONE COME?
OFFICE: I AM PUTTING YOU THROUGH
TO OUR EMERGENC DESK. THEY WILL HELP YOU. PLEASE HOLD THE LINE. THERE MAY BE A PAUSE.
VOICE: THANK YOU FOR CHOOSING THIS UNDISCLOSED SOURCE TO DEAL WITH YOUR PROBLEM. 
To help you to speak with the correct service 
 PLEASE ANSWER THE FOLLOWIG
QUESTIONS WTH A YES OR NO.
Are you a victim of cyber crime?
MRS PLANT  No idea.
VOCE PLEASE ANSWER YES OR NO. AFTER  ASWERING ALWAYS PRESS THE HASH TAG.
Mrs PLANT:  No
VOICE   THANK YOU. ARE YOU A VICTIM OF TERRORISM? YOU Have 5 seconds remaining.
MRS PLANT   NO.
VOICE THANK YOU, ARE YOU PROTECTING CHILDREN FROM NASTY PEOPLE ?
MRS PLANT I am being burgled.
VOIC E PLEASE ANSWER YES OR NO.
Mrs plant No.
OFFICER; I AM PLEASED TO SAY YOU ARE NOT A VICTIM OF MAJOR CRIME THAT COULD HAVE INTERNATIONAL SIGNIFICANCE. THANK YOU FOR YOUR HONEST ANSWERS. 
PLEASE USE OUR REPORT SYSSTEM BY ANSWERING ONE TO TEN IF 1 YOU FOUND THE SYSTEM EASY 2 YOU ENJOYED TALKING WITH A  FRIENDLY OFFICER 3 YOU WILL USE THE SERVICE AGAIN,
THANK YOU FOR YOIR TIME, IT IS APPRECIATED.
Mrs plant Hello, is that the police? HELLO..................
BUYING A RAIL TICKET IN 2015
TRAIN NOISE
TAPE" (Next customer. Window 7.)
MAN   Good afternoon Madame. My name is Mr Goodenough..
WOMAN;  What an unusual name. I hope the service will be good enough. I'm so sorry. I blush, you must have heard that many a time..
MAN: Here to help you at this very important time of year. Happy Christmas.
WOMAN: Oh!
MAN. Part of the service. Naturally we 
want everyone to feel joy at this time of year;
What can I do  for you?
WOMAN: I want a ticket.
MAN: You've chosen the right place, the right window. I assume you do not want a morning ticket, day ticket, afternoon off-peak, early 
evening peak supplement. Tickets for pets, bicycles, under 14s, under 12, under fives, ticket,
and almost forgot there's  a` sleeper ticket, although you do not have to have either a single or double berth, just a seat in the first class. Saloon.. I have to remember to ask if the customer has a Senior rail card. Then again some trains do not stop at every station, some  do Wed-Friday but not Monday. Tuesday. Thursday, Saturday, Sunday. This is an advance not an on-the-day window. 
WOMAN:  Just me.
MAN. That makes things a lot easier. Splendid, what I would call a Christmas gift.
WOMAN  Gift?
MAN: When you do this job you never get anything simple, like one customer and one customer only, travelling there and then, just a single ticket. No all day it's family tickets, two for one husband and wife, school party, four for 2, zonal purchase, weekly, monthly, all-year advance purchase, then foreign parties of 20 or more, rarely get asked for one ticket. Oh, people want a parking ticket, ask for a 10p off voucher for some fizzy track, a headache.
WOMAN My friend has told me that you do  a supper super super single ticket. 
MAN:  Not good enough. See I can take a little joke against myself. To where do you want to go?
WOMAN. OH, how silly of me. Newtown.
MAN As in Wales, Cornwall, Merseyside, West Highlands, Ulster...More Newtowns coming up on the screen...
WOMAN Cornwall.
MAN Are you sure there's a station in Newtown?
WOMAN I meant a rail and bus ticket .. to PENZANCE. then to Newtown.. My friend says it's the number 2 bus.
MAN; Penzance, quite a  journey. No 2's are all double dekkers, not that you see much when it's dark. Went to Penzance with Gwendoline for our honeymoon. Lovely place. Penzance. Here it is. 
Right. Excuse me sir, I'm still dealing with this lady.
When will you be going
WOMAN. December 22.
MAN: December 22.
WOMAN  Something wrong?
MAN: Can't see anything ABOUT A SSUPER SUPER SUPER  SINGLE OR A SUPER SUPER SUOER SUPER SUPER SINGLE . At this time of year the more cheaper tickets get withdrawn.
Usually  I can offer a dozen or more alternatives.
Interesting.
There is a reduced fare – Christmas offer – for those who have suffered a divorce this year.
WOMAN: Charles left in August.
MAN: That's good-enough. Did I say I can take a jest? It must be a first divorce.
WOMAN: He was my fourth. I know – not good-enough.
MAN. I mean if you were to go  before December 22, there's a special ticket for children, proof needed of course. 
WOMAN No young childRen.
MAN: All this makes it that more awkward trying to get a cheaper ticket.
WOMAN  0h dear.
MAN So, it looks as though it's full fare, London to Penzance on a first, in peak times is not far 
behind the cost of flying to New York.. One Way..
though if you changed at Reading, Taunton, Tiverton Parkway, Exeter, Newton Abbot, Plymouth, , leaving  Paddington at 06.45, it would mean you could get the 17.57 from Plymouth, that's a two car DMU, always packed, and be in Penzance by 8.,and catch the 2110..only goes to Helston 
WOMAN Newtown is before. Helston
MAN A lengthy journey.
WOMAN That's 12 hours. Simply not good enough. Oh, I am so sorry..
TRAIN NOISE
BOOKS
This month's listing is of books in a theatre context that deal with Jesus.. 
Anon, ed. Kemp E with Mitchell, K. (1997) The Mysteries. London: Nick Hern.
Bradley I. (2004) You've Got To Have A Dream, London: SCM.
Braun. M. (1972) Jesus Christ Superstar. The Authorized Version. London: Pan.
Browne, H and E.M, (1945) Pilgrim Story, London: Frederick Muller.
Buckner. R. (1993) The Joy of Jesus -  Humour in the Gospels .  
Norwich: Canterbury Press.
Clarke-Smith. ( 1901 ) The Miracle Play in England, London: William Andrews .
Dewar, L. ( 1949 ) New Testament Ethics,.London: University of  London Press. 
Eversole, F. ed. ( 1962 ) Christian Faith and the Contemporary Arts, NY: Abingdon.
Forde, N. (1986). Theatrecraft., London: Marc Europe.
Heddendorf, R. (2009) From Faith to Fun - The Secularization of  
Humour. London:  Lutterworth
Honeycombe, G. (1964) The Redemption, London: Methuen.
Hussey, M. (1957) The Chester Mystery Plays , London: Heinemann.
Jasper, T. (1974) Jesus in a Pop Culture, London: Collins.
Jasper T. Pickering K. (2013) Jesus Centre Stage (Highland)
Johnson T. E. Savidge D. (2009)  Performing the Sacred: Theology and Theatre in Dialogue.  Baker Academic.
Malachi, M. (1975) Jesus Now, London: Collins.
Miles, K. (1981) Coventry Mystery Plays, London: Heinemann.
Moynahan. M.E. (1998) Once upon a Mystery. New York: Paulist Press.
O' Leary, D.J and Sallnow, T. (1982) Love and Meaning in Religious Education- The Incarnational Approach to Teaching Christianity, Oxford: OUP.
Pickering, K. (2001) Drama in the Cathedral, Colwall: Garnet Miller.
Purvis, Rev.J.S. (1953) The York Cycle of Mystery Plays, London: SPCK.
Sanders. E.P. (1985) Jesus and Judaism.London: SCM. .
Sugano, D and Pickering, K. (1997) The Midlands' Mysteries ,Colwall: Garnet Miller.
Tayor.T. (1916) The Celtic Christianity of Cornwall, London:  Longman, Green & Co.
Tillich, P. (1955)  The New Being, London:  SCM.
\Vermes. G. (2000) The Changing Face of Jesus. Harmonsdworth: Penguin.
Wolfe, K. (1984) The Churches and the British Broadcasting Corporation 1922-1956, London: SCM.
Wood.D.ed .(1992) The Church and the Arts. Volume 28, London:.Blackwell.
Wright, S. ( 2008 ) The Sounds of the Sixties, NY: Grosvenor Houks).
BOOKS 2
New titles to the ever growing Jasper library include:
Pop Goes Religion  Terry Mattingly (homas Nelson)
Using the Bible in Spiritual Direction, Liz Hoare (SPCK)
God in the Details – Eric Mazur and Kate McCarthy (Routledge)
Blood on the Flag Nigel Bovey  (Salvation Army)
Backpacking with the Saints Belden C Lane (Oxford).