THE SURVIVOR
Well, it's still here – I mean the NME.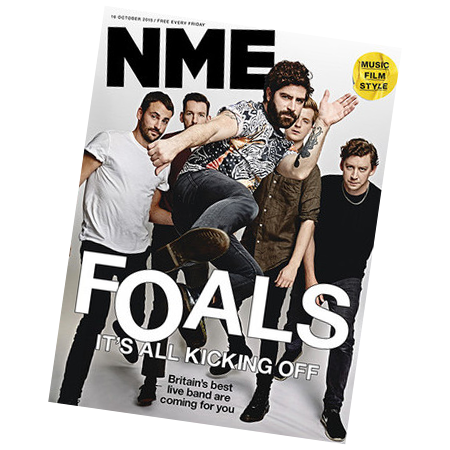 Once upon a time when this writer wrote weekly for Record Mirror there was also at various points Disc, Melody Maker, Sounds, and every now and then a a new short-lived entrant in an attempt to break into the music weekly club. Back in the days of Beatlemania, that's (Gulp) 50 years ago, the NME sold 350.00 copies a week, way ahead of the others, but then each paper had its own style. The others have long gone but somehow NME survives – just. The 'throw out the life-jacket' comes in making NME free. You can pick it up at HMV but where else? It's not going to make the major newspaper and magazine outlets of say W.H.Smith. Down in the far West of Britain you can find it in HMV Truro but that's 25 miles from I live and I do not truddle off to Cornwall's only city that often.
Still, I was in Truro a week or so back and picked up the freebie that on its cover had the favourite girl of the moment in popsville – Taylor Swift.  At present she manages to court some fans in the music world that interests the NME, and if I am not being too cynical, I suggest someone thought bang Taylor on the front and it will pick up the more pop orientated crowd. 
These days the NME is cut in size and shape rather akin to many magazines, and in that sense has lost a little, and it's a trifle boring size.  It packs in its 48 pages lotsa of stuff of one sort or another and goes beyond mere records and stars and does some wandering into general pop cultural offerings.  And so we get such offering as "2015: The year trans culture went mainstream", film reviews, a look at TV's Homeland, and a fashion agenda, and a wider advertising appeal, even down to sofas! And yes, there's a hefty whack of Taylor and whose complaining on that score? Taylor tells one and all that "There's nothing I would change about my life."  On the other hand the US pop star does have some worries. "It can feel like every-one is waiting for you to mess up." That Taylor, is the nature of the biz.
It seems editorially to be chasing a wider constituency. Anyway – it's still here!
Postscript
Talking about the demise of magazines how one missed the like of The Face, Blitz and T he Word.
Fortunately Mojo and Uncut survive, as Q. One of the big factors in days gone by, and hopefully still for the NME, is up-to-date news and reviews. Monthlies can never capture the moment or engage in a sudden content shift at the last moment.
JASPER TURNTABLE

New Order – Music Complete.
Laroux – Trouble in Paradise.
Lana Del Rey – Honeymoon
Whitby Morgan – Sonic Ranch.
Darlene Zschech – Change Your World.
QUIZ TIME WITH DYLAN
Try your Dylan lyric knowledge. Answers at the end of this Crisis.
1 The rich  seduce the poor and the old are seduced by the young. 
2 But sometimes a man must be alone. 
3 But you will wind up peeking through her keyhole.
4 I aid my friend John, Brigitte Bardot
5 It'll be too dark for you to find he door. 
6 Who could track or chain him down
7Like a corkscrew to my heart/ever since we've been apart.
8  Race or chase you, tack to trace you
9 With the mystery tramp, but now you realise
10 Well, I return to the Queen of Spades.
JESUS MUSIC AND BEYOND
ANOTHER CANADIAN GEM
CITY HARMONIC

There is a brilliant title track to the new City harmonic album We Are.(Integrity) . It has a refrain that should soon become a household shout in contemporary worship gatherings. This Canadian outfit is a fairly light rock band, at least compared with Rush the country's main secular rock outfit. That said, and where music labelling is  always a somewhat dicey affair,  they are also noted in Brit-pop territory. Maybe the latter stems from their somewhat raucous gang vocals,. 
The band bounced onto the scene in 2010 via an EP, and then a year later  with their first – and positively reviewed in this column –   I Have A Dream (It Feels Like Home).  The US soon took to the group and in 2013 Billboard – the essential American music trade journal – had them charting the second album Heart   
Released a few weeks back across the Atlantic this title track has become a hit single. The lyric builds on the theme that in Christ " we are one" - The group speak of Christ alive  amidst what is termed "this crazy, diverse family we call the Church." The song is making in-roads on the ITunes chart.  The song is available in video format. Trawl 'the city harmonic lyrics' for a word insight into their message.
'We Are' is not the only strong cut on this set.  Very much, and unusually so perhaps for a rock-ish outfit, they are often piano driven, vocals get double-tracked, gospel choirs have an outing, and of course the synth  is present, all to bring us an expansive sound. They even lead us into the land of more orthodox worship in the track 'Confession' that pulls off the Agnus Dei, the ancient short but powerful Christian prayer that says so simply but effectively "Lamb of God you take away the sin of the world, grant us peace." It becomes a take on the old Sankey associated hymn 'My Hope is Built on Nothing Less.' But yes, in previous they have given us a musical outing of The Creed. 'Into Yours Arms' is another song with a more than useful title line, 'Shout" gives a gutsy rock attack and there is a reflective voice over acoustic guitar for 'Still and Small.' Yep, recommend this set.
TIM HUGHES
HTB worship leader, touring and festival artist, Tim Hughes is back with another album, his seventh, Pocketful of Faith (Integrity). As ever the man is in powerful vocal form and surrounds himself with those songs you can hear festival audiences singing long into the night. That said he is often  treading familiar territory and perhaps, just perhaps, needs to think of  where he might move off to next, and it's not so simple as thinking what can be a catchy intro arrangement to a  song. Maybe I'm being churlish when set against the fast thrusting  'Only The Brave' . Oh, he sings of how "God is near" in Jesus. Like many a Hughes song you have to stand, wave the arms, and best of all hear and listen with a crowd of people who want to rejoice, or imagine so.  
The title track gets a piano introduction and is much more relaxed and vocally introspective.  'Symphony' is a marching' song  that talks of Divine love, love like no other. 'Set Apart 'picks up some of the previous track's musical feel, soon gets heavy,
'Plans' talks of seeing the world through God's eyes, as soon as daybreak comes, and gets  fairly robust backing track. Inevitably there is a Hughes sing-a-long . 'Arms' is a slowie, 'Sky High' has a mysterious sounding intro, a song that builds before opening up in yes familiar Hughes,  and moving to track twelve, it's 'Hallelujah'  with the title word sung in the way that marked the one-time Cohen and Buckley
hit  of a few ears back.  The album goes out with a nifty track 'The Way' . It sees the vocal pushed back to the more strident  and somewhat irritating accompaniment. I like the album but would not run with some quite ecstatic reviews noted elsewhere. Good though.
,
As for the 'beyond' – well, there is the new album 'Honeymoon ' from Lana Del Rey.(Polydor). While the insert sleeve gives some pics of the artist, it fails to give the lyrics, although the title song words can be accessed by googling. She sets off with that track, and if you like, breaks the golden rule that the first outing should always be a catchy affair, whereas Honeymoon is a slow broody affair. Call the track static depression, unlikely to drive you out of a morbid state of mind.  Throughout there is a morose orchestral film soundtrack  running beneath those  so cool, almost languid, attractive sounding vocals that have made her stand out in popular music land.  Also noticeable is the length of tracks, five or six minutes for most. And oh, there is one entitled 'Religion' followed by 'Salvation". The former is though about a special person who is her religion.  The latter has a lovely string introduction.  Still, there is the earlier 'God knows I Tried'  where she does dwell on the path of life from birth to death, of love and relationships along the way, and where she sings 'God gave me life." For anyone wanting to reflect or find a theme from this song then it might be one where we think whatever our age, what is it that we live for and what are we achieving. It's a fascinating song that like many of her vocals and song kind-of stays with you, for a while anyway.
THE EDITORS
Elsewhere the once much touted Editors, now with a new line-up  reach their fifth album. Their new set In Dream (Pias) includes a run with the U2 sounding, 'Salvation'  and an interesting song entitled 'Forgiveness.' ' but  while often good .overall the set is not likely to become a long-awaited major breakthrough. John Grant sees his album Grey Tickles, Black Pressure (Bellaunion) giving a` more optimistic feel. He says the album is a meditation on the nature of love, and so among his reflection comes the famous 1 Corinthians 13 Pauline wonder passage. Grant grew up in a heavy religious home and where finding and announcing himself gay he also heard from his family the prospect that he could one day be delivered to  hell. It's soul-baring time for the artist, and I suppose in terms of a group discussion, there might be one on where we, and others, stand in relation to the greatest gift of all, love.
This first appeared in The Methodist Recorder.
BOOK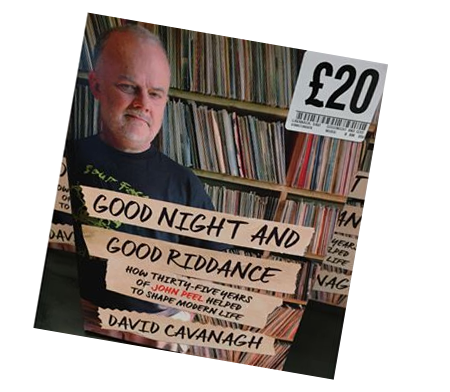 1 Good night and Good Riddance: How Thirty-Five Years Of John Peel Helped to Shape Modern Britain –David Cavanagh (Faber & Faber)
Review to follow Crisis 34. 
Dylan answers:
1 When You Gonna Wake Up 2 Ballad of Frankie Lee and Judas Priest
3 She Belongs to Me 4 I Shall be Free 5 If You Gotta Go, Go Now 6 John Wesley Harding 7 You're a Big Girl Now  8 All I Really Want to Do. 9 Like A Rolling Stone 10 I Want You
BIRTHDAY BOY
Yes, Harry Webb, alias Cliff Richard, hit 75 last month and with it came the album 75 at 75 that is yes another compilation spanning his amazing career. His fan club mags have been busy, not least Cliff Guaranteed, a beautifully produced fan mag and obviously it wants to say HAPPY BIRTHDAY! – AND WHY NOT!
Johnanna Graham
Prior to its release in 2016, Johnanna Graham previews her new album Rhyme and Reason, which showcases her love of poetry alongside her innovative and fresh interpretations of jazz standards. With new compositions based on the words of writers as diverse as Shakespeare, Lewis Carroll and e e cummings, the album showcases Johanna's exciting, expressive and emotive performance style and warm and mellow vocals. Her quartet of highly accomplished musicians is Martin Bowie (guitar), Tim Greenhalgh (double bass) and Damian Rodd (drums).
'A fine singer with a palpably individual style' (Jazzwise Magazine)
Upcoming gigs:
Wednesday 18th Nov- London Jazz Festival at The Pheasentry 8pm
Tuesaday 15th Dec- St Ives Jazz Club 8.30pm

Garth Hewitt Foundation... from Garth
Americana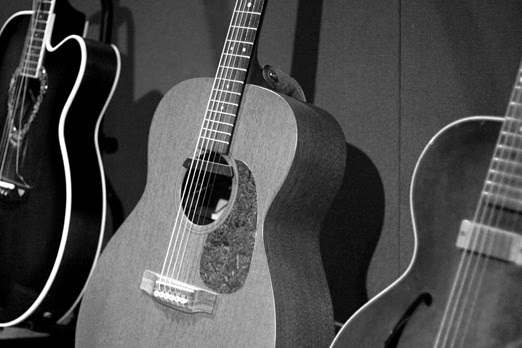 My daughter Abi lives in Nashville, and recently she was at the Americana Awards Ceremony and told me that Don Henley was performing, also Ry Cooder, Los Lobos, Rosanne Cash, Lucinda Williams and Buffy St Marie - and I thought that sounded a really interesting evening's music!
I've often found it difficult to know how to define my own music, style-wise, mainly because it's a mixture of influences. So if someone says, "What music do you play?" I find it a bit tricky if I approach it stylistically. I could say "roots music", which often brings a blank look, or I could say, "influenced by country rock gospel folk blues," but is this helpful? I don't think so, so I define it sometimes more by the lyrics, by story telling, protest, gospel. Could I say instead, "Actually, I'm a bit Americana"?!
The Americana Music Association defines Americana as "contemporary music that incorporates elements of various American roots music styles, including country, roots-rock, folk, blue grass, r & b and blues resulting in a distinctly roots-oriented sound that lives in a world apart from the pure forms upon which it may draw. While acoustic instruments are often present and vital, Americana also often uses a full electric band."
One of the reasons the term has been adopted is because country music, especially in its recent incarnation, has been so desperate to be commercial that many musicians from Nashville and from this style of music no longer want to use that definition.
Don Henley
Don Henley has the No.1 country album as I write this and he said recently, "I don't recognize country music anymore - the bar is not very high right now. I'm not naming any names. I'm just saying the bar isn't very high right now. [There is] a lot of bad songwriting going on, really sloppy stuff. Not that country music is supposed to be an intellectual exercise, but it could be better than it is. It could have more meat to it than it has currently got."
There's a freedom about the Americana definition, because many artists don't sit clearly just in one style; even Johnny Cash, though considered by many to be the heart of country music - but was what he was doing with Rick Ruben country music or would it be more comfortable with the description Americana? The Americana label seems liberating, especially at a time when commercialisation of a given style can be making it less and less remarkable.
Interesting that Ry Cooder was there at the Americana awards - he is currently playing banjo in a bluegrass band with Ricky Skaggs and Sharon White. This is a musician who has influenced me though all the years since I used to go and see him annually at the Hammersmith Odeon - he was always developing, always influenced by so many different types of music. Through the years he has come up with interesting productions like "The Buena Vista Social Club" or Mavis Staples' Gospel album "We'll Never Turn Back." These are the kind of artists to keep an eye on.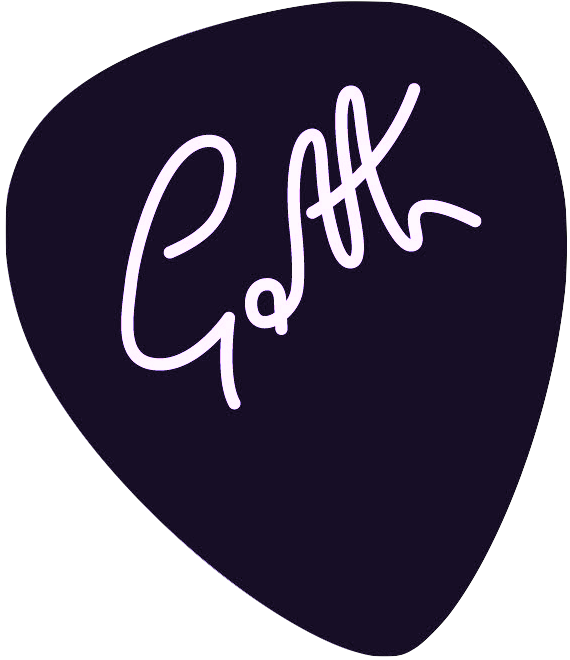 Now here's a problem. Can Americana be used to describe the music of an artist who doesn't come from America? Say for instance an artist born in Watford? - I'm not sure - I'll take advice on this! But I think it's an important question. I like the roots label and that's often been understood quite widely - sometimes meaning acoustic and gritty - would Americana be better?
Maybe this all reminds us that we have to be careful with labels, especially a label like "country" that can put some people off in its current incarnation. Personally I will keep an eye on Americana - it seems to me to be where most of the music that interests me is situated - maybe add a little gospel and a little bit of world music!
One of the key things the Garth Hewitt Foundation has been doing is trying to make sure that my earlier albums are available, and now we are doing this steadily through GingerDog Records - we are somewhere in the region of 20 albums re-released now, so only another 20 or so to go! I'm personally finding it intriguing, because it makes me put an album on and listen to it afresh, and many of these albums I haven't listened to for years.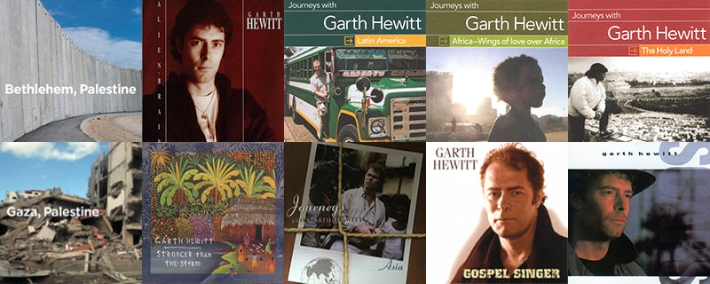 As we release albums online they are also available to buy as CDs from GingerDog Records, and we will also periodically select one of them to be available as CD on tour with me. The first album to be treated in this way is "Scars" so I have been listening to that again in the car and I've been surprised - some tracks I remember very vividly and certain tracks and certain styles of music I had forgotten were on Scars. (Scars is definitely Americana!!)
Strange Weapons
One song that I am revisiting at the moment is "Strange Weapons" - I've started trying it out on tour again and telling a bit of a story about it, but in fact it will be the title of my next tour. The long running "Something for the Soul" Tour which I have very much enjoyed draws to a close at the end of November. Then there are two or three Christmas gigs and a pause in touring.
The new Strange Weapons Tour will start in April and is a revisiting of songs from the journey through the years. At the moment we are in the process of selecting which the songs will be, and it brings them alive for me as I think what prompted me to write them.
I don't know what the Strange Weapons Tour will exactly look like yet but I know it will contain some songs from Scars including "In A Polish Winter", probably "Jesus of the Scars", and who knows, maybe even "When Johnny Cash Sang Man in Black".
Prayer for Peace
As I write, the situation is getting worse in Palestine and Israel. Over 1900 Palestinians have been injured and 33 have been killed, and this is by Israeli soldiers repeatedly opening fire on crowds in the Gaza strip and the West Bank. You will also have heard that Palestinians have stabbed or attempted to stab various Israelis (7 killed in this way at the moment and others injured) - how should we pray and what should we do with Palestine once again "on the brink" - that's how the human rights organisation Al Haq has described the current situation.
Jailed Palestinian leader Marwan Barghouti is seen as the future leader for the Palestinians, and he pleads from prison for the dealing of the root causes, namely the denial of Palestinian freedom. 'The oppression", he points out, "has now lasted for nearly seventy years" - he pleads again for peace in accordance with International Law and UN resolutions. He says, "I have spent 20 years of my life in Israeli jails… and these years have made me even more certain of this unalterable truth: the last day of occupation will be the first day of peace."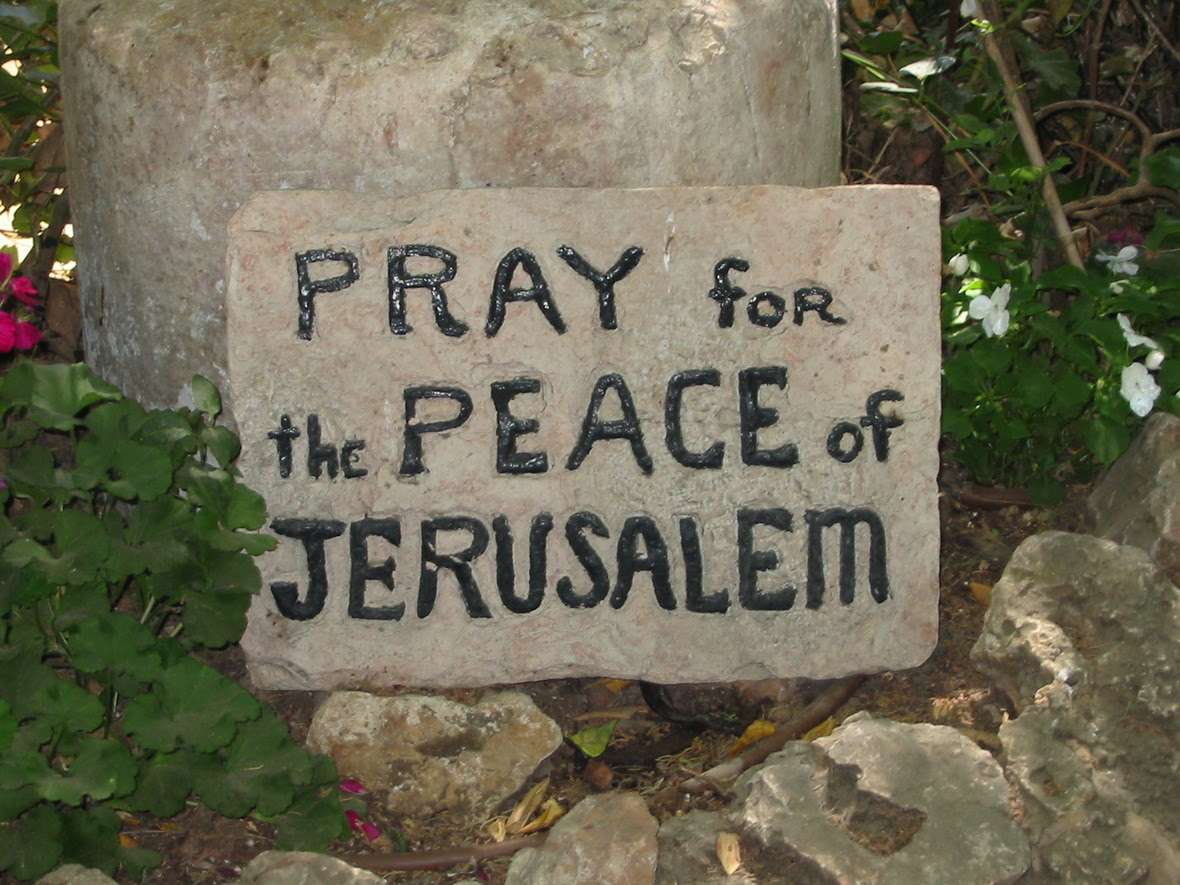 O God we pray for the deeply wounded Middle East 
We pray for liberation 
We pray that the siege of Gaza will end 
That the occupation of Palestine will end 
So there can be peace and security for both Israelis and Palestinians 
So that both communities can move forward together 
In a new relationship and towards a new future
We also pray for Syria 
Another country bitterly wounded 
And we pray that the terrible conflict will cease 
That the rebuilding, after so much destruction, may start
And we pray for refugees, 
Fleeing from war and fleeing from poverty 
That they will find a place to be 
'Till peace comes 
And they can return to their land
In the name of Jesus the liberator, healer and peacemaker from Nazareth
Amen