X FACTOR and the
ROCK MAN AND JESUS
X Factor is brash and even vulgar. It plays on the emotions. Outside of the panel and their own 'games' with each other to make good 'tele' you have a pumped up audience that contains a seeming endless  supply of artist family friends who take no nonsense from panel members if by chance their 'beloved' comes in for negative comments. They must spend weeks in preparation  so that they can with alacrity scream and shout, hiss and boo when their supposed star in the making  is even  said to be out of tune or a beat behind the backing track. 
The artists either beam or look distraught at comments that come their way.  A few wise among them sensing armageddon is heading their way realise the 'way out to be way in' rests in thanking ever so much panel members for their comments. and that with these helpful negatives  why next time they will be sensational. The artist show deep friendship to each other when things get a little hectic,  as one of them must vacate a chair that previously meant acceptance for another -  the camera catches deep pain and sometimes the unsaid expression that suggests the thought:  "what is 'he'  doing? (Simon Cowell).I'm great. "  But yes, all part of the show-biz structure  that attracts millions, and some people's desperate attempt to find their life fulfilment as a star. That said there are some impressive singers and groups. 
HAWORTH AND JESUS
All this is a long introduction to an artist who is so cool, genuine in faith, possessed with superb musicianship. He writes  with engaging simplicity, and who yes, would never appear on the show such as X Factor. Welcome to Bryn. Haworth, an unassuming lover of Jesus. and who in 'worldly' terms has record biz shout that he  is a first class musician. Sounds, a past music weekly alas,  once had writer Tony Ingham  writing: "If we are to have God-rock, then let it be Bryn Haworth, he thinks of the music foremost." Haworth has lent his tasty slide -guitar skills to countless artist recordings,  and  as for him, he is now into his fifteenth album. Haworth delivers a brand of rock, country and gospel blues.  He moves very much in the groove of J.J. Cale and to a degree without the vocal ferocity of say Tom Petty. Previous releases have been on major labels, but in more recent times he has governed carefully his material and  issued recordings on his own label.. This Autumn 2015 sees release of Rebel Man (Bella Music), a  delightful subtle affair, one of those albums that you will keep going back to, as indeed  the songs on the previous 2014 release Time Out. He does go outside of his own writing skills, as on Rebel Man, we have a shuffling bluesy version of the classic 'Just A Closer Walk With Thee that zips infectiously.  For the coming festive time we have 'Christmas Blues. And somewhat unexpected   there is 'The Holly and the Ivy,' with an arrangement that has its own unique style from the familiar, and has extensive non-vocal passages.  The title song has a Christmas air with the fifth stanza saying "See the baby on a bed of straw/He fulfilled every law/Came to earth to fight a war for rebel man.' 
 He does a delightful version of the Wayne Drain worship song 'Dancing with the Father.' O hear hi guitar technique then turn to track eleven'0nly Believe.' And from time to time there are infectious vocal back-ups from the likes of Michelle John and Mel Pope. 
Haworth tells me that his music is very much ministry, and indeed he has especially taken his wares into prisons.  He offers within the Gospel context of his songs a message of  strength and encouragement. He says "But thanks to Jesus, God's love letter, the world can change, one heart at a time, that's all." 
Soul Survivor  issue Love Takes Over that features Beth Croft, Tom Smith, Tim Hughes and Rend Collective.. Since what I'm sent doesn't play I cannot comment, but I mention because it is release waited for by many. 
the track 'Singularity' should remind of old times.  You need to inject some Christian reflection but you have a great starter. And of course Joy Division with the suicide of lead singer Ian Curtis brings another dimension into the theme of ''why do so many, die young' in artistic and related fields.
THIS FIRST APPEARED IN THE  METHODIST RECORDER
QUIZ TIME
PAUL SIMON
NAME THE SONGS IN  WHICH THESE LINES OCCUR.
1 Moonlight sleeping on a midnight lake.
2 Sharing a park bench quietly?
3 I can't help it. I wonder what's gone wrong.
4 Watching Jerusalem/Make her bed of stones
5 And I won't disturb the slumber
6  He turned on the gas and he went to sleep. 
7 Just  a come-on from the whores on Seventh Avenue
8 The mama pajama rolled out of bed
9  She said, "A bad days when I lie in bed.
10 I can be your long ,
BOOKS

HELLO HELLO AND NO GOODBYE
Sing those words to the 1950s and 1960s –
Three new books:  
1956 The World in Revolt by Simon Hall (Faber)

1956: The Year that Changed Britain by Francis Beckett and Tony Russell.

1966: The Year the Decade Exploded by Jon Savage (Faber).
ALWAYS  AS GOOD GROUNDS FOR OPTIMISM AS PESSIMISM
So says  Marilyn Robinson prefacing her new book 'the Giveness of Things' (Virago)
THAT MAN JOHN PEEL
John Peel did not like my book Understanding Pop. He had no time for those who sought to explain something to the uninitiated, in my case, teachers, ministers and social workers. For Peel, these people should experience, and not acquire some awareness second-hand. Paradoxically, Peel set about informing the nation that there is more to contemporary music than bubble-gum pop, and mass marketing of songs and artists. As the book 'Good Night and Good Riddance – How Thirty-Five years of John Peel helped to shape modern life' (Faber & Faber)  so well illustrates, the late and  revered disc jockey brought into public domain  what singer  Robert  Plant terms a "a vivid and dynamic variety of music."
Author David Cavanagh has produced an extraordinary 620 page book that both outlines and comments on endless Peel programmes that fell beneath the titles of  he Perfumed  Garden, Top Gear,  and much more than the others The John Peel Show. So we get play lists, and comment, and we receive notes on how the nation was faring at the time. It's a 'dip' text – fascinating and commendatory.  Essential for any collector, yet very readable in its entertaining style to anyone who lived through times when Peel was 'the' man who brought us great music.
Along with his brilliant and knowledgeable producer  (who deserves much more praise than the few lines in this book) John Walters, JP programmed many an artist and band who eventually became big time, although again paradoxically, he never liked the world of fame to which they would elevate.  At the same time, and more important, he gave airtime to the small outfit who in many  respects had no 'pluggers' and record company finance to push their cause. That of course did mean that at times he played the not very good, but yet.  Some 300 broadcast details  between 1967 and 2004 find space.
Cavanagh likes a religious twist to his chapter titles.  So we have 'The Garden', 'The Lord's Day', 'The Seven Categories' 'The Conversion Job' 'The Untouchables' and those are just some from part one of a three part book.  The second of these titles
Sees a brief dissertation on 'Christian' England, and  the  reverential air of a Sunday a long time back. Into the tranquil of course came Peel and the day became lighter. I feel Peel might wince and give a wry smile to the claims of the sub-title but undoubtedly he affected many in musical taste and life itself. But from personal experience I know that in the team of Radio One there were others who programmed  other kinds of music  such as hard rock or Philly and even pure pop, who enthused, and whose choice brought joy to our lives, and so to could claim to exercise influence. Among these there was the Methodist, Tim Blackmore, and he would become an executive producer at Radio One. That said, Peel is well served by Cavanagh and the book is a worthy piece of work and publication. 
PAUL SIMON ANSWERS
1 Homeless 2 0ld Friends  3 American Tune 4 Silent Eyes 5 I am a Rock  6 Most Peculiar Man 7 THE Boxer 8 Me and Julio 9 Slip Slidin' Away 10 You can call me Al.
DRAMA
SKETCH FOR CHRISTMAS
ANNOUNCER SKETCH   TAKING THE MONEY AT CHRISTMAS AND COME TO THAT ANY TIME
JASPER: As you well know my name is Sir Archibald Take, your chairman over
the past five years of this esteemed company . I have with me this afternoon
our head of sales,  Ms Clarity Morale.
MS MORAL:  No 'e'. It's Moral, English not French.
JASPER: Jolly good. Well now, as your Chair I can  assure you shareholders that we are having a bumper Christmas – we kicked off in August with our Christmas celebrations, aimed at our American visitors who like to store away something British and eventually give to  their friends during the festive season. Nothing better than something from Britain. This is a time of giving.
MS MORAL: And receiving.
SIR ARCHIBALD. Above all giving.
Ms Morale. Moral.
MS MORAL : Thank you Sir Archibald. Shareholders.  As you well know in a world of scams we bring honesty at the till. It's not been easy keeping quality and price levels and profit margins running smoothly. There are ways of course to achieve what we want without the consumer noticing. Not that we do.
SIR ARCHBIBALD. Absolutely not.
MS MORAL Our celebrated chocolate biscuits  have less fingers but more air. 
Perhaps a good thing for the consumer,  less fat.  Hat was uppermost in our minds
SIR ARCHIBALD. Hear. Hear.
MIS MORAL The weight  given  on the tin looks the same. Extra sugar gives extra sweetness, and we have reduced the amount of fat.  As I said, that can only be good for the consumer, 
SIR ARCHBALD" we take health warnings seriously.
MS MORAL.  Indeed. I'm so glad you have mentioned that. We are committed to ensuring the consumer is fully aware of any health challenges. So our frozen pizzas  carry a calorie count, based on someone eating a` quarter. 
For Christmas, we have numerous gift sets. We tell the consumer  of the advantages in purchasing a number of items that come in a most attractive box.
SIR ARCHIBALD: Jolly good that, Two things there: it means people buy more things than otherwise they would, and second, they assume that if all the products were added together it would be less than purchasing individually
MISS MORAL: Not so, of course, but they do get a lovely box. It's the same with our hampers, but again you get a lovely box.
SIR ARCHIBALD: For another 20% added on. Most reasonable.
MISS MORAL Not everyone intakes alcohol at Christmas, and so we are putting out a range of smoothies for the festive period. Our strawberry juice is already selling in  dozens of our stores. Of course it is mostly apple juice – we have squeezed two strawberries into each bottle and that produces the look. 
SIR ARCHIBALD: Ms Morales, no MS Moral is driving our profits ever higher.
LINDA: Words are most important on our packaging. NEW is a powerful selling word. We can use the word even if we are just changing the colour. It's always good for sales to say 'Now with' as though extra quality is being added, it may be just adding something that Is irrelevant. Exclamation marks are important, the more the urgency the greater the response. People think the product is selling fast and they had better get along and purchase.
SIR ARCHIBALD: Excuse me coming in here but I applaud wording such as
'Savour every moment' – it gives the feel of something that will last in effect.  
MISS MORAL: Often we simply say 'Special' or Recommended" You don't have to say who is recommending, Costs too much to find a star name. I like  words 'delicious' 'sumptuous' 'mouth watering' or 'we have created' – that one suggests to the buyer that extra time and effort has gone into whatever. Something special. To that you can add 'only available for ten days. 
SIR ARCHIBALD: Don't ever put a date of start.
MS MORAL:  'Or , and I love this, 'the more you taste, the more you want.' 
"Rude not to pay at that price' or 'Simply as it should be' – that makes people feel that in the past other concerns have cheated on them but now comes the real.
I like 'it's simply baked in heaven' of course it isn't but...well..gosh...
Oh 'Award winning' you don't have to say where, it can be simply any group that makes an award. Set one up if need be!  And if there was  a big award, sometime or the other, you don't have to say that it was say in 2007 – it's an Award. 
SIR ARCHIBALD" Jolly good is all I can say. Just one last thing we are co-operating much more with churches.
M MORAL: For a small fee hundreds of churches will say that we are sponsoring their service. Or we are sponsoring a hymn. Or I have this idea that the three kings could bring gifts from our store,  I  said to the clergy gathering I addressed yesterday, that it's bringing something modern into the story.
SIR ARCHIBALD: Indeed. I resent those who question our ethics. I feel very angry with those who say we reduce the size of tin, only half fill packets and so on. Utter nonsense. The price is the same. Odd to think that we didn't invent Christmas  - 
Garth Hewitt Foundation... from Garth
Advent
He became poor that we might discover our worth, 
he became flesh of our flesh to dignify our humanity; 
at the stable door our lives are changed 
and we bow in humility as we find God - 
utterly vulnerable yet turning the world upside down
I'm writing this as we come close to the first Sunday in Advent, November 29th. Nobody knows exactly how Advent started but around the 5th century it was decreed a time of fasting. It was pushed earlier, to St Martin's Day on November 11th because St Martin Bishop of Tours was committed to the poor.
This rather long Advent was known as St Martin's Lent, a second period of penance and fasting which lead up to Christmas - not such a dominant aspect of Advent today! Indeed suggest that to the major stores as a good run up to Christmas and one can imagine pretty solid resistance!
I love Advent with its sense of the new church year beginning, and beginning by pointing to the birth of Jesus in Bethlehem. 
Advent leads us to the hope, to the light, to the great news of the birth of the Prince of Peace, to the encounter, "God with us."
Oscar Romero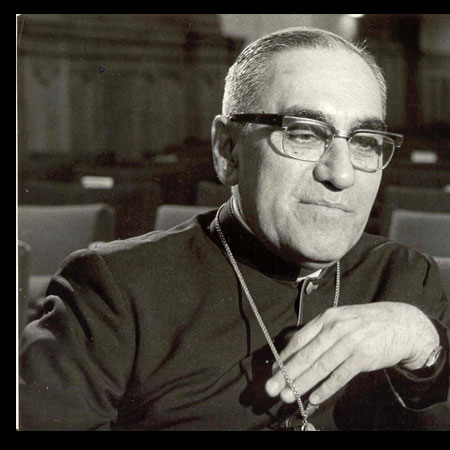 The great Oscar Romero, Bishop of San Salvador, who was martyred for his commitment to the poor, described Advent as this:
"Advent should admonish us to discover 
In each brother or sister that we greet, 
In each friend whose hand we shake, 
In each beggar who asks for bread, 
In each worker who wants to use the right to join a union, 
In each peasant who looks for work in the coffee groves, 
The face of Christ.
Then it would not be possible to rob them, 
To cheat them, 
To deny them their rights.
They are Christ, 
And whatever is done to them 
Christ will take as done to him.
That is what Advent is: 
Christ living among us."
I think I would like to add to that first paragraph: 
"... to discover, 
In each refugee or asylum seeker 
Who is cold, and forgotten 
Who is struggling to find hope - 
The face of Christ."
IMG 3981
St Michael's Church, the Jungle, Calais
St Michael's Church, the Jungle, Calais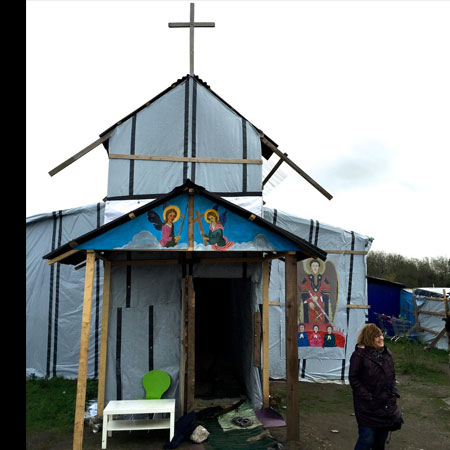 My wife Gill recently went down to Calais to The Jungle camp for refugees near the Channel Tunnel. The people there are struggling in many ways with increasing difficulties, but Gill was particularly impressed with the church that is in the camp. It is in the style of an Eritrean Orthodox Church, and she talked with Solomon who looks after it - he says around 600 people come to the service on Sundays. When Gill asked him how he survives he simply said "God is with us, God is in the camp."
So as we walk forward through Advent let's do it with the generosity of God, seeing the face of Christ in those we meet and especially in the refugees for whom there will be very little room at the inn this Christmas.
With the poor, oppressed and lowly...
I have a lovely version of Sufjan Stevens singing 'Once in Royal David's City' and he changes one word in the second verse - with the poor, oppressed and lowly lived on earth our Saviour holy.
Instead of the word 'mean' as we often sing it, he uses the word 'oppressed' which brings the sentence alive. I've since discovered this is the wording of the hymn in the Presbyterian hymnbook of America.
So Solomon's comment in the camp is exactly backed up by these words, 
"With the poor, oppressed and lowly, 
Lived on earth our Saviour holy..."
…and still lives beside those who are poor and oppressed.
And so - for those of us who would consider ourselves as members of Christ's community of love, may we feel the challenge in Advent and Christmas of those who get forgotten.
Prayer
O God - Christmas Eve is such a wonderful time 
Lights and laughter 
Excitement and expectation 
Candles and carols 
Family and friends 
Food and fun 
And we try to stop to pray - 
Or read a Christmas poem of John Betjeman 
And I'm always moved as we come to those words 
'And is it true? And is it true... 
The maker of the stars and sea 
Become a child on earth for me?' 
And he asserts that if this is so 'nothing can compare with this truth' 
And I find it hard to carry on because there is nothing more to say 
Because it reveals that you are the God 
With such a precious love for humanity - 
So we must cherish human rights 
You are the God of humility - made visible in the ordinary person 
In the everyday ordinariness of life 
You are the God of the forgotten and insignificant - and therefore 
There is hope for all 
And we too are shown how to live
And you are the God of Bethlehem today - 
You would choose it again precisely because the world thinks it is 
Insignificant and its people are of no value 
So the angels would sing again to say 'here God is at home' 
And the wise would be surprised again saying - 'here God is at home' 
and shepherds, and carpenters making olive-wood gifts 
And tour guides with no work, and drivers of coaches for pilgrims 
And innkeepers and all the community - women, children and men - 
Crushed, humiliated, invaded and imprisoned 
Can stand up tall with confidence and proclaim 'here God is at home' 
Because you have shown your character in Bethlehem - 
You affirmed humanity in Bethlehem... and still do today 
And that is the message of Christmas Eve.
from Garth's book of prayers, Making Holy Dreams Come True

Garth explores the thoughts in this newsletter in depth in his book Occupied Territories, The Revolution of Love from Bethlehem to the Ends of the Earth, where he has coined the phrase 'Bethlehem theology'.
From page 30 of the book: 
'So what is this Bethlehem theology? The style of the birth of Jesus in Bethlehem gives so many clues as to the character and nature of God. When God touches the earth, when it is the great moment of "God with us," a child is born in simplicity among a poor community... This is why this theology turns upside down the values of our world... instead of coming in status and power, the birth of the Prince of Peace is in vulnerability and humility... So these are the huge clues that show us that God is the God with the poor, the marginalised, those for whom there is no room...'