CRISIS 36
CRISIS IS AN ONLINE MAGAZINE COMPILED BY Tony Jasper. Material is welcome but there is no payment, just the dubious thrill of contributing.
Contact : tony.jasper@btinternet.com.  Copy and reviews of art projects especially welcome.. 

MUSIC
BOWIE DIES. ROCK FANS MOURN THEIR REBEL AND HERO. 
RECOLLECTION AND COMMENT
January 14 The Daily Mirror claims it has an exclusive story. 
   BOWIIE'S BEEN SECRETLY CREMATED
No funeral service & no family present at icon's shock farewell
So in a few words the front page of the Daily Mirror, January 14. 2016. stuns fans and associates. 
The paper's reporter Tom Bryant said he was told "There is nothing."  That said organisers of various music associated events say they will include Bowie tributes as might be expected. In the US March 31 is a date given for a memorial concert in New York's famed Carnegie Hal. As to might be expected, tributes flowed in from various luminaries in the rock fraternity. Madonna in her concert 
 in Houston Texas, sings one of Bowie's best songs, Rebel Rebel, with images of  David behind her.  Major band Arcade Fire said Bowie's influence had been considerable while Elton John echoed the sentiment that the singer had dealt with cancer with "such dignity." 
Did Bowie have a religious strain to his thinking? Your man at CRISIS says a yes, well-sort of.
David Bowie is present. The month is April, and the year 1992. The event sees 70 countries around the world transmit the 'Freddie Mercury Tribute Concert for Aids Awareness'. 
The venue is at London's Wembley Stadium – scene of the famous 1985 Live Aid happening. 72.000 come to celebrate the life of the extraordinary vocalist and who sadly has become the first rock superstar to die of Aids.
An emotional Queen member Brian May asks the crowd to give Mercury the biggest send-off in history. 
The greats of rock are present. They pay  verbal and musical respects.  Show-biz music star Lisa Minnelli fronts 98 singers and instrumentalists as everyone sings "We Are the Champions."  Film star Elizabeth Taylor speaks about the dangers of Aids. But there is a sudden and total unexpected moment – rock legend David Bowie kneels and gains gradual hush as he recites the Lord's Prayer. He is not some 25 years or more later attempting to emulate Cliff Richard, for the British star before thousands at London's Earls Court had announced he was a Christian. While the one-time Harry Webb talked his talk before thousands of Christians, and a platform with American super evangelist of the time Billy Graham, few "out there" hearing Bowie's unexpected prayer moment could boast little if any Christian understanding. Not many  realise that Bowie is under considerable life stress, not merely from obvious  sadness over the passing of the openly bisexual Mercury. At the concert he sings his own hit 'Heroes' and for the first time since 1973 he is backed by the legendary renowned  Mick Ronson. He is aware that guitarist original Spider man Ronson is dying from liver cancer. (he dies in 2013). 
Queen guitarist Brian May is described in some papers as being confused at Bowie's, Jesus moment. A confused Brian says "He didn't do that during rehearsals." Elsewhere it is described as one of the "wildest, coolest, most unexpected moves in a career full of them." To think Bowie sings "Hold me tight/keep me cool. Going mad. Don't know what to do. Do I need a friend? Well, I need one now."
And now millions worldwide , even the Archbishop of Canterbury Justin Selby, are stunned as cancer claims a 69 year-old Bowie. Oddly on his just issued album (his 25th studio recording)  Blackstar he has a track entitled Lazarus. It's not as it happens about the 
biblical character, although it might be thought so, initially, since it opens with the line  "Look up here, I' m in heaven"/. Some would say it's Bowie's message to fans, for just three days before his passing a` video of the song, available as a single, shows the singer trapped in a hospital bed, his forehead and eyes covered in bandages, with body shaking. It seems he has known for over a year that his cancer is incurable and his producer would have us accept that Bowie has made his death – as his life – "a work of art.
Bowie is someone who is rightly seen as one of the most provocative artists of recent time, causing havoc for many a person's gender understanding , delivering countless quality albums, with song lyrics ranging from the puzzling to the excellent. In religious terms he has said he has cast eye and mind over a 
number of faiths. At one time he is attracted to Buddhism, and  says "I thought, there's salvation. It didn't really work. Then I went through Nietzsche, Satanism, Christianity.., and ended up singing 'It's been a long road.' " Every now and then in his work something directly Christian appears – take the song Loving the Alien (1984 or before that in 1987, 'Word on a Wig' and travelling the other way to 1992, 'Palas Athena.'  He would and surprisingly go somewhat sentimental in having his voice 'spliced' along with a long departed Bing Crosby for the massive yuletide hit of the familiar but always liked, 'Little Drummer Boy.' Coupled with Peace on Earth that reached number three, Christmas 1992. It was his soft side. .Oh, the 2000 song 'Seven"  with the lines "The gods forgot they made me/So I forgot them too/I dance among their shadows/ I play among their graves."
And there was the music video for The Next Day – title track of his first album in ten Years for a then 66 year-old David. It is wrought with racy religious imagery. Bowie appears a Christ-like figure in robes. It was a video 
banned by YouTube, later reworked with an age restriction, and said to portray "a bloody battle between the  sacred and the profane."  
Some would say Bowie's creation vision mocks Christianity. Erica Chase is quoted saying "Religion circles the great unknown, what is the purpose of this life and hat happens after. Bowie and Gaga are just as uncertain as you and I about all that." Through many of his songs, especially early material, there is sense of the apocalypse, mayhem and death.
Bowie had a major heart attack in 2004 and stared down death. This time there is no way back. Millions mourn a great music man. Unfortunately for many he is known merely for that reat hit 'Space Oddity'  but then think of the lines: "Ground control to Major Tom/Commencing countdown/ Engines on/Check ignition/' and then the line "and may God's love be with you."
Unfortunately the London East End boy did not – as far as I know – attend Sunday school or a Methodist church! If he had knocked a 
Christian door then he might have been shouting some of his most poignant lines`: "In red-eyed pain I'm knocking on your door again. My crazy brain in tangles. Pleading for your gentle voice." Hopefully, he would have 
been heard, although I would not have banked on it.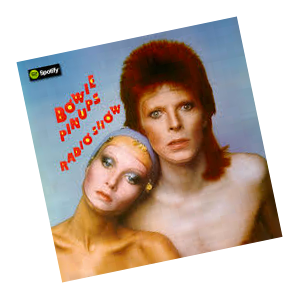 BOWIE QUIZ  1
1  What is his actual full name?
2  Year of his birth.
3  Name the first group he formed.
4  His first TV appearance was with the Mannish Boys. What aspect of Bowie n early caused the spot to be cancelled.
5   Later Bowie and the Lower Third  sign to Pye.
He is forced to change his name. Why?
6 Name his first single.
7 He plays a regular Sunday spot at which famous London venue?
8  Rubber Band is a first single for another her record company. Name the company. 
9 He will find himself on the ~BBC, Top Gear programme. ~I He meets a producer who will b e so influential in the future. Who s this?
10 Name the company that turns down Bolwie..11 11 On the Philip label he has his first single hit. Name it.
12 Who is the memorable character in this first hit.
13 Name the song he wrote for Angie.
14  He goes to the US and eyebrows are raised at what he wears. What causes the uproar?
15 Bowie's song Oh You Pretty Thing gives a British artist a hart hit. Who was this?
16 What is the musical that bows in June 1972? 
17 In 1972 he has first US single hit. Title?
18  Along with Mick Ronson he produces a  wonderful single for Lou Reed. Name it.
19 Name the planet in a hit of 1973.
20  Pin Ups has which model on its sleeve?
JASPER TURNTABLE PLAYS

PATSY CLINE – CRAZY. Down at Sainsburys lotsa  of re-issues, either in single or b ox set form and many for £5 or less. Cannot resist old gems for even just £2.
JAMES BAY  Chaos and the Calm..
This young guy is very much the flavour of the month. It's OK but unsure about all the excitement.
ENYA –Dark Sky Island
Guess I'm sold on her, even if this album is not too far from the last in so many avenues of sound. Play it after 11 p.m.
JOOLS HOLLAND & RUBY and the Rhythm & Blues Orchestra. 
Has its moments like the show. Ruby remains one of UK's underestimated singers.
THE CORRS- White Light. Well, I love her! And the whole band  are one of the nest. Some catchy songs. Moves seamlessly and well, Andrea – call any time.
BOOKS TO BE READ

SHEERILL TIPPING – Inside the Dream Palace. Pick this up at HMV for less than a fiver. Here you read about the life and times of New York's hotel  legendary Chelsea Hotel. Meet musicians, authors, hangers-on...
GARETH MURPHY – Cowboys and Indies – The Epic Story of the Record Industry.  Missed this gem until recent.  He draws on more than a 100 interviews and tells stories to open your eyes – a little anyway. One of the best commentaries around on music land.
GREGORY D COLEMAN  We're Heaven Bound. 
~OK I'm yonks behind in finding and reading this portrait of a sacred black drama. Still glad I've found it.
JOHN GLATT – The Chieftains.
Yea, I'm catching up, badly so. Heck this came on toward the end of the 1990's. Case of trawling book shops and this I picked up for a pound at you know where. Fantastic Irish group of course.  Interesting book.
BENAMIN T.LYNERD – Republican Theology. 
Oh well,  tasty morsels of US horrors as we journey through an account of the hybrid position the more conservative US religious groups have long affected to hold in American culture..
BOWIE ANSWERS
1 David Robert Jones.
2 1947.
3 The King Bees.
4 Length of hair.
5 The Monkees had a member called Davey Jones.
6 Do Anything You Say.
7 Marquee
8 Deram
9 Tony Visconti
10 Apple
11 Space Oddity
12 Major Tom
13 The Prettiest Star
14 He wears dresses.
15 Peter Noone
16 he Rise and Fall of 
Ziggy Stardust
17 Space Oddity
18 Walk on the Wild Side
19 Mars
20 Twiggy 
BOWIE - AND THE RELIGIOUS WORLD COMMENTS
The Tablet devotes half of its editorial-comment page and among its remarks says:
   He was never a political elitist in gay right causes, but he did more than most to advance them by being who he was. And the cause was just. The columnist who asked:" Why can't the Church be more like David Bowie?" had a point.
Editorial. The Tablet.  Inspired Gaiety of David Bowie, January 16, p 2.
The Tablet's editorial has especial focus on the 'gay' question and points out that a number of  celebrities played a key role in breaking down prejudice against homosexuality. 
         So it becomes uncool to mind whether singers such as George Michael Freddie Mercury were or were not gay. Stage and television celebrities such as Stephen Fry, Graham Norton and Clare Balding spread the same message. They were exceptionally talented and likeable human beings.
It must be comforting for  those artists to be aware of this hand of friendship. The Tablet also carried a tribute from no less than Cardinal Gianfrnaco Ravaqsi, president of the Pontifcat Council for Culture. Interestingly  the Cardinal refers to the Bowie album Station To Station (1976) and speaks of Bowie dedicating himself to the Stations of the 
Cross. He concludes by writing"
   Bowie's unique voice managed – even  if "laically", in a non-churchy way – to make the souls of all those with a restless conscience vibrate.
Ibid p 29.
A few days after his passing a British tabloid claims it has an exclusive story. 
   BOWIIE'S BEEN SECRETLY CREMATED
No funeral service & no family present at icon's shock farewell
Front page, Daily Mirror, January 14. 2016. 
The paper's reporter Tom Bryant said he was told "There is nothing."  That said organisers of various music associated events  will include Bowie tributes  as might be expected. In the US March 31 is a date given for a memorial concert in New York's famed Carnegie Hal. As to might be expected, tributes flowed in from various luminaries in the rock fraternity. Madonna in her concert  in Houston Texas, sang one of Bowie's best songs, Rebel Rebel with images of  David behind her.  Major band Arcade Fire said Bowie's influence had been considerable while Elton John echoed the sentiment that  the singer had dealt with cancer with "such dignity." 
Not unexpectedly the whole print and media world rushes to produce supplements, 
It seems the case that everyone wants to talk of Bowie influence. One editor , Simon Parker, of the Western Morning News, notes this:
 A sizeable forest must have been felled since Monday to accommodate the acres of tributes and analysis....and I apologise for  feeling compelled to add my own  two pennies worth
Parker says, in-common, like countless commentators and fans, he felt he had lost a friend...Ziggy Stardust was the first album I bought and it was played to death in a way no disc has been since – not because it was the 
best record ever made, but simply because it spoke perfectly of its time.
Ib id p7
Bowie achieves a publicity scoop, albeit in these sad circumstances, as he appears on the front cover of the New Statesman (15-21 January) and Time  (January 25).
 Mark Steel even brings Jesus into his thought patterns, as indeed also seeming fictitious vicar Surely a wry humour permeates his thoughts: 
But as I somewhat tonelessly belt out the words "Hot tramp, I love you so' I think to myself "Isn't that a bit like Jesus.? Because  after Jesus had been in the wilderness for a while, he must have looked a bit like tramp. " I suppose so.  His vicar appears on the BBC's Thought for the Day saying "I often find myself singing along to 'Rebel Rebel;'. Good for him.
Garth Hewitt Foundation — from Garth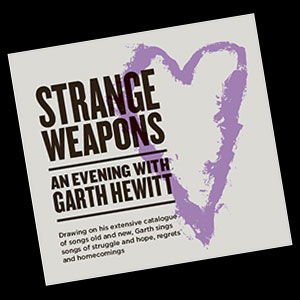 Strange Weapons
Someone asked me the other day why I'm calling the tour this year Strange Weapons, and I must be honest, it is a strange title! But it comes from a song on the Scars album where the lyrics talk about strange weapons of love.
Strange weapons of love Strange weapons of love They're the ones who hold the power to change the human heart with their strange weapons of love
The song was written during apartheid time in South Africa after I saw on television a demonstration which was happening outside St George's Cathedral in Cape Town. It was led by religious leaders - Archbishop Tutu was there, with many other church leaders. I noticed priests and also nuns. The demonstration was broken up violently by the police, and the people sought sanctuary inside the cathedral.
A few years later when I gave a concert in that cathedral they proudly showed me purple marks on the pews - the demonstrators had been sprayed with purple dye. As they were showing it to me they said, "These purple marks are like an icon that reminds us of the peoples' suffering."
I got to thinking about the nature of this protest. I had seen priests carrying Bibles and I felt sure the nuns were people of prayer and I thought, these are the weapons of this demonstration - very strange weapons. But they bring an authority, a dignity and a prophetic challenge that made the armed violence of the police look undignified and oddly weak.
St George's Cathedral, Cape Town
They're rounding up the priests Arresting all the nuns
They've got 'em all surrounded
Got them covered with their guns
But the odds are strangely loaded
Something they can't understand
The priests are armed with Bibles
Which they carry in their hands
And the nuns have got them covered
With a power much more than guns
And they're already firing
The prayers upon their tongues
In the next verse of the song I go on to think about the death of Christ.
The nails held him at mid-day
Against the darkening sky
The eclipse of the sun
Hid the glory that would rise
The wounded hands poured healing
As the wounded heart poured love
Then he took his strange revenge
And forgave us through the blood
This is my body - this is my blood
Draw your strength and feed
On these weapons of love
The image about Christ taking his strange revenge was sparked off by Salman Rushdie's book The Jaguar Smile - his book about Nicaragua. It was the time when the Sandinistas had just won their freedom; Thomás Borge, one of the Sandinistas, had been imprisoned and tortured under the dictator Somoza's regime. Rushdie tells the story of how after the revolution Borge meets his torturer on the street and he takes his revenge... by forgiving him.
It's a very moving and extraordinary image so I wanted to use that same idea thinking about the death of Christ. Then also the gifts that we are given in the Eucharist to strengthen and inspire us, I talk about these as weapons of love.
Yarl's Wood Detention Centre, Bedfordshire
An incident happened to me a couple of months back where I was reminded of the power of these weapons of love. At the church where Gill and I go we have links with some asylum seekers from Uganda - seeking asylum because they are gay and lesbian. One has become a particular friend. One Sunday before the service he was telling me about being on a demonstration the night before at Yarl's Wood Detention Centre with the Movement for Justice for Asylum Seekers and the police had moved them back from Yarl's Wood because of the reaction within the detention centre which was always so enthusiastic when the demonstrators came - but even though the demo was far back, the women in the centre could hear them and they began to simply chant "Freedom, freedom..." over and over again.
I was very struck by the thought that, not far from where we live, people are imprisoned simply because they have come here seeking asylum and expecting justice. Why do we lock them away? And I was upset as month after month our friend was waiting to get his visa. Although he was not imprisoned he had been given a little card that said "forbidden to work" so how is he meant to survive? This had gone on for three years.
Our friend has been both a server and a crucifer in the church but this Sunday as I knelt at the rail I suddenly saw him approaching and smiling, and offering me the wine. He hadn't done that before and I was so moved - we in Britain had said no to him in so many ways which tell people they are unwelcome and valued less, and yet here he was offering me the most precious thing there could be - the blood of Christ. I had to go away and pause for a moment in the side chapel as I was overwhelmed - and I discovered a bit later that the same thing had happened to Gill.
I think there we felt the power of the weapons of love. The strange values of our upside down world which denies people their dignity can be affirmed and turned round with these weapons of love.
A New Year
Someone said to me at the beginning of the year, "I don't remember a time when things have been so bleak," and as we look around the world I'm sure many of us have that reaction. The madness of war, and the rejection of the other, has only led to more brutal war and a world that is very shaken. The numbers of people killed in places like Syria and Iraq is quite staggering. The poet Edward Shillito at the end of the First World War looked at all the horrific meaninglessness of such huge loss of life and wrote the poem Jesus of the Scars to which I have added a chorus. It seems to me it speaks powerfully at times like these and it touches the raw heart of the gospel. "The other Gods were strong but you were weak, they rode but you did stumble to a throne, to our wounds only God's wounds can speak and not a God has wounds but you alone."
And so we draw our strength from the wounded God we find beside us in these times, and perhaps it's good to be reminded early in the year of how valuable it is to take time to be quiet and to draw our strength and our hope from Jesus of the Scars.
Prayer - Jesus of the Scars
If we have never sought, we seek you now; 
Your eyes burn through the dark, our only stars; 
We must have sight of thorn marks on your brow, 
We must have you, O Jesus of the scars.
The heavens frighten us; they are too calm; 
In all the universe we have no place 
Our wounds are hurting us; where is the balm? 
Lord Jesus, by your scars we know your grace
O Jesus of the scars we seek you now 
O Jesus of the scars we seek you now 
We must have sight of thorn marks on your brow 
We must have you, O Jesus of the scars
The other gods were strong; but you were weak; 
They rode, but you did stumble to a throne; 
But to our wounds only God's wounds can speak, 
And not a god has wounds but you alone.
O Jesus of the scars we seek you now 
O Jesus of the scars we seek you now 
We must have sight of thorn marks on your brow 
We must have you, O Jesus of the scars
Words by Edward Shillito adapted by Garth Hewitt