CRISIS IS compiled and issued by tony Jasper. Material is welcome, but there is no monetary reward - alas. this on-line magazine does not generate any income. Advertising rates are available. All enquires to tony.jasper@btinternet.com. CRISIS offers a broad spectrum, and at base reflects an aware Christian voice on news and culture; however good copy from any source is always acceptable if it offers reflection on the human condition.

MUSIC
MAVIS STAPLES
Says the legendary Mavis Staples: "I want to stop making people cry. I've been making people cry all my life." So welcome to an upbeat set of lyrics.
Mavis Staples is one of the great names of blues and gospel. For many she is associated with the US gospel outfit of times past The Staple Singers. Her father's group found fame in a roundabout way when The Rolling Stones took away into their way of doing things, the gospelling song 'This can be the Last Time,' that was associated with the Staples. It was during those early days when the Stones had a profound respect for gospel and built up a fair little catalogue of recordings of this genre, as they and other British bands of the mid-1960s,and later, plundered the US black R&B world, as indeed of course so to the early Beatles.
During the last few years she has found herself young contemporary producers and so found a new recording and career life.
Her latest album, the fifteenth solo outing, bears the title Livin' On A High Note (Anti) and sees involvement with contemporary music hero M.Ward, himself into his eighth album with More Rain. Ward likes things spare, no fancy arrangements, all rightly is directed to colour her vocal phrasing and that is so true. He's one of those who makes it seem so easy but as many know to do this you have to be round for a long time unless your name is Marcus Rashford, the eighteen year old new gem on the football field.
Ward's embellishments are subtle, just hear what he does in the track Dedicated.' Here she vocalises with authority, firmly planting herself on to whatever song is there before her. Yes, blues here, yes gospel inflections, and on a track such as 'Tomorrow' she almost raps. It's majestic stuff. She is one of the music heroes of the protest racial justice music fraternity, and memories of this are never far away. That said on this album she takes her listeners into the wider world where people lose their lives in endless conflicts so that others can live – on this track 'History Now' she is joined by Danny Gerrard and here, as elsewhere there is a almost murmuring gospelling sounding back-up choir. Great track.
Nick Cave is one of recent music's greats (OK, he still makes great albums) and she sings his beautiful song 'Jesus, Lay Down Beside Me,' She gets acoustic guitar for the final cut MLK Song that tells of her hope that she has spoken about Jesus where it matters, a life in part seen in giving to others; that she has walked for the hungry, marched for peace, sung of salvation, and obeyed the calling of the Master – "then life will not have been in vain" .
So get your skates on and buy this just under forty minute running album.
PAUL CARRICK
Mavis Staples has been done the rounds, so to has PAUL CARRICK, not to be confused with another Manchester United player Michael Carrick, a sweet passer of the ball if ever there was one. Carrick makes it sound easy as well, as vocally he glides into a song and surrounds himself with impeccable instrumentation. This is very much a late night album, full of catchy songs, atmospheric, so laid-back and well, in its genre, sumptuous.. Hear the first few bars of the opening track 'Keep on Lovin' You' off the new album Soul Shadows (Carrick UK) and if you have a long memory you are back in time with first few bars of the all-time pop classic from 1979, Baker Street, sung then by Gerry Rafferty. Take the next few moments and you are re-minded that Carrick can groove the Motown feel, and he can push sweetly the R&B – soul feel, as he does here with 'Sweet Soul Legacy.'' And then on Bet Your Life' in early instrumentation we could be travelling into the wondrous Stylistic's track, Children of the Night, off the album Round 2. Do not though take in the 'live' cut of the song on several 'live' albums of this R&B, soul music vocal group. It's a song with a classic line 'Late at night when all the world is safe. Within their dreams, I walk the shadows. Late at night an empty feeling creeps.' Carrick has fronted and written for umpteen groups and music stars, too many to list, but so impressive. In a sense he should be up there with the gods of rock, and with bands such as Ace (the big hit How Long), Roxy, Squeeze and then the Mike and The Mechanics – well, some success. The latter group saw him with founder member Mike Rutherford (guitarist with Genesis) and Paul Young, once of hit outfit Sad Café. The song 'The Living Years' is on its way to fetching five million plays on US radio, here has always been a religious, perhaps quasi-religious feel to some of Carrick's songs, with major UK charting for 'The Long Years', 'Word of Mouth 'and 'Over My Shoulder.' Interestingly this is released by one of the few British sources left issuing broad Christian based material. And here, there is no direct Christian input, yet heard from a Christian perspective there are songs that comment on life and living, relationships, and the art of communicating with another , and indeed the last song title is expressive in itself; 'Share Your Love With Me.'
REVUE SKETCH
SKETCH THE BIG PRESENT
L Darling, have got something special for your birthday
T Thought you had forgotten
L How would I do such a thing
T Don't know really
L Well, where have I put it, here it is. I am so excited. You will love it, I know you will.
Well unwrap it.
T An envelope.
L Don't be silly, it's not just an envelope. Open it.
Might be deeds of a new car
T: Wow.
L: payment down on that special suit you wanted. A season ticket for Arsenal.
T: That would be exciting.
L Well go on.
Y Yeah.
L: Yeah what! It's what we wanted
So what does it say. I'm waiting.
: thank you for switching your energy supplier.
L I know you've been thinking and thinking., Do it !. do it! I said. So we have a new supplier and that means we are paying less
T I Wow!
L And we can change again if we want to
Do you know it said consumers are paying 1.2 billion more than they should.
T Not us though.
L No not us
T oh this came in the post, sorry put inside my jacket. HERE.
L Dear Madame, thank you for switching your valued custom. You can rest assured we have your interests at heart; we value transparency.
We thank you for deciding to take our 'super serve the customer deluxe tarriff' that promises
instant call out, safety in your home, something so vital to our senior citizens.. All you pay is for the various 'parts' that may be necessary, and a small surcharge if the 'call out' is between 6 p.m. and 8 a.m. The all-day freedom to know instant attention is yours means peace of mind.
We know you will understand that prices have to increase – So there is small price rise of 20% to bring us in line with other providors and will be from the second week in September. It is of course not something we have done.
Copyright`- tony jasper. You are welcome to use but do state the source.

QUIZ TIME
20 QUESTIONS ON CLIFF RICHARD
1 What is his real name?
2 Birth place?
3 What year saw Cliff make his first attempt to capture the US market?
4 What club did the early Cliff play and visit in London's Soho?
5 At which studio did Cliff and the Drifters record their debut disc?
6 The Daily Mirror had a nickname for Cliff, and it focussed one part of his body, so what was ti?
7 Name his third manager? (Clue: think heat)
8 His backing group had to change their name. Why?
9 Who was his co-star in Wonderful Life?
10 On his second album he sang Blue Suede Shoes. Which famous US artist had a big hit with it.
11 Cliff eventually had a long time manager after early times with a number of them.
Name him.
12 Cliff said he had become a Christian and he said this during a religious meeting. Who was the famous US evangelist at that gathering?
13 Cliff has given much time over the years to which Christian charity?
14 On which early pop TV show did he make his debut
15 Cliff sang on the tenth anniversary of another great pop TV show – YLS. Translate!
16 Name then panto that starred Cliff and his group in 1959?
17 Cliff went back to school and in 1974 he played in a school production of a Shakespearian play. Name it.
18 Anthony Quayle and Sarah Churchill were in which film, alongside the man of course!
19 Name the B-side of his second single High Class Baby..
20 Which music paper gave him his first major award as the Best New Singer?
ANSWERS
1 Harry Webb 2 Lucknow 3 1960 4 2 I'S 5 Abbey Road. 6 Eyes 7 Tito Burns 8 US had a group called the Drifters. 9 Susan Hampshire. 10 Presley 11 Peter Gormley 12 Billy Graham 13 Tear Fund 14 0h Boy! 15 Thank Your Lucky Stars 16 Babes in the Wood 17 Midsummer's Night Dream 18 Serious Charge
19 My feet hit the ground 20 NME.
THE CRAZIES ARE OUT AND ABOUT
THANKS TO JOHN WALSH in the Independent's Radar magazine we learn from a report in the new Journal of Advanced Nursing that pop songs which convey "negative connotations of growing old: can affect older people badly. A team listened to umpteen songs from the 1930s to the present day and found at least 76 songs that dealt with age and ageing issues. 56 showed old age in an undesirable way." The songs included "When I'm 64", "Those Were the Days," and "Old." According to Ms. Jacinta Kelly "It's not a trivial issue. Pop music is inescapable – you hear it in the elevator, when you're out shopping, everywhere – and some lyrics make old people feel like outcasts." It makes one think – would older people be happier If there were pop songs with a raunchy feel, and say a lyric refrain :"I'm 83 and it's just as good, just as good, just as good as when I was 24." or "I'd rather be a wrinkly than a smoothie," or "Fade away you youngies, speaking for my generation," or a last, "I didn't die when I was young." Or whatever.....
What though next in a seeming move these days to make us feel solcomfortable and not be upset? I would ban all football because watching a game makes me unhappy as I remember that once I could run and run (sort of0: I would stop young people driving sports cars because it makes me feel sad that I cannot ride local roads waving at adoring girls (at the car that is). I would ban all-night raves because they make me unhappy that I cannot any longer linger long into the night, And so on, and so on..

JASPER READING AND SUGGESTING
1 BOOKS
Suggested read;
Inside the Dream Palace - Sheill Tippins (Simon &Schuster). PIck up at HMV for just £3.99.b ells in a` fascinating ay the life and times of New York's legendary Chelsea hotel.
A God in Ruins – Kate Atkinson(Black Swan). Addictive writing.
0 Sing unto the Lord – Andrew Gant (Profile) . Sumptuous guide to the history of English church music.
Republican theology - Bnjamin T. Lynerd (Oxford0. Must read with Trump saying he is a Christian.
We're Heaven Bound – Gregory D Coleman (University of Georgia) Been out some time but re-appearing as it were, tells of a folk drama in the black community.
Garth Hewitt Foundation — from Garth
Come home Mar Gregorios
In early January I was in Swanwick at the Conference of Christians Aware doing a concert. A friend of mine, Aziz Nour, came up and asked if he could talk to me afterwards. Aziz is an Iraqi Christian from Mosul, a member of the Syrian Orthodox Church, and I had met him through the years at various events and particularly when we were both on the board of Living Stones of the Holy Land Trust.
On this occasion Aziz wanted to talk to me about a personal friend of his, the Syrian Orthodox Archbishop of Aleppo, who was kidnapped three years ago. Aziz spoke about the Syrian Orthodox Church whose members are in Iraq and Syria, and told me about the kidnapping of his friend, Mar Gregorios Yohanna Ibrahim. I had heard that two Archbishops had been kidnapped three years ago, but knew very little of the details. Aziz explained to me that Mar Gregorios had been going with Archbishop Paul Yazigi to try to buy the freedom of two of their priests. Aziz was with him the morning they left and indeed asked him not to go as he felt it was unwise - but the Archbishop felt that he must work for the release of his priests.

Archbishop of Aleppo, Mar Gregorios Yohanna Ibrahim
Since then nothing has been heard about the Archbishops or the priests. People believe they are still alive because they could be exchanged for large sums of money. Aziz is pretty sure that they are with either ISIS or the Al-Nusra Front. In either case, that is an alarming thought.
Aziz has put together a book of comments from Christian leaders around the world, particularly those who knew Mar Gregorios, and he asked me if I would write a song about him for inclusion in the book. I was hesitant at first as it seemed quite a big task and difficult to get it right. Aziz wanted it to be a song where people would be able to sing the chorus like in others of my songs.
Thinking about it and getting material from Aziz made me more and more conscious of our sisters and brothers who come from such ancient churches. Churches that even use the Aramaic language in their liturgies - the very language that Jesus spoke.
Ancient Christian tradition
Several times when leading Holy Land pilgrimages I've taken groups to the Syrian Orthodox Church of St Mark in Jerusalem, where an Iraqi nun has spoken to us. I've been moved by the stories she tells. There's a painting there, of an icon, that she says was made by St Luke. Whether that's true or not I don't know, but you can feel a strong sense of history and a Christian tradition that we know all too little about.
The nun finishes off her talk with some words that I particularly like - she says, "Let's go downstairs to the Upper Room". There are a few candidates for the Upper Room in Jerusalem, and this is one of them. The buildings all around now means that this one is to be reached by going down from the church. There she prays the Lord's Prayer in Aramaic - the very language Jesus spoke - it is a very moving and special moment.
I remember when Elias Chacour first came to Greenbelt he spoke about the meaning of the Aramaic in the Sermon on the Mount. I was next to a Bishop who said, "Nonsense, no one knows Aramaic - it is no longer spoken." But these ancient churches have an ancient history and some even use Aramaic in their liturgy. We have much to learn from them.
If you want to read a book which gives an insight into the Christians of the Middle East, William Dalrymple's book, "On the Holy Mountain" is both highly informative and also deeply moving. In it he meets Mar Gregarious and they have a great encounter when Mar Gregorios explains to William that they are going to have a Stylite in their Cathedral (a monk who stands on a pillar). It's both genuinely funny, and yet brings out the tremendous sense of history that is present in the Middle Eastern churches.
Recording the song Come Home (Mar Gregorios)
I had to write the song quickly in order to meet the deadline for the book. As I read the words of different people talking about the Archbishop, I felt I caught a glimpse of him. And I often felt moved and lit candles and prayed for these captives. Then I had to record the song as soon as possible; I was down in Braunton in North Devon for a weekend where I discovered that the vicar of the parish church in Georgeham, Mike Newbon, had been Studio Manager of ICC studios in Eastbourne for many years and now had his own small studio in his house.
So I went and recorded the song there. My daughter-in-law, Eils, is a great vocalist and I asked if she would help with the backing vocals, and she did a fantastic job. We then brought in her three children - my grandchildren Harley, Caitlin and Aisha, and they also sang beautifully, and I think bring the song to a very good conclusion. Mike added some bass and Nashville High Strung Guitar.
Not a church bell has rung, not a mass has been said...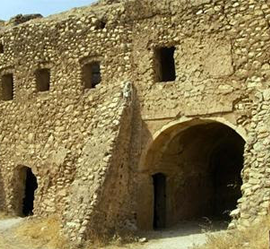 IG militants destroyed an ancient Christian monastery in Iraq
Monastery of St. Elijah founded in 590
Aziz himself comes from Mosul in Northern Iraq, not far from Aleppo, and apparently the Orient Express used to run between those two towns. Since ISIS took over Mosul on the 10th of June 2014, as Aziz tells it, "Not a church bell has rung, not a mass has been said."
Also ISIS have destroyed Iraq's oldest Christian monastery, as ISIS tries to eradicate the traces of Christianity from the region - the monastery had been there for nearly 1500 years.
***
These are the lyrics of the song, which I hope people will use as a prayer for the Archbishops and the other captives, and also to remember the ancient churches and all those who suffer at this time
Come Home (Mar Gregorios)
Come home Mar Gregorios - we wait for you each day 
Come home Mar Gregorios - come and show the way 
You're our shepherd, you're our prophet, you're our peacemaker too 
Come home Mar Gregorios - we wait and pray for you.
Mar Gregorios, Mar Gregorios 
Mar Gregorios, Lord hear our cry 
Mar Gregorios, Mar Gregorios 
Mar Gregorios, Lord hear our cry.
There's a stone wall of silence since you've been away 
A stone wall of silence – let's roll that stone away 
We need you - so we're waiting for your resurrection day 
Come home Mar Gregorios – let's roll that stone away.
Mar Gregorios, Mar Gregorios 
Mar Gregorios, Lord hear our cry
Come home Mar Gregorios – to this deeply wounded place 
Archbishop of Aleppo - bring your music and your grace 
Bring Archbishop Paul Yazigi, and the other captives too 
Come home Mar Gregorios – bring them all with you.
Mar Gregorios, Mar Gregorios 
Mar Gregorios, Lord hear our cry
Prayer - Make a difference in the world
This is a prayer that I really like - I find it very helpful
May God bless you with discomfort at easy answers 
half-truths, superficial relationships, 
so that you will live deep within your heart.
May God bless you with anger at injustice, 
oppression and exploitation of people, 
so that you will work for justice, equity and peace.
May God bless you with tears to shed for those who suffer 
from pain, rejection, starvation and war 
so that you will reach out your hand to comfort them and change their pain to joy
And may God bless you with the foolishness to think that you can 
make a difference in the world 
so the you will do the things which others tell you cannot be done.
Source Unknown 
Canada