Crisis is published by Tony Jasper. Features and pics are welcome.
Email: tony.jasper@btinternet.com

MUSIC
B .B. KING's re-issue and re-issue
Many an American blues artist has laid down gospel tracks, and not surprisingly among them the great B.B .King - the hero of any white-guitar-singer in times past, not least the now Cuban bound, The Rolling Stones.
This re-issue from 1959 , and first re-issued in 2006, of Sings Spirituals Plus Twist (Soul Jam/Ace). is welcome , even if King, as with many others, goes for the familiar, and so for instance we get his rich vocal tones working their way through long revered traditional favourites such as "Old Time Religion; 'Precious Lord,' 'I'm Working on the Building' .. and 'Swing Low Sweet Chariot.' The vocals have a jubilant air about them. take in the subtle phrasing,
Or for contrast from the slow burning style take in the track 'Army of the Lord' where he unleashes a scorching vocal.
On this selection King's guitar is often pushed back, and naturally there is organ, but also piano, bass and drums. The Southern California Choir lend a hand, as also the female backing outfit, The Charioteers. Hailing from Mississippi, King's real name is the rather plain Riley King and his initials stand for "Blues Boy." He has spoken of how "Church was not only a warm experience" but indeed "exciting' specially when it came to the song outpourings. He was a boy in a gospel choir, persuaded by his pastor to pick up the guitar and experiment. He was proud to be known as a "church boy."
He told the US religious magazine Christianity Today that "I believe that all musical talent comes from God as a way to express beauty and human emotion. His background was `Baptist and Pentecostal. His first appearance was with Elkhorn Jubilee Singers and later with the much revered in gospel lore, the Famous St.John Gospel Singers. Blues would give him the route out of family poverty but it's often been said that amidst the blues there came gospel flourishes.
To doubtless the delight of U2's Bono he agreed to duet with the Irish mega-star on the singer's song "When Love Comes to Town" that centres on the cross and has shades of the old loved spiritual 'Were you there when they crucified my Lord' as it opens with the line 'I was there when they crucified my Lord.' You can pick up this cool song on YouTube. In record terms it's the twelfth song on the U2 album Rattle and Hum. It's said Bono wrote the song specifically for King.
While R&B and Blues have often made their bed with gospel, arguably much more invasive is country. The gospel-country catalogue is a pretty thick volume. At one time it veered onto to the main Christian stage thanks to the late Paul Davis who produced magazine, organised country-gospel fests and managed George Hamilton IV. He's sadly missed.
LORETTA LYNN

One surmises that for many a Brit, it's Dolly Parton who embellishes the essence of country, and who can forget against all seeming musical odds how she stole the show at last year's Glastonbury. So also experiencing fresh pasture life, and sudden plaudits outside of the country genre, there strides Loretta Lynn. Her new release Full Circle (Sony) dips a toe in the spiritual waters for a moving duet with legendary Willie Nelson on the song Lay Me Down, while there's a brief gospel piano entry for the song ' Everybody Wants To Go To Heaven' with its cryptic line 'I want to go to heaven but I don't want to die." With 'we' replacing the "I' on some of the repetitive refrains, along the way the lyric travels Judas betrayal and the death of Jesus,. ' The song following this track is a heartfelt 'Wine into Water' that takes you into the Gospel story in John's account.
Lay Me Down' is not the song written by talented contemporary Christian writer Chris Tomlin, and it can be accessed on YouTube and be prepared for an emotional moment or two. 'Lay Me Down' reflects on life and mortality. They sing: "When they lay me down someday/My soul will rise and fly away/This old world will turn around/I'll be at peace when they mal me down." But no, it's as it were not by any means a complete Christian understanding of our passing.
As you would expect Loretta can gather around her the best of country musicians, and not surprisingly the album has been gathering high praise, even from review quarters that might initially 'sniff' at the thought of taking a 'country' style album on board.
Time, loss, and renewal are themes found on the new fine album from US singer Bonnie Rait and Dig in Deep (Prime). Rait tells the world "The kind of music I do is not for cissies." She runs with lyrics that are pointed and somewhat disturbing. The release follows her US Grammy-winning 2012 album Slipstream. In recent her life has been coloured by several bereavements. This 'heavy" involves in losing both parents and her brother. She talks of the miracle that you can come out of a dark period, and where "you think your heart is shuttered and you're not going to be able to be in the sun again." Just hear her sing "I Can't Make you Love Me' or a song about a relationship that gets stale on 'Unintended Consequences.' She says there is a real art and intention in making a relationship vital again. Amidst the life themes there is a US political-social outing in the song 'The Comin' Round Is Going Through' takes us into inequality and the 1 per-cent. A fine album.
Play and poetry
Miner's poem marked Shakespeare's anniversary celebrations

by Tony Langford
In the year when we are celebrating the 400th anniversary of the death of William Shakespeare, it is worth recalling that back in 1864 there were celebrations to mark the 300th anniversary of the Bard's birth - he was baptised on 26 April 1564, his exact birth date is unknown. The activities included a competition for a poem commemorating Shakespeare and this was won by the Cornish poet and miner, John Harris.
Shakespeare had always been his idol. It was the Reverend George Bull, the first curate of Treslothan Church in Troon, near Camborne who introduced him to the work of Shakespeare, Romeo and Juliet being the first play Harris read. In his biography of his father, Howard Harris tells of how he discovered a number of Shakespeare's plays in the poet's home at Falmouth which "bore evidence of good usage." He also recalls how his father often quoted from the writings of Shakespeare in conversation.
So it not surprising that John Harris decided to enter this competition. Yet were it not for his friend William Catcott, the 'baker bard of Wells' in Somerset, Harris would not have known about it. Thumbing through a London journal, Catcott came across an announcement of a poetry competition to mark the 300th anniversary of the birth of Shakespeare. Organised by Coventry Town Council, a gold watch was the prize for the winning entry. Catcott sent a cutting to Harris, urging him to enter.
Harris was excited by the prospect and, after consulting his wife Jane, decided to give it a try. Throughout his life, his poetry writing had to be fitted in between work - which included 24 years underground at Dolcoath Mine before landing a position as a scripture reader at Falmouth - and family life. He wrote the competition piece in two evenings sitting by the kitchen fire when the children were in bed.
When complete, Harris read it to Jane who "spoke encouragingly of it". He posted it the next day but there was a three-month wait before judging took place and the date faded from his mind.
Then, one day as he returned home from his work visiting the sick and poor in Falmouth, Jane called down from the top of the stairs: "You have won the prize – the gold watch."
And there was a telegram confirming that he had won the prize (there had been more than a hundred entrants) and inviting him to the celebrations in Coventry. Alas, he could not go.
A few days later the gold watch arrived in Falmouth, delivered by an excited postman. He exclaimed: "I verily believe the little fellow is come." He danced around the kitchen, shouting: "We have beaten them all! Hurrah! Hurrah! The barbarians of Cornwall are at the very top of the tree!"
A portrait of Shakespeare was engraved on the centre of the case of the watch and inside the case were the famous words:
Tomorrow, and tomorrow, and tomorrow
Creeps in this petty face from day to day.
To the last syllable of recorded time.
Although John Harris was unable to attend the ceremony at Coventry, he did visit Bristol, Clifton, Hereford, Worcester, Gloucester, Malvern, Birmingham and Stratford-upon-Avon later that year, the only time he left his native Cornwall.
Of Stratford he wrote: "The place bound me with a wondrous spell". That journey resulted in his book Shakespeare's Shrine.
John's prize-winning poem ran to nineteen verses, the final verse expressing gratitude for the life and work of Shakespeare: It reads:
And so, great bard, today
We weave thy natal lay.
And cluster gratefully around thy name:
England will ever be,
Dear Shakespeare, proud of thee
And coming ages but augment thy fame
Tony Langford is a freelance journalist ,and whose work has appeared in the Daily Telegraph , and The Western Morning News. This feature first appea red in the WMN and is used with permission.
DRAMA
You are welcome to use buy please credit Jasperian Theatre Company.
Sketch 1
LINDA` Hello: I'm Doctor Susan Sure
TJ HI.
LINDA So much can go wrong with the human body. So what can I do for you?
TJ I do have problems but initially I was hoping to take advantage of the new way of financially aiding the NHS.
Linda Oh splendid. This week on offer 3 for 2 cornflakes, half-price lamb chops, reduced prices on all teas and coffees.
TJ Sounds good. Oooh.
Linda` Something hurting.
TJ Yes.
LINDA I'll' have to see if I have a colleague free from dealing with offers to help the NHS. (consults computer) Proving difficult.
You see each of us has a different sales line. When we have enough money we can go back to providing medical care.
Not sure what I can do really. How about Aunt Bessie's dumpling?
down this week 30p.
and whoops Mongolian stew down from 1.45 to 97p
you still have a pain
TJ YES.
LINDA Spend more than £40 and you can have an appointment voucher. This will entitle you to book an appointment but giving at least 21 days notice. Spend over £100 and it's just 17 days. Your choice. The NHS is yours.
Sketch 2
Linda :Is that Mr Jasper?
TJ: Yes.
Linda Hello Sir. Just a quick call. I need to ask you a few questions before we can proceed.
TJ Who are you?
Linda: Won't take a minute.
Can I have your mothers maiden name?
TJ Elsie Morwenna Roberts
Linda: Not sure that we have that.
TJ I know it is name. She is my mother.
Linda: Of course.
TJ It is.
Libda: Probably a hiccup on the computer. No need to get worried.
TJ I'm not.
Linda: Right you live in Ludvan.
TJ LUDGVAN
LINDA: Can you spell it for me.
TJ L for Larry,U for udder.
Linda: Please?
TK U for unique.
Linda And
TJ D for david. V for van. A for apple and N for nellie.
Linda. Seems to be right. Like I said computer blips. Such a nuisance. Part of living in the 21st century. Your postal code
TJ TR20HG
Linda You're sure? Did you say TR208HDC?
TJ: TR208HG
Linda: Ah yes. Let me see. That is Ludvan.
TJ Ludgvan.
Linda: Can you spell that
TJ I did that a few moments ago.
Linda. As you say that was a few moments ago.
TJ: L for Larry U for unesco. D for Don V for victory A for Anthony and n for no.
Linda; That seems different from just now.
TJ I know but I'm trying to make things clear.
Lnda It can cause confusion. Lastly, before we can proceed, were you born before 1995?
TJ Yes. Why?
Linda: We have a special scheme for the young.
TJ Look what do you want?
LINDA: Just doing my job, no need to be offensive.
Where is Lidvan? I cannot find it
TJ It's near to Penzance.
Linda`: How do you spell PENNANCE.
TJ: PLEASE, Just say why you are calling/
Linda`: I've just realised, you are outside of sales area. Ludvan. I imagine it's in the Netherlands. Sorry to bother you.
OBIT

The Guardian gave him a page for his obit but in parliament David Cameron seemed uncertain as who exactly Arnold Wesker might be. The East End born playwright had been mentioned by the Labour leader, Jeremy Corbyn. Wesker's greatest moments were at the end of the 1950s and early 1960s with the trilogy of Chicken Soup with Barley, Roots, and I'm Talking about Jerusalem. The first focussed on antifascist Jews fighting Oswald
Mosley's, Blackshirts. Wesker 's generation spawned the celebrated Bernard Kops and Harold Pinter. The three were children of Jewish immigrants. In 1976 he caused considerable controversy with his play The Merchant in which
Wesker's Shylock bids for his pound of flesh, not as a revenge act against against Christian society, but as a joke with his philosemitic friend Antonio, against anti-Semitic Christendom.
Obit, Guardian, April 14. 2016. P33.
Twenty years later his play Blood Libel ( also The Merchant) explored the theme of a Christian society infected by anti-semitism. Wesker's text centres on William of Norwich, a 12-year old. His death in 1144 was attributed to Jews.
Wesker sought to underline with this drama, the medieval Christian fantasy of the Jew as child-murderer was an element that contributed in part to the Holocaust. In his review Michael Billington said Wesker's view came across clearly – English life is ingrained with anti-Jewish prejudice. Another of his play texts was When God Wanted A Son.
This writer lived and was a great friend for many years with a Jewish family who were great friends with Wesker, and this association picked up several aspects of the lengthy Guardian – his anger that his later work was largely ignored and the feeling that among the theatre elite there was subconscious anti-semitism. There was also his feeling that he was outside of the theatre establishment, and arguably never given due recognition by the establishment, unlike Pinter.
THE VOICE
The high ratings The Voice on BBC 1 on a Saurday night features aspiring singers, and as it were, lo and behold, the judges and viewers realised that the 'voice' of one artist belonged to a man of the cloth. The said person is the Vicar of High Spen and Rowlands Gill, the Revd John Barron. He chose to sing This is the Moment from the musical Jekyll and Hyde. He receives much praisse from judges and staning ovation from the audience. However for whatever reason he is not chosen to progress in the show.
DALEKS AND THE CLERGY
Down in Britain's far West a fully operational life size model of a Dalek is one clergyman's answer to increasing chapel numbers, although there is no reason to believe the Dalek can be paet of a family. The impressive Dalek is the work of the Reverend Karl Freeman MBE, chaplain to 29 Commando Royal Artillery, and as it happens vicar of Plymouth's Emmanuel Church. It seems the Dalek attends church ( that is surely good news with the future in mind)and Karl says
It is used to teach children about good and evil...it's about teaching children the Christian faith in a fun context.
Feature, no writer named, Western Morning News, February4, page 20.
Apparently the spacey clergyman had to join the Dalek Builder's Guild.. to secure bluepriints so he could construct a Dalek. One assumes a Dalek is ecumenical.
Here was no Dalek vicar in a successful ITV series Grantchester. Rather he is a handsome young man - set to start many a female heart fluttering.. The creator of this man of the cloth, or shall we say "clerical sleuth' is James Runcie, who is yes, son of a previous Archbishop of Canterbury, no less than Robert Runcie. The series has a re-run in 2016 and collects on the way a substantial article in the Sunday Times. In terms of the vicar:
With Grantchester all the ingredients are in place for what he calls as "Anglican' Father Brown, a Morse with morals, Barbara Pym with no clothe on.
Smith, Julia, Llewellyn Smith, Stepping out of Dad's shadow with a dishy vicar, Sunday Times, February 28. News Review, p6.
The vicar is played by James Norrton, an actor with extensive TV credits. Less noted is the 30 year-old i Norton 's interesting background – he read theology at Cambridge. He attended as a boy Ampleforth College boarding school and was taught by Benedictine monks. His family are Anglican and he says his familiarity with religion helped him win the role
Garth Hewitt Foundation — from Garth

I'm writing this in Rio. My son Joe heads the Brazil team hosting the Street Child Games - which is an event using the opportunity of the upcoming Olympics, to do a Street Child Olympics, putting a spotlight on street children to advocate on their behalf and to stop them being rounded up when international events are on.
Gill is a volunteer at the games so I'm over to support her and Joe and the team - but mostly to focus on writing a book!
Today I took time off the book and joined them in a favela called Penha. Here Joe and the team have been working for months building a much needed football pitch for young people in the local community. This was sponsored and fully financed by Chevrolet cars. Penha is a favela experiencing 'pacification' – this means the police come in heavily armed and they meet the response of the drug lords - also heavily armed. 
Joe met with the police and the drug lords and both agreed they supported the pitch and so they would keep violence away from it - they kept their word but of course bullets don't always go where they are meant to go, and all the time they were building the pitch, shooting could be heard in other parts of the favela.
Today it was exhilarating to see the young people of the community being trained, some of our group of visitors joined in and played football with them – it was a moving time. As the joyful and happy game went on we could hear gunfire in the background. Our driver told us there was a part of the favela we could not go to today.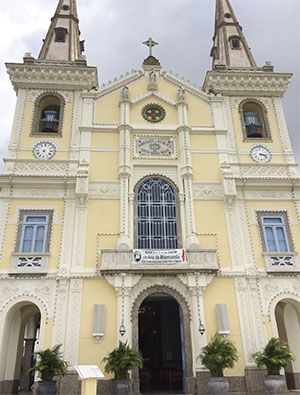 Santuario de Nossa Senhora da Penha - The Church of Our Señora da Penha
To get up to the pitch we had been supplied with moto taxis – that means you ride on the back of a motorbike – better than the huge steep climb. Nevertheless it was hairy for those of us who haven't been on the back of a motorbike for a long time! Though it was quite exhilarating – around 12 bikes taking us all around, down and up the steepest of hills.
Before lunch we went up to a remarkably high Catholic church (high in being situated on top of a hill – nothing to do with ritual!) Here outside this beautiful church was a sign that pointed to the door and said "This is the Holy Door in the Year of Mercy" – beautiful words sparked off by Pope Francis calling for a year of mercy – what could be more important in our brutal and violent world.
But I also interpreted these words as parabolic – wasn't what we had just seen at the football pitch also 'the Holy Door leading to mercy' and a future of possibilities for young people of Penha.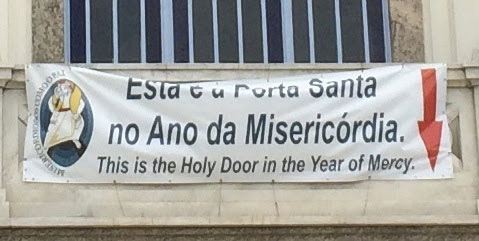 Acts of hope are 'a Holy Door' bringing the chance of dignity and the possibility of a way forward in a context where the odds can be stacked against all in the community. Both on the T-shirts the young people were wearing, and on the mural was a slogan that asserted "I am somebody". This is the message of hope for all of them that there is a better way, they are of value and their lives are of meaning.
The church we visited was called 'Santuario de Nossa Senhora da Penha'. When we left it we were on the back of our bikes again. Mysteriously Joe called out as we were leaving, "Keep your knees in!" In a matter of seconds we saw why - we were going down steps that wound between buildings in the narrowest alleyways one could imagine. It reminded me of a scene in 'The Italian Job', where minis are driving down steps! Brilliant driving - I don't know how they did it. Now where's that risk assessment?!
Then off to have lunch in the community with the young people who had been playing football – despite language difficulties they gave us such a welcome – I think somehow we had been through a Holy Door and were refreshed by it and we pray and hope that they have too and that this will be an ongoing encouragement to them.
Domingo de Ramos - Sunday of the Branches
It was the eve of Palm Sunday, or Sunday of the Branches as they call it in Brazil. In Our Lady of the Rosary they were preparing for the Sunday procession, and I was right by the favela (called Babilónia), where the Street Child Games participants and volunteers were staying. It's a steep favela built up a hillside, but I appreciated that the event was based here as it brought people into the local community.
It was what would be described as a 'pacified' favela - this means the police will have gone into it and gone head to head with the drug lords and eventually hopefully things will calm down. In fact for four years Babilónia had been at peace with only the occasional shooting right up at the top, between gangs.
But then shooting started to break out in the favela whilst everyone was staying there, which was unexpected and very worrying. And on the eve of Palm Sunday as I passed 'Our Lady of the Rosary' at the foot of the hill up to the favela I heard a close rattle of gunfire, soon followed by an extraordinary procession of heavily armed police with the biggest guns that I have ever seen (they are armed in a militarised way) and they came in on motorbikes and on trucks, pointing their guns as they came.
And I had a strange sensation as I thought of the City of Jerusalem and the way Jesus rode in on the Sunday of the Branches - he deliberately chose the non violent way, legs dangling over a donkey, and from the other side of the city would come the procession of the empire, waving banners and weapons, coming on warhorses, proud of their military prowess, bringing hostages with them - keen to show the power of the empire.
And at Babilonia the police came in like a procession - the empire came to town.
It's not a simple situation - the police are fearful, they have just said goodbye to their families. And the drug lords are also using the methods of violence and domination. Suddenly the Palm Sunday procession seems to make a lot of sense - a prophet riding on a donkey to set us free; going to the centre of power, but not with weapons, to show us a lifestyle of community - that there is a better way to live.
***
Brazil is struggling politically - there have been big demonstrations while we've been here - and struggling with different favelas where there was violence. On the Sunday of the Branches was what Walter Wink calls a piece of acted out street theatre by the prophet of peace to show us a lifestyle of hope.
How we make that a reality is complex, but as I looked in every situation in Brazil, whether in favelas or well-to-do areas, there are churches everywhere, and so full, and on Good Friday I saw people outside crowded churches – it was if the crowds were bursting out. Good Friday is saying, enough blood has been shed - reject the way of domination; and then Easter Sunday affirms the way of Jesus - join the non violent procession working for a community of peace.
We live in Britain in a country committed to armaments, making money out of them, selling them to terrible regimes who use them to abuse and dominate; and the message of the prince of peace is ignored year after year, and the parabolic style of entry on Palm Sunday is copied but we are not always committed to it.
We have a choice - there is always a choice. The choice is always to do with protecting and benefiting the few, or working for the community.
Choices
On the eve of Sunday of the Branches 
There was gunfire in the favela 
As holy week drew close; 
It was the night before Palm Sunday 
I heard guns - I saw the smoke. 
The police came like a procession 
On motorbikes and trucks - 
With the biggest guns you ever saw 
The empire came to us.
And somehow on the hillside 
I hoped that I would see 
A procession with a prophet 
On a donkey to set us free, 
From our Lady of the Rosary 
A revolution that began 
With a ride to the place of power 
As the humble danced and sang.
The choices seemed quite stark 
As Holy Week began –
Gunfire with the empire - 
Or peace on earth with the son of man.
Prayer
Palm Sunday
Jesus, bringer of a new way to live 
What a sign - riding in gently on a donkey 
Welcomed as the Son of David 
But he was the warrior king - 
You refused a war horse and chose the donkey 
You came in to Jerusalem as the peace king 
Not really as a king - perhaps the prince of peace 
Olive branches symbolising peace were waved before you 
This is a new world order - not the power of weapons 
But the power of love 
Not one who conquers with violence 
But one who sacrifices rather than defends himself 
Jesus, bringing of a new way to live 
You have given us a sign 
And a way to follow 
That heals and brings hope