TIME MARCHES ON, THE SUMMER COMES, and Crisis has reached a landmark 40th edition.. That means over three years of material. Articles are welcome in Microsoft Word form. They should reflect on the Arts. While Crisis seeks to reflect on the Arts from a Christian perspective general features are welcome, and we are not adverse to an article from another standpoint. We are prepared to publicise a charity but proof must be given for its validity, unless of course a well-known national organisation. Material o tony.jasper@btinternet.com. Photos welcomed. We are not against advertising and can supply the cost factor. Naturally we do not favour certain products, and so reserve the right to turn down certain products. We would especially welcome information on events and happenings. Copy date is the 12th of any month. Thanks.
THEATRE
This feature first appeared in Word Matters – The Journal of the Society of Teachers of Speech and Drama.
WINNING AGAINST THE ODDS
Tony Jasper, creative director of the highly regarded Jasperian Theatre Company, writes about some of the problems that are common to many a small independent theatre group. His own Company specialises in material that has considerable religious subject underpinning of an open-ended nature. JTC has no direct allegiance to any formal religious group or organization. He tells of the difficulties faced in presenting such material in the general market place, as well as in churches and related bodies.
Easy really, but then again not!
It doesn't seem unreasonable in a time of deep unrest to say that for any theatre company that strives in its repertoire of plays to answer the question 'Who can sense the weather in the storms of history-making?' all shall be well. Indeed, to go furtheand so accept the validity of a statement made by the American thinker Ross Snyder that the whole world is a theatre of life , the corollary stares in the face - there should be droves of people beating down theatre doors.
Does not the educationalist remind us that we grow as we have to deal with intentions, passions, imaginations that are not ours? Theatre is at base about telling the story – life's story, particularly someone's story. It can enact before an audience, even involve them directly, in coming to terms with the oldest, the most primitive, the essential mysteries, the ones that affect us all. These mysteries include terror, joy, love, despair, anguish, and as Helene Cixious once asked. "Where do they come from? What are they made of? How is it I have such a feeling? How is it this passion, this emotion will recur in my soul, in my life? These are the mysteries of self." But there are the other mysteries – those of the world and which she sees as the lust for power, the pleasure in war, the indifference to oppression. She poses more questions: "What are the forces that crush? More important are the forces that free.
Augusto Boal in his often exhilarating book Theatre of the 0ppressed reminds us that the theatre, in particular, is determined by society much more stringently than the other arts, because of its immediate contact with the public. He sees its greater power to convince. All this is fine on the surface, but some would say that the battle for the mind is being won by the "fast buck boys" whose province is to sell shoddy meanings of life in order to sell their product. The vast majority of people prefer reality television shows. Outside of those cosseted by fat grants, and where waste can be the name of the game, many theatres and theatre companies struggle.
However, perhaps there are particular pockets where you would expect to find both financial support and interest to generate works that indeed attempt to sense the weather in the storms of history-making. It might be supposed that the religious constituency is the obvious place to look for creative and stimulating drama that takes cognisance of the profane liturgy of humankinds daily news, especially in the light of the earlier questions and descriptions given. Sadly many religious people see 'theatre' and 'drama' low down on their list of essentials. More than likely they will see film in the same manner. There is nothing new in this. In the Middle Ages the control of theatrical production exercised by the clergy and nobility was particularly effective. As with its attitude toward art there was the desire to use it for its own ideas.
Churches do present their own theatre, and in recent time there have been highly successful passion dramas that have taken to the streets of several major British cities. However often church drama comes with texts from the well-meaning. Too often it must needs be safe, and so for instance it is often one that focuses on certain biblical characters that simply involves placing existing scriptural words into an actors mouth. There is no story line of consequence, no plot, no character development. The writer has not got behind why what is written is written. The overall piece is pretty static and the actor left with few options. Someone such as Declan Donnellan would be saying the helpful questions for someone playing St. Paul (my choice) would be not to ask 'Who am I?' but "who would I rather be?' and 'Who am I afraid of? It might be useful for the actor playing Paul to consider not only that person, but also an un-Paul.
I found when presenting a play on St Paul the really important question to some church people was the expectation that it would be performed in first century dress Avoidance must be made of anything that can be answered in one. The mind baggage for many a religious person who wishes to write play text stems from a subconscious desire both to be politically and religiously safe and not offend those who are not too keen on drama, and wonder why we are not singing more hymns.
So it might be asked where can someone find radical and thought provoking text that will for the sake of the argument, have a direct religious base? One answer rests in noticing the occasional excursions general theatre makes into the world of religious faith. In recent considerable success and acclaim has come from many quarters for Howard Brenton's breezy reading of St. Paul's life at the National, or to push a little further back the sighting of reverence and rebellion in the presentation of Steven Berkoff's Messiah. Both these stem from writers with no announced Christian convictions and who obviously think enough about Christian matters and influence to bother writing a play, even if some would say Berkoff cynically manipulates the Scriptures. In the more popular vein there comes Joseph, Godspell and the overdone Jesus Christ Superstar. Less accessible to a general public there was The Last Confession with its Vatican conspiracy drama, and a production notable for David Suchet's remarkable portrayal of Cardinal Beneti.
'Jerry Springer – The Musical' is definitely not on most religious people's radar! In so doing they miss the Springer message that religion can be used to make the bucks as anything else, and that many have found it easy to infiltrate and dupe and make money in Christian circles.
Many hysterical Christians who waved their banners and shouted in their own obscene language outside theatres in order to prevent performances failed to notice their own behaviour, let alone actually ponder what the
racy musical was saying.
For the Jasperian Theatre Company both general and religious groups can pose a problem. JTC specialises in presenting texts that focus on particular strands of religious history and its main personages. For many producing and commissioning groups the religious constituency is irrelevant, unless of course they wish to portray some aspect of religion. Any hope of JTC's work reaching the general theatre world has to counter suspicion of anything that seems to come from a committed source. An atheist or agnostic writer wishing to stoke up a religious text is regarded with some favour, but these are not days in British life where anything 'Christian' rates well in media circles. We are all confined in the right wing religious mould box.
It also faces the kind of religious reading of theatre and drama to which I have already made allusion and that comes from the Church in general. JTC battles on regardless. It doesn't want to doff the 'cap' to anyone. Formed in 1992 it has a repertoire of some fourteen texts. It has dealt with the intention, passions, imagination that are not ours but are of other people involved in situation. It believes history has much to teach us. It runs on a premise that basic human behavioural patterns differ little if at all from one age to another. It wishes to touch on the mysteries that have been listed some paragraphs back.
Among JTC subjects have been Martin Luter, Martin Luther King, Billy Bray, William Booth, Josephine Butler, Elizabeth Fry, and yes that man Paul, and the latter before the National said yes to the arresting piece of writing and presentation by Howard Brenton. All these characters wished to see a new world order, each in their own way desired to elevate the forgotten mass of ignored people, and to address those earlier mentioned 'mysteries.' Each challenged entrenched positions and assumptions, and often they attracted frightening hate. 0stensibly for instance my text for the production on William and Catherine Booth (founders of the salvation Army) was one narrating how the Movement began. However, beneath the surface, it was an attack on the injustices and marginalization of human beings, it was attacking money systems that corrupt and repress, it was asking questions about the distribution of wealth, it focused on how society should respond to those unable to maintain themselves. It wasn't merely saying those things existed in British 19th century life it was suggesting that in some respects we have not moved on.
JTC has presented its material the length and breadth of Britain, with a few forays beyond its shores.. As a Company it is not the only one simply saying here is 'theatre' or 'here is life seen' and doing so from a professed religious understanding. Riding Lights, based in York, is another, and JTC readily praise its output. Both aim first and foremost for high quality work. While the two may operate from a common religious empathy there is a distinct difference in material that is offered, although occasionally an anniversary may see them offer the same subject, as with John Wesley in 2003.
And yes, in-spite of my reservations concerning general attitudes of church and Christians to drama being anything other than a promotional device for the Faith, JTC has largely performed in churches and chapels of all kinds and shapes, and so to theatres, festivals, schools, prisons and private homes. That said, there are few places that have not seen a visit as anything more than something with a ` difference to existing programmes, an 'occasional' happening that might be repeated sometime in the future. Indeed, it is often asked of me, "let us know what you are doing in a few years time."
JTC can only battle on, and like other small Companies can merely try all kinds of promotional activities, but that is expensive and certainly very time consuming. Of course it might be said that it is all best left to the subsidised people, but outside of those few productions the kind of material JTC deals with would not be covered. Nor on a very basic scale would such matter reach a vast array of people who do not go to general theatre. JTC, as Riding Lights, does invade many areas where there is no professional theatre. In its work it does actually meet the people. There are no heavy lights and distances. Actors do not disappear into the night or more so to the pub. They meet and talk and often stay with people who have been in the audience. Sometimes JTC. productions are acted out within feet of those present. For some actors all this is a revelatory process. It can be an exciting process, none more so, where, as Boal points out in instancing from Hegel, there is a spectacle of struggle between living characters who pursue opposite desires in the midst of situations full of obstacles and dangers.
Long live theatre!

RECORDS
JESUS AND RELIGIOUS MUSIC
It doesn't have the force and passion that it once had, but the battle still rages in some black church circles over the question as to whether the Christian artist can both sing in church, and secular setting; or should someone with exceptional talent and career desires but stay and sing only in the church choir and not find a secular record label home ? The latter induces an incipient feel from the suspicious, and indeed deeply religious, that the spiritual dimension will be diluted by crass commercial considerations of the market-place.
0ver the years in speaking with such glorious singers as British artists Mica Paris, Lavine Hudson and Americans, Deneice Williams, Natalie Cole and Dionne Warwick, I have been aware of the dilemma posed, and so much more potent when you are a young, aspiring artist. The latter is true of Lavine who was seen by some with the potential to become, if you like, our Aretha Franklin. I was the first person to speak with her after she signed with Richard Branson's Virgin record company. Somewhere along the way, I believe, her prodigious talent became squashed in the scenario I earlier described.. Fortunately I possess her recordings – moving and passionate and all the better for a degree of rawness. In our conversation the main subject lay in the demands and doubts of some sections of the black church community, and her own inner turmoil of where se was being led, by people, by the Lord.
Re-issued comes Joy in My Soul from The Soul Stirrers (Ace) a group known in their history if nothing else for two wonderful male lead vocalists in Robert H. Harris, and the much better known Sam Cooke.
It was this group more than any other that challenged those who said church ministry full stop. The Soul Stirrers took gospel ministry into a profession, and with their vocal dexterity and ability to ride catchy rhythms they even inspired almost by default general R&B singers; and they laid down the way for future gospel styled outfits.
Not that it was an easy path for them. Harris left the group because he was affronted by the touring behaviour of other members who it seems were swept away by personal adulation and the advances of women at their concerts. He thought it was all unrighteous, seeing the focus of gospel being ate away and lost in the name of mammon.
Sam Cook succeeded Harris, but it's well documented that however great the vocalist Cooke was, sincere and all that, he would become gospel music's first sex symbol. Cooke eventually left the group since he wished to advance beyond the confines of singing Gospel.
Having written all this, you can feel easy for the tracks on this formerly 1963 set post-date Cooke, and If there is not his or the feel of Harris pervading, it still has appeal, and some of the songs are Cooke compositions, Cooke formed his own label and the Soul Stirrers were signed, and here is the result.. The music monthly Mojo gave this set a fairly warm response. As for Cooke, he was murdered on December 16. 1974, under it is said ' scandalous ' circumstances. In UK terms he would chart ten singles with his most successful 'Twistin'' the Night away" and one step from number one, 'Wonderful World.' Should this inspire you to sort out the best albums of The Soul Stirrers, then look for The Cpmplete Recordings of Sam Cooke with The Stirrers (fantasy). This is a box set that comes with liner notes and vintage photos. The three-CD set includes 25 songs associated with Cooke's vocal leads. In terms of Robert H Harris there is the album Shine 0n (Fantasy).
Next month I hope to have heard, and be ready to comment on the new album from Paul Simon. He recently appeared on the Jools Holland television show and sang a track from the forthcoming Stranger to Stranger – it's out on June 3. The song he sang 'Wristband' was well into his usual clever use of words and catchy rhythm, as well as carrying a dig at those who erect fences around themselves. Interestingly, for his other song on the Holland show, he went with a slow, almost bluesy version of his classic Sound of Silence, that was so good. Simon makes everything seem so easy, but within that spectre you have immaculate timing and consummate vocal phrasing. In a sense he reminds of another American singer remembered I'm sure by older people – Perry Como. I keep mentioning the record section in Sainsburys for in almost give away price, a three CD can cost a mere £3, and in terms of Como, you will find The Real Perry Como(RCA) . On disc three there is inclusion of several religious songs, including a very slow rendering with choir of 'In the Garden' and with organ entry, an equally somewhat formal reverent rendering of 'All through the Night'. The 60 track set ends with 'Ave Maria.' Record historians know well that most US singers produce a religious set, even down to more recent artists like Mariah Carey, and the Motown classic artists have at some point laid down either Christmas sets or general popular hymns. Occasionally British artists follow the pattern, and there is the new Katherine Jenkins set, Celebration, (Decca) not of course her first foray into religious songs and hymns. The latest is quite a mix with 'Abide with Me' and 'Guide Me 0 Thou Great Jehovah.' Yes, she does 'How Great Thou Art' and 'Sanctus' .
P.H. Harvey decides to 'have a go' at US policies on her latest album The Hope Six Demolition Project (Island),, although she does sometimes take things into a wider Western context. As you might presume, musical Harvey blends spiritual and blues, and there is much anger, none so more than the track 'Community of Hope' which focuses on a housing scheme which set out to revitalise a run down neighbourhood but which becomes, to use her words :"this is just a drug town/just zombies/but that's just life." Other songs touch upon human suffering, an amputee, a displaced family. Overall she seems to be saying America is in the process of pulling itself apart. Perhaps her skill is to tell how she sees things without inducing a 'turn off.' .
(This first appeared in The Methodist Recorder).
POETRY
ARTS CENTRE GROUP
JACK CLEMO POETRY
COMPETITION 2016
LONDON MAY 15 2016
AWARDS: PRESENTED BY THE BISHOP OF TRURO. RT REV TIM THORNTON
Poems printed with permission of the writers.
WINNING POEM BY DR ALWYN MARRIAGE
Transition
Winchester cathedral
When we're too tired or busy to even want to pray
and we're conscious only of obstacles between us and where
the air is clearer, music played on strings or sung by a choir
can sometimes rise like incense, carrying our prayer.
Out above this soaring roof, beyond the city,
daylight and blessings are filtering down,
a skylark is pouring her heart out in rippling silver curtains
between a chalkland greensward and a great blue dome.
Something or someone is bridging the gap, inviting us
to swim up into what we don't yet understand,
to take the risk of somersaulting into freedom,
to believe in the possibility of a listening ear,
to learn, like a violinist, to touch the string lightly,
absorb the vibrations and feel the harmonic soar.
SECOND PRIZE TO LYNN CHITTY
A Hint of Spices
It began as an echo
A rumbling.
Picking up speed as it danced through the valleys of silence and expectation.
 
Ears pricked up,
Noses twitched,
Trees swayed as their branches reached out to caress the breeze of new music.
Waters rippled
Waves rose , as birds soared on the wing.
Babies stopped crying.
Old men and women uncurled their gnarled hands and waited.
Something wonderful was about to happen
Something wild
Something that made hearts beat that bit faster than they did before.
A hint of spices hung in the air
And a stone
began to move.
THIRD PRIZE to ROB POWYS-SMITH
Some Words
Pages torn, now rolled,
Paper trimmed and lit.
It was the 'hit' he sought;
A cool rush to the edges of his skull
To snuff out those familiar fears.
Part of the mind readied to repeat,
Not knowing it was on the brink.
But, the letters on the page had reassembled,
Realigning into a pattern which
Awoke a dormant impulse.
Before his thoughts configured,
The words speak in a voice he owns.
Alert now, eyes dart like a blackbird's,
Like a candle guttering in a feint breeze.
A boulder has shifted; light floods
A disused space that houses
A soul about-to-be-restored.
The Word fires the clay;
The Author rewrites his story.
A synapse is reconnected;
A long filament down which
Mercy, freighted, threads its kiss.
 
Unseated, out run by Love;
A transformation, not a reprieve.
Wells spring up, as deep as Time.
Paper and flame, unorthodox sacraments,
Tinder substances to spark a
Consubstantial flame.
To inhale the great 'I Am', is to
Exhale some surprising inspiration.
A man in chains, a homecoming Son,
Forever free, reconciled to The Father.
A hard-won Hallelujah.
[based on the true story of a man imprisoned in HMP Swansea, who stopped repeatedly using pages of the Bible to smoke drugs when, unexpectedly, the words on the page caught his attention. His life was transformed from that moment for ever. Sometime later, following his release, he was subsequently ordained and leads a church in Wales.]

OBITS
ARNOLD WESKER
The Guardian gave him a page for his obit but in parliament David Cameron seemed uncertain as who exactly Arnold Wesker might be. The East End born plawright had b een mentioned by the Labour leader, Jeremy Corbyn. Wesker's gresatest moments were at the end of the 1950s and early 1960s with the trology of Chicken Soup iwth Barley, Roots, and I'm Talking about Jerusalem. The first focussed on antifascist Jews fighting Oswald Mosley's, Blackshirts. Wesker 's generation spawned the celebrated Bernard Kops and Harold Pinter. Wesker and Kops were children of Jewish immigrants, while Pinter, born in Birmingham, had grandparents who were Jewish immigrants. In 1976 Wesker caused considerable controvery with his play The Merchant in which Wesker's Shylock bids for his pound of flesh, not as a revenge act against against Christian society, but as a joke with his philosemitic friend Antonio, against anti-Semitic Christendom.
Obit, Guardian, April 14. 2016. P33.
Twenty years later his play Blood Libel ( also The Merchant) explored the theme of a Christian society infected by antisemitism. Wesker's text centres on William of Norwich, a 12-year old. His death in 1144 was attributed to Jews. Wesker sought to underline with this drama, the medieval Christian fantasy of the Jew as child-murderer was an element that contributed in part to the Holocaust. In his review Michael Billington said Wesker's view came across clearly – English life is ingrained with anti-Jewish prejudice. Another of his play texts was When God Wanted A Son.
This writer lived and was a great friend for many years with a Jewish family who were great friends with Wesker, and this association picked up several aspects of the lengthy Guardian – his anger that his later work was largely ignored and the feeling that among the theatre elite there was subconscious anti-semitism.
Before May dawned Jenni Diski another child of working class Jewish immigrants died. In her last days she wrote powerfully of her inoperable cancer, with words to comfort
Under no circumstances is anyone to say I lost the battle with cancer. Or that I bore it bravely. I am not fighting, losing, winning or bearing."
(Kellaway, Kate, 0bit, Guardian, April 29. 2016. P 37)
VI Subversa
associated with the punk-hippy band Poison Girls, passes on. The daughter of East European Jewish parents, she brought on to the stage shouts about the Holocaust and often drew National Front skinheads in their manner of protest. Rowan Williams writing in the New Statesman (April 29-May 3) sees echoes of Nazi populism in today's politics. Labour legend Ken Livingston causes uproar in some circles by suggesting Hitler was a `Zionist in his early years. His party undergoes examination without and within as to whether it has within its ranks a strong anti-Jewish voice, and of which the party says it has no sympathy, as some members are expelled.
It is keen to say that opposition to some policies of the Israeli government is quite different, as one should have the right to question policies of all national governments.
DANIEL BERRIGAN
The radicaL US Catholic priest and writer Daniel Berrigan dies on April 30. He was foremost in opposing what he terms the "war-making sins" of the US. He was particularly influential within student bodies in the 1960s.
He and others publicly burned their Vietnam draft cards. The group became known as The Catonsville Nine. A play and film is built around the protest. He and his brother Philip were imprisoned on several occasions. Later as a member of what became called The Ploughshares Eight, he protested at a General Electric site and with the group hammers to nuclear warhead casings. (see The Guardian, May 3. 2016. P35).
PRINCE
Music fans were stunned by the death of an artist whose claims include 100 million records sols, 39 studio albums and even grammys – he was just 57. For most of the time took he Prince as his name. In the mid-2000s he became a Jehovah's Witness and even went door knocking. He was introduced to that movement by musician Larry Graham.
A newspaper in hometown reported how a married couple had answered their door to find Prince offering a copy of The Watchtower...though they were orthodox Jews, and it was Yom Kippur, they were also Prince fans. They welcomed him into the hose.
(Boorstein, Michelle He went all along the watchtower, I paper, April 23, p 1300.
Religion and sexuality frequently emerged in his work. Naturally plaudits came his way, including one from lack activist her Jesse Jackson says he was a champion fighting for the freedom of artists and called him a "transformer." The artist is known to have been working on his autobiography with 2017 as publication year. His biographer oure said his beliefs and spirituality were rooted in "My Lord and saviour Jesus Christ.: He had concern with an after-lie.
By April 25 rumours were spreading fast, or at least enough seeming evidence to suggest all had not been well"
Pill popping Prince went 154 hours without sleep (Front page Daily Mirror, April 25. 2016)
In another press source it was stated that a post mortem begins amid reports of 0piate treatment (I Paper April 23. P 12). Whatever the case the pop royalty can demand oceans of coverage, and even bring cities to change their texture, as San Francisco's City Hall and Madison Square Garden, New York were among places bathed in purple light while the cast of Color Purple on Broadway perform Purple Rain, one of the artist's best remembered hits. The death of someone can lead to open warfare, especially when there lack of direction in a will. And so the headlne:
Prince's family go to war over $300, fortune ( Ben Hoyle, The Times, April 30, 2016. P 47).
Obits were if anything even more expansive in flattery than those accorded Bowie. The New Statesman roped in the one-time much toured, and indeed talented, Terence Trent D'Arby. It meant nothing was too much to say. Prince is a "Budda of culture and fount of wisdom.' Although it is admitted he possessed weakness but the Great weakness was in not accepting his weakness
D'Arby, Terence, A Zen master New Statesman, April 29. P 32.
D'Arby is not finished in his religious outing, for he says he agrees with the music writer and observer Steve Sutherland that Prince is God. Or at least he is the man sitting next to him
Ibid p 32.
And there is more to come,
His body belongs to the earth, but his mind belongs to us all. The awesome force of his will created new worlds. I IIBID P 32.
Prince did well to gain notice outside of the general and music press with inclusion in the political journal The New Statesman, where there is sadness at his passing and expressed in the lively Antonia Quirke radio commentary column.
EVENT
TRURO CATHEDRAL
Legacy of the Wesley brothers is celebrated in song.
by Tony Langford
Truro Cathedral resounded to the sound of Charles Wesley's hymns on Sunday. The occasion was a celebration in words and music of Charles Wesley and his brother John, leaders of the Methodist movement. The occasion was in two parts, commencing with a sung evensong , followed by a gala concert.
It was appropriate that the event was held in Truro Cathedral for both Wesley brothers were clergymen in the Church of England (their aim when creating the Methodist movement was not to establish a new denomination but to revitalise the established church) and both are remembered for their visits to Cornwall.
The Wesley brothers first came to Cornwall in 1743, when the region was the third largest industrial area in Britain. Cornwall was to become one of the major centres of Methodism. John Wesley made 32 journeys to Cornwall, each lasting two or three weeks. He preached four or five times on a Sunday as well as on weekdays. His last visit was in 1789, when he was 86 years of age.
His younger brother Charles made four visits to Cornwall, before devoting his time to family life and his hymn writing. Not that he took life easy, for he is credited with writing some 7,000 hymns, many still sung across denominations and around the world.
So it is not surprising that all the hymns at evensong and the gala concert on Sunday were from the pen of Charles Wesley. A large congregation attended evensong which was sung by Truro Cathedral Choir. Guest preacher was the Revd Simon Clarke, superintendent of the Newquay, Perranporth and St Agnes Methodist Circuit and secretary of the Cornwall Methodist District.
There was an even larger gathering for the gala concert, chaired by Cornish writer, actor and Methodist local preacher, Tony Jasper. With an encyclopedic knowledge of hymns of all kinds and a thorough understanding of church history, Tony peppered his commentary with fascinating background facts about the hymns and illuminating snippets about the Wesley brothers, all delivered in his customary authoritative and entertaining style. And there was rousing congregational singing.
After a welcome by the Very Revd Roger Bush, Dean of Truro, the concert opened with the congregation singing O for a thousand tongues to sing to the tune Lyngham. Tony Jasper informed the gathering there are 26 tunes to this hymn and, later in the programme, the Lizard and Mounts Bay Methodist Circuit Choir sang the hymn to a tune by Albin Whitworth. Apart from Lizard and Mounts Bay, two other choirs – Truro Methodist Church Choir and Camborne and Redruth Methodist Circuit Choir – had slots in the programme. Three hymns were sung in the Cornish language by Keur heb Hanow, including Hark the herald angels sing – Klew, kanasow nev a gan – to a tune by Cornishman Thomas Merritt.
It was, too, an evening of surprises. Tony Jasper explained that many of Charles Wesley's hymns were sung to folk tunes, leading to a medley of such tunes by The Celtic Fiddlers. And the Corineus String Quartet, with mezzo-soprano Maria Heseltine, contributed a rendition of Charles Wesley's Thou hidden source of calm repose. It was sung to a setting especially composed for the occasion by the quartet's cellist, Stephen Brown.
At the splendid cathedral organ was Philip Davey, musical director of Truro Methodist Church and a sought-after music teacher and performer. His contribution included an organ voluntary, Spiritoso, composed by Samuel Sebastion Wesley, grandson of Charles Wesley.
John and Charles Wesley, those remarkable brothers, sought high standards in all they did. The celebration at Truro Cathedral was a worthy tribute and a memorable event.
Reprinted by kind permission of the Western Morning News.
Garth Hewitt Foundation, from Garth
Just released - two exciting new resources from Garth, one a prayer for peace, the other breaking the mould!
Songs from the Fifth Gospel
A double album of songs, prayers and stories about the land once known as 'holy' for those on pilgrimage. Garth says, "St Jerome in the third century described the Holy Land as 'the fifth gospel', and when I use the phrase 'fifth gospel' I am thinking, not just of the land, but especially the people of the land."
Songs suitable for pilgrimage, born out of the stories of this land, but also out of the stories of the people of this land. The album is a prayer that Palestinians and Israelis will be treated as equal human beings, so the occupation of Palestinians will stop, justice will come, and then there will be peace and security for all.
Wide Open Arms - devotional DVD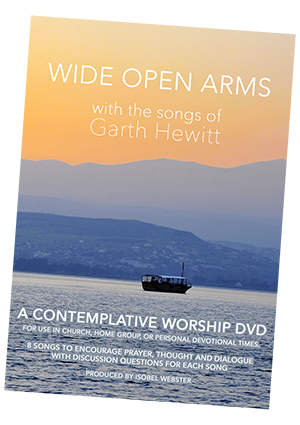 A contemplative worship DVD for use in church, home group, or personal devotional times
A new type of resource from Garth - 8 songs to encourage prayer, thought and dialogue  with discussion questions for each song
I have found Garth Hewitt's video clips really helpful for enabling a meditational, thoughtful atmosphere in church services and small group meetings. Please produce more! Being marginally confused (from You'll Lead Me Home) hits the button for me and many! 
Revd. Canon Dr Mike Parsons, Gloucester Diocese
Featuring 
Bethlehem is Calling 
God With Sleeves Rolled Up 
In the Quiet 
The Welcome (House of God) 
Wide Open Arms 
You'll Lead Me Home 
Beauty in the Ashes (Broken Image) 
One of Us
This week Garth's recording a Christmas album -  when it's ready you'll be the first to know!