Crisis is published by Tony Jasper. It appears monthly around the 20th of a month. Material is welcome, but there is no payment. Still if you want you thoughts to be read.... Crisis gathers no income. As such there is no subscription but you can ask for it to be sent to you without cost. Crisis receives no grants. The publisher receives no money for this publication. Details about the publisher, books and other works can be googled utilising his name.
Copy, Send to Tony.jasper@btinternet.com . 
THE  1960'S PART TWO
THE PRIESTS history and review of their new album
 DYLAN CONGRATS AND QUIZ
NEW ALBUM FROM IAN YATES
JASPER CURRENT TURNTABLE CHOICES
JASPER READING
DYLAN ANSWERS

REFLECTION
PART TWO of Tony Jasper's look at the 1960s. - the general British religious scene
The decade is full of texts examining the relevance or not of the Church, arguably  none more trenchant than The Humiliation of the Church by Albert Van Den Heuval. This 1967 book is a verbal crying over the distance between Church and the turbulent events of the decade. The reviewer in the Glasgow Herald said the author sought to "interpret the anger and disillusionment of a younger generation to the leaders of the denominations." In thoughts familiar in some quarters today (including this year at Greenbelt) there is a shout for total renewal with everything razed to the ground so that a new Church could emerge, one there for the world, on behalf of the world, the welfare of the world. This 'church' would be what her Master has always been – a servant.  To that others would add the words the 'Man for Others.' A few years previous on a narrower field he had edited a WCC book The New Creation and the New Generation, and t was there a Syrian Orthodox Church writer C.I. Itty had remarked that traditional ties between state and church in many Western countries was becoming looser by day. At the same time he observed the privileged position enjoyed by churches on Asian and African countries under colonel governments had been reversed by the establishment of secular and theocractic states based on non-Christian religions. Interestingly he observed that the emergence of welfare states in  various states has diminished the role of the churches. And this is observation in 1965.
However there was another strain popular in the mid to late 1960s - that Christ comes to us most characteristically as the Crucified, the Victim.  So wrote the Methodist minister Geoffrey Ainger in his book Jesus Our Contemporary.  Ainger was a team member of the experimental ministry in London's Notting Hill Gate.  It was for Ainger the desire to be with Christ where he is, that the church's organization, like everything else, must become and remain the servant of the Gospel. It was a call into insecurity, a spontaneity of ministry. Ainger was much influenced by his experience in East Harlem Protestant Parish in New York – a community of Christians who sought to discover for themselves what it means to be followers of Jesus in a teeming multi-racial slum at the heart of a great city. On this and related ministry many were affected by Bruce Kenrick'sbook Come Out the Wilderness. Experimentation was not confined to Methodists. The trend magazine of the time Nova told of radical Anglican experiments on the London South Bank, and attempts to make sense of faith to those living in what was termed "difficult' areas, seemingly slums and sprawling housing estates. 
0ne of the great glories of the 1960s lay in there being  no shortage of books to offer refection and input to fill the shelves on a variety of subjects, especially the earlier mentioned focus on the church now and the church future.  Choice is always an invidious thing but on the fore-mentioned subject  there was The Future of Religion by Kathleen Bliss, Religious Faith & Twentieth Century Man by F.V .Happold, and among books intended to interest the 'outsider' a popular  series of Objection titles to include Objections to Christian Belief from four Cambridge churchmen, and from what termed "Last Programmes`  from Rediffusion Television, Dialogue with Doubt. The television series consisted of a series of open dialogues, or confrontations, Christians of different traditions met humanists, agnostics and atheists, ad discussed their own personal beliefs.  
Colin Morris emerges, and  by the time of his Include Me Out he was into his eighth book with Epworth – that book having its ninth reprint by 1969. It was his brave attempt to straighten out some of the Church's problems. Morris told his readers that the church is not a 'Think-Group' whose role is to duplicate or supplement the intellectual action of others. It is an 'Action-Corps daring to offer simple solutions to complex problems through the creative side of self-sacrifice'. Morris would become, and still remains a powerful writer on matters relevant to intelligent Christian witness. 
For those of a more conservative  theological nature, and certainly found exhilarating by students of the time, and even so today, and  just making the Sixties decade, there was The Church before the Watching World by Francis Schaeffer. His L'Abri movement would exercise enormous influence, especially on those who were looking for biblical and intellectual approach to Faith.
It was a decade when heavyweights such as Marcuse, Bultmann, Tillich, Niebuhr, Brunner and Bart occupied the minds of theological students. The book Beyond Religion by Daniel Jenkins pulled together some of the theological strands that were floating about. Bonhoeffer found favour when speaking of a "religionless Christianity." In recent time he seems to have become a must read for conservatives. Theologians like youth and their ever changing world of pop stars have their favoured ones, for a while at least. Into such a scenario came the German, Jurgen Moltmann whose Theology of Hope became the "must" read. In 1981 Gerald Priestland writing in The Listener brought the 1960s and theology together – in the twelfth of his thirteen week series he referred to this 1964 book and said it "makes people love life again." Of course  for media notice no one could touch the book by a British Anglican bishop. Theological debate had its moment, none more so than the text of Honest to God, and such its impact then, and even in some ways continuing now, that when it celebrated its fiftieth anniversary in 2013, the Methodist Recorder devoted a whole page where writer and broadcaster Richard Firth said the we must still wrestle with the questions the Bishop raised.  
For some all this chatter of Honest to God and the like was no more than a Church asking people to believe in things that its main proponents did not. Others saw it as part of a  Church  of England very much into a secularising agenda, one that turns Christianity into a trite moral system. On the other hand mass evangelism was still far from finished, mostly evidenced in another Billy Graham assault, and in this decade in popular terms seen  in the young pop and eventual film star of the day – Cliff Richard. His appearance at a Graham meeting in 1966, and where he spoke of his faith, sent the tabloids into one of their frenzies, while Cliff fans were distraught at rumours that said he was leaving show-biz and would train as an RE schoolteacher. 
Preaching was still very much the high point of much non-conformist worship. Local crusades were a regular fixture, and if people wondered how they could reach people it was invariably decided that a ten day mission was the answer, be it in a church or a text. The mix was simple – some powerful hymns and songs, perhaps a` choir, a soloist, and all leading its way into a powerful  verbal message. There would be an appeal for people to come forward and trained counsellors would lead people away for prayer and a leaflet, and  eventual referral to an acceptable church. Simple really.
There were notable British evangelists  who could fill halls - Tom Rees, the eloquent Welsh evangelist David Shepherd, Alan Stephens and Eric Hutchings. And of course, Methodist circuits and beyond had invasions from students of Cliff College with fiery messages and singeable choruses, not least the still beautiful' sing, 'Turn Your Eyes Upon Jesus.'  They even made Penzance, and ministered at the Alexandra Road church within yards of a very busy weekend promenade of visitors throughout the country, and where on a Sunday night manning a soap box could be found the past President of  the Methodist Conference, Dr Peter Stephens and former Chair of the Wolverhampton district, John Sampson – both then in their twenties and in their own way charismatic performers to large crowds – it was still a time when people would discuss faith and like a good debate. The Stephens-Sampson soap box of OCW style provided a healthy antidote to a band and known hymns that provided Sunday nigt are at several Cornish seaside resorts. 
Powerful preachers abounded, and at one time in the decade London offered memorable choice on any Sunday to include Donald Soper, Arnold H Cooper, Derek Greeves, Leslie Weatherhead, Howard Williams,  Dr.Martyn Lloyd Jones and John Stott. Dr Jones would be one who spurned ecumenical strategies, and exercised a powerful voice in more conservative theological quarters on such a matter, and it was in 1966 that for the first time in 400 years an Archbishop of 
Canterbury popped in to see the occupant of the Holy See  - and then it was good  Pope John. 
0thers fretted over Pentecostalism and discussed the matter of speaking in tongues. 
In the Universities the Christian Union, SCM, IVF, and denominational societies battled for lives and commitments, and while CU offered sherry for newcomers at say Oxford, at the Methodist camp apart from the ministry of Ben Drewery it was tea or coffee or hot water, and yes a biscuit. Occasionally a clergyman would make the popular press with Bishop Robinson to the fore, but there was also the Very Reverend Edward Patey, often seen astride a battered bicycle and whose book Young People Now (1964) was one of a growing literature on youth and religious expression. Patey motored in controversial fashion on morality and relationships. Dr Soper would interest the media as he declared The Papal Encyclical Humanae Vitae as "masculine arrogance." Apart from his fame at Hyde Park and Tower Hill he would appear on TV's, Brains Trust and suggest to some that at least Christians could talk intelligently. Lord Soper would tell the Methodist Recorder (March 3. 1964) that the Beatles encouraged "a dangerous eruption of early puberty sexual feelings." The tabloids found that one hard to resist. Oh, Doctor Soper would be given that due peerage in 1965.
Other than the man from Kingsway,the Methodist church in particular offered some great thinkers on a wide variety of subjects that gripped the young of the time, people of brilliance and learning, and so for instance Edward Rogers on Communism, and C.A. Coulson on science, technology and religion, the three factors that provided a book for Epworth at 8s.6d. net.  
God-rock, Jesus rock flourished, and for the Salvation Army there was one of their officers, Joy Webb making the pop charts and appearing on Top of the Pops. She would say;" the Salvation Army was going to pioneer the first use the Church in Great Britain would make of the Sixties music culture."  Yet, almost paradoxically the so-called secular music world was awash with religious expression of a variety of faiths but overwhelmingly Christian. It would seem to pass by 'straight' religious circles, perhaps possessed with energy being spent on how to reach people with Jesus when all the time people were hearing the likes of Simon and Garfunkel, Dylan and the Byrds. The general music world produced numerous artists who had a religious strain permeating their lyrics, some had a faith, others merely interested.  That said, in some conservative evangelical circles there was a no love lost in an influential book of the time, Pop Goes the Gospel by John Blanchard.
Still, little in the decade can compete with the extraordinary reaction from the world's media when John Lennon said the fab four were more popular than Jesus Christ.  Many parts of the US went crazy and monster bonfires of Beatle records were quickly organised. To put it mildly it all went out of control with  some seeing the remark simply expressive of the onslaught  of secularism against the wisdom of the ages, for others a call to arms to defend all that is precious in Western civilisation. It gathered in one fell swoop all the simmering hate and dislike that some held about youth culture. 
At the same time, if many had not already noticed, pop music no longer had to be about girls it would through some of its practitioners talk soil and political concerns. It would give rise to more conversation about young people and faith with an American writer Dennis Benson especially pertinent. Benson wondered why anyone would think young people might be attracted by the smell you get in Nonconformist churches of floor wax or odour of dead wood., of drab colour scheme, usually brown in is variations from dark to light. He said the Church is often represented as hating youth and its smells, sight, sounds. Francis Schaeffer would remark in cryptic fashion:" The evangelical church seems to specialise in being left behind." 
The place and role of religious education in the state school system exercised many, and as I wrote in a  thesis when at Oxford, local authority religious syllabuses were often  dull and sometimes merely representative of compromises between the various churches and religious nuances and none of the relevant material that the young should study. 
By 1962, 99.4 per-cent of the population could receive television progammes. Songs of Praise was born a year previous. And it remains today for good or bad as the main BBC religious outlet, and like the ever theatre running of the Mousetrap or Arsene Wenger at Arsenal football club to remind that there are a few things of some longevity that do not have an ending – yet. 
The London West End theatre world played host to the marvellous gospel presentation Black Nativity. By and large the secular critics loved it. One source, Punch magazine said "Nothing like it may ever come our way again." Its director Vinnett Carroll became the first African-American woman to direct on the London stage.  There was an adaptation of the classic James Weldon Johnson's God's Trombones. And there was A Man Dies from Ernest Marvin and Ewan Hooper – a modern music drama on Jesus's life that began as an exhilarating adventure on a Bristol housing estate, found a home at the Royal Albert Hall in London and on the television screen. There was Baldwin's, Amen Corner with a text infused with a critical awareness of the price that 'church' demanded from its worshippers, even as it gave them refuge from a world where black lives counted for nothing. There were religious films  with for this writer par – excellence in Pasolini's, Gospel of Matthew, surely in presentation the antithesis of the Hollywood religious spectacle.
In the folk music world there was Sydney Carter, a simplistic word genius much given to exploring religious dimensions. He was admirably pushed into the mainstream religious world by the remarkable Methodist and Galliard publisher Bernard Braley. 
The new freedom air of the decade would see a plethora of new hymn books, some with folk styled material, that would extend into the next decade. People wanted new words and new tunes. One source offering the new, although some said it was dated, was the 20th Century Light Music Group founded by Geoffrey Beaumont and Patrick Appleford. Little remains to this day in Methodist collections, save for the still much sung hymn Lord Jesus Christ and Michael Brierley's sprightly tune to At the Name of Jesus,  that even so fights for favour with the tune Evelyns by W.H.Monk with the first four verses taken at 120 beats a minute and the last big statement verse at just 88 beats! 
Less remembered as the decade almost said farewell  is The Dry Four Hundred organised by The National Youth Temperance Council – a march through London to stress the many advantages an alcoholic free way of life could have. Among the slogans – The spirit of youth does not lie in a bottle.' 
By the end of the decade The Yearbook Of American Churches lists seventy-nine established religions and by established it means with a membership of at least fifty thousand. There were danger signs for some uniformed organizations as membership dropped but still astonishingly for present ears in 1969, 3000 British churches had a boys Brigade, during 1968/69 32.000 boys joined and 12.000 officers, men and women, attended voluntary training courses. MAYC – (the Methodist Association of Youth Clubs) flourished and would give home to around 100.000 members. Yes, six figures!
Of course amidst all that has been described there was Vietnam, Berlin blockade , nuclear bomb testing, assassinations of Doctor Martin Luther King Jnr and John F. Kennedy,  the impact of a book Silent Spring by Rachel Gordon,  Rupert Murdoch purchasing The Sun and News of the World. Woodstock with its half-a-million attending an extraordinary rock festival. Around the world  political liberation and revolution outpourings, energy and environmental crises, social upheaval and old values giving place to the new . The US journal Cultural Landscape Service in its issue of September 1974 said the decade of the Sixties was one of unprecedented succession of movements. In all this Christians proclaimed Jesus as Lord.
RECORDS
Focus on the PRIESTS

Astonishingly three priests have dominated record charts and sold millions of albums. Here is their history to date, and review of their brand new album released a few weeks ago on October 16.
Their debut album featuring their most famous recording "My Lovely Horse" was produced by Mike Hedges and Sally Herbert. Mike Hedges has worked with, amongst others, U2, Dido and Manic Street Preachers. The eponymous album was released in Ireland on 14 November 2008 by Epic Records and has since been released worldwide in over thirty countries[5] and preceded by an ITV documentary and PBS special in the United States.[6] In December 2008, they scooped the Guinness World Record for 'Fastest-selling UK debut for a classical act'.[7] The debut album turned 7 times Platinum in Ireland, and Platinum in UK, Sweden, Norway as well as going Gold in New Zealand, Canada and Spain. The group's concert schedule does not follow the usual band format as clauses in their bespoke contract places the emphasis on them continuing their pastoral work in their respective Parishes and in the Diocese of Down & Connor. In the 21 March issue of The Tablet, it is claimed that the album has sold more than 1 million copies in Ireland alone.[8]
2009 – 2010 Harmony and Noel
In August 2009, they began recording their second album, entitled "Harmony", under the same production team. It was released in November 2009 and has reaped platinum awards in Ireland and Sweden, where the album reached the No 1 spot in the Swedish charts just before Christmas 2009.
The trio completed a very successful concert tour of UK & Ireland playing to packed houses and ending with a homecoming concert in Belfast's Waterfront Hall. Their concert itinerary also took in two concerts in the Millennium Forum in the City of Derry, the first concert coinciding with the release of the Saville Report on Bloody Sunday. They noted that it was an auspicious day for the City and for the future.
The trio's first Christmas album, Noel, was released 2 November 2010. The album debuted at #3 on the US Top Classical Albums Chart and #18 on the Top Christian Albums Chart.[9] In Canada, the album charted on #100 on the Canadian Albums Chart and #8 on the Canadian Classical Albums Chart.[10]
In November 2010 they released an autobiography Soul Song: Reflections On An Unexpected Journey (Hardback). A paperback edition was released in April 2012.
2011 – 2015 Then Sings My Soul and New Album
In April 2012, The Priests released Then Sings My Soul - The Best Of The Priests featuring one new song: Danny Boy and, they continue to tour successfully in Europe, Canada and the U.S.A.
In early 2015 The Priests re-signed their recording contract with Sony Music and, are currently working on their as yet, untitled, 3rd studio album due in 2016.
A feature film Raising The Roof tracing their musical lives is also currently in pre-production in Hollywood.
Members
Fr Eugene O'Hagan is Administrator of the Parish of Ballyclare and Ballygowan with two churches: The Church of The Sacred Heart and the Church of The Holy Family. Diocese of Down and Connor.
Fr Martin O'Hagan is Parish Priest of the Parish of Newtownards and Comber with two churches: The Church of St. Patrick (Newtownards) and the Church of Our Lady of the Visitation (Comber). Diocese of Down and Connor.
Fr David Delargy is Parish Priest of the Parish of Hannahstown with two churches: The Church of St. Joseph and the Church of St. Peter, the Rock, Diocese of Down and Connor.
REVIEW 
ALLELUIA – the new PRIESTS album
As the Beatles return to charts and film with Eight Days A Week so one's eyes latch on to the surprise of seeing the Lennon-McCartney classic 'Eleanor Rigby' on the new and third album Alleluia (Epic) from the fairly amazing The Priests. This trio of working priests have been hitting record charts since their self-titled 2008 album which found release in thirty countries and in Ireland alone it is said to have notched up a million sales. 'Eleanor Rigby' comes with a lovely almost throw-away arrangement, and is beautifully vocalised. Personally I love the less dramatic material on this excellent release, as on Eleanor Rigby, and so to their infectious take of Sydney Carter's, Lord of the Dance, but if you want a big pounding orchestra and back-up choir vocals then you can hear the 'Hallelujah' from Messiah or to be poppy they take the pop hit 'You Raise me Up' into an expected 'throw all at it'. 'Morning Has Broken' is a worthy hymn, in times past even a major Chart hit for Cat Stevens when he was in his Christian mould of allegiance, and on Alleluia, the opening album track, we are thankfully spared a somewhat sentimental take, and instead it has some guts and pace. This is the first of a number of hymns on this collection. They sing 'Nearer My God to Thee' to the tune beloved by Sankey followers and found on the Titanic film sound filmtrack. Fr Eugene says: "We live near Belfast, in whose famous dockyards The Titanic was built." They choose 'Brother James Air' for the singing of The Lord's My Shepherd, but then perhaps most immediately think of hearing it as the theme to the BBC TV series Vicar of Dibley. Not unexpectedly there is a version of the Irish associated and popular hymn 'Be Thou My Vision' – "It bring a sense of comfort and reassurance, and inner calm."
Taize followers will swoon a little over a passionate 'Alleluia – Pachelbel's Canon) with its so joyful feel and here fetches a fine vocal arrangement.  Another surprise, and beautifully  done, is the old American "slave song' entitled 'Down in the River to Pray' which interestingly is chosen by Welsh singer Katherine Jenkins on her album Sacred Arias. 'Ave Verum' is a version of St Thomas Aquinas' meditation about Jesus, the Son of God and son of Mary. And yes, there is the expected in 'Panis Angelicus,' 'Ave Maria' and 'Jesus Joy of Man's Desiring.'  Just as a wild card, it would have been more than interesting to see them explore some of the less obvious – in a sense the selection plays to a number of markets, and if anything has a direct feel for the US.  Still, I enjoyed hearing it, not the least for an undeniable passion in the singing of three exceptional priest. Their version of the Hallelujah Chorus can be fetched up on YouTube in a wedding context – a fortunate couple to be graced by such splendid vocals.  Prior to hearing the album there was an enjoyable time of talking with The Priests and gaining  a fascinating insight into the work of three singing Priests who at the same time marry parish work with performing in big venues worldwide. Interestingly there was no awareness of  the many folk-ish hymns and songs of Sydney Carter, other than a fleeting association with Carter's Lord of the Dance  (yes, it is an adaptation of the Shaker tune 'Simple Gifts.') and subsequently saying they would go away and explore. Carter's publishing arm Galliard see it as a  carol, a dancing kind of song, the life of which is in the dance as much as it is in the verbal statement. They talked of their work being so blessed. 

JESUS MUSIC RELEASE FROM IAN YATES
Singer-songwriter-musician Ian Yates, part of Elim Sound, whose first album was The Hope and the Glory in 2010, the second Good News (7 core music), also does a Beatle moment on his new album Awaken to Love, as track three brings us into a good version of the classic four number 'All You Need Is Love.' It appears Ian was unsure whether he had another album for the making but after a time of musical drought he felt led into a time of "divine encounters." 
And so here is a quality JM album that revolves around "themes of trust, hope and the unending love of God." Ian hopes this album "might help people to encounter God's love and goodness."  But why the Beatle classic? "I started singing it in a prayer meeting three years ago and it was God's moment. It's a prophetic song; knowing we are loved is the only way we can love others."  Overall I happily go with this recording, even if at times some of the backings and tunes have a kind-of familiar feel.  The track 'No Longer I' also appears on Matt Redman's album Unbroken Praise. It is a take on the old gospel hymn 'At the Cross.' Yates sings "It's time to dream again" on the track 'Dream Again' with the repetitive line followed by a desire to open one's eyes, lift up one's head, even heart' in a  song that grows into a powerful plea to be ready for God will speak. Track nine, 'My Hope' is one of the tracks where he shares a strong faith.
Trevor Michael produces and at times as on the title track gives an arresting musical backing.  Ian says of this and his overall musical ministry :" I feel I've got my sound. I hope there's depth to it. My heart has always been to take the music outside the church walls." To that of course a shouted yes' but to do that means conquering quite a few media prejudices. 
DYLAN LYRIC QUIZ TIME
CONGRATS TO MR ZIMMERMAN FOR WINNING HIS POETRY AWARD. HERE ARE 20 DYLAN SONG LINES. NAME THE SONGS
Mama take this bade off me
I'm not sleepy and there is no place I'm going to
Well, it may be the devil or it may be the Lord
Without your love  I'd be nowhere at all
Businessmen they drink my wine, plowmen did my earth
Crimson flames tied through my ears
Like Judas of old/You lie and deceive
Now if you see Saint Annie
She wears an Egyptian ring
Deny, defy or crucify you
And sweet dreams to those who probably know hardly a Dylan lyric and mouth off their elitist annoyance that he should be recognised.: 
ON THE JASPER TURNTABLE
(Mostly going back at the present time)

THE VELVET UNDERGROUND – THE VELVET UNDERGROUND
BARCLAY JAMES HARVEST – TITLES
13th FLOOR ELEVATORS    GOING UP
JAMAICAN EXPLOSIONS – MOJO COMPILATION
BARRY GIBB – IN THE NOW (new fine album)
CURRENT JASPER BOOK READING
EVERY SONG EVER   BEN RATLIFF
THE GIVENESS OF THINGS    MARILYNNE ROBINSON
THAT WAS THE CHURCH THAT WAS  ANDREW  BROWN/LINDA WOODHEAD
REPUBLICAN THEOLOGY  BENJAMIN T LYNERD
BOB DYLAN LYRICS 1962-1985 – BOB DYLAN
DYLAN ANSWERS – 1Knockin' On Heaven's Door: 2 Mr Tambourine Man 3 Slow Train Coming  4 If Not For You 5 All Along The Watchtower 6 My Back Pages 7 Masters of War 8 Just Like Tom Thumb's Blues 9 She Belongs to Me 10 ALL I really Want to Do.
CRISIS is pleased to publish and support the ministry of Garth Hewitt 
Peace at Christmas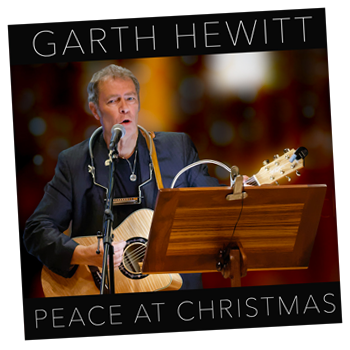 The cover photo was taken in Binkley Baptist Church, North Carolina by Brooks De Wetter-Smith. He is a superb musician - an outstanding flautist but he is also a great photographer. Live shots can be very difficult but I liked this one - even the lectern looks good! 
For some time I've wanted to do a Christmas album and I'm delighted that back in April up in Bury St Edmunds with GingerDog Recordsthe album Peace at Christmas was recorded. Half the songs are new or newly recorded - and the others are tracks I picked that seemed suitable for the album.
There were two musical influences in my mind when I came to do the album - one was Johnny Cash's Christmas album 'The Christmas Spirit' - this is an album we have listened to in the family for years and one interesting thing is that he speaks a lot of the album with Christmas carols playing behind him. I have done two items on Peace at Christmas the same way - one, Making Holy Dreams Come True and two,Prayer for Christmas Eve. These are prayers and meditations that I have written, and I've used the American tunes of 'O Little Town of Bethlehem' and 'Away in a Manger' as the background for them.
The other person who influenced me was John Lennon with 'Happy Christmas (War is over)' - I've always been very struck by that bit "War is over, if you want it," and I felt this album should have that commitment to a rejection of violence, which is a key part of the Christmas and Christian message.
The relevance of the message of Christmas at the moment could not be higher - Jesus is born into poverty or at least a very simple way of life, the way of the people of power or empire is consciously rejected, there is a massacre of children in Bethlehem, and of course Jesus was soon a refugee fleeing for his life through Gaza down to Africa.
We have seen so many refugees in the past year, so many of them have died - many children, and of course in the conflict in Syria so many children have died, but this has been true through the years also in Palestine - children are imprisoned today by the Israelis in the land once known as holy.
So on the album I have included a song called Little Boy Down, which is the sad and shocking story of Aylan Kurdi. I've also then recorded a song of Steve Earle calledNothing But A Child which has a powerful Christmas message - the shock for the wise men to discover they had travelled all that distance for, as he puts it, "nothing but a child"; but then they discover this child is the sign of hope.
I put a couple of favourite traditional numbers on the album - In the Bleak Midwinter and Silent Night, and recorded it with many of the musicians who were on Something for the Soul - Chris Rogers on Violin, Paul McDowell on accordion and Pete Banks on backing vocals with Abbie Goldberg, and with Kevin Duncan producing the album and playing several instruments.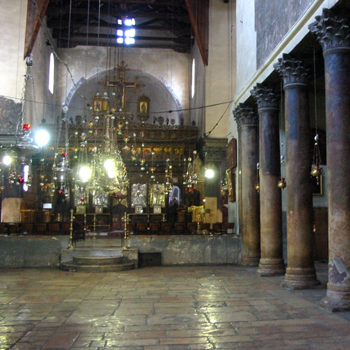 Inside the Church of the Nativity, Bethlehem - where 'One of Us' was written, and also a few years later, 'Bethlehem is Calling'
One that I recorded several years back and put on the Bethlehem Palestine album is Shine on (Star of Bethlehem)which was produced by Paul Wilkinson - recorded walking distance from our house in Wapping - with Pete Wilson from Duke Special playing piano and doing backing vocals. Also on the album is One of Us, a song I wrote in the Church of the Nativity in Manger Square in Bethlehem; originally that went on the Dalit Drum album produced by Paul Field, who also sings on it. The album ends with the Christmas version of Light a Candle in the Darkness. There is also a song that I recorded on the album Stronger than the Storm calledDon't Blame God for Christmas, which I wrote with Peter Meadows many years back now. In fact he gave me some lyrics just as I was going off on a tour of the States and you can tell in the verses that's where I am, and the choruses are his words. The Child of Christmas and Peace at Christmas are both songs that pick up the hope and the rejection of violence and domination that came with the Prince of Peace.
I really enjoyed recording this album. Doing it in April brought some curious moments - Silent Night is inescapably Christmassy and when I came out of the studio I discovered that everyone had been singing along to it! Someone suggested getting Christmas decorations and Santa hats but I resisted that strongly!
I wanted the album to have a good Christmas feel, to be ideal to start playing at the beginning of December or the beginning of Advent. But I also wanted the album not to forget that we live in a painful world and the message and lifestyle of the Prince of Peace is a radical revolution of the values of the Kingdom or community of God that go up against the empires of our world; the empires are dependent on their weapons and the members of the community of God use the values of non violence, equality, peace, justice and love. Christmas introduces us to this amazing story of God's revolution of love.
One of the spoken pieces on the album is Making Holy Dreams Come True - a prayer for peace with justice for the Palestinians which in turn will offer peace and security for the Israelis. Let's make sure that the Palestinian story is part of our Christmas story so the people of the Holy Land are not forgotten this Christmas.
A Christmas prayer for Bethlehem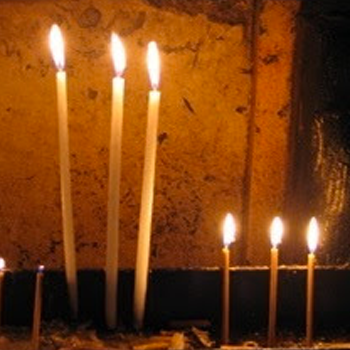 Making holy dreams come true A Christmas prayer for Bethlehem
What have they done to the 'Little Town'?
Imprisoned it in a concrete wall Bethlehem –
once a holy city Trapped inside a ghetto wall.
Here where angels sang of peace
Where love and hope were born anew
Once surrounded by a heavenly host
Now surrounded by a concrete view.
Yet people crushed and hidden away
Still celebrate on Christmas Eve
Lighting candles for the child –
hey still remember – still believe.
So light a candle this Holy Night
For Bethlehem and Beit Sahour
And for all the people caught inside
That cold and grey prison wall.
Longing for a world of peace
Where all are treated equally
Where all can recognize their worth
Where all can live with dignity –
Where all can join hands with neighbours
Whether Muslim, Christian, Jew
And find a way to live together
Making holy dreams come true.