Goodbye 2016. Hopes for a better 2017 but danger signals everywhere
Crisis is published by Tony Jasper.
Articles and features, poems, and whatever are welcomed, with no guarantee of publication, and with no payment. Reviews of exhibitions, plays, art, film especially welcome.
So if you want to see your photographic work given space supply the necessary but of course we reserve the right to accept or not.
Advertising enquiries to 01736740907. Generally CRISIS Is published on-line around the 18th of a month depending where the date falls.
BOOK REVIEW
Bruce Springsteen – Born to Run: published Simon & Schuster . £20

'She did not live to make you feel safe," is how rock mega-star Bruce Springsteen describes the love of his life. He recalls her singing "I know something about love... .. ..She does." At one point in younger life he  is fascinated by a Jewish girl in the community. The traditional Italian Catholic reared Bruce is told he must not speak about Jesus in her company. His father is described as a "misanthrope who shunned most of humankind." His dad 'claimed to believe in a world that was filled with crooks out for a buck. He would be found sitting solitarily at the end of the bar, and for anyone who would pay attention he would say "Nobody's any good, and so what is they are."
As  for his hard-working mum? "My mother showered me with affection. The love I missed from my father she tried to double up and, perhaps, find the love she missed from my dad."
It was his mum who got him his first electric guitar, encouraged his music, and fawned over the first creative writings.
It's the intimacy and willingness to share life and thoughts, especially a solid whack of growing up insights, of home discomforts, of the persuasive ever-present Catholicism the Italian way, of growing up in hard times in the US, that makes this autobiography one of the best around. The style is sparse, it grabs, you can feel
Springsteen the boy who wants to break out of small-town, who feels there is something wrong with his nation. He belongs he shouts to the "great unwashed, the powerless, the marginalised." And this is the 1950s and in some respects it feels the cries of some in 21st US who voted for 'that' man who from extreme wealth and self-absorption playfully, more so loudly, suggests he is for the people with whom Springsteen grew up with, and who  over 60 years later still feel far away from the goodies others take for granted. 
Young Brucie hungered for simply 'more' – faith, sex, action, truth, more power. At one point emotion gets the better of him and he explodes to write:" Get down in the gutter, spit on me, Jesus, teach my blind eyes to SEE " REAL-LIFE RELIGION!!. MOST OF ALL, WE WANT MORE ROCK 'N ROLL!! (p39). The upper case is his – the writing filled with energy, but then so is Springsteen the rock star as in tune and tandem, with his  concerts he rides a verbal and physical motor-bike at over a hundred mile per hour.
Suprisingly for a rock autobiography we have this large amount of early thoughts, family, growing up, teenage uncertainties, before we
share the first music bomb that showered its particles upon a searching young musician –
The big bang came from Elvis Presley. At this point any fan  of the 'Heartbreak Hotel' man would feel anything but sadness and loneliness -
Springsteen would be echoing a common passion. Later in chapter 76 Garage Land
another music man gains admiration. "The phone rings. Mick Jagger is on the line. I had a teenage daydream about receiving a call like this many years ago." It's only on page 185 of a 508 book that has no index of any kind, that we read of what the chapter heading terms 'road work' –
which means the first "official gig" and a record release on January 5. 1973, 'Greetings from Asbury Park.' 
Along the way on the rock world journey those first life impressions have their
seasoning for the life stockpot of the older and more mature man from New Jersey. There are moments of depression. In this autobiography Springsteen admits he's never done a week's work of manual labour in his life, "put on a factory worker's clothes, my father's clothes, and went to work." He speaks to those who imagine the opposite but he writes of a dream one night (p414)  where the night is burning and his dad long dead, is there, sitting in an aisle seat in the audience. He says to his father: "Look, Dad, look...that guy onstage....that's you...that's how I see you."
Another book from Springsteen is needed if you wish to be taken on a journey through his song lyrics. I must add that he often utilises in his songs religious language, almost in togetherness in thought with the early Christian side, but always ruled by his  Jewish-ness, of Dylan, and that means into his song lyrics a reading of Scripture with thoughts of bad times, scary visions,  yet also of redemption, a promised land, of saints and sinners.  Steve Stockman, a Christian commentator and writer in his book The Rock Cries Out (Relevant books)
says 'Grace" is a big word in Springtsteen's vocabulary when explaining his songs, that in his shows he takes on the persona of a preacher, sermonising, a given spiritual input, so for instance markedly in the singer's song 'Tenth Avenue Freeze Out.' On this and similar we might have had more but then one feast is enough for the immediate, and the man ends this beautifully written life-story as it is now, with "how lucky I've been, how lucky I am. I turn the corner off the highway on to a  dark country road. I hit my high beams, can the flat farm fields looking for deer. All clear, I twist the throttle as rushing into arms comes home." I guess American kids love this man for he portrays that American instinct that in the US you can come from nothing, work relentlessly, have self-belief, and make-it. And that is what I pick up from this book. He puts it this way:" The rigidity and the blue-collar narcissism of "manhood' 1950s style. An inner yearning for isolation, for the world on your terms or not at all." (p 413). Much more is said. Read this book.
RECORDS

OK – can you take in a mammoth 17 CD set that spans 14 years' of Lou Reed?  Simply titled after the man it's an Arista/RCA album collection taking almost everything between  1972 and 1987.  And in this day when massive collections keep being released here comes Complete BBC sessions with Led Zeppelin. 1977 saw this first issued, and now it comes with nine extra tracks and the year span on this one is 1969-1971 – great times.  Yes, I'm running with the Guardian's G2 (December 16) and they continue with The Who – My Generation, Super Deluxe Edition; Complete Third from Big Star and the remastering of Mirage from Fleetwood Mac. Maybe you've picked up on the continuing practice of issuing five albums in one package for a price little over, and even less, than an average UK cot, £12.99.
Supermarket Sainsburys continues to forge ahead with a vinyl section and according to trade paper Music Week they lead the way, especially with the demise in many places of even a  small record shop. Think of the day when most towns of say 20.000 people would have three or more
Stores. Rough Trade is one company with several shops, and as with the one down in Notting Hill, London they are ace, pulsating with life and customers who love the music.
INVITE
Should you be down in Britain's west country on Wednesday January 11 come to the White Hart Ludgvan, some five miles from Penzance. A couple of days late to celebrate what would have been his 70th birthday it's an evening to ride with his life and music.
From 7 p.m. to most likely 12, non-stop Bowie music, a themed Bowie food feast, displays with pics and data and a Bowie Quiz. Special prize to the best dressed. Come dressed as you wish, the most important is you being there. No admission charge, food as ordered at given cost plus usual bar prices. Book food 01736 740907. With a starter, burger and dessert it's around £20, but you don't have to have three courses and there is choice, as well as a veggie dish. And you do not have to  have food. Dishes have a Bowie song name≥
POETRY
Ben Batten launched  his book Newlyn Eye at The Centre, Newlyn, Penzance  December 27. He gives permission for his poem Resurrection at the Minack
to be used in Crisis. The Minack is an extraordinary open-air theatre on the cliffs near Land's End, Cornwall, and to which some 500 people gather for various performances.
Easter at Minack; would the sun dance?
Half a mile out, a fisherman in his boat,
Disturbed by Andrew Lloyd Webber's cruel music,
Looked toward land, and saw in a granite net
A thousand souls held, watching what he could not see:
Christ, from Bristol, crucified at Porthcurno.
The nails went in
Father, forgive, for we know not what we do.
Was it finished?  Some, who had seen it all before
Were already preparing their faces to go;
Others, embarrassed, wondered if that was the end.
Jesus Christ, Superstar, are you the man people say you are?
Was there to be no resurrection, then?
The body was placed in the tom, granite closed on granite.
But when it opened – nothing. The body was gone,
And it was over,  I could not look at the sun.
Sleek and aloof, the sea gave nothing away.
Then suddenly the sun turned and spun and leapt,
And at that moment of affirmation,
Up through green water shot bodies of long-dead men,
Now whole and new, singing that there is no death,
Sailors and fishermen of all times and places,
Phoenicians who sank with their tin from Marazion,
Men from trawlers and tankers and brigantines,
From all around the coast and far beyond,
The Khyber, the Association, the Solomon Brown,
The Trifolium, the Jeanne Gougy, The Glancing Spray;
And everywhere now, up through the sea's trap- door
Sprang sons and fathers and grandfather's newly alive,
The sun now whirling and dancing in the sky;
And far out over the arbitrary horizon,
Up from the wrecks, and sand burst the dead, alive,
The sun now whirling and dancing in the sky;
And far out over the arbitrary horizon,
Up from the wreck and burst the dead alive,
Numberless souls from caravels, liners and tiny craft,
All singing, singing of the Eternal  Easter.
The music lapsed into countless conversations
As I climbed the steps to leave the  amphitheatre.
Turning, I saw the sea shut tight as a lid,
Once more giving nothing away. The sun stood still.
Published by his sister,  Joy Batten, 49 New Road, Newlyn, Cornwall. TR18 5PZ.  The 48 page book costs £6 and add postage and packing £1.40.
SERMON
Transcript of a sermon preached by Tony Jasper at Chapel Street Methodist, Penzance. UK.   JAN 1 2017 at 11 in the classical service but in different form at the contemporary 9.30.
Last night, early this morning, the parties, the festivities, the church bells, guns firing, cheers and shouts, people embracing, some singing Old Lang Zynne. Jools Holland as ever on the television set, church services starting from the old year running into the New. For a moment logic, sanity, whatever pushed aside as though a new date January 1. 2017 brushes aside the hang-ups, the failures, the mis-haps, the pains and agonies – with the feeling of 'it's going to be alright" – it must be better and yet......
From Brexit to Donald Trump, the refugee crisis and war in Syria to the continuing catastrophe of climate change – 2016 has been a difficult year.
I'm a newspaper and magazine addict- words and words have been read, and you search for the better from 2016:
Analysis pervades everywhere, sometimes in unexpected places. Here is the magazine GRAZIA talking for the people who have little voice, who yearn to be lifted up, to be raised up, to be...unearned male power and entitlement not be ended in the world's greatest country even if keeps taking the language of recovering greatness:
hopefully  the story told in so much print is not your story, that you have had good and peaceful times this past year, that you had tears in your eyes not from grief or pain or disturbance but for something joyous. Maybe you have held new life in your arms, found love, formed a great new relationship, seen nature in a new and pulsating and demanding way, shared in someone's joy, have had had speechless and moments of deep wonder when you know and give thanks for life, when it seems this is it,  this is how it should be. Sometimes we cannot explain it. We can only interpret it and follow out its main lines.
But Grazia would talk America, would bring forward immigrants, Moslems, trans people, gay people, non-binary people, women, black people, brown people, disabled people would have seemingly reason to fear
See here this paper USA Today..to headline REAL PEOPLE RELY ON OBAMACARE..they bring forward Paula, Namie, Cameron and Lisa.
Beyond policy and political debates, abstract numbers, theological arguments are people, people with little, people who struggle...people who despair...
And here we are, the community, the fellowship
Of God,
Deep down, deep down, as the followers of Jesus we await His Coming but at the same time as we take on those words from Ecclesiastes we have moved on...we read of those who have seen and heard and comprehended...we have to take on board the gospel shout that the kingdom of God is where Jesus Christ is. That Jesus always lingers in the darkest places of the world. The dark and demonic are not free for ever to roam. We shout against all that Jesus Christ is the same yesterday, today and tomorrow.
These almost solemn words from Ecclesiastees, given in the lectionary for to-day are some of the best known in the Old Testament, they've even attracted contemporary musicians and singers, such as Pete Seeger, Judy Collins, The Byrds...
I was asked to read them at the funeral of my last Aunt ..one of eight, a family of 12, just a little time to speak to her as she wandered between here and the other, speaking so softly, leaning over, almost holding such a frail body...why these words, why these words:
At one level these verses talk about the natural world, the earth moving in a seasonal rhythm. Light, dark, cold, hot, plant, harvest, fruitfulness, barreness. But I guess she had other things on her mind –
I don't know you feel/have felt being with someone who may pass away in your grasp, who may leave this earth, this journey, but as you are  there, as you hear words, so your own thoughts and recollections come in to play, here is a wonderful woman from a wonderful family who once....I guess she had on her mind other aspects of this passage...seasons that define not the earth' rhythms but life's seasons. Our lives, her life. Of knowing, of encountering
Love
Hate
Weeping
Laughing
Mourning
Dancing
Living
Dying
When you hear, when you read these words, do you travel that journey \
What stories, experiences come to mind" how do they fit in life lived for you, for those closest to you?
Did my Aunt love this passage because within it she could see her life and that life included her late so loved husband, daughter and grandchildren and grandchilds......
But this territory without Jesus, yet to be carried in the womb of a teenage girl, to be held high in wonder by an old man called Simeon: yet to have writers in sheer joy writing WE HAVE SEEN WE HAVE BEHELD HIS GLORY
A friend of mine, a woman minister, who fought against but would die from cancer, wrote
 "Jesus comes to proclaim this good news that there I a way from fear to faith, and that we can walk in it. He teaches us how to walk it, and show that as we do so, we become life-bearers and life-givers. We are empowered to live as children of God
As we follow Him on this road, we move from being witnesses to becoming intercessors. We demonstrate how the life and love of God are made specific, partial and real in the issues of everyday life, in the places where people meet together, talking of  things that really matter to them.
The Gospel does not have to expressed in religious language. It is the journey from fear to faith, hope and love good news that is relevant everywhere and to everyone.'
Oh that each of us finds good things in 2017
And yet aware that when the wilderness comes, the desert, the seeming grim and unyielding, even there as our passage would lead us, we till learn in-spite of...we can become stronger..
The particular writer of Ecclesiastees unlike even some others of Old Testament times is not conscious as we are – for in Jesus blessing is always available, the promise is given, the Word is flesh, to everyone the  right to become to the sons and daughters of Go, amidst a people who believe God's favour is accessible...any given moment, this moment...for God meets us not in the past, nor in the future, but here, now, in this place. This is the place where God meets us at our point of need. God meets us to transform is. Meets us to heal us and feed us, to continue our conversion.
Love this passage, sing it, pray it, read it, see within it your life...but do so in the light of Christ.
You are a child of God, free to love and praise...
Within a fellowship such as this here, or where you are from, free to enjoy good things that come without money, to honour one another
We come to these words knowing of a God
Who is faithful, who loves justice, whose true nature will be known.
We will witness to God who has blessed us.
And all the earth will see and sing.
Julyan Drew and the Ministry of the Camera

Julyan Drew is the Superintendent Minister in the West Penwith Methodist Circuit. A Cornishman, he is fascinated with the light particularly of his locality, while camera or phone offer him the opportunity to "stand and stare". For some years, he has shared his photographs with others through social media as part of what he calls his "ministry of the camera" until he was encouraged to contribute to some exhibitions. The most recent at The Centre Newlyn was successful in raising hundreds of pounds for local charities. His work will continue to be sold to support, presently, the 3 Villages Youth Project and Newlyn Trinity Methodist Church (which runs the Centre). The RNLI (Penlee) will be included later.) Prices vary, depending on the type of print, from under £10 (for glossy paper) to around £60 (for a good-sized canvas on a frame), and pictures can be made to order.  Contact for details julyan.drew@gmail.com

Garth Hewitt Foundation: From Garth
Listen to the poet
For some reason on New Year's Day I woke up with words of Bob Dylan on my mind. Beautiful and very strong words from the song "Every Grain of Sand." I think he deserved the Nobel literature prize for this song alone! The words were these:
In the fury of the moment, 
I have seen the master's hand, 
In every leaf that trembles, 
In every grain of sand.
These words, indeed this song has a foundational feel. What I mean is that it is a reminder of an understanding of God that is at the heart of our world and our being; for the start of a New Year words that provide an anchor are helpful.
Poets can be very helpful in laying down markers and guiding us to see life in balance. I feel this could as well have been William Blake as Bob Dylan, and I treasure those poetic moments that give us strength.
How about this one from Kris Kristofferson from the beginning of his song "Love is the way,"
Deep in the heart of the infinite darkness 
A tiny blue marble is spinning through space, 
Born in the splendour of God's holy vision, 
And sliding away like a tear down his face.
What an unbelievable start to a song!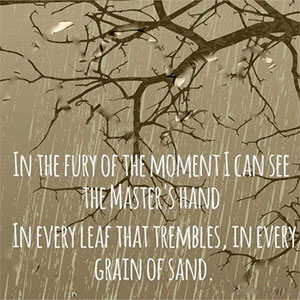 Poetic moments put things in perspective - 
as we were driving yesterday, Jeremy Irons was reading the poems of TS Eliot on the BBC - what a lovely gift. I find that these little moments of poetry can often help to put life in perspective, and if you are searching for inspiration at the moment go and have a listen to 'Every Grain of Sand' by Bob Dylan! It is a strong song of hope. 
(My favourite version is the one on his album "Shot of Love")
Be prepared to shout the "P" word!
I heard a wonderful story yesterday that is both an encouragement and a challenge for a new year. Ingrid Van Loo Plowman was in a Dutch church where the vicar prayed for Syria, Iraq and… Israel. As he paused she shouted out loud in this big church "Palestina", and the vicar quickly responded "en de Palestijnen."
She says she doesn't know what gave her the courage - I know Ingrid, and know that she is deeply committed to issues of compassion and justice particularly working with refugees, but recently she was in Palestine doing a bike ride for Medical Aid for Palestinians. I was very thrilled to hear the news of what she did and our friends in Palestine will also be encouraged. When we refuse to let the forgotten be forgotten it is a moment of hope.
We enter a time of ever greater uncertainty for the Palestinians - obviously the Trump presidency is going to be very committed to current Israeli government policies and it may require people to be speaking or shouting the "P" word which so many politicians hesitate to use. So I think Ingrid has reminded us - don't be afraid to speak up, because when we do so we speak up for humanity, we speak up for equality, we speak up for justice.
Violating human rights... not permissible anymore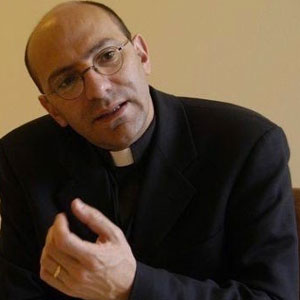 Rev Dr Mitri Raheb, Pastor of the Evangelical Lutheran Christmas Church in Bethlehem
The great theologian and pastor from Bethlehem, Mitri Raheb, made a fascinating comment when the UN Security Council spoke up about Israeli settlements. He said this,
"Fifteen countries at the UN Security Council spoke about International Law and human rights condemning Israeli settlements, and the Israeli ambassador spoke only about Israel's divine rights 'in the Bible.' As we celebrate Christmas we declare boldly that the Divine who became human in Bethlehem made human rights divine. Violating human rights in the name of any religious text is not permissible anymore."
I was moved to read this. My prayer for Christmas Eve, which I have put on the Peace at Christmas album, includes lines once again sparked off by a poem. It refers to the fact that on Christmas Eve my family often 
"... read a poem of John Betjeman, 
and I am always moved as we come to those words, 
'and is it true and is it true… 
The maker of the stars and sea become a child on earth for me.'"
And he asserts that if this is so, 
"Nothing can compare with this truth, and I find it hard to carry on, 
because there is nothing more to say, 
because it reveals that you are the God with such a precious love for humanity, 
so we must cherish human rights…
You are the God of the forgotten and insignificant, 
and therefore there is hope for all and we too are shown how to live…
You affirmed humanity in Bethlehem... and still do today."
And Mitri in his statement does exactly the same - he affirms humanity in Bethlehem, speaking with a prophetic voice that we must learn to emulate and to say very loudly: "Violating human rights in the name of any religious text is not permissible anymore."
Words from Thomas Merton
On the 23rd of December I was doing a concert in Saunton Studio in Braunton, Devon. That day I had just heard future President Trump affirming nuclear weapons and saying "Let's have an arms race." It was shocking to hear these words and I quoted them in the concert and sensed that everyone felt the same. I then sang "Tell 'em About the Dream Martin" that reflects the prophetic words that Martin Luther King spoke, of hope, non-violence and peace.
I often read Thomas Merton and keep a book of his beside my bed, and these words jumped out at me - particularly after hearing Trump's words:
"The real job is to lay the groundwork for a deep change of heart on the part of the whole nation, so that one day it can really go through the metanoia we need for a peaceful world… 
I'm not a pure pacifist in theory, though today in practice I don't see how one can be anything else, since limited wars (however "just") present an almost certain danger of nuclear war on an all out scale. It is absolutely clear to me that we are faced with the obligation, both as human beings and as Christians, of striving in every way possible to abolish war." And he believes we should be building a community of people who would be "sacraments" or signs of the peace.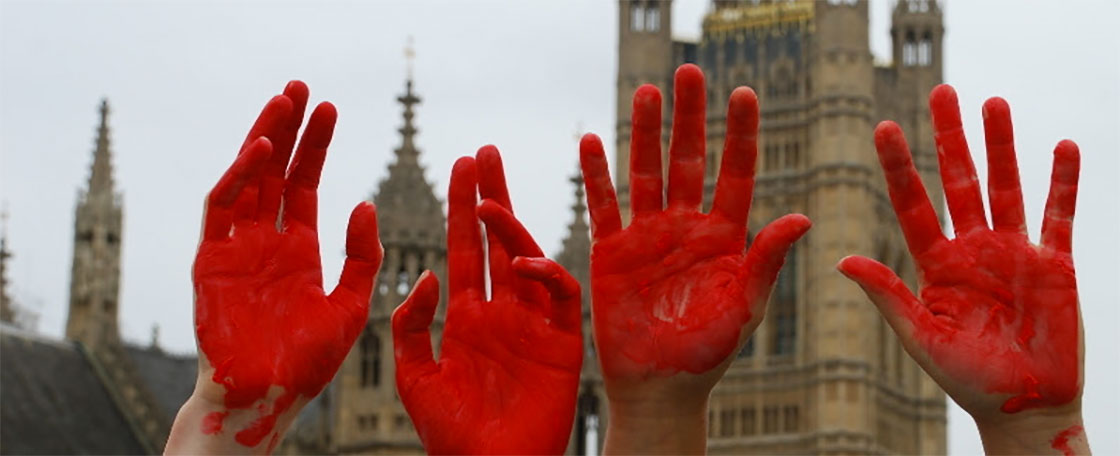 I'm not sure when these words were written, but sometime in the 1960s, and they have become extremely relevant again. And not only the States should concern us, but our own country. The Scottish National Party have urged the British Government to abandon "knee-jerk militarism" and Alex Salmond said, 
"For the UK government the New Year should be one of recognising and correcting the errors in their foreign policy approach, and one where they adopt a more ethical and effective approach that abandons military obsession and instead puts humanitarian and political efforts at its core."
He went on, "You cannot arm regimes with stained military tactics with one hand, and then raise the other to proclaim the need to uphold human rights."
The Campaign Against the Arms Trade have also spoken up on this issue - Andrew Smith said that arms exports had "fuelled a humanitarian catastrophe... Militarism and war must give way to an approach that provides humanitarian relief for those in need and promotes peace and democracy."
I am regularly inspired by the newsletter of a friend in Bethlehem called Mazim Qumsiyeh and interestingly in his latest newsletter he is also quoting Thomas Merton, reminding us where Christ is to be found:
"Into this world, this demented inn, in which there is absolutely no room for him at all, Christ has come uninvited. But because he cannot be at home in it - because he is out of place in it, and yet must be in it - his place is with those others who do not belong, who are rejected because they are regarded as weak; and with those who are discredited, who are denied the status of persons, and are tortured, exterminated. With those for whom there is not room, Christ is present in this world. He is mysteriously present in those for whom there seems to be nothing but the world at its worst."
Prayer - Thank You for Poets and Prophets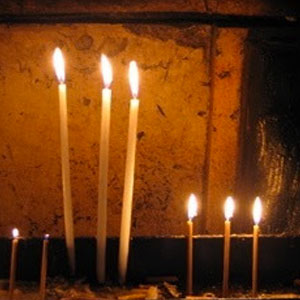 Oh God, as we come to this time of Epiphany 
we remember that it is a time of revelation and realisation - 
a time when eyes are opened. 
So we thank you for the poets and the prophets 
who warm our hearts and open our eyes. 
The poets providing a foundation - 
giving us a place to stand. 
And the prophets inspiring us - 
to be the activists of justice and hope. 
May our lives reflect our confidence in you - 
and our willingness to shout out the prophetic words when needed - 
and to live lives that witness to non-violence and peace. 
Amen