August 2017
EDITOR: Tony Jasper
Contact address: Milsrof, Eglos Road,Ludgvan Churchtown, Penzance.Cornwall. UK TR208HG
IN THIS ISSUE:Dylan, Mr Jukes...plus the Garth Hewitt news letter....Electric Prunes.....and more
TEN GREAT RELIGIOUS SONGS FROM THE GENERAL MUSIC WORLD
20 formative Christian artist albums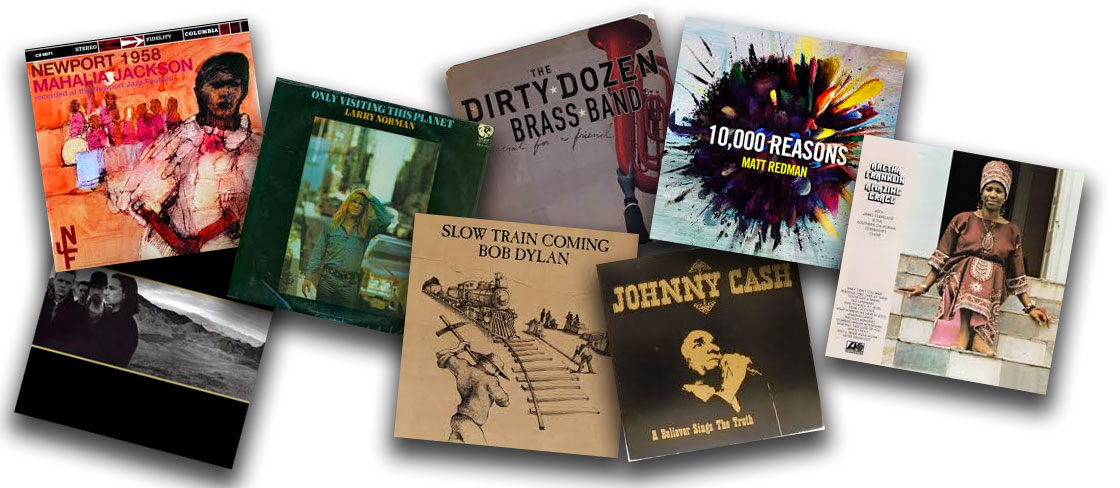 This is the second in a small series that lists important albums and singles that somewhere along the way express in varying strengths Christian faith. Here I suggest album titles from the general record release world that are essential to any collection, and where either the bulk or whole album is devoted to Christian exploration - obviously my choice. I have not listed more than one album from a group or artist as a top ten could contain just Dylan and U2. I have not brought into play titles with a Christmas or Easter content.
As said last month I am conscious that I might have left out something superb or influential even if I am not keen.
As I write I suddenly realise one group – The Electric Prunes and Mass in F Minor has been left out. Beside the point in this classification is the fact that this album was largely performed by musicians other than the original llne-up. This basically US psychedelic rock band came from Los Angeles and had signed to Reprise in 1966. The album still sounds fresh and interesting. In its time it was of course a major release in so far as the worship of the church was given a rockintepretation.
Mahalia Jackson – Newport 1958(Columbia) Hear this gem, forget it's 60 years old, just pick up on her passion, her artistry, could have been recorded yesterday. Pick is a moving rendition of The Lord' Prayer.
Larry Norman – Only Visiting This Planet (MGM). Suddenly the Christian world had an artist who could deal out political. social, sexual and human reflection and annoy. Great lyrics, great melodies. The track 'The Great American Novel' ranks with Don McLean's 'American Pie' – mind blowing. Also see his album 'Upon This Rock.' Oh for another Larry. Died fairly young.
U2 – Joshua Tree (Island) – The group's fifth studio album with production superb from Christian recording Daniel Lanois and Brian Eno. Topped charts in more than 20 countries. Includes 'I Still Haven't Found What I'm Looking For,' 'Where The Streets Have No Name' and "With or Without You.' .
The Dirty Dozen Brass Band – Funeral for a Friend (Ropeadop) Depth reflection, New 0rleans music community funeral processional trad jazz walk with such hymn songs as 'Just A closer walk with Thee,' 'I'll Fly Away," and inevitably 'What A friend We have in Jesus'.
Bob Dylan - Slow train coming (Columbia) Well, which one of Dylan albums during his 'born `again' time?
This record sounds wonderful, has memorable guitar outings from Dire Straits man, Mark Knopfler, lovely melodies ( Precious Angel), title track and 'Gonna Serve Somebody' best of rock-gospel. Sinead 0'Connor says it is "sexy and funky as well as being religious." It made her want to be a singer.
Johnny Cash - A Believer Sings The Truth (CBS) . Cash calls this his proudest work. Mum said to him "God's got His hand on you, son. Keep on singing." He was seventeen at the time. He did just that. Addiction, suicide attempt, then Christ.
The Watersons – Sound Sound (TopIc) OK, some yuletide songs but more a panorama of sacred song, meeting-house hymns, camp meetings from largely US, Holy Rollers and early Prim Meths. praise.
Matt Redman - 10.000 Reasons (US Sparrow). OK, a religious company here, Kingsway, but this hit the mainline US charts, shows a class Christian album can crossover. Here just ignored by mainstream radio and Jools, Late Night
Aretha Franklin – Amazing Grace (Atlantic) Queen of Soul back to her father's Baptist church for sumptuous reading of gospel classics. In her overall soul, R &B catalogue 0h to have been there!
Judee Sill – Heart Food (Asylum). Came out of heroin addiction , found a mystic-religious bent. Intriguing.
Elvis Presley – His Hand In Mine (RCA) King of rock'n'roll with The Jordanaires wafting his way through the songs he heard as a kid, and when in church. No surprises in the selection.
Emmylou Harris Angel Band (Warner). In country mood where Gospel has always been central.
13 Bruce Cockburn – Big Circumstance (Columbia) Once described as "the last of rock's great obscurity', Greenbelt favourite, Singer-songwriter of the highest standard.
Strypher – To Hell with the Devil (Enigma) Premiere Christian metal outfit, this third album gained them status in secular HM world, inspired many other Christian based metal bands, to hit the decibels for Jesus.
 Amy Grant – Lead Me On (A&M). Her 11th album, major inroads into pop world, testimony from so talented singer. Maybe should have chosen her Unguarded set.
Martyn Joseph – Being There (Sony ) Clever and talented singer-songwriter, found good enough to move out of restricted religious world and find a major label.
Peter Yarrow – Peter (Warner). From the legendary Peter, Paul & Mary group. The track 'Greenwood' is one of the great contemporary reflection on the Jesus who wet over Jerusalem.
Lone Justice – Lone Justice (Geffen) US country roots rock band, singer Maria McKee 'something else'. Took the great song 'I Found Love' to dizzy chart heights. Love is Jesus.
Clara Ward and Her Singers – Come In The Room (Fontana) Power Gospel on a secular label, exploring mysteries and wonders of the Faith. 'I'm Gonna Walk and Talk with Jesus' one of Gospel music's treasures.
Bryn Haworth – Grand Arrival (A&M) Adorned many a star's record with his supreme guitarship, also very good songwriter and gentle singer. Persuasive artist.
Please tell me your favourites! Or just comment what is listed here.
This first appeared in the British Methodist Reorder, July 14. Next months: 20 Greatest Praise albums.
STAR COMMERCIALLY ISSUED ALBUM OF THE MONTH
MR JUKES THE STORY OF GOD FIRST (ISLAND) ****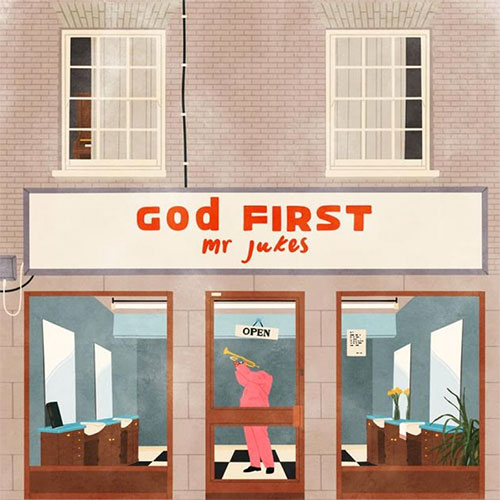 No, this is not a 'praise' album – musically as it says on my screen: "Boasting a diverse and varied sound palette made up of synth pads, eclectic sample use, pulsating R&B-infused Beats, and resonant vocal work." To which I would add jazzy piano chords, offbeat drumming, and the vocals sound sometimes so sweet, at other moments as though someone has found a crowd and got them really together. (ah, the sleeve note says 'choit') Yea. Mr Jukes is fka Bombay Bicycle 27 year-old Londoner Jack Steadman but yep, you will not easily associate the two. He comes in vocally on a few tracks, that's all, just a production genius at work reaching there and everywhere . You can run this one and run it again and maybe think you have a different album playing along. As for faith: plenty of rambling, maybe I am not hearing it well, OK glimpses of the 'holy', reflections on sadness, falling in love and being urged to "keep on " and thoughts of "making it through the night - there's a duet with Lianna La Havas on the wonder of waking up, if you do, then see the day new. Heck, they could have enclosed some lyrics and given a proper running order, 'cause in the end you are not sure what the maestro is saying, of course that might destroy all! But it's a fantastic.
GARTH HEWITT NEWSLETTER
Strange Weapons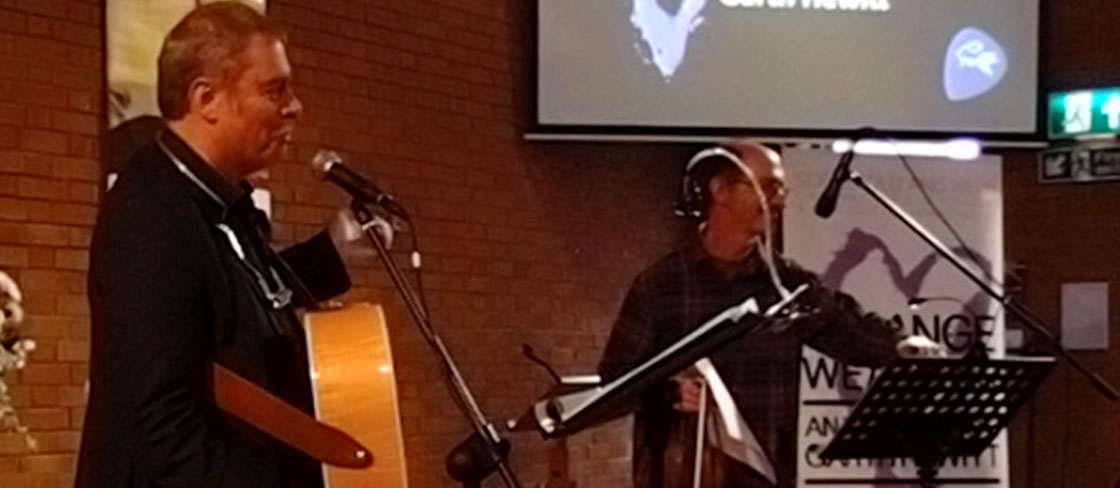 Strange Weapons Tour at Sherwood Methodist Church, Nottingham - joined on this occasion by fiddler Chris Rogers
Hello again.
The Strange Weapons tour has just ended with a concert in Gilwern near Abergavenny in Wales - thanks to Paul and Rachel Lindoewood for organising a warm and friendly evening. Strange Weapons has gone on for nearly a year - actually a little shorter than the previous tour, Something for the Soul, which went on for eighteen months. During this tour we released the Songs From The Fifth Gospel double album, the Wide Open Arms meditational DVD, and the Peace At ChristmasChristmas album.
I did a warm-up before the tour in the Reformed Church of Maur near Zurich, Switzerland with long time friends Ben and Barbara Jakob, who have put on many concerts for me over the years.
My very grateful thanks to all the people who hosted gigs on the Strange Weapons tour - thanks for working so hard to make them worthwhile.
Against the Grain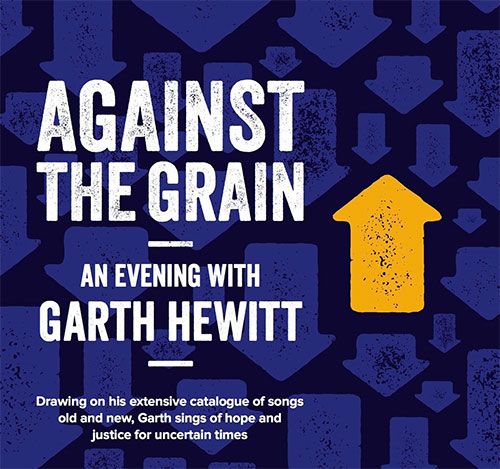 Now we are planning the Against the Grain tour - I don't yet know exactly what that will include. There will be one or two new songs, and some friends from the past like Lonesome Troubadour. My assistant Isobel is working on the powerpoint but we may do it a little bit differently this time, as a powerpoint keeps me to a predetermined playlist and on this tour I may bring some changes to the set each evening.
During this tour a new book will be launched which is a memoir and alongside it there will be a double compilation album - these may even be called Against the Grain but we're not quite sure yet - we will keep you informed on that.
Isobel is looking for places to host Against the Grain, particularly for the spring of 2018. The tour will be starting in Dundee, Scotland in September and then we're in the Midlands for a couple of gigs - have a look here for a list of bookings so far.
I think the song Lonesome Troubadour or The Last Stand of the Lonesome Troubadour says something that will be one of the themes of the tour - the lonesome troubadour certainly sings against the grain.
By the way, Lonesome Troubadour was not specifically written about me - in case you were worried that this was my last stand! It is about the voices that speak up. For some they may be uncomfortable voices; sometimes they may be humorous voices, sometimes prophetic voices - in the world in which we live at the moment I can't think of a time when there has been more warfare, when our government has been selling more arms to dictatorial regimes. There are voices that are reflecting the pain of what is happening in our world. And we remember this. We also remember those voices that bring hope.
As it says on the Against the Grain publicity poster above, "Drawing on his extensive catalogue of songs old and new, Garth sings of hope and justice for uncertain times." In the light of these uncertain times the running order may change from evening to evening.
Lonesome Troubadour
He sings against the cold and he sings against the pain 
He sings his songs for the wounded ones and he sings them again and again
It's the last stand of the Lonesome Troubadour 
Last stand against the night 
Last stand of the Lonesome Troubadour 
Armed with his songs he fights
And he's a man who doesn't care any more, about the things they say 
Each time they try to bury him, he'll only rise again 
He spits at the headstone when they lay him in the grave 
He's got the crazy wild laughter when they go quiet to pray
It's the last stand of the Lonesome Troubadour 
Last stand against the night 
Last stand of the Lonesome Troubadour 
Armed with his songs he fights
And he asks all the wrong questions, and he laughs at a world that's insane 
He's even seen the golden calf but he refused to look again 
He bleeds on the floor when they want it kept clean 
He refused to lie down - he caused such a scene
It's the last stand of the Lonesome Troubadour 
Last stand against the night 
Last stand of the Lonesome Troubadour 
Armed with his songs he fights
And he quotes Woody Guthrie about only playing two chords, 
"You're only showing off," Woody said, "if you have to play some more!"
It's the last stand of the Lonesome Troubadour 
Last stand against the night 
Last stand of the Lonesome Troubadour 
Armed with his songs he fights
And he sings against the cold and he sings against the pain 
He sings his songs for the wounded ones 
And he sings them again and again and again 
And he sings against the cold, he sings against the pain 
He sings his songs for the wounded ones 
And he sings them again and again
The Memoirs
My book, which we hope to make available in early December, is a journey that reflects choices and influences both musical and spiritual. There are stories, and I talk about music, theology, the enjoyment, and why I made various choices. I take time to speak about various aspects of the songs and recording, there's a chapter about the Greenbelt Festival and my involvement in the early days; one about the time when I was with EMI for the album Did He Jump or Was He Pushed produced by Cliff Richard, then chapters about the change where I started to reflect more on issues of justice, from Road to Freedom to Lonesome Troubadour; a chapter on theology called 'Stealing Jesus Back'; one about the days at All Hallows on the Wall when I was with Christian Aid as well as Amos; a chapter on Palestine entitled 'From St Jerome to Banksy', and of course one on the Amos Trust as to why I started it. And in all of this some personal moments about family and friends. 
It's a mixture which hopefully paints a picture that has something important to say about the road to justice and hope.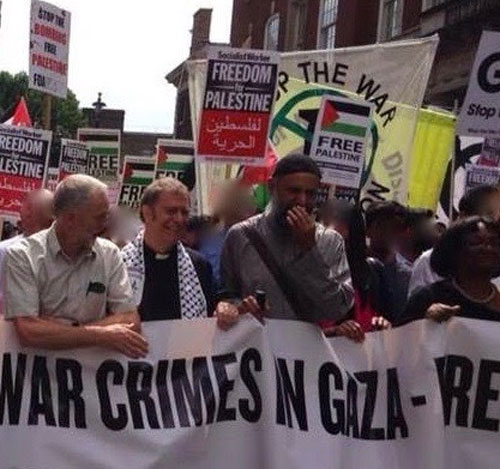 In researching for the book we have been going through boxes of old memorabilia and photos, and we came across this nice one - a light moment during a demo with Jeremy Corbyn, Ismail Patel (Founder of Friends of Al Aqsa), and MP Diane Abbott.
Prayer
We are in the season of Trinity, which if you follow the church's calendar goes on for about twenty weeks before we start to get close to Advent. Strange therefore, Trinity is possibly the time that we talk about least - I was with a group of clergy on Trinity Sunday this year and although in the church I attend we had had a sermon on it, I asked them how many had been in churches that had sermons on Trinity and none of them had. I think Trinity says something about community and so this is a prayer from my book Towards the Dawn.
Oh holy trinity, 
God of community, 
Open our eyes to your ways, 
Open our hearts to your love,
And open our minds to your attitude, 
Where all are invited 
And all are welcomed 
And where the healing hope of the Easter gospel 
Becomes a reality 
Which challenges us to "do something" 
So may we make the ways of God visible in our world 
Walking away from the excluding views of the past 
Strengthened by the spirit of Pentecost 
To live and work to bring your peace. 
Amen

BOOKS and Music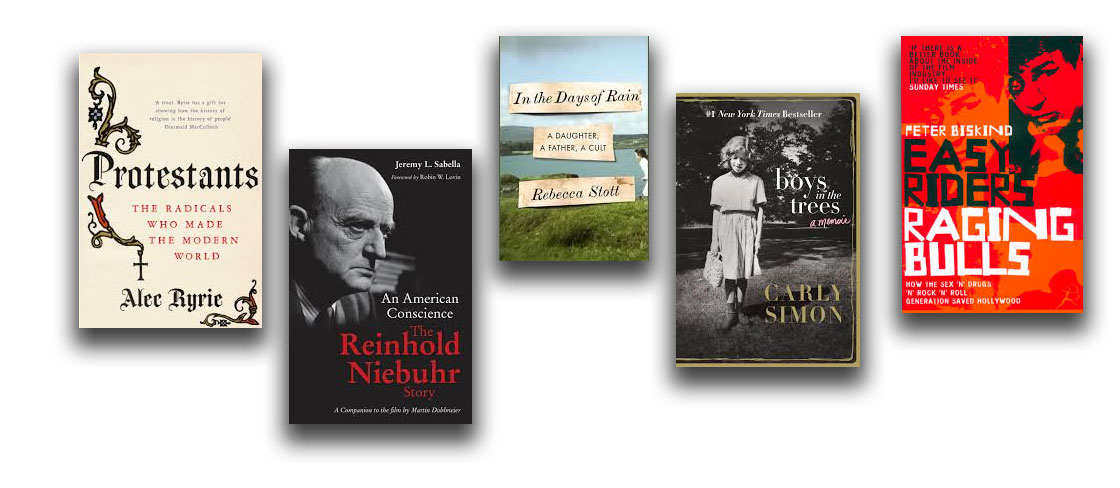 The Jasp is wading through these titles
Alec Ryrie – Protestants (William Collins) New
Sabella Jeremy L. – The Rheinhold Niebuhr Story (Eermans) New
Rebecca Stott – In the Days of Rain (4th Estate) New
Carly Simon – Boys in the Trees (Constable) 2015 *
Peter Biskind – Easy Riders – Raging Bulls. (Bloomsbury) 1995 *
* suddenly popping up in HMV or remainder book shops and at low price!
The Jasp is playing this music
Mr JUKES – GOD first (Island) 2017
BLINK -182 California (BMG) 2017
Various – Soul Stirrings (Island) 1993
Taize – Music of Unity and Peace (Deutsche Grammphon) 2014
Eric Burdon Greatest Hits (Prism) 1997
The Arts Centre
Group
Playwriting competition
2017
The Arts Centre Group runs a poetry and playwriting competition in alternate years. 2017 sees drama take the stage. There is a special Award occasion at a prestigious venue, and on an agreed date presentation of the winning scripts by professional actors at a London venue, and to which those associated in the various forms of theatre are invited.
The competition has two awards: The first concerns writers under the of 21, and the second award is for any age. There is a prize of £300 for someone 21 and under, and £100 for the 0ver 21s.
The submitted text must not have had a 'professional' playing, nor been published unless in a personal manner by the writer. The writer should give a brief synopsis of their aim and purpose. The play should not have more than five characters, and can be a monologue or double-hander.. It can be in any style. A script should be no more than 30/40 minutes long, and be submitted both in Microsoft Word, and two copies printed one side only of A4 paper with no binding or stapling. A cover page should bear the writer's name, contact details, and play title, but only the play's title must occur in any ensuing pages. A numbering of pages is required. No scripts will be returned unless accompanied by an envelope with correct postage and the latter may be affected by size and weight. Texts will be read by at least three people involved professionally and representing various theatre aspects. Their names will be made public in due time.
SUBJECT MATTER 2017:
In broad terms we invite reflection on religious faith in present society, whether in popular culture, social
or political realities, or simply where you the writer find yourself or not. To give some examples: 'Women and faith' or "The Battle for faith' or 'Atheist writers' or 'Martin Luther' (this being 500th anniversary of the Reformation) or 'Faith and Relationships,' 'Faith and Doubt' or 'Black Gospel History.'and so forth...
Music and song may find a place in the script, but should not in total be more than around 7 minutes.
ENTRY FINAL DATE:
Entries must be received by September 4., with winners notified earl October. You may submit more than one script. There is an entry fee of £10 students and unwaged, otherwise £20. A detailed commentary on a script can be given for an extra fee of £25 and will be by someone much involved in theatre. An entry form is obtainable by enacting the process below. Further information concerning the awards, entry form, can be obtained from the ACG: info@artscentregroup.org.uk or the administrator Tony Jasper : tony.jasper@btinternet.com - Milsrof, Eglos Road, Ludgvan Churchtown, Penzance, Cornwall. TR208HG.
The award ceremony will be held at a prestigious literary venue in October, with consequent booking of space and actors for a public presentation of the two winning texts.Results will be announced via the ACG Website and such avenues as Facebook, and to winners by personal contact.