AUGUST 2017    FREE
  Editor  Tony Jasper
1967 AND 50 YEARS AGO HAS BEEN A FREQUENT SUBJECT IN MAGAZINES AND NEWSPAPERS BUT NONE OFFERS THIS STUDY OF THAT YEAR
1967 AND FAITH
1967 whether here or the US spawned numerous competitive religious systems. As US writer Dennis C Benson wryly says in his book The Rock Generation: "just about everyone lays claim to an ultimate concern."
In Britain, particularly in London's Oxford Street and Piccadilly, the air rang with the sounds of Hare Krishna chanters. For them the sheer wonder when Beatle George Harrison joined the Movement and doubtless joy as he fed in material riches. Kenneth Leech in his book Keep The Faith Baby (SPCK) says the constant chanting is seen as the way both of awakening God-consciousness in everyone, and overcoming the dark distractions of the present Dark Age.  "The mantra is seen as a purifying process which purifies the mind and the senses."  A few years on Harrison was interviewed in International Times, August 29, 1969. George said that 'in church there are no good vibes to pick up". He chose to say "it's a bore." He saw only" the man with the brown suit on and the woman with her new hat." Some still say it.
In contrast in 1967 a  handsome well built American was establishing his own summer of love. He would appear in London's Hyde Park wearing shades and looking more gangsterish than cool. He was on his seeming umpteenth visit to save Britain – indeed this is the friend of US Presidents - Billy Graham. For those who had travelled with him since the first major British crusade in 1954 it was very much the same. Billy's fine soloist George Beverly Shea was still singing 'I'd rather have Jesus than Silver or Gold'. Graham's charisma remained. At the same time the now conventional crusade with everything constructed to lead up to 'the message' was wearing a little thin, and at grass-roots the five hymn sandwich nonconformist service was becoming a trifle dated, or certainly many Christians yearned for  change with something more exuberant, of feeling rather than the cerebral. 1967 was the height of what became known as the Charismatic movement. Not everyone welcomed this form of expression, with some unable to equate its practice with God;s inerrant Word.
In terms of an individual to hit the newspaper pages it was American pastor Jean Darn. She believed she was given a vision from the Lord for Britain, She spoke of receiving three visions that encouraged her to get out there and save the British.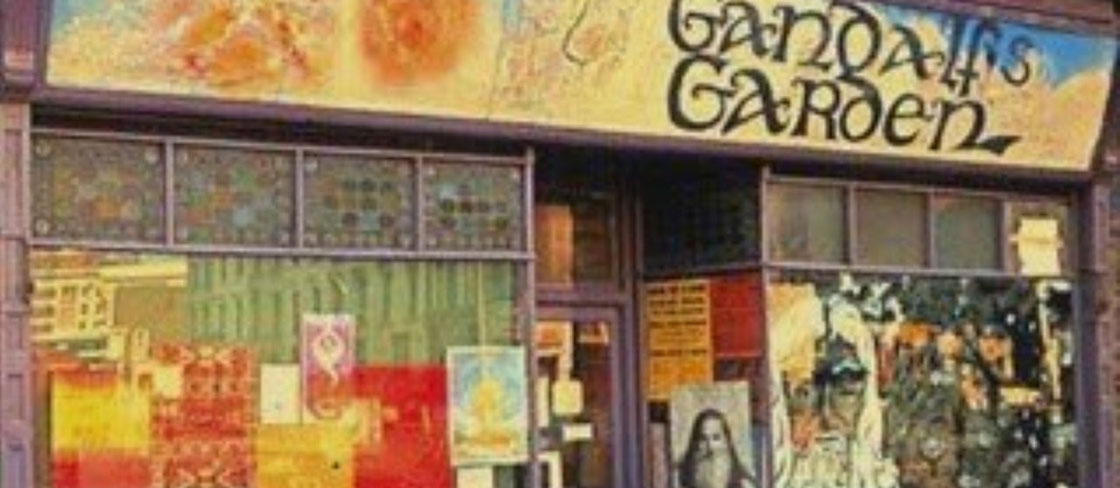 There was the Baba movement to which Pete Townsend of The Who was attracted, among others a community called 'Gandalf's Garden, and whose leader was Muz Murray and who in returning to London in 1967 tried and rejected LSD, and with others espoused mysticism. Somewhat astonishingly the magazine Alternative London  could run no less than 21 pages devoted to mystical groups. These included Hindu-orientated groups, Buddhist and Sufi groups, occult and spiritualist sects, space for those into astrology and flying saucers and witchcraft. Leech has the chilling sentence as he leaves the 1960s and heading into the next decade: "There is a spiritual revival of sorts, which, for the most part the institutional Church seems totally unaware." Leech makes this point in a number of his books and who would disagree. The interesting, let alone important question is a big 'why?'.
In my book Living Words for Now (SPCK):" I included material from the People's Church, Berkeley, California. Berkeley was one of those campuses ready to explode at any moment in a time of student unrest through much of the US, and square-ups with campus police and state police far from uncommon. The Sunday Christian gathering met in Parker Street, not many yards from the University, and it comprised mostly students. We would sit and squat on the floor. It met in a room not a church, just a cross, a lit candle, a reading desk, simplicity for the overall informality. Naturally the pastor Dick York in his late twenties had plenty of hair, and would led us gently in prayer, and enter into the realism of the Jesus message in the turbulence of the latter period of US, 1960s history. He worked for a community church, a youth church.
There were several attempts in this country to produce something akin to this Berekley gathering, but as Leech observes in his book 'Keep the Faith, Baby" it had an inherent weakness , in so far unlike Berkeley  "it did not arise out of any real pastoral situation, and, because it is a second-hand movement with imported slogans, and borrowed ideas, it does not relate to anything." Here, 1967 has something major to teach us, even if other times can offer something similar. I still hear or meet good concerned Christian people who are looking somewhere, someplace for the answer to no young people, no increase in church membership, no growth. But they have
not related ministry and worship to anything tangible, defined their own circumstance and what may be the personal needs of the community in the light of the Gospel, and so they offer the 'second hand' and save the hard slog of working and thinking and praying, or of course carry on as before, hoping they can keep the fellowship and church until their passing. It is easier to indulge in chattering about the Church in the world than it is to think of what it means where we live.
The Litany of Saints from Berkeley finds it way into my worship book. It's a powerful modern version if you like of that deeply moving recitation of those whom we are not worthy in Hebrews 11. Each description and name would be followed by the gathering saying "Stand here beside us." Names travelled through time, from Francis of Assisi to those more current, with all in some way witnesses to new life. Its sweep was broad, so to include Jan Palach, Thomas Merton, Good Pope John seen as friend of the poor, Gandhi, Dag Hammarskjold, John Wesley, George Fox, Florence Nightingale, Martin Luther, Harriet Tubman, black liberator.  Martin Luther King Jnr. In more broad a context, victims of lynching, victims of Hiroshima and Nagasaki, victims of Coventry, Dresden, and Tokyo caught up in a storm of fire, victims of Auschwitz and children of Viet Nam. Scattered throughout the list there were biblical people, such not least 'Unwed mother, blessed Mary, wellspring of our liberation," while Jesus is seen as the prophet, the liberator, the poet who laid down a new form of speech.
Here in the midst of uncertainty, in a youth environment with its short-lived fuse, the Litany dares to call people to stop and give respect for the past, that speaks direct call for now, as new and uncertain adventures are undertaken, but done in the light of those who have gone before. For a moment in those lives, in the happenings that surround their witness, we could glimpse the treasures of eternity. Since then I have often made use of this litany, but adding new names or, after testifying to its remembered use, asked the gathering for those whom they would name, as well as covering more general descriptive paths, as if in a recent  weekend the brave Christians of the Middle East, or the people of many faiths in the Grenfell disaster. In using this litany people have said to me that they suddenly felt connected to something big and exciting – the Christian story in all its shades and colours. In the dim and distant past there would be books and chatter about what was described as ~"the heroes of the kIngdom" – no more.
So we stand isolated and sometimes fearful that we may be run out of  life's challenges and we head toward being a small sect that will meet and worship as the rain comes through the roof and we cannot pay the dreaded assessment, truly today's horror.
Dennis Benson, a truly remarkable commentator on the 1960s would write in his book The Now Generation (John Knox) that "the 'now' generation needs an intellectual and spiritual framework which can be an extension of life experience. This is what the Christian faith must be, but it isn't."
BOOK REVIEW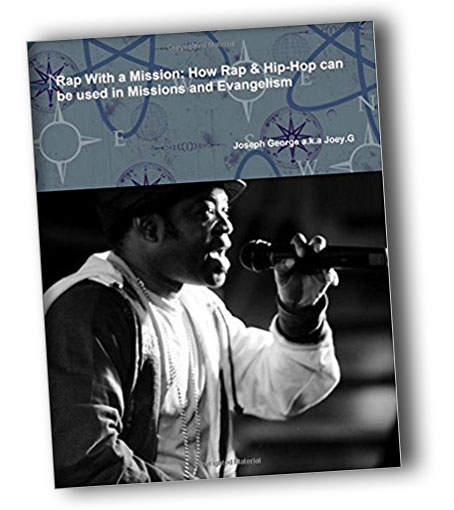 Joseph George a.k.a. Joey. G  has converted a dissertation for his Masters in Missions and Evangelism into a book that has the long title 'Rap With a Mission: How Rap & Hi-Hop can be used in Missions and Evangelism (Lulu. ISBN 978-1-326-58450-4).  His  bounces off  24 years working with 16-19 year-olds.  Hip-hop has been part of the mainstream market  yet has made little impact in the Christian world -  he believes "many of the gate-keepers in the Christian community have resisted hip-hop because it is foreign to them." 
He writes about the origins of Rap and Hip-Hop and dissertates on its place and impact on youth culture. He examines  Rap/Hip-Hop in Mission. He writes on page 63:"As the rappers engage with mission, they demonstrate the Church exists for God and others." He gives concrete examples, especially the US based hip-hop crew Clique 116 and their trips to Haiti and Sudan.
Along the way Joey G. answers such as questions: "Is Rap and Hip-Hop evil? "Can Hip-Hop Be Holy?. ". He is not oblivious (p27) that some aspects of secular rap and hip-hop have encouraged of crime, violence and misogyny. Rap is predominantly male expression and it would be good to have fuller comment on this, as well as on the often said that it's hard for fully-dressed female rappers to find an audience, certainly those who follow Jesus. This impacts upon the question he asks on Page 66 as to "whether hip-hop is a worthy tool of communicating the Gospel." He might have said more.
Maybe he is unaware or thinks it fairly unimportant that in the 1990s there was strong Christian rap presence, especially via DC Talk and their acclaimed three albums of hip-hop to push the Gospel message, and especially the Grammy award winning album, Free at Last. Their fourth, Jesus Freak took hip hop into a mix of rock, grunge and pop. They gain no more than a mere name-check under Rap/Hip-Hop in the U,S. (p40) They sold into six figures!
He deals with the US scene where today Christian based hip-hop artists have infiltrated the mainstream and  feature in the Billboard chart listings to include LeLeCrae, Drake, Rick Ross, Andy Mineo, and Kendrick Lamar. In UK terms he  writes well of GreenJade and the 29th Chapter and their success with British media and the general music scene.
His chapter "The controversial issues about secular Hip-Hop artists is particularly valuable.  Here we can meet DMX and the so influential  Kayne West.  So lots of names but these need to be brought together in a rap-hip hop  record  release guide  which might  have included  secular input where there is a  religious dimension, for that would be invaluable.   So, to, this being a book, an index is needed.  However there is a good bibliography, but several major titles  are missing and include: : Call Me Seeker by Michael J Gilmour (Continuum) with Angela M. Nelson's chapter on rap essential reading, and   chapter 15, God in the Details By Mazur and McCarthy .(Routledge).
Joseph George though is to be praised for an  invaluable contribution.                   
tony jasper
OBIT
GLEN CAMPBELL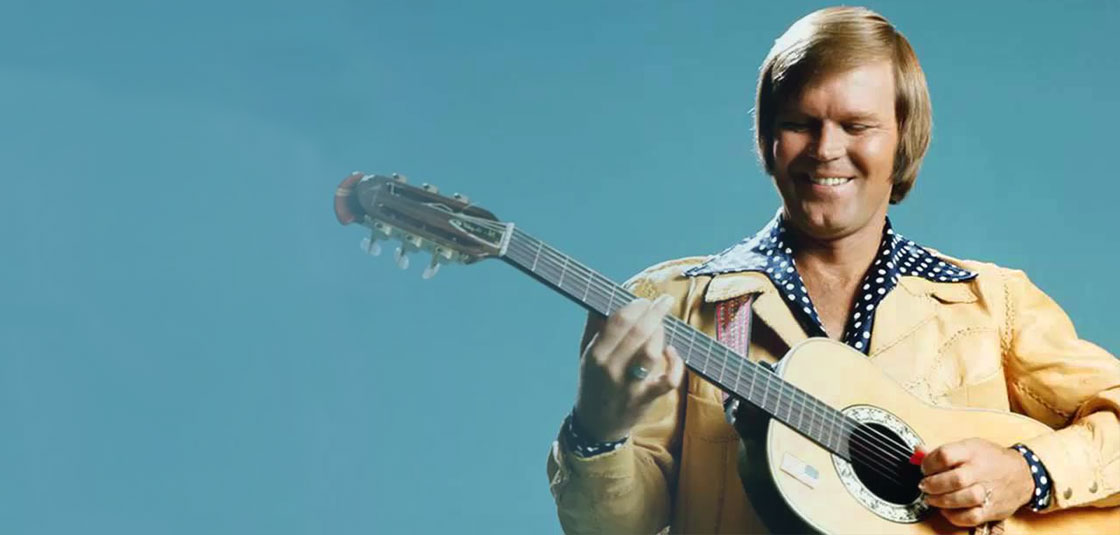 Seen by some in his later years as a "Christian" performer, Glen Campbell, who passed away this August, had hit parade successes of high calibre, such as 'Galveston,' 'Rhinestone Cowboy,' 'By the Time I get to Phoenix' and arguably one of the best pop songs, 'Wichita Lineman.' However the US super-star singer who once took stage at Greenbelt belongs in the fairly long list of US country music stars who have sung hymns and gospel for their supper. He ran separate tours for secular and religious audiences At the same time in career terms he shared the stage and sang with some of music greats.
Interestingly the generous newspaper obits seem to have sharply divided between those who stressed his "born again" Christian experience and those that did not. The Guardian for instance told how he and wife Kim and three children joined a Messianic synagogue, while I paper gave good space in its regular farewell column 'Life In Brief' but made no mention of his faith. A dig around early times would have revealed his Christian upbringing. Parents Wesley and Carrie were devout members of the Church of Christ and saw to it that Glenn, and his eleven brothers and sisters, received a thorough training in 'old-fashioned values.' He was the seventh son of seven sons. He has gone on record to say that it would not have happened in his career "if the Lord had not wanted it to." 
It can be said without surely denial that he led a colourful life as he managed four marriages and leaves eight children. Whatever the 'pros' and 'cons' of that his image was of a clean-cut American boy. He had his "dark`' times and for a while had personal problems with drink and drugs. Broken bottles and broken relationships came his way. In 1992 Campbell adorned the front page of the Guardian Friday Review that carried the bold title
God, Cocaine and Golf
Things got much better when he re-found faith and would say that "Christ has delivered me from all the evil I was in." He would tell a friend of mine Paul Davis that the bright lights of the city were replaced and eclipsed when he once more encountered the Light of the World.
Word record company gathered together recordings by Glen Campbell under the title of Amazing Grace (1983).
In 1989 Campbell's, Favourite Hymns was released by Word on which save for two tracks, featured songs the artist knew as a child in a little church in Billstown, Arkansas. In 1999 it was time  for A Glen Campbell Christmas album
Ten years later The Guardian's copy beneath the basic feature title put it this way: "He was a dirt-poor hick who turned out to be too L.A." Glen Campbell the original rhinestone Cowboy, tells David Benman how he insulted Presley, made eyes at Sinatra – and never lost sight of Jesus. Aged 63, he told the journalist that one of his favourite albums was Jesus and Me. A Deluxe edition was released in 2011. 2012 saw The Inspirational Collection.
Sadly his health declined with Alzheimers, and  remarkably in 2015 he achieved a Sixth Grammy Award in the Country Song Category for "I'm Not Gonna Miss You" which was co-written for a documentary that covered his illness and deteriorating health. He died, aged 81.
JOHN WADDINGTON-FEATHER
We pay tribute to John for his writings and work – delivered by someone  who was far from well. He possessed enormous enthusiasm and We reprint here a poem he sent and add the tribute paid to him by his wife. For  further interest  you should go to Google and see reference to his many works.
A Cheery Hymn
Two thousand years have come and gone,
Yet Jesus Christ is here,
Bringing all people faith and hope,
Dispelling every fear.
'Midst gloom and sorrow, hate and strife
Beamed at us by the world,
His banner flies unfailingly,
 A rallying flag unfurled.
A Godly symbol of good cheer
In all this dark world's gloom;
It points us all the way to God
And our eternal home.
Though pain and sorrow we endure
Throughout our earthly life,
Yet you are always near us, Lord,
In trouble and in strife.
We thank you Jesus Christ, our Lord
And ever-loyal friend,
For being at our side in life
And cheerful to its end.
John Waddington-Feather ©
 (A suggested tune:  "While shepherds watched their flocks by night" – Winchester Old 
Alison reflects on John's full life and rich legacy of writing. The Rev. John Waddington-Feather was an Anglican priest, educationalist and writer, born in Keighley, West Yorkshire in 1933. He read English and Medieval Literature at Leeds University, graduating in 1954. His published works include novels, poetry, drama and academic papers. He taught in several schools and at the University of Khartoum; his ministry has mainly been in prisons.
The Book Collection
The Waddington-Feather book collection includes poems, plays and tales in dialect by authors such as Dorothy Una Ratcliffe, Frederic Moorman and John Hartley, plus scholarly and popular works about the Yorkshire dialects. Individual dialects covered include Sheffield, Halifax and the East Riding. The material is of considerable interest for local historians. The Collection also contains works on other dialects (Lancashire, Devon) and more general works about the history and development of the English language.
Library catalogue. University of Bradford
The Archive
John Waddington-Feather's poetry from 1950 onwards, his notes on Yorkshire dialects, journal articles and short sermons. The Glyn family material includes articles by and about Caroline Glyn, book jackets designed by Caroline Glyn, photocopies of her poems, programmes and reviews of the work of Susan Glyn, and a critical essay on the poetry of Sir Anthony Glyn. Another Feather Books author, Walter Nash, is represented in the archive with the typescript of articles and a book.
Further information about the Archive is available as a collection-level entry on the Library catalogue. Please note that the collection is not fully catalogued, so access is limited. To find out more please contact Special Collections staff.
CHARITY
This is an event I organised. Why not do the same. Contact World Child Cancer.
Tony Jasper
THIS SATURDAY MORNING
JULY 29 IS
Raising monies for
WORLD CHILD CANCER
FOYER At CHAPEL STREET METHODIST PENZANCE
OPP TURKS Head FROM 10A.M.TO12.A.M.
Do drop in! TEA/COFFEE/HOT WATER
BUNS/CAKES/SCONES.CHOC!
Hi Tony,
How are you? I hope all is well with you.
My dad * forwarded your email to me. Thank you so much for trying to raise some money. Here is a summary of what I am doing and what the charity do:
For one year, through World Child Cancer, I will be supporting children with cancer, their families, and the medical staff in Ghana, Malawi and Myanmar. I am a qualified counsellor, with experience of working within the field of childhood cancer.
I will be providing counselling support to children and parents and I will also be providing training and support to the nurses who are working with these families. 
Families have to pay for all the treatment costs. 
The line I have been using on all my fundraising pages is: I can't even begin to imagine what it must feel like to be told that your child has cancer and then discover the treatment costs are far more than you can afford.
HER FATHER DAVID IS A METHODIST MINISTER AND A GREAT FRIEND OF MINE
GARTH HEWITT NEWSLETTER

Against the Grain - Garth's new book
We wanted you to be first to know - Garth's book is on its way to the publisher! We are hoping for a launch date of 1st December so you'll have it in time for Christmas - we will keep you in touch on that.
With the subtitle Choices on a journey with justice, the book has been described as "a mixture of stories, theology, wisdom, music, humour - all building together to say something really important... but gently".
and his new album to accompany the book...

For release at the same time as the book there will be an album of the same name - an eclectic choice of songs from down the years, with some brand new tracks and a surprise or two.
Garth and his band - Kevin, Abbie, Chris, Paul and Pete - have been in the GingerDog recording studio this week putting together the fresh material.
We don't have all the information about prices yet, so if you want to be on the list to be first to know about the pre-order discounts, email isobel@garthhewitt.org and we'll add your details to the list - no obligation of course!
Reminder:
DRAMA – PLAYWRITNG
THE ARTS CENTRE GROUP
ANNOUNCE A NEW DRAMA COMPETITION
Renowned theatre critic Michael Billington has wondered why there are so few good religious theatre scripts.
'Faith within a contemporary context' is the suggested theme for a national drama competition.
Every two years the national  Arts Centre Group runs a national drama competition.
Leading theatre directors, teachers and actors are involved in the judging process with the two winning entries receiving a London play-reading from professional actors. The ACG is keen to find new texts from those under the age of 21 and apart from a play-reading a sum of £300 waits for the winner of the Julian Battersby Award. The other award is for those 22 and over, with the sum of £100 offered plus the play-reading before those involved in professional theatre.
The Administrator is the actor, playwright Tony Jasper and who, and his Company, Jasperian Theatre, can be googled. For verification. Tony is a long-time member of the Society of Authors with over 70 titles published.
The final submission date  is Monday  September 11. Full details can be obtained from the Arts Centre Group at info@artsentregroup.org.uk.