This month we feature the work of the very talented Pat Harvey. We take in the the new play 'Girl from the North Country' with its Dylan associations. Some new religious music gets attention. This is the 500th anniversary of the Reformation and we list many of the books and articles that have so far been published in the hope it might help in some way!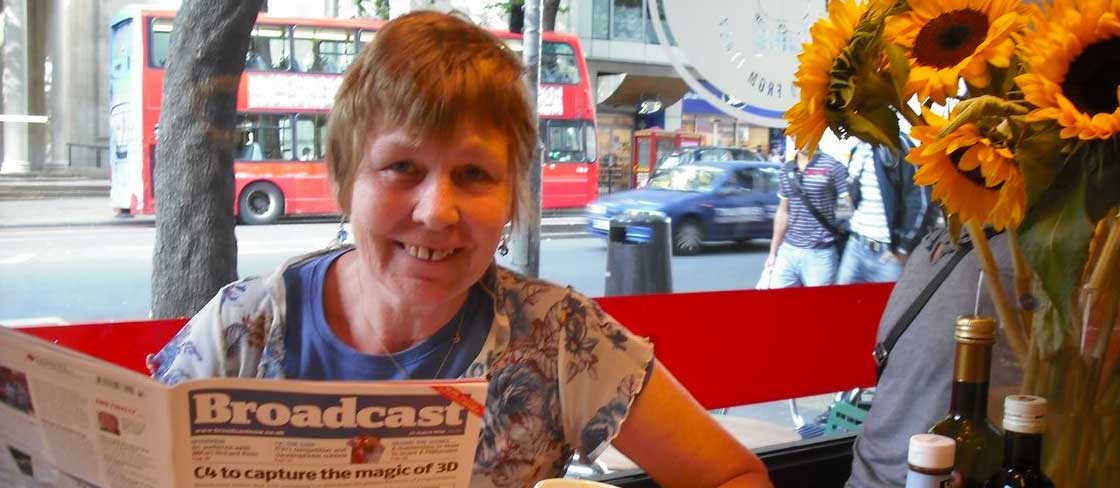 PAT HARVEY
I have always been a person of parts. I do not mean an actor; or the fact that I have arms, a nose and legs; but, that my loves, passions and interests have always been many. I blame my parents for this, given that my father was a frustrated journalist, and my mother a painter. The whole mix is complicated by having French blood on both sides. My great-great (x?) grandfather, Monsieur Carette, fled France at the time of the Paris Commune in 1871 (I still have his tie-pin); my father's family (my maiden name "Bletcher" is from 'Blecher', with an accent) were Huguenots. What chance did I stand?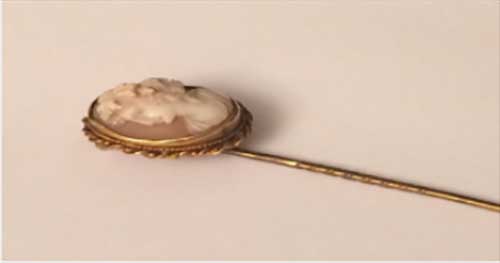 Monsieur Carette's Tie-Pin
1. FRANCOPHILE
I was determined to excel at French from the day I set foot in grammar school, and such proved to be the case. I studied French at Sussex University, eventually teaching it, and becoming a television producer specialising in it. This started when, age 17, I saw Les Enfants du Paradis (Children of the Gods), the great 1945 black-and-white movie directed by Marcel Carne, described by some as 'the greatest French film ever made'.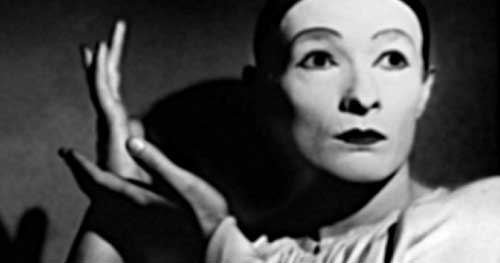 Jean-Louis Barrault in 'Les Enfants du Paradis'
A few years later, whilst working as a holiday relief assistant film editor at the BBC, I intercepted Alan Yentob on the stairs and pitched him the idea of a programme about Carne for Arena, the BBC's premier arts slot at the time. I got to interview Jean-Louis Barrault, the actor who plays the white-faced Pierrot in the film, who, in response to my entreaty, gazed lovingly into my eyes and muttered the word "Garance!" (the name of the actress played by Arletty).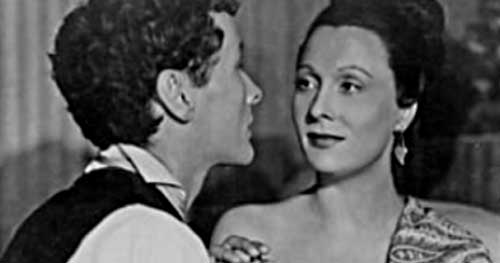 Jean-Louis Barrault and Arletty
Spool forward 20 years to Discurio, a record (yes, record; remember them?) shop in Victoria where I was in search of material for a programme on French song. Not Anglo-Saxon rum-ti-tum pop; but la chanson francaise: a sublime form of musical poetry. Finding nothing, I tackled the manager, John Mitchell. "I know who you need to speak to", he said, and picked up the phone. That was in 1988. In 1989 I married Ralph Harvey, the UK's leading expert on French 'chanson'; and together we worked as a team,
producing records and television programmes.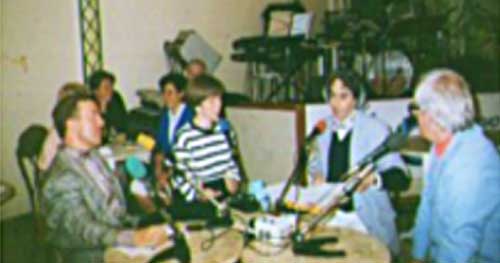 Ralph Harvey Pat and Ralph Harvey interviewed on Radio France, 1990
In 1996 we met Melvyn Bragg, who commissioned us to produce one of the the first British television documentaries on the subject, Hear My Chanson, starring Juliette Greco and Charles Aznavour. At the same time, Ralph continued his long-running career as a compiler of 'the French repertoire' for EMI and other companies, producing albums featuring the likes of Charles Trenet, Yves Montand and Edith Piaf; and the accordion, for which he had a passion; for all of which I did the cover illustrations.
Following Ralph's death in 2014, I was determined to continue his legacy by promoting and celebrating French 'chanson'. Fortunately, I was assisted in this by Helene Hazera, a leading French music journalist and broadcaster, who suggested the subject of my blog: Chanson and Immigration in France (patkayharvey.wordpress.com), now on its 17th post. My desire is to turn this into another television programme, or book – preferably both.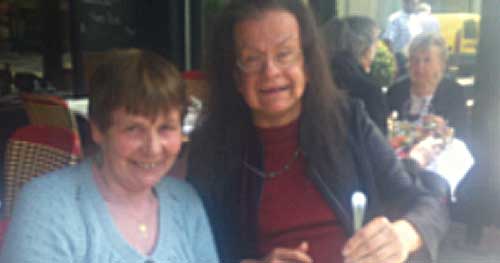 Pat Harvey and Helene Hazera
2. ARTIST AND TUTOR
As I have said, my mother was an artist and, divided from the start, every year at school I won prizes for both art and academic subjects. Being a grammar school girl, my entreaties to leave early and go to art school fell on deaf ears, on the grounds that I was too clever and should head for the sixth form. Which I did, but thwarted them all by leaving early to work in a design - or, as it was known in those days, 'commercial art'- studio. Later I developed watercolour skills and became a professional artist (alongside my TV work), and, in 2000, joined the Society of Graphic Fine Art (sgfa.org.uk), of which I became a long-time Council Member. These days I exhibit regularly in London and elsewhere, (next exhibition, SGFA's DRAW 17 at the Menier Gallery, Southwark St, October 2-14), and also sell my paintings as prints and greetings cards. I specialise in paintings of Paris (but not the Eiffel Tower), and 'quirky' botanical subjects (no vases of roses), all of which can be seen on my website, patharvey.co.uk

'Paris: Café La Ruche' 'Teasels'
Most of these can be bought as cards in packs of 5 (£10 + postage); any images of your choice. Please email me at patkayharvey@talktalk.net, or call 020 3643 6227. Or singly (£2.50) in person! They are blank inside. I am about to increase the range; so watch this space!
I am also an Adult Art Tutor, with many years' experience in West Sussex, before I moved back to London last year. So far, unfortunately, I have not been able to continue this practice in Twickenham, as my lease forbids it.If anyone has any ideas, I will be happy to hear them!
3. SCREENWRITER
Yes, screenwriter! What do you mean, "But, you have not written 69 episodes of EastEnders; nor done an MA in Screenwriting; nor hung out in Hollywood". No. But, shortly before his death, Ralph gave me his last Christmas present: the biography of a well-known British composer. No names; no pack-drill. Suffice to say, I read the book and was mesmerised. I could already see it on the screen. And – it has never been done! I am a writer. I have written art journalism, as well as my blog. But a screenplay? That is a different bouillon de poisson (as they say). Should I call upon someone more experienced? Well, maybe. But later. Currently, after months of research, and having mastered the basics by reading some key texts on the craft of screenwriting, I am enjoying producing the notorious "first draft": that precious document which is destined to end up as an unrecognisable shadow of its original self. I am excited. I am nervous. I am passionate.
Next question?
Pat Harvey 11.9.2017
THEATRE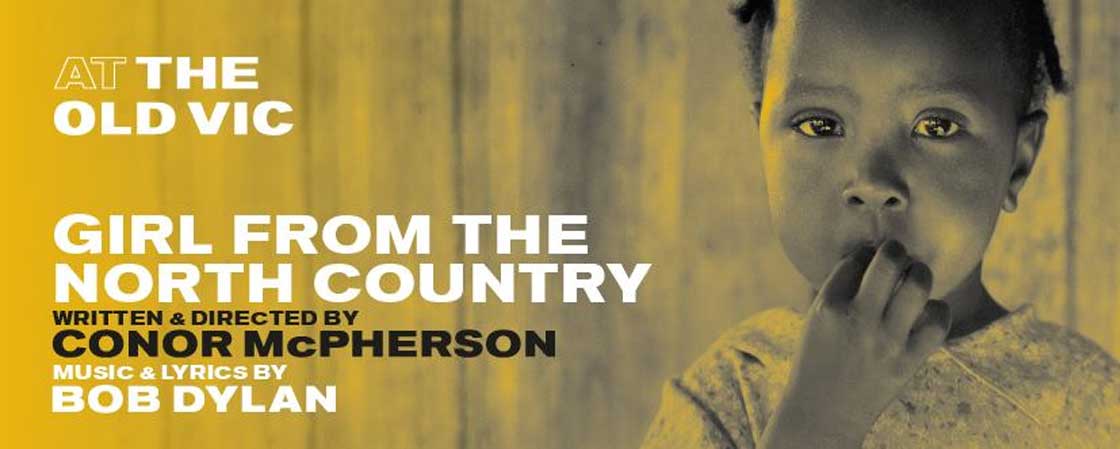 ROB MURDOCH, one of Crisis Magazine's Bob Dylan Correspondents has been to see the London Old Vic production of Conor McPherson's Girl From The North Country…what did he make of it?
Shelter From The Storm?
Let's start with what it's not. It's not 'the Bob Dylan musical' in the vein of the recent Queen 'We Will Rock You' show. It's not Dylan's greatest hits set against a dramatic backdrop, although it does contain a few of his best-known songs. In the words of the work's writer, Conor McPherson, it's 'a production with music', a 'conversation between the story and Dylan's songs'.
Allow this reviewer to re-phrase it in his way : it's an overlapping collage of individual vignettes, short stories set in Depression-era America, very much in the humanist vein of John Steinbeck. The songs reflect the circumstances of the times, and the circumstances of the characters portrayed.
So does it work?
It's a high hurdle to get over. Generally speaking, for me, nobody sings Dylan as well as Dylan. There are a very few honourable exceptions. The Grateful Dead's Postcards of the Hanging' is a terrific album, although more for Jerry Garcia's guitar sound and arrangements than the vocals. And The Band, Julie Driscoll, and even Joan Baez, had a decent crack at it. Hendrix  of course. But more often than not Dylan defeats those who seek to emulate or pay tribute to him.
But in this production it does work, remarkably successfully. From the opening 'Sweetheart Like You' from Infidels , through 'You Ain't Goin' Nowhere' from The Basement Tapes, 'Slow Train Coming', and 'Hurricane' from Desire, the songs provide a backdrop to the hope, despair, or simply the understanding of harsh reality, which the characters are going through.
It works very largely because the arrangers and performers don't try to copy Dylan. The songs are presented in fresh and different ways by a group of talented people, and the lyrics clearly shown to be what they are: beautifully written and soulful descriptions of life, or aspects of it.
Those were hard times, and if there is an overarching theme it could be : you do what you can to get by. Nick Laine's down at heel rooming house provides a degree of shelter for his family, and for the handful of drifters who find temporary refuge there. But it's an edifice which is creaking at the seams. Nick owes the bank more than he will ever be able to repay. His wife has lost her mind, his adopted daughter is pregnant with no father to be seen, and his son is a wastrel. Nick's hopes rest on his lover and her hopes for a windfall from her late husband's estate. We know it's just not going to work out. And it doesn't.
Which makes it sound predictable and clichéd, and in many respects it is. But so is a great deal of drama – most drama? - which after all seeks to present the human predicament and there isn't much new under the sun when it comes to that…
The cast sing and act their socks off. If there's a star, it's probably Ciaran Hinds as Nick, wishing things could be different but doing his damnedest to look after his family and keep his show on the road as long as he can. Sheila Atim as daughter Marianne, Sam Reid as son Gene, and Arinze Kene as the one-time boxer Joe Scott are all impressive,  as are most of the others. Shirley Henderson as wife Elizabeth didn't work so well; I thought she was either mis-cast or mis-directed.  Was Elizabeth the girl from the  north country? Possibly, although the publicity poster suggest it was Marianne…
Overall, you don't have to be a Dylan fan to enjoy this production. But if you are, the way Dylan's songs are presented and performed will be a plus factor. I didn't expect to say that, and I'm delighted that I can!
_________________________
BOOK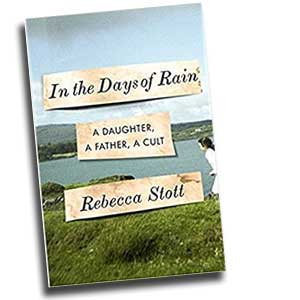 Rebecca Stott's book In the Days of Rain: A Daughter, A Father, A Cult (Fourth Estate) takes you into the worst excesses of fundamentalism as served up and celebrated in an offshoot of the Plymouth Brethren. Somewhere along the way certain people had a vision and an excitement, but to a large extent screwed things up. She tells of her childhood and growing up. Her family eventually left the movement, but much damage along the way, although  perhaps  moments of inner goodness. No television, no radio, no fairy-tales for Rebecca, just much time to learn about the dreadful specificities of indeed hell.....unless. It reads well, it sits you back in your seat as at the same time you might utter "this cannot be so" but, yes, it is so. You believe Rebecca. In this movement people can be cast away, and be separate from all others, banned from going to university, told not to mix with other schoolgirls, and fortunately for her there were a few to huddle with her at break and lunch. Lucy Lethbridge reviewed the book in Literary Review (June 2017. P28) and she ends her well-written piece by observing: "In the days of Rain' offers no answers, as there are none to be found –  except. perhaps that separation from the world is no prophylactic against human frailties." The reference centres centers on the  advent in 1959 of a controversial new American leader Jim Taylor. "It was Taylor's all-too predictable downfall in a scandal of sex and tax evasion that prompted her family finally to leave."
MUSIC
BYRDS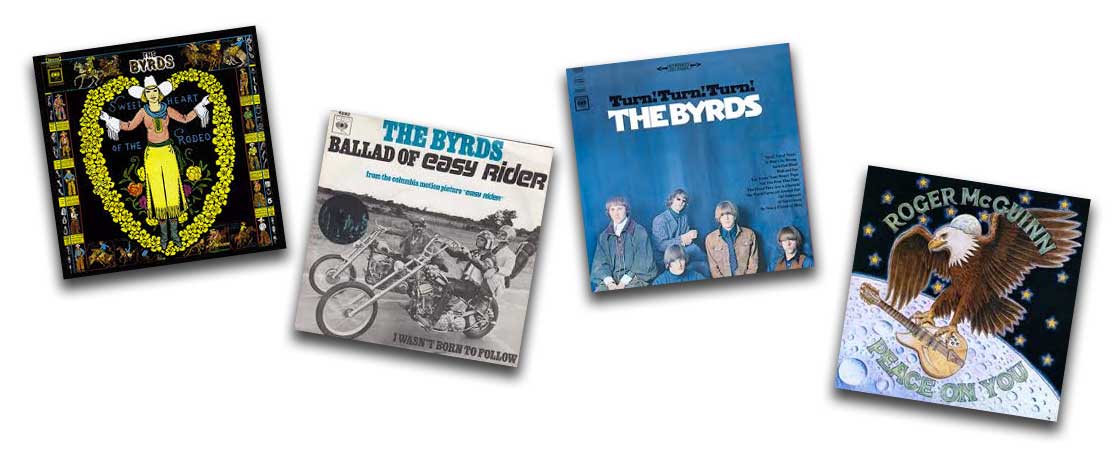 In the general music beyond the magazine Shindig this August focused on the glorious group The Byrds. While not a "Christian " band they none-the-less recorded some powerful religious numbers. "The Christian Life" can be found on the 1968 album Sweetheart of the Rodeo," as also 'I Am A Pilgrim" and both can be caught on YouTube. There is an infectious version of "Jesus is Just Alright" (album: Ballad Of Easy Rider, and a fetching reading of "Turn! Turn! Turn! from the biblical book Ecclesiastes 3:1-8.. Again there is a YouTube source and  the songs still have an attractive feel many years on, the same is not true of the clothes that can be seen.  Byrds member Roger McGuinn, lead singer and lead guitarist on many recordings with his 12-string Rickenbacker has been credited with a Christian experience. Their vocal harmonies and catchy country rock still sound appealing. In the Seventies McGuinn recorded some solo sets including "Peace on You" – the title from a song by Charlie Rich. While a member of the Republican party he refused to endorse Donald Trump.
ELVIS
Elvis re-issues continue with of course the latest release bouncing of the fact that amazingly it is 40 years since his passing on August 16, 1977 in Memphis. 50 Greatest Hits has none of his religious recordings unless you let 'Crying In The Chapel" be a bona fide religious song. His religious albums started with His Hand In Mine before his 28th studio set How Great Thou Art. YouTube has his "Greatest Gospel Songs" and no less than 79 can be heard, but unless I am missing something the list does not include his Christmas recordings and which have a beauty of their own. 13 albums of religious material is available via Amazon, with some astonishingly low prices asked. His 'Elvis" Christmas album of 1957 sold in excess of 20 million copies. Presley had a Christian church upbringing, and it is said he always kept a Bible close to him.
NEW JESUS MUSIC
ALISA TURNER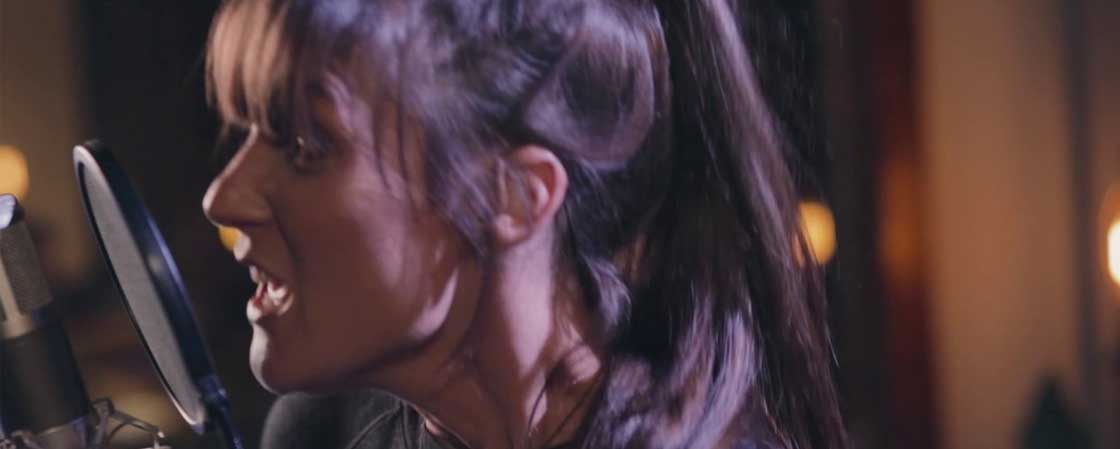 Integrity issue an EP from Alisa Turner that is self-titled. She has a beautiful voice, deep and husky. Its a rather lovely short set of songs, with some of the lyrics from the book of Psalms. Why the Old Testament treasure trove? Simply because the spirit and energy of that extraordinary collection runs with many of her life experiences. She has every reason to shout faith-doubt since hospitalisations are frequent.  She battles with the debilitating effects of Lyme Disease, her father died unexpectedly, and arguably even more life sapping her infant son passed on a few moments after he was born. One way of coping comes from playing the piano, and so she can say: "When I sit at the piano He always uses it to draw me back, to awaken the dreamer, and I always leave different than when I came." She talks of her life and story as "messy" and speaks of days when all she can do is to "keep lifting up my hands in desperation and in worship." Her piano is evident throughout, sometimes as in 'Psalm 13' to bring us into the song. Strings are also prominent, perhaps the songs a little samey, but it's an effective release.
DAVE PENDER
City Church, Coventry, is the church base of Dave Palmer. Enthroned is the title of his debut album (150 Media Ltd).  The songwriter and worship leader sings his way through material that is very much orientated in its lyrics toward the believer. At  times he is joined by vocalists Lisa Bayliss and Matt Richley. He says he first thought he would make a 'live' worship event recording but decided in the end to produce a studio set, and the latter choice enables him to lay down catchy song intros, as well as more effectively utilise what the "Desk" can offer.  Some of the material, such as the catchy 'The Empty Tomb' could well find general recognition in the praise world. Lisa comes to the forefront in the piano driven 'My Heart Will Sing' – a track that gains from utilising a choir, and arguably while good it has potential unrealised. It's one of those songs that needed maybe the "Gospel' flourish – something that lifts and lifts. She gets another outing on the eighth track, 'How 0verwhelmingly.'  Here is another 'slowish' composition with vocal clear against sympathetic piano before she is joined, and then  just over two minutes in the sound thickens and it becomes a sturdy powerful ballad that is passionately and strikingly  delivered, and you can shout a "yes!"  '0ur One Desire' is the 'big' production affair, that runs for over five minutes, has the much emphasized repeated line "show us Your glory' pushed by potent drum work and some rock riffing. 'Show Us Your Wonders' is another very obvious studio number and has a catchy beat. The last track 'See Him There' comes with an initial engaging music intro before becoming an 'all join in' vocal "praise" party. This sturdy number  talks of the "Sovereign God'  and from that the lyric declares "you are worthy of all praise." At the end there is a strong shout of "hallelujah'! The CD  is available by contacting Dave on his new website www.davepalmermusic.co.uk.
This first appeared in the Methodist Record review section.
GUIDE TO REFORMATION AND LUTHER
Books and features in the UK
A  BRIEF HISTORY OF THE REFORMATION:  DAVID HILBORN.  IDEA MAGAZINE  JANUARY/FEBRUARY 2017 p 22ff
BEYOND LUTHER:  DAVID THOMPSON  REFORM MAGAZINE: MAY 2017 P 31FF
BRAND LUTHER : ANDREW PETTEGREE (PENGUIN)
CELEBRATING MARTIN LUTHER.:NORMAN WALLWORK. METHODIST RECORDER : AUGUST 4. 2017. P4
CREDO. JOSEPH LOCONTE. :THE TIMES. OCTOBER 29. 2017. P 84
EDITORIAL: STEPHEN TOMKINS REFORM MAGAZINE FEBRUARY4 2017. p4
FIVE CENTURIES ON: PETER STANFORD. THE OBSERVER. MARCH 19. 2017. P31
GENERAL REVIEW OF VARIOUS TITLES, THE WORLD TOOK SIDES: DIARMAID McCULOCH. LONDON REVIEW OF BOOKS AUGUST 11. 2016. P 25ff.ij
HERE I STAND: REPORT. 2.700 AT WESTMINSTER CHAPEL. FEBRUARY 2017. DR. MARTYN LLOYD-JONES. EVANGELICAL TIMES P.5.
HOW IT ALL BEGAN: JUDTH ROSSALL. MARTIN WELLINGS. JONATHAN DEAN, DAVID CHAPMAN. METHODIST RECORDER. JANUARY 13. 2017. 11ff
LAW AND GOSPEL: JOHN J.MURRAY. EVANGELICAL TIMES. AUGUST 2016. P10.
LUTHERAN LEGACIES: SIMON HEIGHES. BBC MUSIC MAGAZINE,
MARTIN LUTHER AND THE INVENTION OF THE REFORMATION:  PETER MARSHALL (OUP)
MARTIN LUTHER CATHOLIC DISSIDENT.:PETER STANFORD. (HODDER).
MARTIN LUTHER, CATHOLIC HERO. PETER STANFORD.:REFORM MAGAZINE MAY 2017. P15FF
MARTIN LUTHER  RENEGADE AND PROPHET :  LYNDALE ROPER (BODLEYHEAD)
MARTIN LUTHER: VISIONARY REFORMER  SCOTT H. HENDRIX. (YALE)
MRS LUTHER AND HER SISTERS. WOMEN IN THE REFORMATION. DEREK WILSON (LION)
PROTESTANTS  ALEC BRIE (WILLAM COLLINS).
REFORMATION ANGST: LUCY WOODING. LITERARY REVIEW: MAY 2017. P7.
REFORMATION MARTYRS:JONATHAN LUXMOORE, CHURCH TIMES. JANUARY 6. 2017. P13
SPIRITUAL EXPERIENCE OF MARTIN LUTHER: GESA. THIESSEN. REALITY MAGAZINE, JANUARY/FEBRUARY 2017.  P 23.
THE REFORMATION: WHAT DOES IT MEAN TODAY? : DAVID CORNICK, SAVI HENSMAN.TINA BEATTIE, ANDREW FRANCS. REFORM MAGAZINE. MARCH 2017. P21F.
THE REFORMATION: PETER MARSHALL (OXFORD)
THE REFOMATION:  CANON ALAN BASHFORTH.TRURO CATHEDRAL NEWS. SEPTEMBER – NOVEMBER P4.
THE TWO MARTINS: A PLAY  BY TONY JASPER 2005.
WINDOWS INTO THE REFORMATION, REVD CANON DAVI MILLER.TRURO CATHEDRAL NEWS. SEPTEMBER-NOVEMBER. P 5.
Garth Hewitt Newsletter
The long shadow of the Balfour Declaration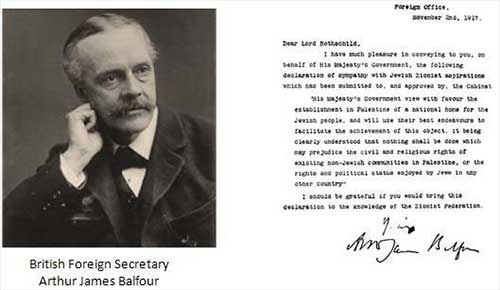 On November 2nd it will be a hundred years since the Balfour Declaration. This document has had huge significance and cast a long shadow over those one hundred years. It reflects the imperialism of a Britain that still had an empire, and the amazing way in which Britain was happy to give away part of someone else's land without conferring with the people themselves.
To give you the historical context - in 1917, Britain's Foreign Secretary Arthur Balfour sent a letter to Lord Rothschild which was later incorporated within the terms of the British Mandate for Palestine and so became a legal obligation for Britain. It read as follows, "His Majesty's government view with favour the establishment in Palestine of a national home for the Jewish people and will use their best endeavours to facilitate the achievement of this object."
Today's British government has said it is proud that this has been achieved and they want to encourage celebration. But there is a rather large problem – a very big elephant in the room - the next section of the Declaration goes on, "It being clearly understood that nothing shall be done which may prejudice the civil and religious rights of existing non-Jewish communities in Palestine." This means that the Palestinians, who were 90% of the population at that time, were to have their rights protected – but this has not yet been achieved, there has not been equality of support for the Palestinians.
Jewish historian Avi Shlaim says, "Britain, the pre-eminent power in the region in the first half of the 20th century, was no friend of the Palestinians and it is still no friend today… duplicity and double dealing were the hallmarks of British policy towards Palestine from the beginning." So to simply celebrate the establishment of the State of Israel is to ignore the rights of the Palestinian people.
What should be our response? Let's listen to the voices of Christians from Palestine – these are edited words from a letter by the National Coalition of Christian Organisations and Churches in Palestine – from Jerusalem, Gaza and Bethlehem – to the World Council of Churches.
A Cry from the Christians of Palestine on the 100th anniversary of the Balfour Declaration
"We are still suffering from 100 years of injustice and oppression that were inflicted on the Palestinian people beginning with the unjust and unlawful Balfour declaration,
"We are still suffering because of one political declaration from a Western Empire, based on a twisted theological premise. 
"A hundred years later with thousands of lives lost, towns and villages razed from the face of the earth – millions of refugees, thousands of homes demolished and continued incarceration of prisoners, our Nakba (catastrophe) goes on. There is still no justice in our land!
Our Call
"We need you now more than ever. We need brave women and men who are willing to stand in the forefront. This is no time for shallow diplomacy Christians. We urge you to hear our call and adopt the following:
1.That you call things as they are - recognizing Israel as an apartheid state in terms of international law and in agreement with what Desmond Tutu said and as the UN Economic and Social commission for Western Asia report said: "Israel is guilty of imposing an apartheid regime on the Palestinian people".
2.That you unequivocally condemn the Balfour Declaration as unjust, and that you demand from the UK that it asks forgiveness from the Palestinian people and compensates for the losses. We ask that churches and Christians support the Palestinians in their request for justice.
3.That you defend our right and duty to resist the occupation creatively and nonviolently. We ask that you speak in support of economic measures that pressure Israel to stop the occupation. And go further to support sport, cultural and academic measures against Israel until it complies with international law and UN resolutions urging the ending of its occupation… 
This is our last peaceful resort. In response to Israel's war on BDS (Boycott,Divestment and sanctions). We ask that you intensify these measures…
"We are on the verge of a catastrophic collapse. The current status-quo is unsustainable. This could be our last chance to achieve a just peace. As a Palestinian Christian community, this could be our last opportunity to save the Christian presence in this land.
Our only hope as Christians comes from the fact that in Jerusalem, the city of God, and our city, there is an empty tomb… 
"We are hard pressed on every side, but not crushed; perplexed, but not in despair; persecuted, but not abandoned; struck down, but not destroyed. (2 Cor. 4:8-9) "
Amos Trust have organised a 2000 mile walk from London to Jerusalem - Just Walk to Jerusalem - to mark the centenary of the Balfour Declaration and the 50 years of military occupation of the Palestinian Territories; the walkers left London on the 10th of June and will be walking through the West Bank into Jerusalem on the 2nd November, ending their walk as they join us for an event at St George's Anglican Cathedral in East Jerusalem. I think it will be very moving as they finally reach Jerusalem - the Just Walk is a prophetic act in itself to remind people of the Balfour Declaration.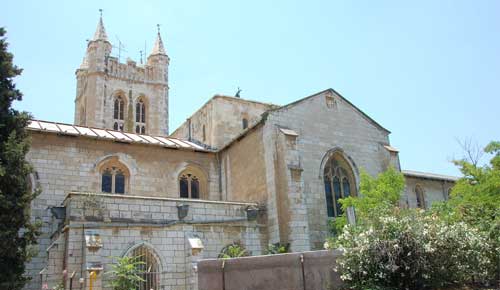 St George's Anglican Cathedral, Jerusalem
I have prepared a liturgy for St. George's Anglican Cathedral in East Jerusalem which we will use there on the evening of November 2nd, which I will do with Dean Hosam Naoum, to pray particularly for the forgotten and ignored Palestinians. The establishment of the State of Israel has meant the Palestinians suffered the Nakba, or catastrophe, in 1948; 750,000 refugees were driven from their homes, and they have never been allowed to go back. So today Palestinians are refugees even in their own country, they are refugees in Gaza, in the West Bank, in refugee camps in Lebanon and Jordan; you may remember the Syrian camp of Yarmouk where they were brutally treated under siege and then under attack; many of them have got out now to other countries.
So - the largest refugee group in the world are still wandering, and still looking for redress. They have suffered massacres, brutality, occupation, and siege. Look at Gaza. It has experienced extraordinary brutality. It is almost inconceivable that the world has allowed them to be under such an offensive siege for the last ten years without insisting on their freedom.
The Prime Minister says she wants to celebrate but I think in order to treat the situation properly we need there also to be an act of penance, an asking of forgiveness, and a recognition that the only way forward is to treat both Israelis and Palestinians with equal rights. This is something that the church can lead the way in. We understand forgiveness and penance and we understand going out to change our ways and to show our repentance in action.
The Balfour Liturgy contains prayers, songs for peace, prayers for justice and equality, here is a prayer of repentance and hope.
Prayer of repentance and hope
Holy God we lament one hundred years – 
in which Palestinians have been devalued and mistreated.
We repent of the failure of Britain 
to implement the second part of the Balfour Declaration.
We repent of our failure to look after the civil, religious 
and human rights of the Palestinian people.
We lament our country's duplicity and double-dealing 
and we ask that now there may be a generous spirit 
that supports the Palestinians, that brings them justice, and therefore peace; 
that treats them as equal human beings.
And as a result of this we pray that the same generous spirit 
will support Israelis and give them peace also.
So that in the end we are treating both Palestinians and Israelis 
with the dignity and humanity with which we should treat all people.
Amen
This following affirmation is part of the Balfour Liturgy. As well as in the Cathedral, it will be read at a short event in Banksy's Walled Off Hotel earlier in the day on the 2nd November, beside his Balfour Museum exhibit.
Affirmation
It is time to treat all people equally.
It is time to respect international law 
with equal human rights for every community. 
It is time to recognize the failure to support the Palestinian people. 
It is time to repent and apologise 
for the lack of humane treatment and for the suffering 
they have experienced - and to make amends. 
It is time for the implementation of the second half of the Balfour Declaration 
as well as the first. 
It is time for fresh vision, for justice and for action.
Can I encourage you to do something in your church around the 2nd of November – perhaps Sunday the 5th. You could use the Balfour liturgy that I have produced – available for download here and do read a section from the Christians call as well... they long for us to speak up on this issue.
This is the 50th year of Occupation since 1967 – A prayer for jubilee:
Gracious God, in this 50th year of the Israeli occupation of the Palestinian territories, 
we ask that this may be the year of your Jubilee for Palestine and Israel 
when all the inhabitants of the Holy Land will know liberation and therefore know hope. 
We ask that your Spirit will strengthen and renew the vision 
of all those in Israel and Palestine who work for peace – 
And we ask that past failures will not hold them back. 
We ask that Muslim, Christian and Jew, and those not from faith communities, 
will all recognise their shared humanity and equal worth – 
as those created by you in your image. 
We long for a time when differences will be celebrated - 
neighbours will no longer live in fear of one another.
God of Justice we ask that equal rights will flourish – 
under just laws that protect all people, 
so that all who call the Holy Land home 
will be able to celebrate their freedom and security. 
We ask this in the name of the Prince of Peace, 
who is able to lift us from the valley of despair to the bright mountaintop of hope. 
Amen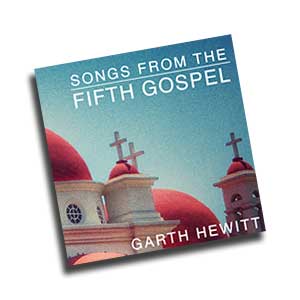 Songs From the Fifth Gospel is a double CD collection of those of Garth's songs which have been written while he was in the Holy Land, or inspired by the people of the Holy Land.