It was worship. It was testimony. It was exuberant music.  It was an experience. It was a learning and joyful occasion...
NOVEMBER 2017
Published by tony jasper
Features, advertising, letters are welcome.  tony.jasper@btinternet.com.
CHRISTIAN REVELATIONS
Do you realise that as a Christian of whatever ilk or kind, you are a "warm" and "loving person" ", generous in giving", and "yes, good-humoured", "hopeful," and "caring,? " Take a brief moment to feel good!
These  worthy and pleasing attributes were named by countless thousands who were asked to say what they thought of a particular Christian they encounter in their lives. The Barna Group, on behalf of the Church of England, Hope and the Evangelical Alliance has been exploring how the great mass of non-churchgoers view Christians, And the result came in the set of words listed in the first few sentences of this feature.
No one was more surprised than Steve Clifford, the general secretary of the Evangelical Alliance.
He thought Christians might be seen a "hypocritical," " homophobic,"  "uptight," "foolish," "uptight" and "narrow-minded."
It comes as a pleasant relief after a so-called survey found 53% of the British population said they were not Christian. Of course it was a selective bunch that were asked, unless someone failed to send me a voting form.  47% said the opposite. The press almost lost control of its desire to paint negative headlines and summaries as many articles more-or-less suggested it was all over for the Christian camp, as they saw for the first time Christians were in the minority, although if accepted it still represents something over 25 million saying 'yes'. In view of the latter figure they could have motored on a whole range of positive notes in saying there are far more Christians than Saturday football followers, than movie goers, than teenagers, than school children, than those on a Saturday night drinking away in public houses, than those daily eating cornflakes or even a Mac. Naturally, they did not – no story.
Apart from the last instance, in recent time Christians have fared pretty well. Just over a year ago, April 2016, the Daily Mail reported religious people are much happier and have more 'life' satisfaction. They ran a picture of happy jolly smiling Christians. The reporting body was the UK Office of National Statistics and it spawned enquiry into why people of faith constantly report higher levels of wellbeing in surveys than atheists. It set in motion the desire to find reasons for dismissing the idea that 'believers' might have the edge when it comes to feeling good. The cynic produced the view that "ignorance is bliss." Even Psychology Today entered the discussion arena, and found their conclusions consistent with the idea that "religion promotes well-being in the form of social connections and positive emotions." It was even said Christians live longer. Those unwilling to grant such observations could find a voice in a US University professor Dr Linda Papadopoulos who suggested the "in" aspects of happiness include "take care of your health," "be grateful", "Embrace a growth mindset:, "Live in the Now,." and "Be kind ad generous."
Of course some people are happy, whatever, or seemingly so to observers.  In a Times article, October 22, 2016, the Arsenal football manager Arsene Wenger hit the God track. He is reported saying "I said if God exists, one day I go up there and he will ask 'Do you want to come in? What have you done with your life?' And the only answer I have is "I tried to win football games.' He will say , "Is that all you have done?" Even the Financial Times gives space and points the way to Christian understanding, shall we say "helping out the rich" to find greater happiness. Its writer Julian Baggini is concerned that many people find themselves torn between enjoying capitalisms riches and yet they find its excesses embarrassing. To this, and unexpectedly, he asks :"Can religious voices help to resolve these  conflicts and help us find a better way of life?" He doesn't suggest giving the money away, so there is no point enquiring.
Brits are far from the only people where there is suggestion Christians make for the happiest people. In the US, Trump or no Trump, three out of ten people claim they are pretty satisfied with life, happy, healthy and moral, too. 30 per-cent of US adults say they pray daily, attend church at least once a week. 62% of these are women, just over half are non-white. In one detailed survey it was found that the group with greatest sense of happiness is found in the 65-79 age bracket, whereas the lowest 45 to 59. According to UK Essays, said to be trusted by students since 2003, religion encourages the best nature, "which could lead us to act happily, willingly and voluntarily." The questions asked by various survey bodies come wrapped in a rather different religious framework from a few decades ago. Yet, am I wrong to suggest that few preachers direct their sermons to the idea that if you believe, you will find an inner "peace'.
Once upon a time sermons focussed on a 'get-right' process with God. Sermons might have had a 'heaven or hell" aspect but conversely some preachers spoke of finding a new life, a peace in the valley of life's doubt and uncertainty. There were sermons and guidance as to how life might be lived, in such a way that it wasn't cloy to sing about the 'Everlasting Arms." Preachers talked of the happiness of knowing Jesus. Supreme in all this a Methodist preacher - the eminent Dr Leslie Weatherhead, termed  by some as 'Doctor of Souls'.He talked of people acquiring the friendship of Jesus. Indeed, of course there was his book The Transforming Friendship that sold in the millions. The book had divisions and so for instance: the gift of friendship, the reality of the gift, the intimacy and so on. It was designated as 'a young man's book; but it contained, said one critic, "flashes which make the heart dance." It focussed on the simplicity of Christianity. Humour is very much central to well being. It is documented, and doubtless some readers of the MR still remember, that the great man was not afraid of making his congregation "double-up' with mirth. On his first Sunday at London's City Temple, with Lloyd George and John D. Rockfeller Jr occupying pew space, he preached on the theme of Christ washing the disciple's feet, and according to his son's biography 'A Personal Portrait' he proceeded to contrast with this episode the human uses and manifestations of power and importance. He did so with wry humorous references, and naturally all delivered with the ease of someone who knows what public speaking and delivery is about. On the Monday, the then national paper, the Daily Herald ran the headline "2.500 Loud Laughs in Church." Still even the great man could be in error. Apparently, hundreds of "good honest-minded men and women" were taken aback by his sermon illustration that had two teams playing each other, Leeds United and Sheffield Wednesday. His friend chastened him: "Man, they're not even in the same division! They couldn't play each other!"
The man filled the large City Temple Sunday by Sunday in the days when all mainstream denominations in London could speak of a great preacher and thousands attending, but life is life, survey or no survey, and Kingsley Weatherhead describes his aged father taking his walk by the shore and sea at  Bexhill. He sees him standing erect, as a "whiteheaded prophet left over from the old days, looking down from every inch of him upon the incredible follies of a world in which he no longer has any part."
THIS FEATURE FIRST APPEARED IN THE BRITISH 'METHODIST RECORDER'.
THEATRE
MARTIN LUTHER 500  HISTORY MAKER
Jasperian Theatre Company
Methodist Central Hall Westminster 0ctober 29. 2017.
It was worship. It was testimony. It was exuberant music.  It was an experience. It was a learning and joyful occasion.
This was Martin Luther 500 – History Maker – the latest event that went under the tile of "The Gathering' at London's, Methodist Central Hall.
Compiled and directed by Tony Jasper the event
celebrated the life and witness of the great German monk. A large congregation sang and prayed, heard some of Luther's powerful faith statements, felt deeply moved by  gorgeous musical settings to the Magnificat and Kyrie, and more, so well delivered by a large choir under the directorship of  MCH Music Director Gerard Brooks, and inspiring organ playing of Andrew
Furniss,  with an accompanying small group of musicians. London West End actors Ruth James and Emma Danby skilfully paced and delivered various dramatic interludes, while Tony Jasper delivered a boisterous loving and angry Luther.
MCH Deputy Superintendent Tony Miles, a prominent broadcaster, was well in tune with  various worship and narration moments., and he had prior to the presentation led the gathering into a Litany of Saints – placing Luther in the great witness team down the centuries, after contemporary worship songs under the guidance of Charlie Bushell. It was left  to the Superintendent Minister Dr Martyn Atkins to remind one and all of the salient points to Luther's ministry and relevance now 500 years later. So it was in this vein that preceding him was the sturdy Luther  composition 'A Mighty Fortress"  and a wondrous modern setting to the 'Te Deum"  before his so cogent and clear message and invitation to discipleship was followed by the modern hymn 'In Christ Alone.'
PROGRAMME NOTES : MARTIN LUTHER 500
Endless articles on Martin Luther have appeared in religious and secular press. In the last eighteen months at least half-a-dozen major weighty books have been published and written by eminent historians and theologians. And here I am with the impossible, how to find and express the salient points in a minor form of drama, within a short space of time.  No disrespect is intended but I imagine most of you here this evening have only an inkling of 16th century German religious expression and politics, the nature of Christendom, the power of the one Church that is centred in Rome, into which broad scenario a one-time obscure German monk would trigger events that would divide the Christian church and much of Europe. The English Reformation in its theology and liturgy would be shaped significantly by the generation after Luther. Fortunately I do not have to make sense of the myriad of movements contributing to what has been described as a pan-European Calvinism consensus, rather than a North German/Scandinavian Lutheran bloc. Probably an impossible task, better read, than compressed into some kind of drama presentation.
By all accounts Martin Luther was a pretty complex creature. As Judith Rossall wrote in The Methodist Recorder here was someone "restless, brilliant, prejudiced and liable to crippling doubts about God and himself," and yet he
could  be so direct and persuasive, a powerful preacher who did not mince his words, who addressed and moved the poor and the mighty.  This evening you will hear some of his powerful polemic, travel a little his personal story, take in some of more violent verbal outbursts. Luther, as the Wesleys, as William Booth, and others, found a failing Church, where the Faith was not being proclaimed, even corruption eating its way into its life. Luther would rail against the poor being bled of their limited monies as they were convinced they could buy their way to heaven. He challenged the whole religious system of his time.
This text, as others in the past, has built into it the elements of basic  'worship'. Luther was a great lover of music, both at a personal level, and in terms of church services. Tonight we will sing and hear music from his time that still delights and enthrals. There will be snatches of the German Mass and Order of Service. In the end I am aiming to find from you the sense that it has been good and inspiring to have been here this evening and you can in the end shout a big "HalleluJah!".
Oh, postscript: stay not in 16th century history  for Martin Luther was the hero of yes, the father of Martin Luther King. And so he named his son after this renowned German monk. Our famous American in his way, as Martin Luther, talked the language of liberation and freedom for people. And for more,  near to the end of the presentation Martyn Atkins will be looking at Martin Luther and the Reformation in terms of today and in this vein we take a beautiful and  modern setting of the Te Deum during the presentation.   
Tony JASPER
JESUS MUSIC AND BEYOND
In recent Sixteen- year – old Rai Elle has been battling on X Factor with the gospel song 'Break Every Chain,' while rapper Snoop Dogg seems to have thankfully moved away from lyrics of drugs and girls and taken gospel into his system as he joins artist B .Slade for the song 'Words are few.' Mid-this month (November)  comes the Dylan retrospective gospel set that travels the time when Jesus came into his life in a new way and perspective, and with at the end of the 1970s into the early years of the next decade some of his best music. A taste of  this double-CD can be heard on an amazing free 15 track album. True faith  comes with the December issue of the long standing music monthly Mojo. It opens with a fascinating rehearsal take of  Dylan and his evocative song 'Slow Train.'  The other fourteen tracks are simply fourteen gems and the whole thing has bee delightfully packaged. Among the artists come such gospel stalwarts and treasures,  The Swan Silvertones, Odetta with a fresh sounding version of the much sung  'Go tell it on the Mountain,' Johnny  Cash and 'Lead Me Gently Home," Sister Rosetta Tharpe, B.B.King, The Original Five Blond Boys from Alabama, Mahalia, The Staple Singers, with only Charlie  Rich and his 'Crying in the Chapel" to reduce full marks for this terrific freebie! 
And while mentioning one freebie, here's almost another that has 25 tracks and is now in HMV for £6.99 and found in the 'blues' section. It's titled Gospel Blues – Reborn and Remastered (World Music Network). This has a degree of rawness, and if you are unfamiliar with early religious black music expression from the American South, and more into say the immediacy of pop driven worship songs, you might need to discipline yourself to stay with the early tracks. Let yourself be driven by the testimony lyrics, and savour the acoustic guitar workouts. The better known artists include the  great blues legend Bessie Smith, Skip James, Blind Lemon Jefferson and as I write, Blind Willie Johnson. Many of tracks are early recordings, hence sometimes the signs of those times on surface noise, but so...There is a version of' 'When the Saints Go Marching In' from Barbecue Bob, with several songs dwelling upon the somewhat mixed signals of some who claim faith and especially told on the charmingly titled 'Scandalous And A Shame' from Blind  Joe Taggart and the legendary Josh White.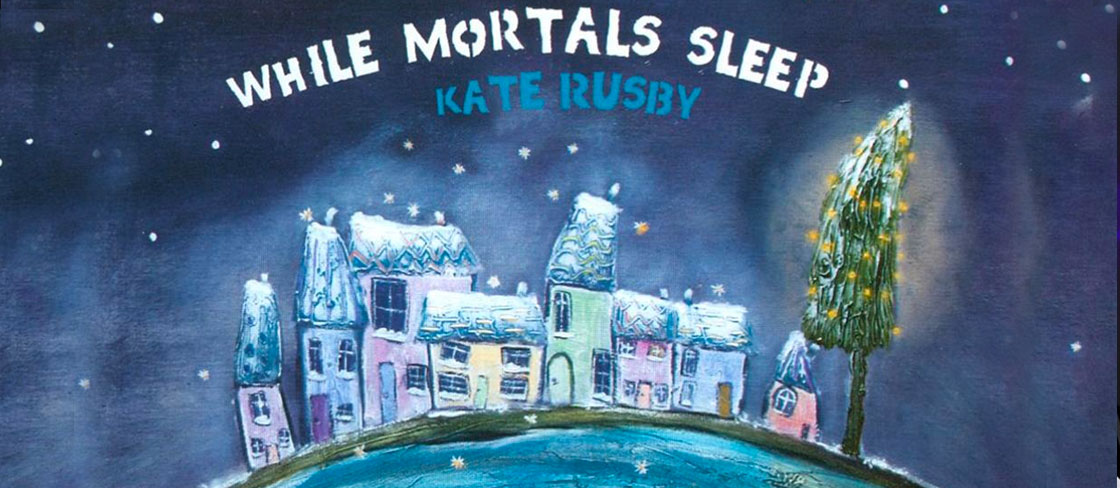 So Christmas is a-coming and in London's major HMV Store the Christmas section made its presence in October with the usual sets of yuletide songs from the likes of older recording artists  Cliff Richard, Celine Dion, Johnny Mathis, Katherine Jenkins, Andy Williams,Nat 'King'Cole but missing the rather good set by frequent Greenbelt visitor Kate Rusby, While Mortal Sleep (Purer Records) where there was the intriguing version for Christmas of  'All Hail The Power of Jesus Name' but titled after the tune to which it is sung, Diadem. Even more interesting the solo voice to a tune that for most people relies on strong tenor and bass voices. YouTube can take you into Kate 'live'  into a number of Christmas recordings, while Amazon can still service her 'Sweet Bells' . Amazing to think she has been hitting the boards in excess of 25 years with some of her songs and more so interpreting traditional folk catalogue. Outside of the famous and their versions, including Motown heroes of times past, should you go off-track then for Christmas songs and carols, Wish You Too – Best Christmas Songs (Trikoni) takes golden oldies from blues and soul catalogues with of the better known names there are Booker T & The MG'S, Jimmy Witherspoon, Carla Thomas (with a swashbuckling 'Gee Whizz It's Chriatmas) and the Flirtations. The fun and most ear-catching track is brass driven  'Christmas Wrappings' from the fresh sounding  female outfit  The Waitresses that would be a good one for the reformed Bananarama. The most unexpected is  a raw typically driving The Ramones with Merry Christmas (I Don't Want to Fight Tonight'. There is a lovely rhythmic instrumental take of 'Sleigh Ride.'
24 recordings from 1917 to 1959 take you to Where Will You Be Christmas Day? (Dust  to Digital) with again some prominent blues artists such as Lightin' Hopkins, Bessie Smith and Leadbelly. There's bluesgrass par excellence from bill Monro and His Blue Grass Boys and 'Christmas Times A-Coming.'
Still, if you simply want vocal class and some lovely interpretations and veering toward the classical, how anyone, you, me, not take on board with delight, This is Christmas from the fore-mentioned Katherine Jenkins (Warner)and  it was the other day at HMV for under four pounds. Well, yes, there are the familiars 'Hark the Herald,' and 'Ding Dong Merrily on High' and slightly less expected '0 Come, O Come Emmanuel' but into the familiar come such lovely songs as 'Sleep Quietly My Jesus' and the 'Wexford Carol.' She is joined by Nathan Pacheco on the powerful more recent composition '0 Holy Night.'
T0NY JASPER
This review first appeared in The Methodist Recorder.
INVITE
ARTS CENTRE GROUP
SATURDAY NOVEMBER 18: 2-5 p.m.
MAJOR EVENT NEAR PARLIAMENT.
WITH AMONG OTHERS NATIONAL ACCLAIMED WRITER MICHAEL BILLINGTON OF THE GUARDIAN.
AND WE HOPE YOU!
THE  ARTS CENTRE GROUP PRESENT
FAITH IN THEATRE
An event for everyone interested in theatre and the basic issue for every Christian - how will faith be and has been communicated in a secular environment.
Did for instance JCS communicate faith, and if so, what kind?
THREE PLUS REASONS TO FIND YOUR WAY TO THE METHODIST CENTRAL HALL LONDON SW1H 9NH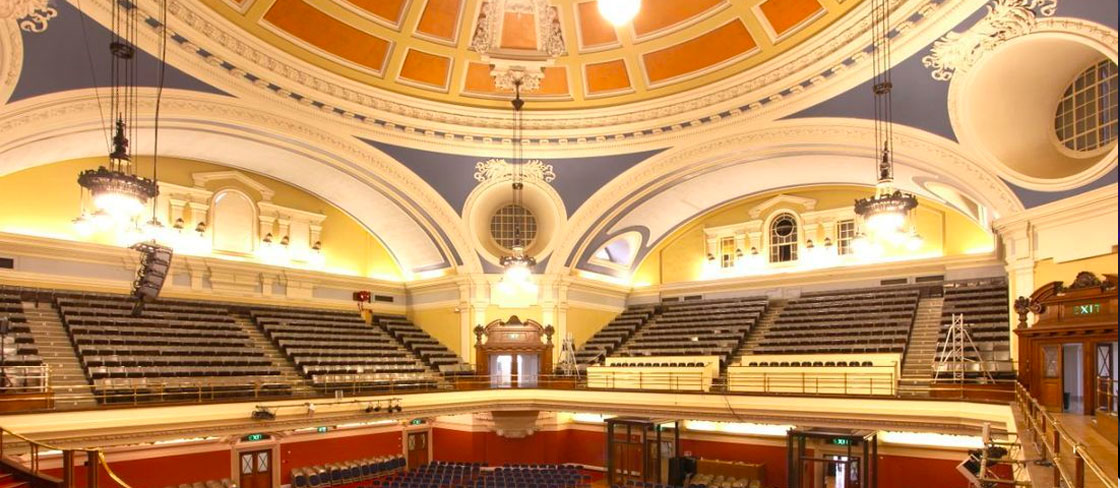 (tube: Westminster. St James Park. Near Westminster Abbey. Parliament). 2-5 p.m. 
PLUS 1. TO BRING THIS AND OTHER ISSUES INTO FOCUS MICHAEL BILLINGTON, Britain's foremost theatre critic joins ACG's Tony Jasper in conversation at a special ACG event to discuss the relation of faith and theatre. Mlchael writes in the Guardian and on several occasions he has asked why there is so little radical religious writing for the stage. We will discuss this, as well as looking again at JCS (back this summer in London) Godspell, Hair, Jerry Springer, Howard Brenton (Play on Paul at the National) .Sarah Kane.
PLUS  2  a playreading  by professional actors of the ACG winning play text in its 2017 competition. JESUS IN THE BROOMCUPBOARD by John Coutts who has major Salvation Army connections.
PLUS   3  Controversial  and stimulating Methodist Peter Moreton, 'Cheek by Jowl', RSC, and Applecart (acclaimed at Greenbelt 2016/2017) will deliver the ACG lecture: Faith in Theatre.'
Your views and thoughts will be given space.
ALL THIS FOR £10 to cover our expenses.
Meals at a reasonable price hot and old at the Methodist Central Hall from mid-day.
Garth Hewitt Foundation: From Garth
From Banksy's hotel in Bethlehem to the Anglican Cathedral in Jerusalem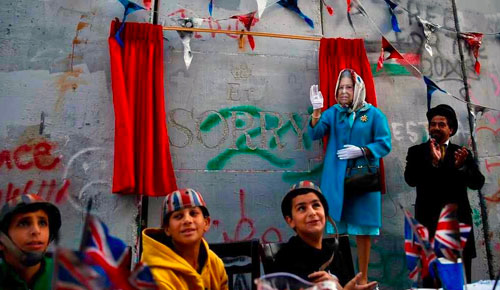 On the 2nd of November I started the day in Bethlehem at the Walled Off Hotel- Banksy's hotel - right beside the devastating separation wall. In the morning he put on a remarkable street party with children from Aida Refugee Camp - it was like an old style jubilee party for the Queen, and lo and behold the Queen appeared!
A Master of Ceremonies read a message from Banksy about the impact of the Balfour Declaration - because this day was the 100th anniversary of the Balfour Declaration. The Queen then pulled a string and some red curtains opened, and engraved in the wall was the word "Sorry".
The Amos walkers were there, part of the audience watching this. (Click here for information about Amos Trust's Just Walk.) They had walked all those miles to say 'sorry', and that afternoon we went into Jerusalem for a service in St George's Anglican Cathedral where I am an honorary Canon, and we had a liturgy which I had put together along with the Dean, Hosam Naoum. It was a liturgy of lament, repentance and new hope. It was a very special time.
Some of you may know my song that started the Something for the Soul album, The Welcome (This is the house of God) - I added two verses. The new words reflect the theme of the service, namely the attitude of penance for the heavily colonial Balfour Declaration which has ended up in giving the Palestinians years of suffering, and as the second verse says - it was:
A Time for quiet reflection 
A moment of repentance 
For the wrong that has been done 
A Time for quiet reflection
And then in verse three I use some words of the liberation theologian Naim Ateek, who was to speak later in the service:
Justice and only justice 
Is the only way to peace 
The only way to hope 
Is through the door of justice.
The theme was set and with prayers and songs we reflected on our reasons for being there. We talked about the historical context and then had a prayer of lament, repentance and yet new hope, and we all said:
"It is time to repent and apologise, it is time to make amends. It is time for fresh vision, for justice and for action."
And the prayer went on, 
"Holy God, we ask that now there may be a generous spirit that supports both Palestinians and Israelis, that brings justice and peace, that treats all as equal human beings."
Amos Director Chris Rose came up and spoke, reflecting the motivation that had prompted the walk, and apologising on behalf of Britain for the Balfour Declaration. 
He was followed by Canon Naim Ateek, who gave a passionate talk about the injustice that had been done to the Palestinians. He also called on all the Amos walkers to stand and asked everyone to applaud them. Naim received a standing ovation himself at the end of his passionate and prophetic speech.
A little later on we had a prayer from Zoughbi Zoughbi, the Director of Wi'am Conflict Resolution Centre, a long time partner of Amos.
The choir we had booked to sing at the beginning, called the Bethlehem Academy Choir, which included Tarek, one of Zoughbi's sons, arrived late because they were held up at a checkpoint. Somehow this made the point for the whole event - this is what life is like under occupation. They came and joined me as I was singing Ten Measures of Beauty, with its chorus "Pray for the peace of Jerusalem" and then at the end they joined us as we sang the great protest hymn We Shall Overcome. The audience linked arms and sang with all their might.
I saw eyes closed - I saw many eyes with tears. Then we got people to welcome the Bethlehem Academy Choir properly and they did two beautiful songs that finished our service in Arabic. It was a remarkable moment. As our walkers had travelled around Palestine, they were welcomed. Many people had heard Teresa May talk of being 'proud' of the Balfour Declaration - the Palestinians were shocked by this because of the suffering it had given them. So British people arriving and apologising meant a lot.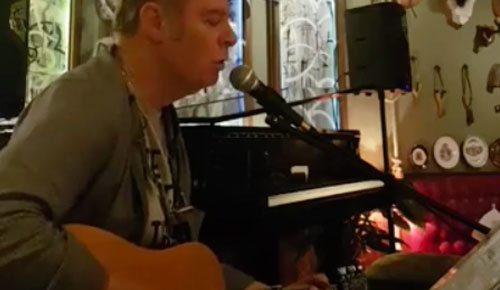 Singing in the Walled Off Hotel, Bethlehem
After the service I hurried on back to Bethlehem so that I was in time to do a concert at the Walled Off Hotel. This was a very enjoyable time, informal and relaxed. Long time guide and family friend Wisam Salsaa is the Manager of the hotel, and he made sure the concert was live streamed and you can still see that here.
As I sang I was facing the window of the hotel, and there is the huge separation wall just a few yards away, now with the word "Sorry" inscribed on it.
I sang a range of songs, mostly about Palestine, and then got a request for No Injustice Will Last Forever. Singing that while looking at the wall made me sing with great passion, "One day the wall will fall!"
What a way to spend this hundred year anniversary of injustice. Lament, repentance and yet new hope were the themes of the day.
Back to Nicaragua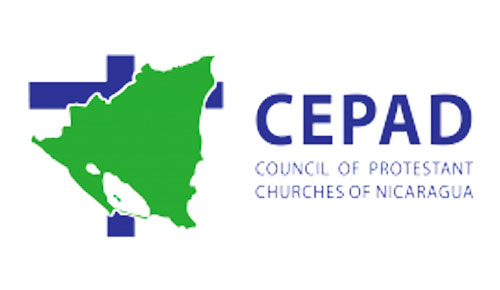 A week before Gill and I went to Palestine we had been in Nicaragua. I was invited to sing and speak at the 45th anniversary of Amos partner CEPAD. I love Nicaragua. It's a beautiful country. Yet it's one of the countries in the world that is most impacted by climate change and visiting it you discover in different ways what that might mean.
In the 1980s Oxfam wrote a book called The Threat of a Good Example, and it was about Nicaragua. I still think of that title when I am there. Forty-five years of CEPAD has been a tremendously good example – of caring for the needy, working as peacemakers, supporting people in poor rural communities - and we always get the chance to glimpse a little bit of this.
At the anniversary service I sang a new song of mine called Against the Grain, which is about Jesus coming into Jerusalem and taking a stand against the empire and turning tables of oppression, and how we need to be a community that builds an endless bridge to dignity by being a community that follows the example of the "holy rebel Jesus", as the song puts it.
It was a huge joy to be back in Nicaragua and to join CEPAD for their 45th celebration. It was a full house at First Baptist Church, Managua including visitors from the US, Germany and us.
What a long way CEPAD has come since those early days after the appalling earthquake in 1972 when Gustavo Parajon brought church leaders together to serve the people. Ten years later CEPAD worked through the Civil War earning respect and becoming involved in peace and reconciliation.
Today, 2017, the main focus is on the development of rural areas in Nicaragua. The model CEPAD has evolved is not one of top down, handing out help and advice, but one of accompaniment and empowerment thus enabling communities themselves to identify and train up their own chosen representatives. It is a model created by Gustavo which has been instrumental in the mentoring and inspiring of Amos Trust over the years. It is a model of friendship, cooperation and listening.
Another day we went out to Teustepe, to the Amos project, and saw how a community had walked forward since we had previously been there, despite being devastated by recent hurricane Nate.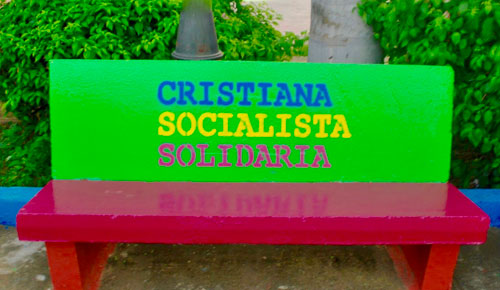 I have probably mentioned before, the amazing slogan of Daniel Ortega's government - and they're about to have an election there – the slogan is "Cristiana, Socialista, Solidaria", Christianity, Socialism and Solidarity. I have often thought, what other country would have a slogan like this? Their latest slogan talks of the Sandinista government winning but then says, "By the grace of God". No government is perfect, there are struggles in every community, but this is a government with a preference for the poor, one that seems to be trying to live out the values of justice and Jesus.
I have a song called Yo Creo en Nicaragua, and I finish my concerts and talks with it - the chorus is in Spanish and everyone joins in, and it is saying, 
I believe in Nicaragua, 
I believe in the children, 
I believe in tomorrow, 
I believe in Nicaragua.
Yo creo en Nicaragua 
Yo creo en los niños 
Creo en el mañana 
Yo creo en Nicaragua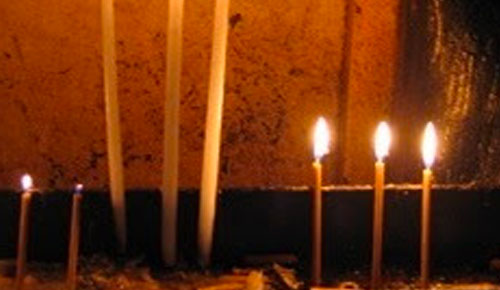 Prayer for Peace
God of many names 
Lover of all people 
We pray for peace 
In our hearts 
In our homes 
In the land once known as holy 
And throughout our world 
We pray for peace to come - built on justice 
For peace to come - built on equality for all 
Amen