Jazz and worship have a long history especially in the US, whereas in the UK it seems the case of occasional appearances, however in 2017 the Methodist Central Hall began on appointed Sunday evenings jazz worship
January 2018
The great 2017 look back, Special ACG Art exhibition, Book of the Year....Dylan and those Gospel recordings,and more......................
When it comes to religion.....
Tony Jasper takes you on a whirling word ride through the press and beyond  in 2017
The press reports a first new Anglican church in 40 years. Prosperity teaching underpins the new US President's religious allegiance. Apologies for institutional abuse come from the Archbishop of Canterbury. Methodism loses two of its greats in John Newton and Pauline Webb. No room in the church for Snoopy. A 'Bride' speaks of her first kiss that waited until the wedding day. First digital minister for Scotland. Accusation of 'Air brushing' faith out of Easter hits a national organisation while outrage this Christmas is directed at a yuletide advertisement from Greggs as a sausage appears as nourishment in a nativity scene. Faith occupies pages in the unexpected - The FT and the Business Section of the Sunday Times. Terrorist attacks in Manchester and London and churches offer refuge, food and care. Horrific fire to block of flats in London, near to Notting Hill Methodist church, sees various faiths come together. More violence on screen with Mel Gibson's Hackshaw and into TV soap opera comes Kerrigan - another in the line or clergy television portrayal.. Tatler comments on Alpha. Silicon Valley seen as a place of faith. John Wesley rides the rail track.  'Statistics' readily available on many aspects British church life. All this and more in this fast moving survey of some of the things that  caught the Jasper eye and ear in 2017. It is a year of some believers accusing commercial concerns of bad taste. And there is still the press.
Not surprisingly newspaper and magazines fill endless pages in reporting the inauguration of the 45th US President - Donald Trump. On the eve of his big occasion the President follows the traditional pattern and so goes to church. With considerable acumen and knowing he would get the right support Donald chooses the First Baptist preacher, the Revd Dr Robert Jeffress to enlighten one and all.. It appears the said preacher has a history of incendiary remarks about Mormons, Muslims, gays and Roman Catholics. In his address the preacher aligns Mr Trump with Nehemiah since the biblical character was involved in rebuilding the city of Jerusalem, and its walls. Lending perhaps comfort to the new President and his plan to build a wall around Mexico, Donald Trump is told by the earnest preacher "You see, God is not against building walls."   By now, the President-elect must have been oozing agreement as he remembered he was a man with a mission to build a wall. The only negative rests in the simple fact that other people have built walls and he is not the first. Shucks.
The President-elect in past times has had connection with famed prosperity preacher Norman Vincent Peale, and it is this pastor who married him and his first wife Ivana. Peale's theology basically tells people they can be winners and receive God's blessing. And indeed Detriot Bishop Wayne T Jackson, chosen by Mr Trump to be present at his inauguration, has said that God has blessed the former host of the US. Apprentice show. Instanced by Giles Fraser in his Guardian column on the day of the big event the pastor serves up such memorable words  "Donald Trump is an example of someone who has been blessed by God. Look at his homes, his businesses, his wife and jet. You don't get those things unless you have the favour of God." In his inaugural address the surprise victor tells the world: "From this moment on it's going to be only America first." Guardian journalist Gary Younge says the speech gives no note of a "higher calling."
Donald Trump chooses Paula White to further his religious accreditation. She is a TV evangelist who believes strongly that faith makes you rich materially. It is claimed that she led Donald to Christ. Franklin, the son of the revered evangelist Dr Billy Graham, did not formally endorse Mr Trump but addresses himself to the surprised victory. It appears this came about because God "intervened to stop the godless, atheistic, progressive agenda from taking control of our country." The heavens open for the President's parade and to which Franklin drew upon the scriptures for a positive feel to everything : "In the Bible, rain is a sign of God's blessing."
The Guardian devotes editorial space to proclaiming: "The writing is on the wall for Christianity in the US." In a succinct piece of writing the unacknowledged contributor touches on many issues, not least the close identification of evangelical Christianity with the Republican party. That means the group runs in empathy with those who deny climate warming, who reject evolution and sexual equality. The Guardian scribe says these positions repel young people and possibly are contributory to a third or more of Americans under 50 saying they have no religion. It is noted that some aspects of US faith is market-driven religion and which produces not surprisingly a market-driven approach to truth. The highly intelligent Michael Gove gives an extraordinary interview, and seeming every newspaper's dream of a scoop, to not the quality press, but Christianity Today, and some of this finds its way on to the front page of 'I' newspaper. Dissertating on recent events and especially in past months on who should be Prime Minister and who leads on the European question he says "I know that I am a sinner." One assumes this is in reference for his apparent lack of support to his friend of the time, Boris Johnson, as a future British P.M.
Each Saturday the British, Times newspaper devotes space to Marriages and Engagement. An entry for February 25 and page 79, 2017, may have alarmed some, while at the same bringing pleasure to others. Here, the couple, Judith Owen and Joe Blaxland bravely declare "We had our first kiss on our wedding day." It is instanced that " Through prayer, she had understood from God that the next man to ask her out would be the one". One assumes there has been no crisis of faith.
Glamour magazine prints a number of 'my faith' articles, and includes one by Katherine Welby-Roberts, and where, as someone who suffers depression, she found strength by going to church or reading the bible. To welcome the first Sunday of Lent, the  Methodist Recorder spends the all-important double page centre spread with 'Resources from the Methodist Tax Justice Network.'  There is even 'Hymns for Tax Justice' with words from Andrew Pratt and David Haslam. There could be room for 'Accountants Sunday' in our busy calendar, and who might be the 'Saint?'
Readers of the Sunday Times, and who by chance turned first to the Business section, might have had initial surprise to see the page headed by Praise the Lord and keep the faith in start-ups, Johnson, Luke, Praise the Lord! Business.
The feature similar notes how the church is playing  a major role in certain business areas. It says 43% of residents in Silicon Valley belong to a religious institution, The article reaches back in history to particularly note that in past times in the UK  Quakers founded the original Lloyds and Barclay banks and  started the confectionary company Cadburys and Clarke's shoes.
Finding religion on the House & Home section of the Financial Times is not an expected occurrence. Yet there one weekend is the headline  'I find prayer comforting".
The passing and funeral of Martin McGuinness, the former Deputy First Minister of the Northern Ireland Assembly gains considerable media coverage. The controversial politician and former member of the IRA draws a wide gathering to the service that takes place at his home church of St. Columb's. The former President of the Methodist Church Rev Dr Harold Good  had become a close friend and spoke of the personal journey Mr McGuinness had made personally, toward, and in the Irish peace process. "Martin always seems to have struggled with his own violent past, but he also took the Republican movement on a journey away from violence."
Not everyone spoke with such sympathy and praise. Indeed the Methodist leader admitted many find it difficult to move in the land of forgiveness, and in his final words he asked prayer for the many victims of the Troubles and their relatives.
Three religious figures pick up endless coverage in the press. Taking first place is Justin Welby, followed closely by the Pope and giving the duo a good run, Lord Carey.
The Archbishop of Canterbury issues an "unreserved, unequivocal apology" that the church had failed to tackle institutional abuse. UK, and keeps on having to apologise, express regret and sadness.  He expresses sadness that only 350 child refugees were admitted to the UK when ministers were expecting 3000. Justin Welby receives only minor notice for his visit to Gaza during a Holy Land tour. He was accompanied  by the Anglican bishop of Jerusalem, Archbishop Suheil, and two aides. It is estimated 1.9 million Palestinians live in Gaza. In Christian terms a tiny, mostly Orthodox Christian population of 3.000, and which is tolerated by Hamas.
The former Archbishop Lord Carey gains dollops of space, especially in the Daily Mail, and he is among the first to say people should give the US President time and not make accusations that diminish the said US man of the White House (living there sometimes anyway ). He says Mr Trump is "potentially outstanding', and it would be good against all odds if that proves so. `The Pope usually gets a warm press, especially when set against a background story that informs us that Vatican runs various services for homeless peoples, with the latest plus factor a free launderette, and  while people wait for their clothes, showers and a barber shop. Whirlpool have donated six washing machines and six tumble dryers and the all-important detergent comes from Proctor & Gamble. It is estimated the centre will cope with 4.5 tons of washing each week. The report from Phillip Waillan at Vatican City Times  reminds people that this last  December the Pope shared a meal for his 80th birthday with eight homeless people. In a pre-Easter ritual the Pope washes the feet of a dozen inmates at a maxiumum security prison in Rome. This said and done there are those such as the writer Ornielli believing that the Pope's honeymoon period is over with criticism freely coming his way. He illustrates and says the most disturbing reaction comes from the Pope's attitude of condemning sin but welcoming the sinner. Apparently such is seen by critics as 'do goodism" and "Too much mercy."
Media may ignore the religious world for much of the time unless something unsavoury occurs but at Christmas and Easter it is more generous in space and even with a touch of the Christmas spirit. Take the latter - Easter 217:
In terms of the Sunday Times, the Christian family might pass a word of thanks to the best selling quality paper. For why? This -  The paper headlines We may not believe but let's go to church today
So writes  Douglas Murray and the Times writer suggests agnostics should recognise the debt that agnostics owe to Christianity. Mr Murray says: "There is a growing admission that what we have in Britain today did not emerge out of thin air."
The I paper focuses on the Easter message delivered by the British Prime Minister, Theresa May, daughter of an Anglican vicar, in which she urges the British people to put aside differences over Europe and come together in view of the "opportunities that  lie ahead."  She speaks of the place Christian faith can play and added; "We should treasure the strong tradition that we have in this country of religious tolerance and freedom of speech. Less easy times for  Liberal Democrat leader Tim Farron, a known Christian who is unafraid to say  that Jesus died for everyone. He says the message of Easter  is radical and disturbing and most certainly not something to be categorised as nostalgia. By mid-June he has  resigned leadership of the Liberal-Democrat party and instancing the difficulty of leading policy and his Christian commitment and faith  where there might be differences. James Runcie, the son of Robert, the former Archbishop of Canterbury, pops up BBC Radio 4 presents Bach" The Great Passion." James writes the text for the story of how this work came about.  Easter often means some of the press have something to say about religion beyond perhaps reporting what comes out of Canterbury and Rome. 
Here in Britain, there is a moment to more than satisfy an American hunger for history. A former medieval monastery in London opens to the public for the first time.  Thomas More studied there for four years. The busy 21st century Clerkenwell area was once the "heartbeat' of medieval London. And within its boundary  the Carthusians of Charterhouse. Richard Gamble takes a worthy risk when the Christian businessman announces that he would like to see a monument erected in Britain that would have empathy with Christ the Redeemer - the famous statue situated in Rio de Janeiro. Inspiration also comes from the Angel of the North sculpture near Gateshead, An estimated cost to cover the various factors involved is around £10 million.
Religion and faith still pervade theatre and concert,  film,  and book. City Halls, Glasgow, is the centre for Harrison Birtwistle's The Last Supper' a work seen as an intense and mysterious "dramatic tableau". The libretto is by the late Canadian poet Robin Blaser. In the Observer the reviewer Fiona Maddocks says the text "explores the moment when human experience turns to ritual." The libretto of Robin Blaser has little place for God while opening with "Disputatious questioning – why are we here, will Jesus Come, where is Judas? – and ends as symbolic atonement for 20.000 years of history." The Gabriel Consort and Players bring back Handel's often overlooked Easter Oratorio at Saffron Hall, Saffron Walden, and Fiona Maddocks writing in the Observer is full of praise. Easter for some means a performance of St John Passion. Bach performed his work four times between 1724 and 1749 with each having difference. George Hall says interpretations these days come in shapes and sizes. He reviews a performance at London's Barbican and where the Britten Sinfonia fields 18 instrumentalists and a  choir of 12. He sees the use of modern instruments leading to some voices not quite cutting through the texture in the all important solo arias. He finds Mark Padmore once more ` a distinguished exponent of the  role of Evangelist. The brilliant young Chinese pianist Yuja Wangs says fashion bores. Interviewed for the Guardian's G2 she is observed wearing tight-cropped yoga pants and skinny vest. This was her dress when she took time to find some spiritual moments while in Florence. Her inner peace is interrupted when "This man taps me on the shoulder, and says I'm being disrespectful to Jesus> " Did she cover herself up? "No way." Fiona Maddocks writes that , "If the music is sensual, why not dress to fit?.
An Anglican choral evensong is sung for the first time in the Vatican and was said to reflect the deepening friendship between the worldwide Anglican communion and the Roman Catholic Church. It takes place the day after  the Church traditionally marked the feast of Gregory the Great. The event belongs to a number of overtures between various leaders of the two churches.
Next to the story of the UN worker who 'robbed' banks in his lunch hour break, there is a report of Paul Conroy's new theatre Company in Georgia, USA and his desire  to run with The Most Fabulous Story Ever Told, a comedy springing from stories in the Old Testament. Gay characters and an Egyptian army of lesbian Amazons has led to protest groups. News reports that two gay men take the roles of Adam and Eve and "Our Lady" is a lesbian. Conroy says the text does not mention as such the Virgin Mary andntions that the one reference to a virgin birth comes when the lesbian couple Jane and Mabel try to start a family.
London's National Gallery's Sainsbury Wing displays a fine collection of Renaissance art. Two devotional paintings by Giovanni da Rimini send critic Rachel Cambell Johnston into raptures. There is a feature 'Visualising A  Sacred City,' where a number of contributors tell the story, Along the way the text takes in development at the London School of Economics. It is said to be surprising in view of the simple fact that LSE has for over a century not taken to provide sacred space.The LSE, whose motto is "To know the causes of things", clearly recognises that, for good or ill, the dominant forces  shaping today's world bond up with religion. The Methodist Recorder gives a centre spread to an exhibition of Romanticist painter JMW Turner's work that is exhibited in Lichfield Cathedral, and under the engaging title "Mr Turner comes to Lichfield."  Other events related to Turner took place and include a film "Mr Turner" projected in the cathedral.
Religion in one form or another never seems too far away from film-land, even if for some it fails to tell the story in a more fundamentalist stance. And so in 2017 there is The Student, a Russian film that focuses on a teenager who catches religion. However he has a preoccupation with the more un-peaceful parts of Scripture.  The film is based on the German play Martyr that at one time enjoyed a London production. Mel Gibson never seems happy unless religion creeps in somewhere, and so he directs Hacksaw Ridge -  a story that both is at once an inspirational faith film and viscerally violent. Hacksaw Ride tells of a US medic Desmond Doss who saved many lives of men under heavy fire, ultimately being injured himself. Apparently the combat scenes are "shockingly intense, concentrated, unrelenting, bloody and kenetic." Obviously churches will be sending their faithful, especially when they realise Doss, a Seventh Day Adventist, has an unshakeable faith whatever might be happening in his backyard. The Mystery Plays at York Minster lost the Cathedral £590.000 because only 65 per cent of the 40.000 tickets offered for sale were bought. The production cost £1.3 million. Perhaps it is no surprise to read that the minster's staff  feel there are "Lessons to be learned for the future."
Obviously  possessed with an open mind we are very grateful for a new slant on what we thought we knew. The British well known art couple Gilbert & George score more column inches in their illustrious career by taking centre pages in the Times and where they say their work is influenced by religion. George says he was 23 before he realised God wasn't English. A British school sixth-former once told me that Jesus came from Boston USA. Naturally I was intrigued, but no further information could be gleaned. In the US hundreds of thousands of scientists take to the streets in Washington DC against what is seen as growing anti-science trends. Meantime, once more, the question of global change and creation produces some fiery outbursts during April 2017 in the letter column of the British Methodist Recorder.
The British journal Times Literary Supplement has a number of religious calling points in its April 14 issue. The heading 'Son of the Preacher Man' takes us into the world of the revered James Baldwin, and film and book of I Am Not Your Negro. Peck shows how riveting Baldwin's writing is, like his speaking voice, "tough, dark, vulnerable, moody."
Jazz and worship have a long history especially in the US, whereas in the UK it seems the case of occasional appearances, however in 2017 the Methodist Central Hall began on appointed Sunday evenings jazz worship. Prominent in this comes Dan Forshaw, a jazz saxophonist.  Actor Lloyd Notice re-enacts Mark's gospel in a one man show. His interpretation is influenced by Terry Wait's book Taken on Trust – and so the Gospel is seen through the experience of someone held hostage for his faith, fighting for sanity. There is the overpowering and vital question – what do you do to prevent your mind being taken?
Faith makes an important appearance inarguably one of the best pop autobiographies comes in Born to Run from Bruce Springsteen where the celebrated US Rockstar takes the reader on a fascinating early journey and upbringing in an Italian Catholic family living in the USA . He says: "In Catholicism, there existed the poetry, danger and darkness that reflected my imagination and my inner self."
And there are areas that possibly might find a subject   to fit under but collectively perhaps under "odds and ends." So where else to immediately turn to but the established church. Of course it is never easy sometime to understand what the Church of England is 'up to' but here are bishops  saying that marriage is a lifelong union between a man and a woman, and this  after two years of internal discussions about Christians in same-sex relationships and gay marriage. Campaigners for gay rights within the church said they felt betrayed by the bishops' report, but there were purrs of warmth from the more conservative wing.  
The Evangelical Times celebrates its 50th anniversary and somewhat astonishingly produces the statistic that eight hundred Puritan titles have been reprinted since the 1950s. According to ET they are "being avidly read.
The Church of Scotland appoints its first "digital minister, with the aim of creating an "online congregation." Apparently only 20 out of more than 1.300 congregations stream services online. The Very Reverend Albert Bogle, its appointee, says there is a growing Christian audience online who seek quality content. St. Catherine's College. Cambridge was once the home of hymn writer J.B.Dykes and now a brass plaque in the ante-chapel recognises his contribution to hymnody. His Evening Service in F Major was rendered plus a few of his best  known tunes. His tune catalogue numbers in excess or 300 with 31 still occupying hymn book space in the early 1950s.
Animal right protestors storm an Italian church during mass. Roxanna Grasso was turned away while wishing to pray with her dog, a Pomeranian called Snoopy. The unhappy owner is quoted saying "I believe animals have souls, are on a par with humans, and should be blessed in church."
Down to earth time at St. David's Church in Ceredigion, Wales, that has said no 'yoga' classes are to be held on its premises. They say 'yoga' originated in India and "might be seen to be in conflict with Christian values."
The British Queen meets Tawadros II, the Coptic Prelate and he outlines the horrific attacks from Islamic extremists on Christians.  Justin Welby addresses the congregation at the Coptic Cathedral of St George in Stevenage and praises the steadfast courage and bravery of the Christian community. It is said that around 20.000 Egyptians Coptics are living in Britain. In Egypt the figure is in the region of eight million. Christianity has been present in the country since very early days.
Deborah Orr, Guardian, May  12. 2017. P 37.
London, and later Manchester, is the scene of terrorist murder. The Sunday Times terms it  'No time to scream in 82 seconds of horror', as its issue of March 26, in-common with every other paper, gives many pages to an act perpetrated by one man.  Britain reacts in horror at a terrorist attack at a Manchester concert for young people and children. The Times terms it "Unfathomable Evil.' The monthly Grazia devotes its June issue front cover to the horror and with a play on the famous Mancunian group Joy Division's song Love Will Tear Us Apart and thus: 'Hate won't tear us Apart.' Some associate Grazia with fashion and star gossip but here the magazine devotes seven pages of comment and inevitably pictures of the event and some of those who either survived or lost life. One feature in particular catches the eye with the headline;"How do we explain this to our children?' . It is written by Fiona McIntosh. The writer on contemporary worship Pete Ward writing on Facebook commented: "Start to wonder if 'Thy Kingdom Come' was answered in part by OneLove Manchester. Londoners have a` different horror from  terrorism tragedy as  fire sweeps through high rise block of flats with fatalities talked in three figures. 'Criminal'was the headline on the front of  the Daily Mirror while on pages two and three they ran the headine in 72pt plus: ' Man-Made Disaster. Notting Hill Methodist 'outside' an 'inside' find its way into numerous newscasts, and often to the fore its minister Michael A  Long.
The writer Alice Thompson urges a continuing coming together of faiths. She feels religion has much to offer in dark times and says the challenge to politicians and clerics is to avoid division and sectarianism.
A new and liberal mosque in Berlin that enables men and women to pray side by side is hit by a fatwa. The mosque is open to Sunni, Shia, Alevi, Sufi, and other variations of Islam. However burqa or the niqab is welcome,
The television critic Rebecca Nicholson reviews the Amazon Prime showing of Preacher. The 13-episode run is a mixture of various things and includes "Black comedy and heaven versus hell superpowers.In its story God has gone missing from both heaven, and hell has broken out on earth. The town, where the preacher of the title is based, destroyed. Into this comes an angel-demon hybrid called Genesis. Ms Nicholson sees Preacher as one of the most gruesome shows on television with apparently severed limbs, heads exploding and for those of gentle spirit "the siphoning of petrol via human limbs." It seems just the film for a family occasion or a church social booking.. The G2 reviewer sees comparisons between Preacher and American Gods. "They all share a fondness for flashy visuals, gimmicky, in-your-face violence and grand questions about the state of the world."
Bearing the odd title, but doubtless politically correct, for two weeks in June, Majority world Christians in Wales, organised by the Evangelical Alliance in Wales, highlight some of the churches in Wales that have been established in recent years  by Christians. EA magazine says  mother tongues include Tigrinya, Arabic and Korean. The enterprising exhibition took place in the National Assembly for Wales with The First Minister saying it was a "Great encouragement for the Christians taking part – many of whom had suffered persecution in their country of origin – to be publicly acknowledged and honoured in this way."
As we all know when the church moves, it moves. The 2017 General synod approved jeans and trainers. It appears such a move will make the church more relevant and reflect current informality when it comes to dress. Seemingly no-one presumes many will stay away from church when they hear their pastor wears blue or black jeans and trainers. According to the Daily Telegraph, and carried in the I paper  the vicar of Leyland, Alastair McHaffie, has noted the Archbishop Justin Welby wearing blue trainers when in past times such a person of this eminence would wear sensible black shoes. The Archbish said they were "Walking shoes". I paper call it 'Dress-down Sunday for clergy.' It is reported that that the Church of England is discussing special services to welcome transgender to the Anglican way of doing things. Outside of London's St Paul's Cathedral, volunteer Jyoti Metla helps set up 700 teddy bears gathered by International aid agency World Vision UK to represent 700 children a week who flee conflict in South Sudan.
For those interested in church design the  weighty magazine Interior in its September issue spotlights some of Europe's most fascinating places of worship.
London's adventurous Almeida theatre gives a run to Christopher Shinns play  'Against.' God makes an appearance in its first scene.  Tech billionaire character Luke claims God has spoken to him and tells him to "go where's their violence." His would-be love interest Sheila advises "him not to go and tell about the God-stuff. Silicon Valley is full of messiahs, but finds true faith incredibly embarrassing.
The New York Times  often focuses on the Christian faith in China, and Hong Kong, and through the testimony of a Derek Lam they reveal how tension between the Chinese leadership in a country that is officially atheist and Christians has grown.  Lam says of Hong Kong's six major religions, five are under the control of the Communist Party. "Although there is nothing I would love more than to become a pastor and preach the gospel in Hong Kong, I will never do so if it means making Jesus subservient to Xi Jinping Instead I will continue to fight for religious freedom  even if I have to do it from behind bars."
Bryan Appleyard reviews Freud: The Making of an Illusion by Frederick Green (Profile) and along the way in  saying why Freud is still so highly exalted he comments:
 "Shakespeare and Jesus are revered as they are because they spoke what we an still recognise as truth. The Sermon on the Mount accords with our sense of justice, as does Hamlet."
Greenbelt came with its ever widening fare, and one assumes must have the more conservative evangelical camp beating their brows, or whatever, in fury at the increasing liberal nature of the event.  After all Greenbelt allows the well known Dave Tomlinson to spell out his journey away from charismatic evangelicalism.  He desires to create a Jesus movement" that he sees honest in faith and humanist in ethic. It seems hardly new a thought. His new book is Black Sheep and Prodigals, but he focuses particularly on its sub-title: 'An antidote to black and white religion.' As ever  the Greenbelt Sunday service was special. The service was led by three wheelchair user and the homiley was recorded by Becky Tyler, a 14 year-old with cerebral palsy, and using her computer voice. There was a reading from ME sufferer Tanya Marlow. For some this was 'inclusivity' – one of the festival's commitments.
Announced elsewhere, but at Greenbelt, John Bell the contemporary worship hymn song hero, told the gathering he would hide his sexuality no longer and he had 'Come out." He had heard the story of Lizzie Lowe, a gay teenager who had taken her life and this had affected him deeply. His brave decision doubtless removed him from many previously welcome areas.
Selfridges, the  puka London department store, seen by some in competition with the corner shop Harrods, sets in motion an interfaith charity shop on its premises, at least for all intents and purposes.The list of participating religious faiths seems to encompass  Jewish, Buddhist, Islamic and Christian.It was good to see the press carrying a pic of the multi-faith staff.
The Edinburgh Festival Fringe features a wartime drama, Home Front/Front Line by Canon David Banbury. Looking suitably time-ridden came Methodist minister Revd Paul Critchley and a convincing dressed Kirsty Gwyn- Thomas.
At Stuggart Airport a converted photo booth allows traveller to choose a prayer of their choice. The booth offers 300 prayers from a variety of religions in 65 different languages.  Mercy Ship and Spring Harvest announce a partnership for 2018 and 2019 and promise stories of converts. The Daily Mail devotes considerable space to another of those reports that suggest Britain is no longer a Christian country, at least if that is based on the simple fact that more say no than yes to the proposition. The eminent and thoughtful Daniel Finkelstein asks the question 'Should we care that Britain's Lost its religion?'
His most interesting remark comes in the third column of his feature: "So to accept that this country is no longer a religious one, and that only a small minority are committed to the established church, is to accept that we live in a very different country to the one we have long understood."
However better news follows a few days later when 31% of scientists who were questioned  said they were religious. Of course it might be said that a lot of scientists were atheists or agnostics but even so 31% is higher than most expectation. 44 per-cent said science and religion "cannot be compared as they refer to different things."
The Times piece by Kaya Burgess in conclusion instanced the Scientific and Medical Network with  the survey  challenged the assumption that scIentists were "hostile to religion and spirituality."
Richard Coles, the Anglican priest and former pop star, fails to gain the necessary positive reaction to his involvement in the BBC high ratings Strictly Come Dancing and is forced to say farewell on September 29.
Down under in Australia many might wince that the Diocese of Sydney has given the equivalent of £590.267 to the campaign for opposing same sex marriage. The Archbishop Dr Glenn Davies talked of the stakes being high, and the cost is high
The Bible remains a treasured book and in the US   great progress has been made in establishing a vast Museum of the Bible. Situated not far from the US Congress it's cost is reputably half a billion  dollars and spans eight floors  of 430.000 square feet. A vast collection of material relating to the Bible has been assembled by Steve Green a billiionare Christian. David Smith in the Guardian says that the "History of the Bible" display is expected to house a range of objects including Torah scrolls and 14th century illuminated manuscripts – but no the Qur'an or Book of Mormons.
In the exciting land of statistics a short report by the digital team at Church House, Westminster, says, that, as well as 1.5. million people who visit the C of E sit of websites each month,  a further 1.2.million see the Church activity through social media sites such as Twitter, Facebook and Instagram. As the year advances so more facts and figures..  It is said that the average C of E church has just three children attending, and of the smallest 25 per-cent simply none. Madeleine Davies reporting in the Church Times and producing a plethora of data says 937, 300 people attended acts of worship within the COE in 0ctober 2016. There were 120.000 children baptisms with 11 per cent of parishes reporting a growth in attendance with 38 per cent showing decrease and the bulk of 52 per cent showing "no clear  trend." Increasing worry is shown over the lack of teenagers attending with the necessity to reverse the decline that in the end would threaten the existence of the church. In the land of statistics and reporting in 2017 of the year previous   Christian data-issue Project 3:28  finds 26% per cent of speakers at 22 of the largest Christian conferences and festivals in the UK were women, although in the latest figures that only reach 2015, a nine per-cent increase is noted from 2014 while in 2016 there is no change. None of the events in 2016 had a majority of women speakers. Premier digital saw the most at 47%, New Wine on 43. Surprisingly Greenbelt scored just  42 per-cent.  You can see why women complain.
The Church Times  has a sprightly resident weekly columnist Angela Tilby  and she brings to the fore a Silicon Valley millionaire who "Has come up with a plan to "realise" God through the development of artificial intelligence...Anthony Levandowski is an Amerifan engineer who is advancing a techno-faith agenda to understand and worship the deity who will transform life."
John Wesley is another making a rail comeback. A new train on the British, Great Western Railway is to be named after him.  It follows a competition to find "the 100 greatest Westerners of all time" run by the Bristol Post and GWR. The city has within its boundary the New Room and its manager David Worthington thought it was positive to put Mr. Wesley's name forward. John Wesley was born in 170/7 and on horse was a much travelled man. Train spotters know that John Wesley has had trains named after him in the past, one of which was a Class 43/2 locomotive from 1998-1998, Still, this a new style train to run in Britain and it seems good that his name will adorn one set. The New Room is the oldest Methodist worship building in the world and was built in 1739.
Over the Atlantic another deranged person with a gun shoots with the usual loss of life, including this time an eighteen month old toddler. The event occurred in the First Baptist church in Sutherland Springs. The gunman walked down the centre aisle of the church, and then turning began his  horrific act on defenceless people. At least 26 people died.
General news early in November focussed on harassment of women in Westminster with all leaders concerned as to how this might end, and if there was an ethical, moral dimension to be asked so did the same two words pop
up discussions  following upon the release of batches of leaked files showed how some people where utilising offshore schemes to beat the taxman.
There must be a few Methodist churches that could  be sold for a penny, but the first purpose-built Anglican parish church in 40 years opens and the cost is in excess of £3m. St Francis at the Engine Room in Tottenham Hale also takes in a community centre, 36-place nursery, workshop space and café.  Apparently a further 99 churches are planned in London by 2020. The area MP, David Lammy recalls someone once said "We don't do God,' whereas he says: "I've always been clear in Tottenham we do do God." The idea for the new building came out of the 2011 area riots.  The priest missioner Andrew Williams is instanced by the Guardian saying: "This is not a church with community facilities attached. This is a community centre first, and one of the things we will do is church. Here's a subtle difference." Fr. Williams says nowadays we have churches "meeting in pubs and cafes, running night shelter, food banks, and debt advice centres. As the state retreats, people of faith are stepping into its place." Good news to end a mixed year
April might be known as the month of showers, however it was not rain but a degree of protest that came showering down on respectable bodies for perceived ill-founded religious tampering. Setting the pace and in first place  in any award comes The British, National Trust  It gains the front page of the Western Morning News  and copious coverage elsewhere. Critics say the organization is 'airbrushing' Christian Easter  faith out of its egg hunt trail that is being run with chocolate and sweet maker Cadbury. Into the fray comes the two Anglican Archbishops and even stern words from the Prime Minister. Dr Santanu, the York Archbishop put things in somewhat venomous fashion in saying Cadbury was "spitting on the grave" of its religious founder.
Riding strongly to the defence spokesperson Claire Bolitho said it was nonsense to suggest the Trust is downplaying the significance of Easter. One person said they had counted 13.000 mentions of Easter on the web site. Not exactly an Easter message, but the Guardians always  useful G2 daily supplement turns attention to what is billed as  'The curious world of modern crucifixion.'
The writer Emine Saner recalls devotional practice in several villages in the Philippines where some people have been crucified a number of times The most famous is a Ruben Emaje who for the love of nails and pain and the backrest of wood. has been crucified 30 times. Ms. Saner draws attention to the late artist Sebastian Horsley who was nailed to a cross in 2002. He is quoted saying "An artist has to go to every extreme, to stretch his sensibility through excess and suffering in order to feel and to communicate more.  There is more.  Crucifixion is a "deeply poetic thing to do." and is seen as "symbolising' "a form of rebirth." 
Contender number two for the accusation of bad taste in religious imagery goes to supermarket chain Tesco. Tesco notches his first growth in sales for some time, but receives short thrift from religious leaders for a beer advert which said Good Friday just got better
Hughes, Pascale, I paper, April 14. 2017. P 11
On presumes the intent was to say they had great beer offers over the Easter period, but even the broadcaster the Reverend Richard Coles was offended, and is instanced saying that it was "extraordinarily and unnecessarily ignorant." Methodist ex-President Michael Wakelin told Radio 5 that Tesco had got it "badly wrong." Perhaps he was near to the mark when he said "It is just religious illiteracy." It might also remind Christian religious leaders that some of the basic calling-points in the faith are becoming unknown to many people. Tesco said there was never an intention to offend, and that seems far enough but it still leaves for faith people the 'horror' that maybe, just maybe, it's another sign of their seeming indifference to actually tell the people about Good Friday – they blithely assume. A late entrant for the bad taste unadvertised competition came almost as this year was nearing the end, as Greggs the baker, runs an advertisement with a large sausage appearing in a visual Nativity scene. The Company apologies for any inadvertent offence but now we are all aware of this company.
Andrew Brown, the witty and observant press reviewer for the Church Times rightly congratulates the Financial Times for printing an exegesis by Kate Maltby of John Donne's poem Good Friday 1613: Riding Westward." In radio, both BBC Radio 3 and 4 hosted a mini-series on the human and emotional side of Bach  with at points focus on his music within the early -18th century Lutheran spectrum. Television's Channel 5, even perhaps 4 as swell. seems much given to exploring the work of writers who produce extremely debatable theories on various aspects of Christianity, Occasionally one feels the mood is toward debunking as a 'necessary' in any proposal should one wish to look at Christian faith and practice.  Over Easter 2017 the channel indulges the political conspiracy theory of Simcha Jacobovici and Barrie Wilson. The former believes the Gospels and Holy Week narratives do not make sense.
A slightly different form of 'resurrection' occurs when the remains of five Archbishops of Canterbury are discovered by builders. The secret crypt is found beneath the deconsecrated medieval church of St Mary-at-Lambeth. The church goes back to the eleventh century.
At least one person of the cloth entered the now world famous London marathon. Bob Mayo, vicar of St Stephen's, Shepherds Bush, London ran with vigour and in printed text drew from several scriptural sources a reason for running, or, strength in participation, " My best hope of finishing comes from the Old Testament. In the Bible Isaiah (40:303) says that people who trust in the Lord shall run and not be wearey. "The brave clergyman ran to raise money for Street Child World Cup. Kenyan Mary Keitany ran 26 miles in just over two hours. The London Evening Standard editorial saw it as "0ne way to beat London's traffic" . Up-market Tatler is known for giving guidance on how one should behave. It advises against  public God talk. It appears God should be discussed in private.
It does add "It's fine to do an Alpha course – just don't bore others about it, even if you think they need saving."
David Bathurst is known and applauded for his memory skills. Apparently in past times he has recited the New Testament from memory and also works of Gilbert and Sullivan. Covering the period April 29 to May 1 he sang the 401 hymns found in  BBC Songs of Praise hymn book from memory. A  team of organists with 25 hymns a time as their brief, gave him the accompaniment.   Apparently he did stop for tea and cake and sleep. His hymnathon took place at St. George's, Eastergate, near Chichester Monies raised is for  various hospices.
THE ROCK GOODBYES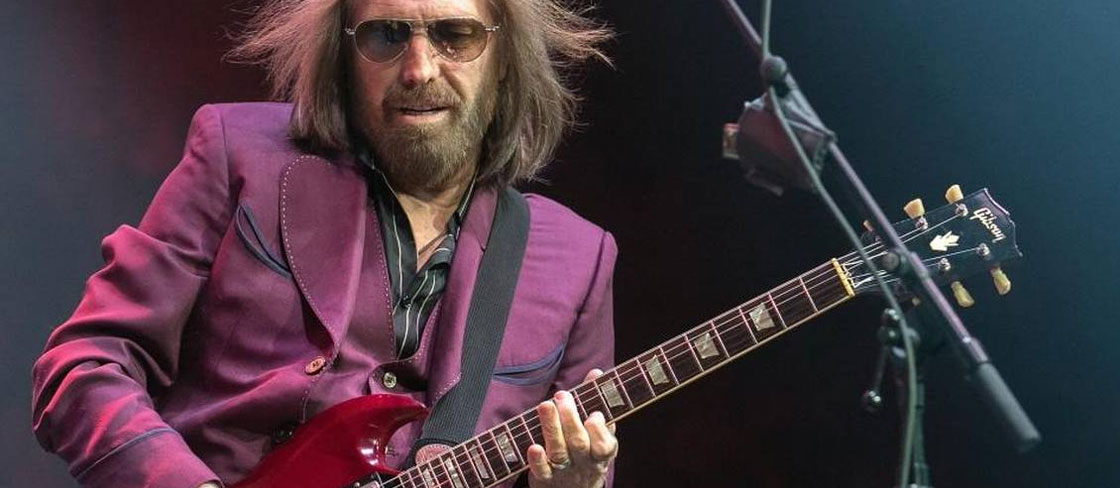 2107 was a good year for the reaper. Major contemporary music names kept filling obit columns. As the New York Times writer  Steven Kurutz expressed: "Rock is an aging genre with elderly practitioners."  
Some were my own heroes, as Tom Petty, just 66, and Paul Kanter of the wondrous Jefferson Airplane who died the same day as another group founder Signe Anderson –an amazing coincidence. Kurutz in conjunction with  Andre Calilhanna, blog manager and editor for Disc Makers, lists a total of 33 musicians and industry icons, with I'm sure the former now occupying the minds and commercial acumen of record company personnel in terms of assembling retrospect collections. And so soon 'The Best Of' or 'Their Greatest,' or "Golden Times Volume 1," with more to follow, or dividing their career into time zones, and even "The Early Recordings." A year or two hence there may be found unreleased material or simply say  discovered vocals and to which there will be laid posthumous backing and arrangement. Someone somewhere is sifting  through many a deceased star's cupboards, files, garages, cars and probably kitchen. Yea, I know it's terrible to be so cynical! But those discovered tapes could be worth thousands.
So, apart from the few named, who else has left this troubled world? Some of the names given are US household heroes, but there's J. Geils, Walter Becker, Glen Campbell, David Cassidy, all of whom either solo as or Becker with Steely Dan, have gathered millions of fans.
Kurutz brings his copy into reminding readers that 2016 was pretty horrendous, not least for Carl Palmer being left  to play drums in a group E.L.P. minus Greg Lake and Keith Emerson. Palmer has been putting together a new E.L.P. box set. John Wetton, of Asia was Palmer's mate but he too, as Lake, fell victim to cancer. And repeat, not least and not least for David Bowie.......
The NYT writer adds somewhat poignantly :
We rock fans have our grief rituals -  Watching old concert and interview clips on YouTube. Going to Apple ITunes to download an artist's back catalogue. Holding on-air wake so callers can share stories of how music touched  their lives.
BOOK OF THE YEAR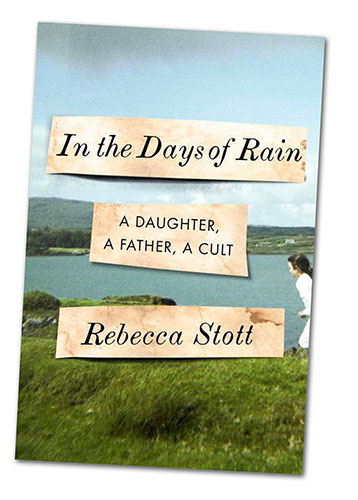 IN THE DAYS OF RAIN  REBECCA STOTT (4th Estate)
Oh, do I choose  Ali Smiths' Winter (Hamish Hamilton)? The rock world produces a surprisingly honest Bruce Springsteen autobiography of growing up in small town USA with no vision, just hard existence. Release for him is in discovering the guitar and Elvis. Catholic faith offered him mystery.
For Rebecca Stott in her beautiful so moving word journey of life it's trying to escape from a 'sort-of 'Christian faith  smog with no vision. I gasp with her as she tells of the imprisoning nature of growing up in a closed brethren home yet she does so paradoxically lovingly and painfully as she imprisons me the reader. I start her text. I stay with it until the last sentence. Isaac Watts once penned the line: "Religion was never designed/To make our pleasures less," but oh, some  erect a religious dungeon of probably unintended mental cruelty. We meet  her,  family, especially father, in her  tearing away of enforced religious clothing that deadens the soul. She survives. There is the beauty that somehow she can love and understand. How many are there "out there" who seek to find and yet are enveloped by the unrelenting smog of religious misunderstanding.
MUSIC REVIEW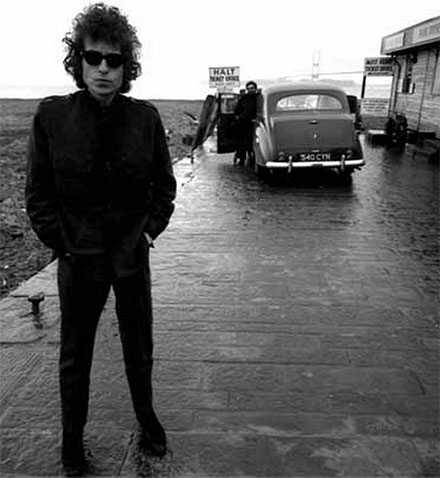 DYLAN AND GOSPEL
Mention has been made several times in Crisis to the forthcoming release of a new Bob Dylan set that would bring together his Gospel recordings that would basically span the period 1979-1981, and yes, it was some time back when much of the Christian world would rise to its feet in joy that the great figure of contemporary music had moved into the Christian camp. The eventual release date cut across print schedules, and until now has missed review space in this monthly focus.
So here goes: I imagined it would be bringing together tracks from his studio albums,   Slow Train Coming  (1979), Saved (1980) and Shot Love (1981) Certainly the release Trouble No More (Sony) contain songs from those albums, but rather than present us with the smooth riding affair of the studio we have instead Volume 13: 1979-1981, The Bootleg Series,  in which we get some fascinating 'live' takes.
I should say that I'm focussing merely on the main box set release and not, to give the full available offering, the deluxe collection that brings you eight CDs and one DVD, and you can also find an abridged two-CD  set (my main focus) and four-LP vinyl.  On discs 3 and 4 of the 8 disc gathering there are rare takes from studio recording times, and indeed several cuts that hitherto have not found themselves on any official release.
 It is important to note the time span since it means we are not getting a definitive run through of songs that can be categorised as religious and where for instance the maestro is utilising Old Testament imagery – that means no place for instance for the beautiful 'Father of Night' from the album New Morning , and the supreme "All Along the Watchtower' that initially found is way on to the album John Wesley Harding. It would, of all his songs, be the most recorded by other artists, and most supremely by Jimi Hendrix, live and studio.
Opinion differs on the best of his 'Gospel'  song period, but in terms of this writer's preference we do get on this collection such powerful songs as 'Every Grain of Sand,' 'In the Garden' and the haunting 'Gotta Serve Somebody.' And most certainly we hear a supreme set of musicians who offer some brilliant Gospel rock, for indeed the man can assemble a dream team, and on these tracks many of contemporary music's revered players offer sublime moments.  Even the band seems in touch with a "Higher spiritual power.' So we do get away from the familiar studio laying down of material, and that in itself is for me something plus extra. And then there are majestic back-up vocals. It all becomes an often thrilling spiritual ride and yes, we are also taken along with numerous passionate vocals from the man himself, and these surely counteract  the sceptics – sorry doubters,  at this time Dylan was inspired, he was driven by a power that produced passion supreme. It is difficult to suggest it was no more than a dabbling into the faith of both biblical Testaments, that it was a rather odd way of furthering commercial money pots. 
New Testament faith of a more fundamentalist nature, or  Messianic Jewish faith gave him new impetus, new inspiration, the Bible offered new adventures, or in Old Testament terms a release into new innovative reflective moments on a set of Scriptures which he would have grown up with and possibly texts he would still be able to recite in huge chunks.
In recording terms it  means to there are some different arrangements to songs, not least track six on the two CD box set - the underrated Genesis, Noah, biblical based 'Man Gave Names to All The Animals" that heard here has a fluid reggae-ized lilt and makes you wonder why it has not become endlessly churned out by Sunday schools and primary school assemblies – at least in recognizable form, and after all there is a fun element. The take comes from 1980, recorded love in Portland, Oregon. 'Gotta Serve Somebody' has extra funk.
To some extent you need to possess all the discs and so numbers five and six  represent an  ideal gospel show but on the other hand the ninth disc is a DVD of Jennifer Lebeaus directed movie of the same title of this collection and where you get Michael Shannon in the role of an evangelical preacher and really, do you want that? And returning to the positive,  the two discs of the Toronto recording  have  invaluable 'filler' comments from the evenings on the songs that will be sung.
Of course you also need funds to buy what is on offer, and as I said, in the end does not represent a real detailed look at the religious Dylan, but you can settle for the two CD set that comes for less than twenty pounds.
So much more can be written about this plethora of material, and it should always be said that this period of his life saw Dylan castigated by many, and the victim of prejudice and hostility.. By the time he recorded the album "Saved" the backlash had started. Whether in the end he received the right support from the overall Christian world is another 'open' question. Sadly there are the well-meaning who have
prescribed areas of thought and expression, and who in mis-understanding of cultural expression forms or inability to see beyond who make life difficult for someone such as Dylan to talk-sing-play the faith.
NOTICES
ACG Art Exhibition - 'Between Friends' 13-16 February
St Stephen Walbrook, 38 Walbrook, London, EC4N 8BN
https://ststephenwalbrook.net/
The history of the relationship between Art and Christianity is a chequered one. From passionate piety to scathing dismissal, these two human dramas have sometimes been strange bedfellows. They have not always seen eye-to-eye.
Welcome to the twenty-first century!  The Arts Centre Group, (artscentregroup.org.uk), with a history of nurturing and supporting both emerging and established artists since the early 1970's, is hosting its first Art Exhibition for many years. It will showcase the talents of current ACG members, plus those of invited guests from other organisations.
Located at the heart of the City of  London, the church of St Stephen Walbrook was designed in1672 by Sir Christopher Wren as a prototype for St Pauls Cathedral. It hosts a variety of cultural, charitable and spiritual events, and we are delighted that Between Friends will be one of them.
Selection of works will be by Julia Alvarez of Bearspace Gallery, Deptford, and Alastair Gordon, founder and director of Morphe.  
Exhibition opens Tuesday 13th February at 10.00am .      
Closes Friday 16th February 16.00.
Opening hours are Tuesday 13, Thursday 15, Friday 16 February 10.00-16.00. Wednesday 14 February 11.00-15.00.
Private View – Monday 12 February 18.00-20.00             
All artists and their guests are welcome.
Exhibition Administrator: Pat Harvey
020 3643 6227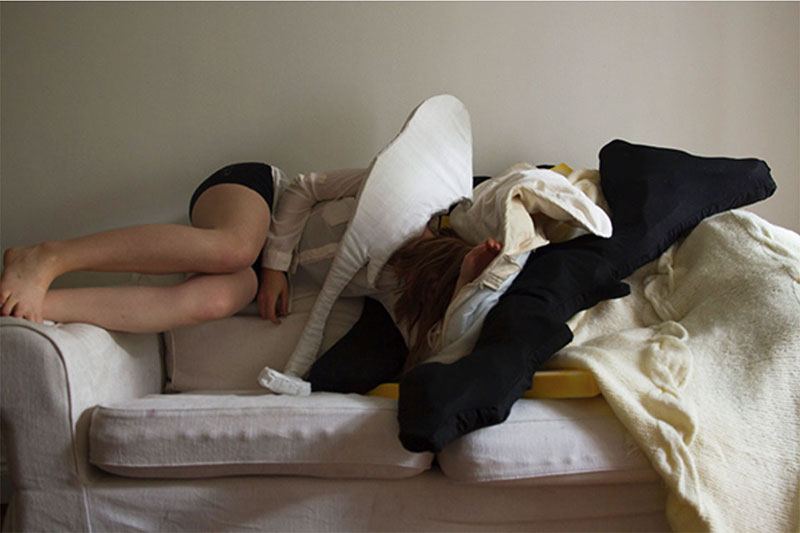 TITLE:  'TWO YEARS'
MEDIUM: Installation/Performance
ARTIST: Sarah White
DESCRIPTION: An exploration of grief, inspired by C.S. Lewis' A Grief Observed.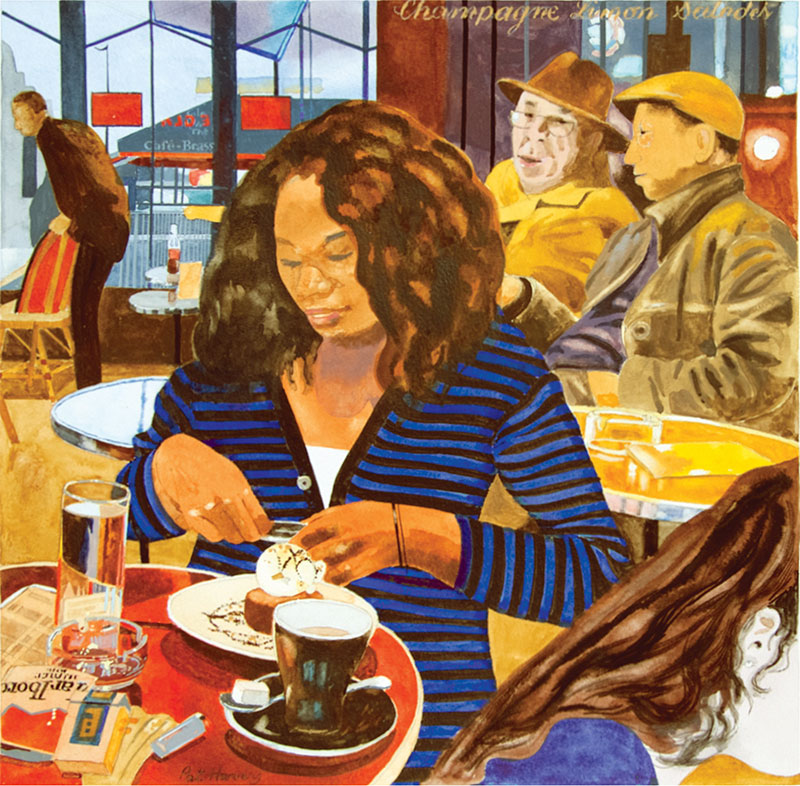 TITLE: 'PARIS: CAFÉ LA RUCHE'
MEDIUM: Watercolour
ARTIST: Pat Harvey
DESCRIPTION: Contemporary Paris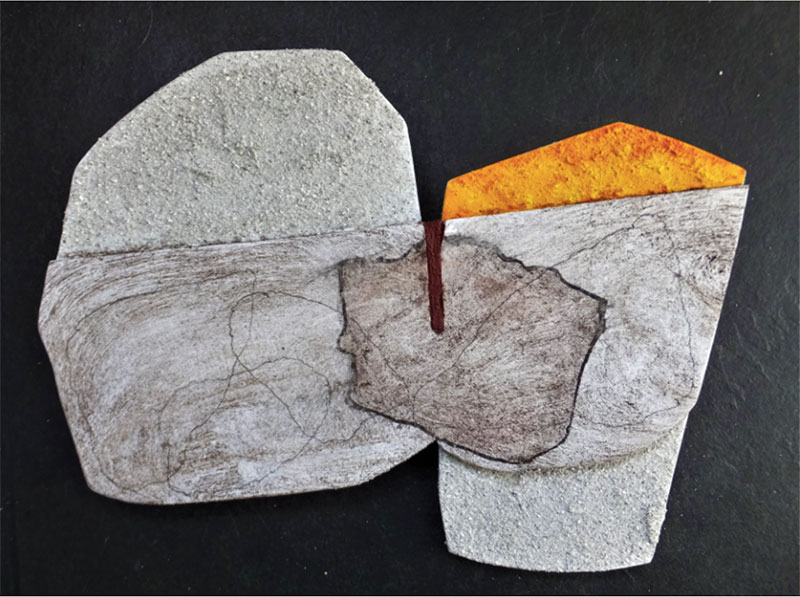 TITLE: Penwith 1
MEDIUM: Sculpture (free-standing low relief)
ARTIST: Colin Riches
DESCRIPTION: Free-standing low relief
Bearspace 'Winter Show'
Bearspace presents a collection of work by artists who have shown with the gallery and elsewhere in 2017.
Winter is about change and as such the exhibition will change and take new form during its three months
as new works are introduced.
Exhibition runs until 3 March.
Bearspace Gallery, 152 Deptford High Street, London, SE8 3PQ
Opening times: Mon-Fri, 12-6pm,
Director of Bearspace gallery, Julia Alvarez, is one of the curator's for ACG's exhibition in February.
We are happy to carry information. Copy date is broadly by the 12th of a month.
JASPER TURNTABLE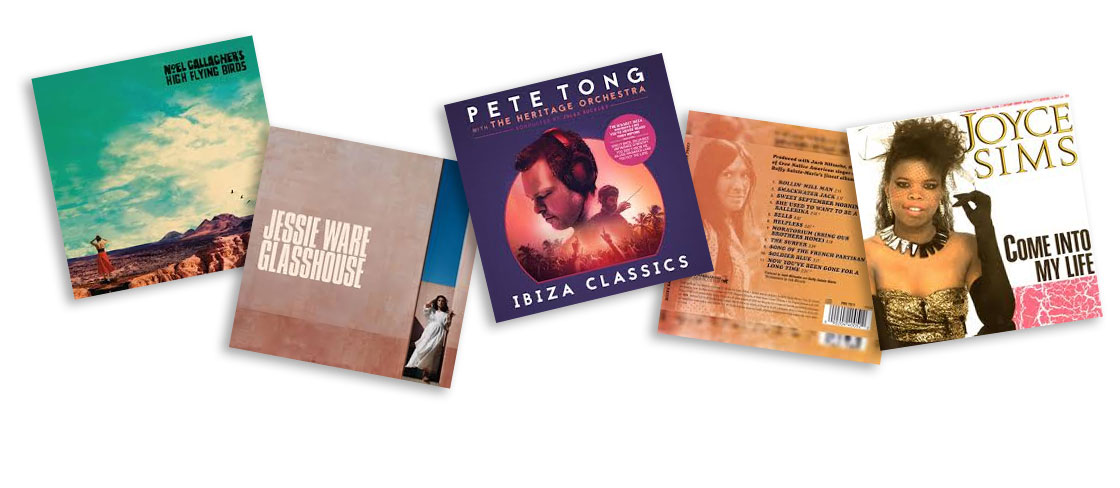 New and old-ish as usual filling the air:
1 Noel Gallagher's High Flying Birds – Who Built The Moon (Sour Mash) Yeah... great stuff, play it loud, v loud. Just keep playing it.
2 Jessie Ware – Glasshouse (Universal) Still sounding ace, she is the tops, one of the best of 2017.
3 Pete Tong – Ibiza Classics (Polydor) Great sampling, some great tunes.
4 Buffy Sainte-Marie: Medicine Songs (Proper) Message songs with power delivery from long-lasting artist.
5 Joyce Sims –Come Into My Life ((Warlock) 1987 title of this made her name, rediscovering JS, raft of dance floor remixes, her other classics.

HUMOUR IN HYMNODY
A congregation was asked to sing: over the Christmas period in a delightful theological misunderstanding, or one assumes that is the case, you never know these days!
GOD, REST YOU MERRY GENTLE ONES,
LET NOTHING YOU DISMAY,
REMEMBER CHRIST, OUR SAVIOUR,
WAS BORN ON CHRISTMAS DAY,
TO SAVE US ALL FROM SANTA'S POWER
WHEN WE WERE GONE Astray.....
Happy New Year!
Garth Hewitt Foundation: From Garth
Humility, service and love...
"The world tells us to seek success, power and money; God tells us to seek humility, service and love." 
Pope Francis
These words come from a recent book of Pope Francis called 'The Spirit of St Francis', which is one of those books to have by the bed and to read a page every night.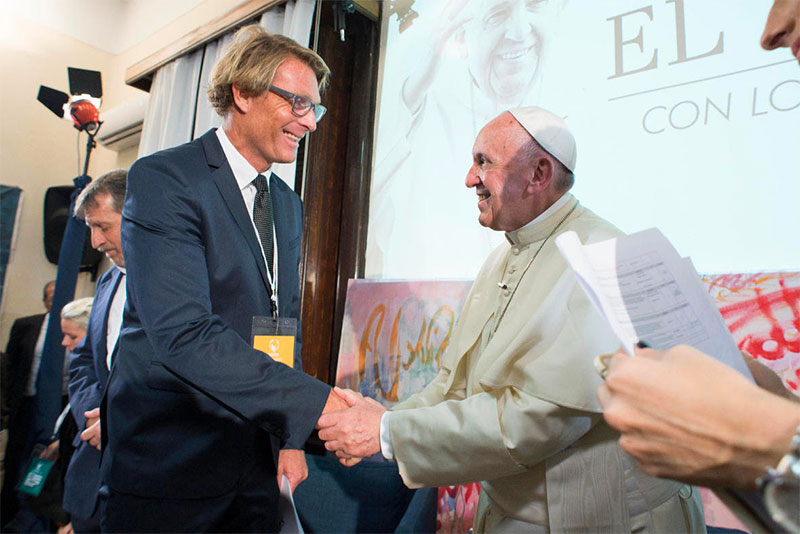 My biggest surprise this autumn has been that Tom, our oldest son, went to meet Pope Francis. Tom has a charity called Surfers Not Street Children, which has been doing a wonderful work empowering former street children as they move from childhood into adulthood, journeying with them towards their own independence. Their strapline is "Transforming lives through surfing and mentorship."
Tom got to meet with the Pope because of some surfing supporters in Argentina, who knew the Pope - I'm not quite clear whether the Pope is a surfer! But he is very committed to work with street children, and when Tom talked to him about their commitment to the liberation of street children the Pope grasped his hand with both hands.
It now looks as if Pope Francis' social justice organisation Scholas Occurrentes will be partnering with Surfers Not Street Children, which is very exciting - I will give you more details as this develops. Meanwhile do have a look at the SNSC website here 
and see if it is something you would like to support.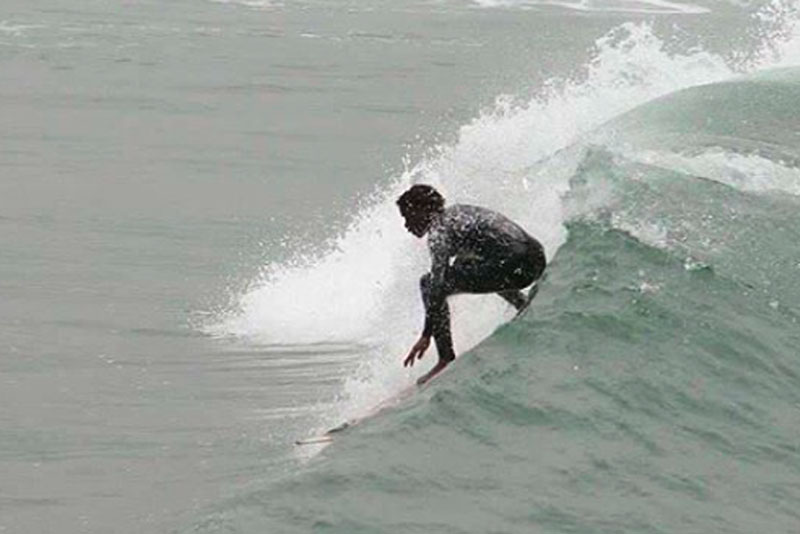 I am a trustee of SNSC and in our Trustees meetings it has been very exciting to hear of leading surfers who are committed to SNSC - sometimes names I am not immediately familiar with (as I haven't got too far on my boogie board) but who happen to be the most famous surfers in the world, like Kelly Slater and Dane Reynolds, or Jordy Smith. So for me to have the name Pope Francis come up was at last a name I could get thoroughly excited about!
Justice, equality, simplicity and sharing...
Hear are some more of the words of Pope Francis which get right to the heart of the way of Jesus: 
"In the poor and outcast we see Christ's face; by loving and helping the poor, we love and serve Christ. Our efforts are also directed to ending violations of human dignity, discrimination and abuse in the world, for these are so often the cause of destitution. 
When power, luxury and money become idols, they take priority over the need for a fair distribution of wealth. Our consciences thus need to be converted to justice, equality, simplicity and sharing." 
The Spirit of St Francis, P103
The power of these words I find quite staggering. There is simplicity and a clarity about what it means to be walking in the footsteps of Christ.
I was listening the other day to the last album that Peter, Paul and Mary did together, not long before Mary died, called 'In These Times'. It has a song on it called 'Have you been to jail for justice?' Some of the lyrics say, 
Have you been to jail for justice, 
I want to shake your hand; 
'Cause sitting in and laying down, 
Are ways to take a stand… 
Have you been to jail for justice, 
Then you're a friend of mine.
see them sing it here on youtube
Jim Wallis and others being arrested on November 30th at the Senate building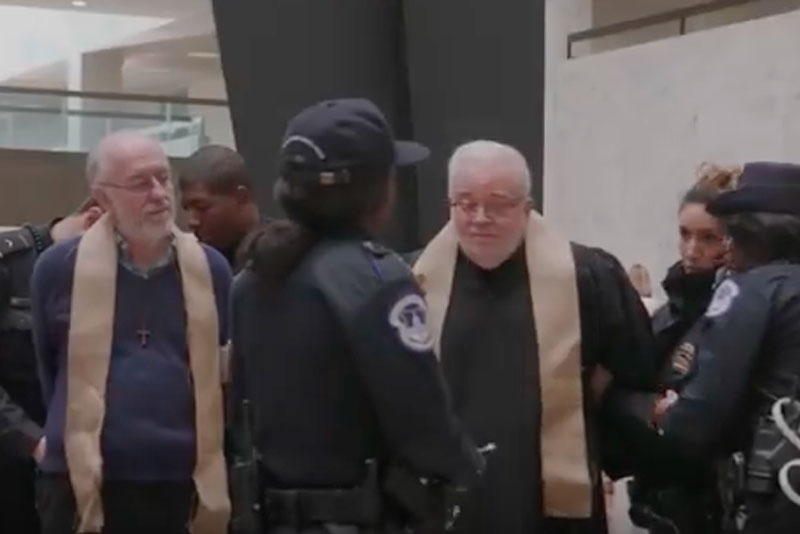 Every time I hear this I think of my friend Jim Wallis from the Sojourners community in Washington, who has been to jail for justice many times. He was arrested once again last week in the Senate building as he and other faith leaders read out passages from the Bible about serving the poor; they were particularly concerned about the forthcoming tax plan which in fact did get passed. They wore stoles of sackcloth, and they read from the Bible and sang. Click here to see what happened. I found it very moving to watch this. People standing so clearly for justice. It was inspiring. But as I saw them put the handcuffs on Jim and the others, and push them into the police wagon, I thought of the costliness of this stand, and yet the deep value.
These are consciences that are converted, as Pope Francis says, to justice, equality, simplicity and sharing. This is why the message of Christmas is so important - it is so easy not to spot it in all the materialism and glitter of Christmas. When the Wise Men came they started by talking to the local politician of power, but of course this is not where God is to be found.
"Because instead of coming in status and power the birth of the prince of peace is in vulnerability and humility. And soon Mary and Joseph and Jesus are fleeing as refugees to find safety in Africa. So these are the huge clues that show us that God is the God of the poor, the marginalised, those for whom there is no room - and this is why Bethlehem theology gives such hope, because no one is forgotten." 
Occupied Territories p 30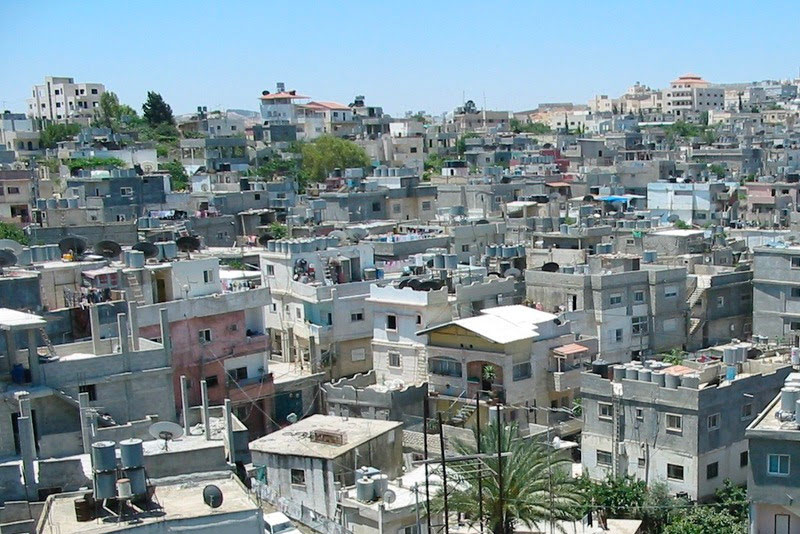 Looking across Bethlehem from Dheisheh Refugee Camp
As our thoughts go to Bethlehem at this time of year, Palestine is being mistreated once again. Why is there no equality or justice for the Palestinian people? The Christians of Palestine - Kairos Palestine - have issued a Christmas Alert and it is very good material to bring into our church services and into our personal thoughts and prayers during this time of Advent and Christmas. You can download it here. It was written before the current crisis.
Voices of Palestine - Join Amos Trust for Christmas Carols in Trafalgar Square - Saturday 16th December 4pm - 5pm
A last Amos activity this year you may want to join in - come to Trafalgar Square and sing carols - Gill and I can't be there as we are away with family but we'll be thinking of you.
Prayer for much needed leadership of humility, service and love
God of gentleness and humility 
Becoming human in simplicity 
Bringing joy to the world 
We pray for the leadership of the world at this time
We see power, luxury and money becoming idols 
We see the domination by the richest one percent of the world 
The face of Christ is not being seen in the poor and the outcast
We pray that the hearts of leadership will be changed 
From arrogance, injustice, greed and prejudice 
To humility, service and love
Lord grant us the power not to surrender to the bullying of empire 
And the courage to challenge the tyranny of the powerful
In that child of Christmas we find meaning and dignity 
May we show the love and humility of Jesus 
Teach us to be meek 
Treating this beautiful world with gentleness 
Turning to our neighbours 
And studying war no more 
So we bring a blessing of joy to others 
This Christmas and throughout the year