CRISIS is publishd by Tony Jasper. 01736740907
MUSIC

JOAN BAEZ
JOAN BAEZ returns with a long awaited new album 'Whistle Down the Wind' and tours Britain this Spring. She talks of her visit in 'last' terms – something we hope is merely a momentary thought.
Her grandfather was the Rev.Alberto Baez, a Methodist minister. Her maternal grandfather was an Episcopal priest. Her father was a prominent physicist who refused to work on a defence industry project that involved the atomic bomb. He  converted and took the family into Quakerism. She is the legendary folk, country, gospel and contemporary music artist Joan Baez. Soon Her Fair Thee Well tour reaches Britain, and runs from March 13 to 21, with a return from May 23 to 29. There is a new March album 'Whistle Down The Wind'.
As with many other music heroes from the late 1950s into the following colourful decade of the 1960s she is now in her Seventies, for her, the wrong end. These days she has a short haircut and gray hair. It seems she wishes to slow down or on the other hand age is achieving this without the asking. She tells Uncut magazine "I'm looking at 80. What does that mean for my decisions?" As an artist she is finding it hard to sing, the voice is changing. The lower range is fine. She terms it "a gravelly reflection of a life well lived." Well, forty years on she has lost an octave. Once she was famed for her sweeping soprano. The early voice was so distinctive, a pure tone, vulnerable. Between 1968 and 1973 she was married to the social activist David Harris with one child Gabriel.  Star or no star, fame or no fame, some things are beyond her powers. Her sister Mimi died in 2001, her father 2007, mother 2013 and elder sister Pauline  2016. It has made her look at life anew.
This tour could be special. Christians will watch carefully her song repertoire, for it is said Joan does God, and increasingly so. It seems to be causing worry in some musical circles.  Quite why is one of those mysteries, as if there is something wrong, perhaps uncomfortable to those who either wish no faith or seem embarrassed to say they have. Once when she was seen as the "Queen of folk" it was thought Bob Dylan might take her to the altar, and Bob, if you recall, got God and Jesus in a big way. She has always adopted a 'faith' context, doubtless far too broad for a conservative religious market. In her beautiful Daybreak autobiography she says simply; "To sing is to praise God.....Thank You, God, for letting me be born." The same book has a chapter on Meditation.
A simple googling of her song catalogue reveals a few hundred songs on numerous albums, and within such strong illustration that Joannie has been singing Christian based songs from her early singing days, right from her first album release on US Vanguard. Her take of 'Amazing Grace'  takes in six albums, just hear it on the 'Carry On.' And oh, listen to a rich take of "Let Us Break Bread Together" is found on albums 'Carry On' 'Recently' and 'Brothers in Arms'. "Battle Hymn of the Republic" takes in six albums, especially on 'Diamonds – The Best of the Vanguard Years.'  That compilation set includes 'Little Moses' 'Oh Happy Day' 'The Unquiet Grave' 'Gospel Ship,' 'We Are Crossing Jordan River,' 'Will the circle Be Unbroken', 'Just A Closer Walk With Thee,' '0h Freedom' and 'Virgin Mary Had One Son, Christmas carols and songs, including 'Away in a Manger' are on the album "Noel". Her 'Blessed Are' is the title cut of a very fine album, her last recordings for Vanguard.  Particularly poignant and moving is her 1973 long-player Where Are You now My Son? in which one side is devoted to Vietnam and the tragic loss of life, The first track 'Only Heaven Knows' is especially interesting.
So what then of any Christian leanings? In a sense she belongs with a considerable number of contemporary music artists who have respect, even love for Jesus, but cannot get their heads and minds around some aspects of current Christian expression.
The basic reason for the current chatter that she has got God – let's say afresh – comes from her 50th anniversary concert affair. There with endless music luminaries, many of whom have worked with her, she opened her own spot on the evening with a powerful song about God belief. Yet that song heralds from 2008, And on the  album of that year Day After Tomorrow'  Joannie sings her way through "Jericho Road' and yes she  that number from the anniversary, 'God is God' by a fine artist in his own right, Steve Earle. Admittedly the lyric has a broad base as it says the world abounds with miracles and prophecies.  However it has been documented that just over 37 minutes of the album is religious in nature. She was the first to record songs by Bob Dylan, and did much to bring his early song catalogue to a wide audience.  She has run a gamut of song writing influences, and wide in extreme from Nashville's best, to Beatles, the Rolling Stones to Stevie Wonder, Jesse Winchester, and Robbie Robertson. The latter gave her a big chart hit, The Night They Drove 0ld Dixie Down. For many her career has been punctuated with  singing for peace or protest against war, and so  Vietnam, Cambodia, Iraq (where she lived for years as a young child,). She marched with Martin Luther King Jnr, founded the Institute for the Study of Nonviolence, lobbied for human rights and opposed the death penalty. She has been a confounded nuisance to the so-called mighty,
The big vision would be to see her, Bob D and Bono on stage together – a threesome to stun, a threesome to bless.
THEATRE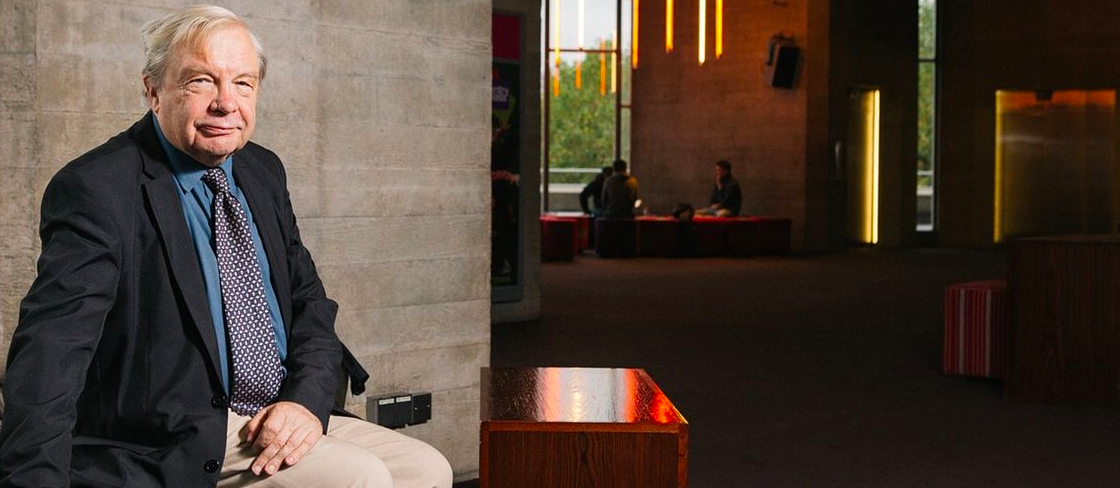 Michael Billington and Tony Jasper in conversation
Margaret Hunt from Radius reports on the recent Arts Centre Group afternoon that brought  together Tony Jasper of the Jasperian Theatre Company with Britain's leading theatre reviewer Michael Billington.     
Michael Billington and Tony Jasper first met on a radio show in 1971. It was the era of Son of Man, Jesus Christ Superstar and Godspell, when the commercial theatre was revelling in the fact that at last the ban on presenting Jesus on stage had been lifted. Billington challenged his audience by asking why there isn't more radical religious writing in the theatre today, and he and Jasper went on to survey the religious theatre of the past 50 years.   
Currently Network at the National Theatre is the story of a news anchor who becomes a prophet, capitalising on people's rage. Billington argued that Jerry Springer the Opera [2003] belonged to the same genre, and that the role model for this kind of drama is Shaw's St Joan, in Billington's view one of the great plays of all time. St Joan's strength is its presentation of different points of view, in that the audience is made to understand why the religious establishment sees Joan as a threat. For Billington, a good play as one where 'everyone is right'.
Jasper now asked about Howard Brenton's play Paul, based on the premise that Jesus was taken down from the cross alive and that the Christian story is a lie. In the final scene of the play, Peter and Paul in prison learn what happened but continue to chant 'Christ is risen', raising the question of whether you can have Christianity without the miracle. It was clear that some audience members believed strongly that you can't, but Billington's point was that at least Brenton was taking religion seriously. [Editor's note: Billington's 2005 Guardian review, available online, said that 'Brenton's fascinating play persuades me that it is invariably the secular dramatists who write best about spiritual matters.'] From the audience Nigel Goodwin quoted C S Lewis as saying that the world doesn't necessarily need more good Christian writers, just more good writers, and he recalled the impact made by Godot when he was at drama school. There was general agreement that Godot is 'stuffed with religion'.
The Church provides rich material for drama. David Hare's 1990 play Racing Demon 'always works' [Billington], with its central character Lionel Espy, a vicar who has lost his faith and sees himself as a social worker, balanced by his fervent curate and power-hungry bishop. When Billington interviewed Hare, who in early life had considered ordination, he said the play was 'really about the Labour party'. Vicars on stage are traditionally objects of ridicule, but Jasper pointed out that recent television shows such as Rev. had redressed this.
The conversation moved on to language. Billington asked whether the language of Jesus Christ Superstar is rich enough for the subject, expressing exasperation at the fact that 'Do you think you're what they say you are' is given the wrong emphasis by the musical beat. Jasper preferred the comparative simplicity of Godspell, where the word 'Mary' is all that is needed when Jesus meets her in the Garden. For Billington, however, Godspell's simplicity tends towards the faux-naif compared with the medieval Mysteries, where Abraham's simple 'I must do a little thing' is profoundly moving as he prepares to sacrifice Isaac. In his original review of Godspell Billington had quipped that 'God is not rocked', and he still doubts whether the musical genre is a good vehicle for the seriousness of religion. In answer to a suggestion from the audience that Les Miserables is about redemption, Billington replied that the musical doesn't convey a fraction of the hero's agony as it is expressed in the book.
The rich language of Eliot in the thirties and forties gave us Murder in the Cathedral with its stirring exploration of doing 'the right thing for the wrong reason', followed by The Cocktail Party which ends with the 'ecstasy of atonement'. The 'scalding rhetoric' of Osborne's Luther made it a 'marvellous play', and Billington suggested that Osborne had projected himself into the character in the same way as Shaw did with St Joan. These are plays in which religious belief has life-changing consequences for the protagonists, and other examples are James Baldwin's The Amen Corner and David Edgar's Written on the Heart about the conflicting theologies of the Bible translators William Tyndale and Lancelot Andrewes. Jasper asked whether Sarah Kane was a religious dramatist in the light of her exploration of identity and the decay of culture; Billington thought not.
Does performing in religious plays affect the actors? Billington said that the experience of playing St Joan had affected Eileen Atkins, but not immediately. He had asked Jack Shepherd, who played in the National Theatre Mysteries, whether the subject matter had affected the company, and Shepherd had said no. Jasper pointed to the depression and suicide of actor Lee Rhodes, who had felt inadequate after playing Jesus in Superstar. For Billington, 'one of the great religious performances of all time' was Alec McCowen's reading of St Mark, which he had seen several times and which had 'irony, wit, anger and fury'. Billington knew McCowen personally and thought that the content had had an effect on him.
Billington wound up the fascinating conversation between two commentators steeped in the theatre by saying that the Church is full of controversy and there is a continuing need for playwrights to explore it. For 50 years Michael Billington has showed theatregoers how to understand plays and performances and has demonstrated how theatre celebrates and expands our humanity and our spiritual selves. This was an afternoon to remember
THE PRINT WORLD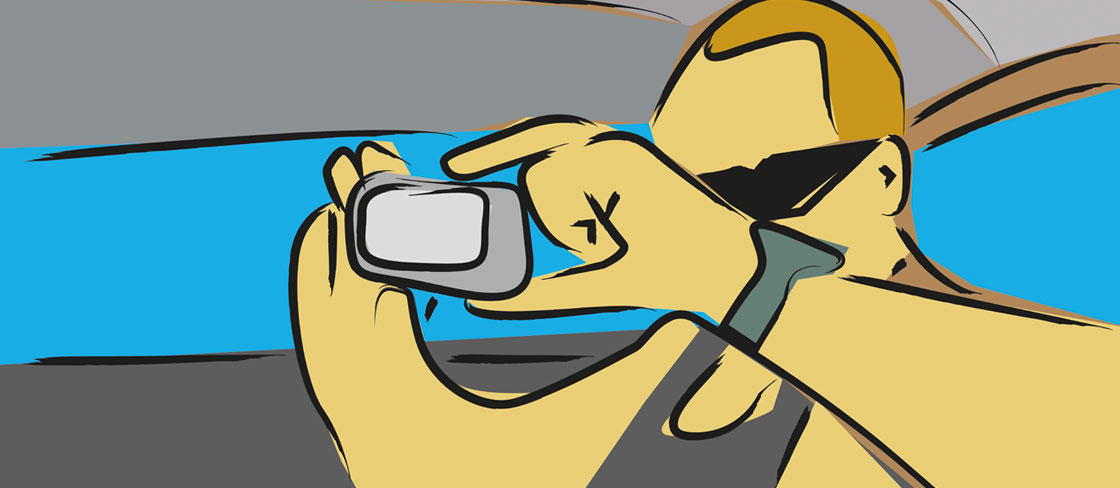 TONY JASPER SURVEYS THE PRINT WORLD FROM NEWSPAPERS TO MAGAZINES AS HE LOOKS FOR COMMENT AND ANALYSIS  OF SOCIAL MEDIA AT A TIME WHEN THE MAJOR PLATFORMS ARE UNDER ATTACK, ESPECIALLY IN TERMS OF YOUNG PEOPLE AND THEIR REACTION
Christian Media magazine (February 12 2018) says Twitter has become the ideal way to reach millions of people. The same issue asks: "Should Churches still be on Facebook?"In another feature it suggests the '6 Way ' to incorporate social media in 'Your church' and strongly suggests that the effectiveness of the church communications system can often determine how a church is effective in its ministry. All seems good and well, but another story is being told – its chapters tell of dangers implicit in social media. The Sunday Times (March 4. 2018)
says 'the director – general of the BBC fears Google, Amazon and Facebook pose a threat to our social cohesion and identity.' Lord Hall talks of the tech giants dominating social media. The Financial Times on the same weekend devotes a whole page to saying that the '1990s optimism over the liberating potential of new technologies gives way to anxiety." It quotes a British entrepreneur Andrew Keen,  who says in his new book How to Fix the Future saying "Digital technology has indeed taken a treacherous turn.'
The  political aspect keeps raising its head, most recently in talk of the Russians interfering in the democratic processes of free elections in the West.  Still it was way back in  2011',  when the magazine Foreign Affairs,  said 'Social media have become coordindating tools for nearly all of the world's political movements, just as most of the world's authoritarian governments are trying to limit access to them." Nothing has changed on that front. The battle continues. At the time the writer Clay Sturkey could claim on the front cover that  'Communications technology will help promote freedom – but it might take a while.'
Now there is attention to other aspects of social media for as never before  people at all levels of society are realising  social media is not the friend of all. Hannah Kuchler writing in the FT Magazine (February 24/25 2018) says that the techno-optimists have taken a beating this past year.
Already before 2018 has found its feet  attention has been directed toward the question of social media and the young. Sarah Brennan, chief executive of YoungMinds has said:" With so much of young people's everyday lives involving the online world, it is crucial that it is a place that young people can feel safe and enjoy being part of."
However the issues raised in the present uncertainty toward social media have a wider constituency and possible application, not least in terms of technology and truth, business intrusion upon our habits, and the impact on  personal privacy.  Ms Kuchler  says the idea "that the internet and the march of innovation will solve our problems has begun to look ludicrous." There is a positive side, at least in emerging economies or where previously unattainable markets have been opened.
She says amid the present "Big Tech' backlash the internet is bringing to the fore many opportunities for the least connected people in the world.
As the vocal temperature rises so coming out to bat somewhat late in the day is Facebook's policy director for Europe Simon Milner. He is keen to say they wish to make Facebook a safe place for people of all ages. In terms of the young all the major players have been under examination.  Facebook,  Snapchat and Twitter have been accused of failing to 'protect'  young people. According to a recent article in The Guardian  (February 26) a new survey commissioned by the Children's Society and Young Minds saw almost half of those responding saying they have experienced threatening, intimidating or abusive messages on social media, pushing some to the verge of suicide in extreme cases. Educationalists  to have a concern with social media as they plaintively seek to establish whether texting is corrupting written, let alone vocal, expression.  Not to be doubted is the simple fact that swathes of young people are caught up in the power of their mobiles, but then it might be said that in another context adults to are fixated by the same compulsion. I travelled recently 200 miles with a middle-aged man opposite me, and who in-spite of my efforts to move beyond a sentence thumbed his way continuously on his mobile and was only disturbed by reaching his station destination. He did wish me a 'good night' for which I was truly grateful. My district chair, Steve Wilde might have met his match in attempting conversation, perhaps not.
In spending time foraging through newspapers, and journals  from political,  social , cultural, areas, to reading commentary on the effect and persuasion of social media from mostly as little back as 2016/7  I pick up an almost  religious language dimension flavouring comment. I have found observers who speak of the new (social media)evangelists who have a message for our time. They talk of lives challenged and altered almost imperceptibly, but often not for good. So, take the view of Katherine Viner in the section Journal (Guardian July 12. 2016). She is concerned that social media has swallowed the news – threatening the funding of public interested reporting and ushering in an era when everyone has their own facts." Her lengthy feature gains the headline: "How technology disrupted the truth." She says the consequences of social media go far beyond journalists.
The Financial Times, interestingly in its weekend House & Home section  (August 17. 2017) runs the title: "Possessed: the digital home" and where the writer Edwin Heathcote says while the 'internet of things' is creating a more connected word there is also a "darker side to giving up our data and domestic lives to machines."
0liver Moody in a Times feature (December  27. 2016) believes "children of the internet are happy to live a lie" He believes truth has not died, rather it is our appetite for truth.  He ends on a rather salutary note that "It's just you, on your own, against a fathomless tide of scarcely differentiated truths and lies, clichés and insight, omission and distortion and clarity." 0h, he ends on a kind note – "Best of luck."
Both Cognitive scientist and professor of marketing Philip Fernbach, and Steve Sloman, professor of cognitive, linguistic and psychological sciences, speak of the simple but so deadly problem that 'the forces underlying bogus and real knowledge are similar." (New York Times March 6. 2017). It was a time of 'bashing' Facebook with Steven Dojcinovic in the New York Times (November 16. 2017) saying that the 'world's most powerful social media company thinks it can experiment on whomsoever and whatever t wants." It should be mentioned that the Financial times (August 26/27. 2016) had run its magazine supplement with a front page headed Data – Our New Religion'
The Guardian has a seeming love for the subject with Alex Hern writing on social media's addictive secrets ( January 24. 2018) while in its sister paper months previous  The Observer spells things out to the effect that "whether you're tweeting, shopping or just browsing, internet companies are increasingly monitoring you and gathering data."   (May 14. 2017). In the Autumn,  the Science & Technology supplement ran the headline 'Why the Church of Tech Needs A  Challenger ( October 29. 2017). And yes, it was written by John Naughton. It particularly catches the eye for that writer takes his thoughts into religious territory by remarking it was 500 years since Martin Luther 's 95 theses defied the pope and reshaped western society. Naughton says it's time for a similar revolt against  what he terms the "Hypocritical religion of technology." Near the end of   the year the very readable Mr. Naughton  says loud and clear "It's time to face the facts about our digital world." (December 21. 2017).  Naughton says last year was the time "when non-tech companies woke up to the fact that this digital stuff really affected them." He instances how for  a mere $30.000 the Russians could beam subtle political messages to 126 million voters without at the time anyone noticing. In another article (February 11.2018) He doesn't agree with Theresa May that Facebook and Twitter will police themselves.
The New Humanist (Autumn 2016) would take us into the disturbing land  of Facewatch. This is a searchable, shared data base of CCTV images of people whom writer Roy Filar says are considered suspicious or criminal. Worrying is the simple fact that  "You don't need to have been convicted of anything in order to be put on the database – reports are up to whoever is using the software." Equally uncertain as to its consequences is the recent US court case that heard a request from Monsanto to access dollops of seemingly private internal communications by online activists Avaaz.  The group's deputy director Emma Ruby-Sacha   says fear rests in an increasing request for data, and speaks of a "chilling" on  staff  who were already "unsure what to write down – and what not to write own." Ms Ruby-Sachs speaks of a "scary cloud hanging over our organisation."
It could present a challenge to many organizations where there are files on individuals even down to your humble circuit minister who increasingly has thought life would become easier once material can be filed away..
Even before the recent report on social media and young people Tim Walker, G2, Guardian, January 10.2018) brings into play the simple fact that for many young people the internet has already replaced efforts by mainstream broadcasters to provide  attractive sound  and visual viewing. Walker notes a 50% decline in spending on children's television.  The pace rests with vioggers with one, a 22 year-old Ohioan Logan Paul boasting of more than 15 million YouTube subscribers. Of.com tells us that   12 to 15 year olds go for their viewing to YouTube and not the BBC or ITV. On another level parents  "woke up to the fact that not everything running on the YouTube Kids channel was wholesome or harmless." On a slightly different intellectual platform over in the land where Louis Vuitton, Prada and Gucci take a page or to, glossy and bulky Harper's Bazaar, Rosie Huntington-Whiteley believes young people need to be beware of social media's negatives and says: 'It doesn't always feel good scrolling through." (March 2018).
The rise of streaming services is another factor. Hence as a by-product, advertisers are straining at the leash as regulatory authorities prevent junk food advertising to impressionable young.
To those firmly in the 'pro camp a little ray of sunlight came in The Times (February 22. 2018) when its front page proclaimed 'Good trumps evil in the battle against social media trolls.' It reported a study made on Twitter  of 2.7 million tweets relating to Jews in the twelve e months from October 2015. It found 0.6 per cent were antisemitic.  It found that positive authoritative tweets outweighed  all else. In 'Leader' comment  applauded what appears to be the case that  "even as hackles and blood pressure rise online, good sense usually prevails.."
Hannah Kuchler urges readers to forget 'Big Tech' for she says "It's the small digital triumphs that count". She focuses on Gaza and what are called 'Gaza Sky Geeks.' GSG was begun by the aid agency Mercy Corps with funding from Google. From a small, windowless office in an apartment building, it now has space that hosts 140 people a day. The internet helps those cut off by wars and walls to improve their lives. They can communicate hundreds of thousands of miles away and offer their product. No one has to wait for slow postal systems assuming they operate well.
As for the religious constituency preachers may urge people in their congregation to 'come to Jesus' but outside of that moment lives are being radically changed, and in such a way that seemingly by-passes faith and the questions of what it is to be human, and what makes for good society.
Why though is the Church as a whole seemingly dis-interested? The loss of such magazines as The Month,Third Way, Christian, New Christian, the Epworth Review, and the UK Theology doubtless contribute to this feeling as the field is narrowed to sources where very lengthy considerations on important issues can be laid before Christians concerned  to bring faith and world together.
POETRY
FINAL SOLUTION
When Noah stood once more upon dry land,
He found God's purpose hard to understand.
Those coloured curved ephemera above,
Were they a warning or a sign of love?
God, looking down and seeing him nonplussed,
Did what He could to reinforce his trust.
How could God change what Man would do by choice,
Blind to His broadest hints,  deaf to His voice?
God knew His creatures would outdo the Flood:
Humanity would drown itself, in blood
God pondered. Then, before the End began,
He gathered two of every kind, save Man.
Ben Batten
This poem comes from his latest collection Land Locked. Enquiries to purchase the collection should be sent to J. Batten, 49 New Road Newlyn, Cornwall TR18 5PZ. Do state you saw this information in CRISIS 63. Thanks.
Booksandbooks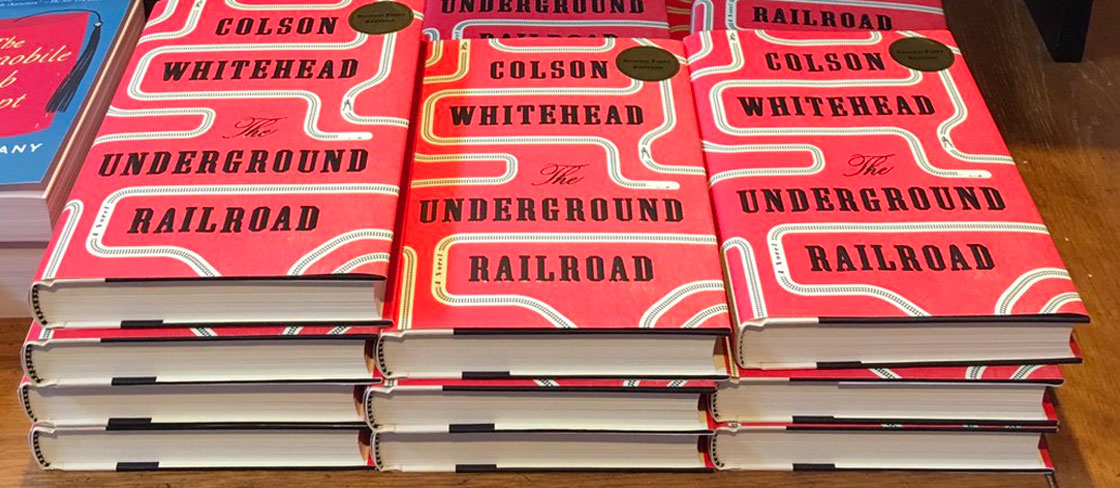 Just love the cover of Underground Railroad by Colson Whitehead (Fleet) that makes it's appearance in paperback. This book from 2016 won the Pultizer Prize for Fiction in 2017. This razor sharp novel focuses on the trials and tribulatios of one woman's ferocious will to escape slavery.
Admittely I'm pushing a book that came out in 2011 but having gone back to it recently due to reading abut publishing difficulties at Rolling Stone, goodbye in print NME and  wondering can I afford a massive very expensive book  tracing the history and publication of the one-time excellent The Face.  So  with all that in in mind read John McMillian's fascinating Typewriters (Oxford). Here is a detailed look at the Sixties underground pess and the rise of aternative media in America.,  All wonderful.
CRISIS 64 will bring into focus a new book:  The Monk's Record Player. Robert Hudson. Am part-waY through, at base it centres on monk and social activist Thomas Merton and his facination for the poetry and songs of Bob Dylan.
NOTICEBOARD
GARTH HEWITT NEWS: From Garth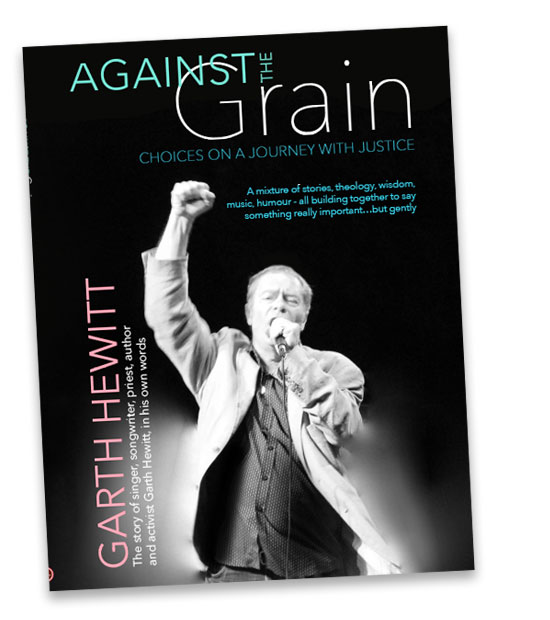 Against the Grain - Choices on a Journey With Justice
The story of singer, songwriter, priest, author and activist GarthHewitt, in his own words
In his March newsletter Garth chatted about his book, saying, "I'm not quite sure how to describe the book, and haven't been from the beginning. I think "memoir" is probably the right word, which is used more often today; but basically it's autobiographical..." He outlined some of the processes that went into the writing, and the design of the book, and also chatted about songs on the accompanying double CD.
"Garth Hewitt writes redemption songs and then sings them without fear. His voice comes through clearly in these pages, challenging us by his witness to act for justice. His is a brave voice, needed more than ever in a fearful world and in a sometimes timid church. Please God, it will help us sing redemption songs of our own."
The Revd Lucy Winkett, Rector, St James's Piccadilly; previous Chair of Trustees of Amos Trust

Songs of peace, protest, poetry and prayer
companion to the book, double album Against the Grain
An eclectic choice of songs from down the years, with some brand new tracks and a surprise or two... 
This double CD represents more than 40 albums released by Garth Hewitt over 45 years – with eight never-before-released tracks including two previously appearing only as vinyl singles, plus two unreleased demos, you'll experience Garth's variety of styles and subjects.
For Easter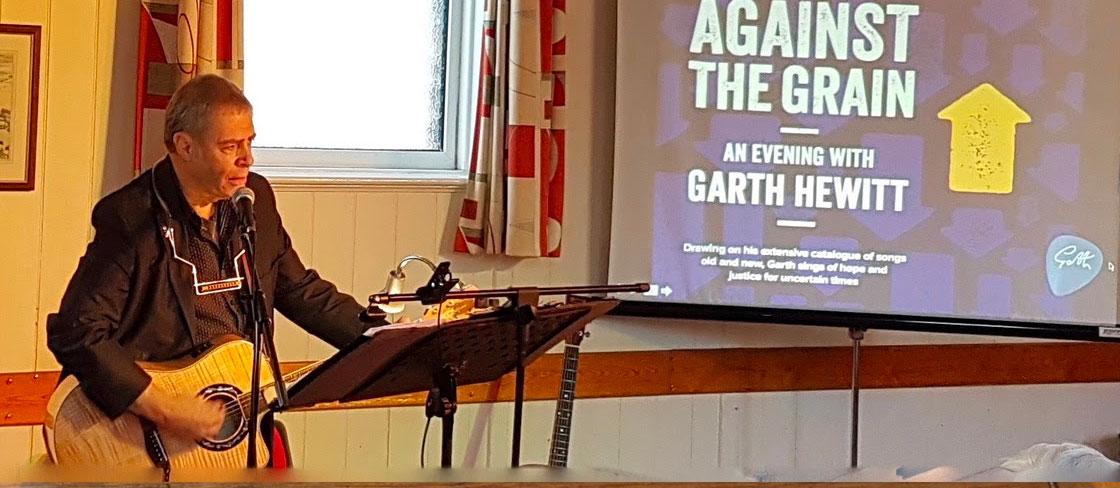 Garth sings the title song of his album Against the Grain, at his recent concert at Askham Bryan, near York, on Palm Sunday
Garth tells of the inspiration behind his song Against the Grainbefore singing it at his concert near York on Palm Sunday. Click here to watch the video