THE PRESS  AND MAGAZINE ISSUE
Crisis is published by Tony Jasper: material is welcome.  Crisis  is offered free. Crisis usually appears the fourth week of a month.
OBITUARY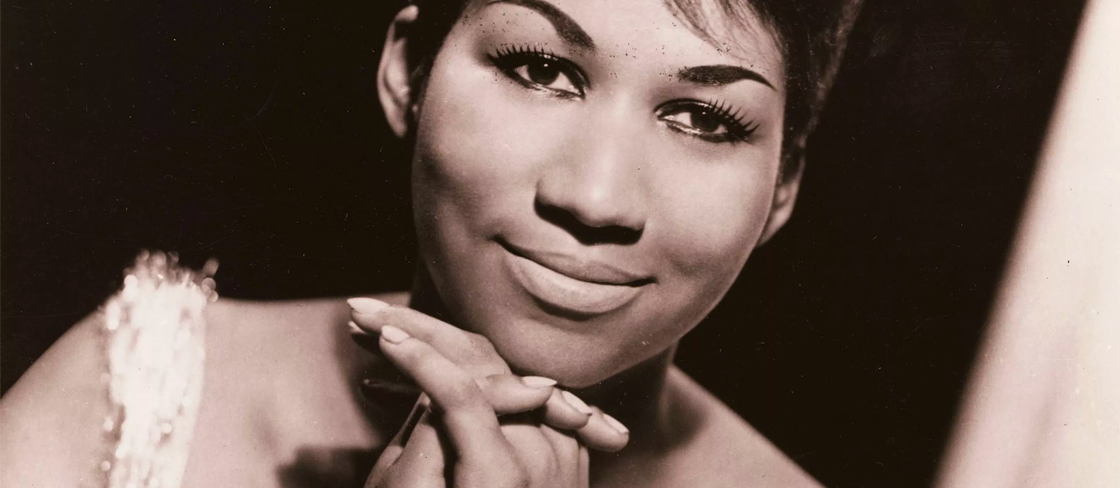 Aretha Franklin
In black American religious circles the Revernd C.L. Franklin was a preacher star, but for all his fame he was outpassed by his daughter Aretha. Last week pancreatic cancer claimed her life. Save for Sam Cooke no one has had more influence on gospel, (later R&B, soul and pop, secumbed to her amazing ability) and yet her actual gospel releases have been few, although dynamic and memorable. Even when Aretha went secular she never stopped singing gospel at those concerts. In her autobiography   Aretha – From These Roots (published in 1999) she spelled out loud and clear her faith:"I accepted Jesus Christ as my Lord and Saviour." No doubts.
She has graced with song and majestic style US presidential inaugarations, those of Jimmy Carter and Bill Clinton, and more recently Barack Obama who in paying tribute has said that "when she sings, we hear our history." She was a great friend of Dr.Martin Luther King Jnr and sang at his funeral. Dr King saw her her intrinsic to the Movement.
Born March 25, 1942, in Memphis, Tennessee, she grew up in Detriot, Michigan, knew nothing but 'church' to permeate her early life, surely aware that running through her veins the wondrous power of black gospel song that she heard Sunday by Sunday, and the power-house preaching of her father. In his time, the 1950s, he was the most famous and exciting preacher in the US.  He was called "The man with the Million Dollar Voice." He sold over a million records. According to biographer Bil Carpenter he was one of the "most esteemed and sought after preachers of the period. Young Aretha was never far from faith, being surrounded by God's people. That early commitment has never left her, as Mick Jagger of the Rolling Stones has said "she always brought you to church in her singing." Not unexpectedly Aretha's mum Barbara was a gospel singer, so to her sisters Carolyn and Erma, They all sang in dad's church.
Sadly her mother died when she was ten years old.
It is well documented that a young Aretha had a special vocal ability. At the age of 14 for the local Battle records label Aretha recorded live an album  at her father's church with only a thousand discs pressed. It would later be re-issued under the title "Never Grow Old." Another very early record in 1999 was entitled"You Grow Closer" with the standout track, her take on the famous Thomas Dorsey song "Precious Lord." She names Clara Ward and Mahalia Jackson as two early vocal influences. A greater impact came from James Cleveland, someone she says who gave her above all a sense of timing. He is credited with encouraging her piano skills.
Aretha would gravitate as other black gospel artists into R&B and soul. Between 1961 and 1967 she recorded ten albums, but as yet, in-spite of much recording, she had not broken big into general music land, However, it would come, and as the various newscasts have shown in their reporting on her death, one song in particular "Respect" (1967) would announce the coming of a legend.  Aretha took a once Otis Redding associated song about a man trying to gain family respect as he brought home the money, into something great and enduring, as it was transformed into a feminist and civil rights anthem that has been sung and sung. She was not afraid to sing 'white' composer songs, most markedly heard in her majestic take of the Carole  King composition "A Natural Woman" .  She would even lay down a gospel version of the famed Simon and Garfunkel hit "Bridge Over Troubled Water." Hits and hits would come with perhaps "I Say A Little Prayer' one of her most endearing recordings. Her personal life was uneven, at times tragic, and in immediate family terms sister Carolyn died from cancer and her brother died young.
1972 she returned to gospel and would lay down one of the greatest ever recordings, a double record set "Amazing Grace." It was a mix of the traditional, so "What A Friend We Have In Jesus" to songs associated with Clara Ward, one being the swaying rhythmic "How I Got Over" and with James Cleveland, "Precious Memories." It was re-issued on Rhino in 1999.
In 1987 the word 'remarkable' could be applied again with the issue of  "One Lord One Faith. One Baptism." Another Grammy would come her way.
Spoken messages take up a third of the release, (including a ten minute oration from Jesse Jackson) while for the rest a heap of mighty songs with guest artist Mavis of the Staple Singers. Traditional gospel songs permeated the overall song selection that would include Aretha's thunderous take of "Oh Happy Day.." The album would sell over 300.00 copies and top the Gospel chart. It came out again in 2003 in CD format with additional material.
Her gospel drenched Version of "Bridge Over Troubked Water" would appear on  "Live at the Filmore West".
On many of her general albums she would include a  gospel song, so the 1968 "Aretha Arrives" includes "I Ain't Gonna Let  Nobdy Turn Me Around" and "Lady Soul" has her wondrous take of the Curtis Mayfield's "People Get Ready."  The 1970 "Spirit in the Dark" contained "When the Battle is Over". In pop chart terms she had recordings with George Michael (with whom she had her only number on UK hit – "I Knew You Were Waiting for Me") Elton John, George Benson, Whitney Houston, and most spectacularly  vocalising with Annie Lennox on the  Eurythmics and the feminist fiery  hot "Sisters Are Doin' It For Themselves", plus  28  top 50 solo  hits.
As Carpenter says there have been attempts to divide Aretha pop and soul with gospel but to her end she has said: "I never left church. I carry the gospel along with me." Iin her last moments prayers were said around her bedside by the Reverend Jesse Jackson. On Newsnight the famed US preacher spoke of her role in the civil rights movement and her financial generosity to the movement Her life was "Amazing Grace." It ended too soon.    
ROLLING STONE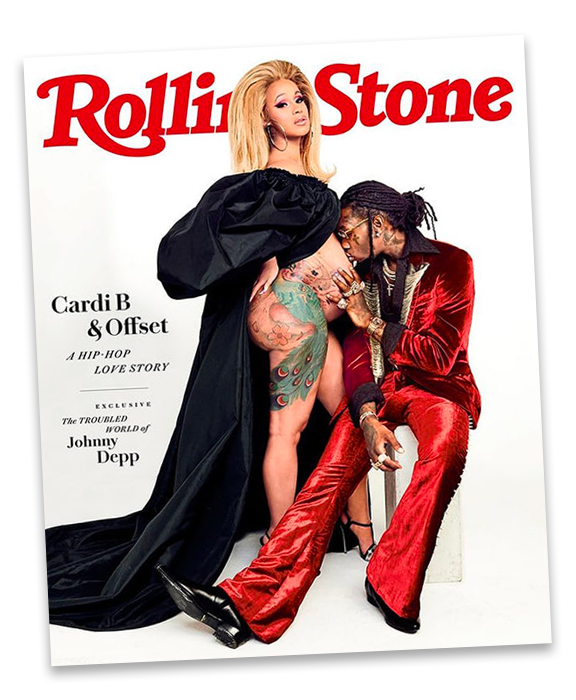 Welcome back to the print world the US based Rolling Stone, as July of this year sees its re-appearance with a new publisher. It comes back with difference. Editorial of the new RS calls it a 'new era.'  Now into a larger format, it is more of a magazine shelf occupant, monthly and not bi-weekly, and modernised with a bold, clean design. Amazingly RS began its life 50 years ago with music, politics and popular culture. Religion per se has not been regular. Jann S Wenner, the original genius editor remains. His task is to take RS into the format and style of 2018. It will be a shame to say goodbye to the old newspaper presentation, but there we go! No marks though for its eye-catching, but ultimately somewhat poor taste first cover.
BUZZ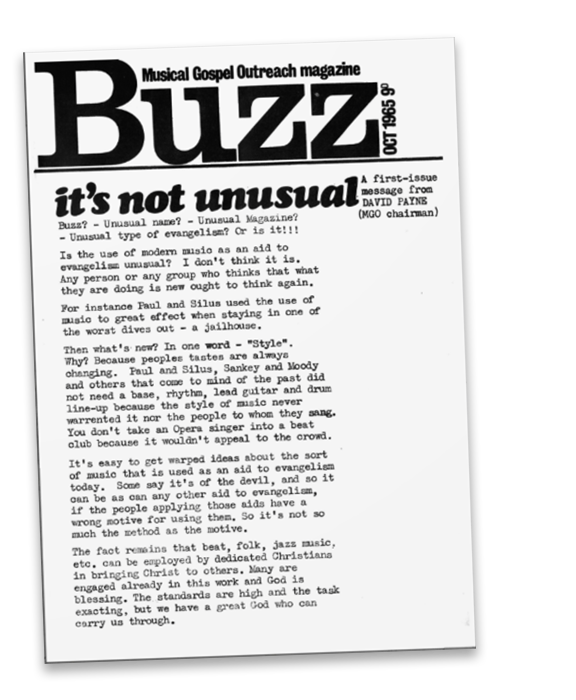 Once upon a time in Britain there was a magazine called BUZZ  the brainchild among others of Peter Meadows. In its time it was innovative, and yes, trendy. It was a lively attempt to produce a magazine with Christian content, and which took the style and feel of a popular culture magazine of its time. It was a word and picture bombshell in the safe religious world of its time. Now the first few issues have been available once more – well, indeed raw,and very much a beginning,  before it took a real style. You can read by following this link.
NEW MUSICAL EXPRESS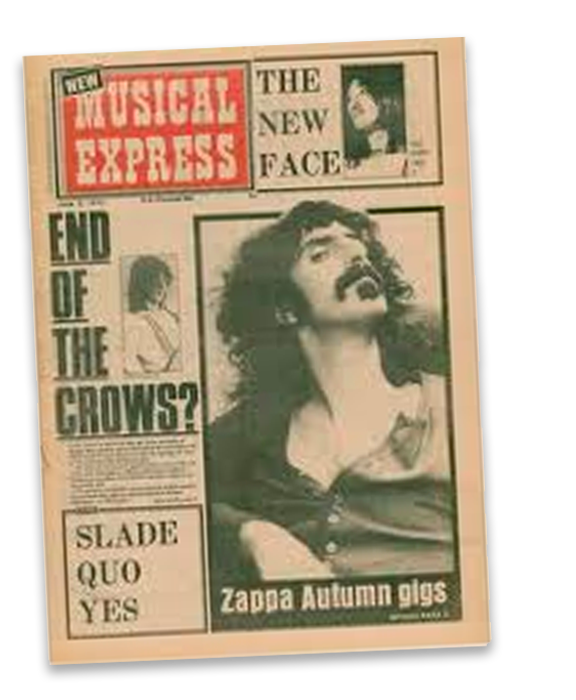 We did not report or comment on the recent demise of the New Musical Express. NME, as it was better termed in conversation, was once a successful music weekly. At first in its hey-dey in the mid 1960s it fetched a sale figure in excess of 300.000.  It came out weekly with competitors such as Melody Maker, Record Mirror and at various times other publishing attempts to capture music of the time, such as Disc and Trax. In recent time it had become more of a Magazine and ending its day as a freebie, but not the easiest of mag s to obtain, largely given out in the street and available at HMV stores. Free it might have been, but I know from my nearest two HMV outlets that free or not it was just left. Somehow the magic had gone. To a large extent the music press thrived in the time when record charts were important and in pop terms, there was the weekly Top of the Pops. In common with another  weekly Sounds, NME, like the Beatles kind-of grew up, tossing away simple pop and to take music into a more intellectual area with long almost literary articles, and to which this writer joined the club of music paper scribes.
It is sad to report the death this August of Roy Carr - one of the 'greats' in the music journalism of the NME.
TEEN BREATHE
It takes a brave company to launch a teen magazine in a time when some suggest young people have only eyes for the tech gadgets. So congratulations to GMC Publications. Sussex. It's into issue 6.  The magazine is far from say the somewhat tawdry dress world philosohy expounded by a few teen popular music stars. In content it offers readers 'lots of things to do', gives advice and help, and so in issue 6 such copy as 'So what does it take to be a good listener? There are some good tips' in an intriguing 'MaKe a Vision Board' that can help the reader to frame and reach and reach their goals, a feature centred on how one might suss one's innermost emotions, to "Getting your Voice Heard- - how to make people in authority listen. "  Markedly absent is the staple diet of many teen offerings – namely fashion, star interviews and guides on their likes and dislikes, plus television –film focus and the latest in tech world of mobiles, laptops, etcetera.
It has a` slightly 'worthy' air of adults wanting to make contact with the young, or hoping to persuade them off their mobiles.  This is well illustrated in their own advert for a forthcoming issue: "Teen Breathe has launched a` special issue to introduce boys to mindfulness and well-being.'
Can one imagine a young mother saying to her son: Timmie, I've bought you a magazine – it's about 'mindfulness' and 'well-being'. He's probably more interested in Manchster City or Liverpool, or name your own team here.
Still that caveat aside, well done GMC
FAITH AND THE PRINT WORLD 2018
Newspaper and Magazine
Faith of sorts is alive and well in the recent print world, although its expression may not be the buzz some Christians would like. Take Guardian's excellent writer Suzanne Moore who wishes to share two burdens in her life. The first is her age. She is about to turn 60. She says it means she is older than Nigel Farage - not an easy thing to believe. It seems she is worried by how society tells her that women of her age are embarrassing, while men of her age are hitting their prime. However there is the thought  "We all know the inside doesn't match the outside- and I am actually 14.  Hopefully, I will get the documents soon." Alongside this she is beset with the vicar's daughter who in recent had a further awkward moment of holding hands with the man from the White House. Her column (July 17.p3 G2) is headed: "Why does a Christian like Theresa May not stand up to Trump?" Getting into stride she asks: "What happened to Christianity, to morality, to decency? We have seen traumatised kids snatched way from their parents. What kind of Christian stands by and says nothing?"
She does bring on to her verbal stage Steve Bannon, and so we are reminded of the Bannon ideology of the "apocalyptic clash of Judaeo-Christianity against Islam."
Not unexpectedly print land still has space to make Christians aware of the "appalling misogny and homophobia of Christianity " and so it appears via Deborah Orr in 'My View' in the  I paper (July 19. P 5). She recalls the time when apostates were murdered for no other reason than disbelief. "All that remains of that time are lovely churches with lovely bells and lovely people who were not "prime victims", but English churchgoers and tourists, like (Stephen) Dawkins." She posits the view that Christianity has become deradicalised. She sees this as an ongoing process "which is what the recent Irish abortion referendum was all about."
"Letting Their Hair Down" is the heading for Laura Kipnis as she reviews and offers commentary on two books Sex and Secularism by Joan Wallach Scott (Princton University Press) and R.Marie Griffiths, 'Moral Combat: 'How Sex Divided American Christians and Fractured American Politics." The New York Review May 24-June 6). The latter has a title and content impossible to resist.  Apart from finding yourself engrossed in a lengthy piece on 'Queer Turkey" by Kaya Genc in The New York Review of Books (June 28- July 18) there may be time to run eyes over "Jews and Human Rights' by David Shulman, and for more 'Liberalism's Relgion" (Cecile Laborde), Secularism: Politics, Religion and Freedom (Andrew Copson) and not least, "The Meaning of Belief: Religion from an Atheist's point of view"(Tim Crane). Lots of stimulating text, and thankfully the US publishing houses still find reason to issue serious tomes on faith.
Yes, Britain has its own high quality book review service, notably the TLS, Londn Review of Books,  and Literary Review. In the latter the engaging Church Times regular Angela Tilby is let loose to scan and comment on 'The Minister and the Murderer" by Stuart Kelly (February p 37) It focuses on James Nelson who murdered his mother. Nelson was sentenced to life imprisonment but in 1984  the General Assembly of the Church of Scotland agreed to admit as a minister a candigate with such a horrific past. Into the text Kelly weaves his own sor – "He is not sure whether God is real, at least in this universe, but he is a regular churchgoer and seems haunted by a sense of vocation. Meantime over in Observer land we meet the brilliant artist Corita Kent who just happens to be the nun who for time time shook up the church – and the world of Pop Art, and with that in mind she appears under the title 'Swing out Sister." Joanna Moorhead's feature
(The Observer Magazine, April 22, p 45) reminds that this year is Kent's centenary. During the late 1960s amd early 70s "she used advertising slogans and song lyrics, as well as biblical verses, and quotes from literature, to create vibrant silkscreens with trenchent political messages about racism, poverty and injustice." Overall she shouts for those who will hear that at the heart of life, it is love and caring for others. Her work is exhibited at the Ditchling Musem of Art + Craft until 14 October (ditchlingmuseumartcraft.org.uk). Her work is inspiring and stll relevant.
Vogue takes a religious trip in its June issue, and on its front cover is the invitation to take a trip inside – The new spiritual address book".  Alas, for anyone hoping there might be a power-house Christian recommendation there cometh forth astrology, clairvoyance healing, crystal sound bath. Noetic recovery and numerology – well, you can't have everything.
As an aside with a religious thought bursting through in another promised feature there comes: "Your passport to fashion heaven?" and this is "a perfect white ruffle dress" and which worn by whoever surely would add a visual plus to any service.
Three pages and another with a pic tells of desertion from the 144.000 land of the Jehovah Witnesses. Director Daniel Kokotajilo has made a film that hit national screens at the end of July under the title Apostasy, and if you like follows in the wake of the recent Scientologist movie. These days he is an agnostic and is aware he will be shunned by JWs and is sadly conscious that his mother probably won't see it.  Once he felt he had the key to the universe and everything was clear. "I used to feel quite smug." He is asked by writer Rachel Cooke whether he misses 'certainty of belief? " :"It was liberating when I first left." (The 0bserver, The New Review, July 15. P 17).
Good and bad news closely followed each other in three recent I paper features. The former stemmed from a recent ComRes survey that said just over half of Generation Z (18-24-year-olds) said they had a positive experience of Christians and Christianity with the negatve fact that they still shun the church. Only 11% said they found Christians more fun to be with. St Paul's Cathedral took its first full-time chorister in its 1.000 year history as Caris Jones braved the dissidents (June 30.p 36).
Covering two pages the I examined the seeming perilious state of Church of England finances. The COE has an annual income of £1.4 bn. It has far more oultets than Macdonalds, some 16.000 churches and 42 cathedrals. Financial collections have remained at £57m but in real terms, allowing for inflation, last years giving was 22% down. (July 21. P24/5).
Canon Nicola Stanley, 61, pops up in the June issue of Woman&Home. She is one of three women who have stepped out of their comfort zone – and defied their own expectations. She is Precentor of Bristol Cathedral.  Two sons and a husband get mention but more so there is a` look at a tattoo that adors her arm. "My tattoo is precious to me as an honest depiction of my beliefs."  She says she loves the symbolism of the coptic cross and it's something that she knew she could never be parted.
The FT Weekend Magazine  (June 16/17) centres on the abuse of power at Westminster, and also features Lore Segal who was among the first wave of children to flee the Nazis on the Kindertransport 80 years ago. She is 90, still working. 0minously, she tells Neil Munshi:"I'm not surprised by anti-Semitism when it rises again. This has been an interim." Of course the general press, television news, and a programme such as Newnight has devoted space and time to the question of the Labour party and racism. The FT has taken readers into his latest film where Ethan Hawke plays a  priest in a story of wealth, politics and business. Hawke was raised an Episcopalian. His love is the work of Thomas Merton. He speaks of Merton's 'suppleness to his faith, he's very unbrittle, and he's open to a longing for God."
In terms of current America he comments:
"There's always a great pull towards fear an darknes and greed and tribalism, and so that exists with or without any administration." On the present US, he has the chilling remark:" Thee's something really terrifying about watching Jeff Sessions quote the Bible while he performs apartheid-like acts."
Writer Andrew Edgecifffe-Johnson says it speaks volumes about today's ill-at-ease America. This is a US divided between environmentalists "angry that the Church is not speaking for God's creation' and connected business men "keen to ensure priests keep politics out of their sermons."
MUSIC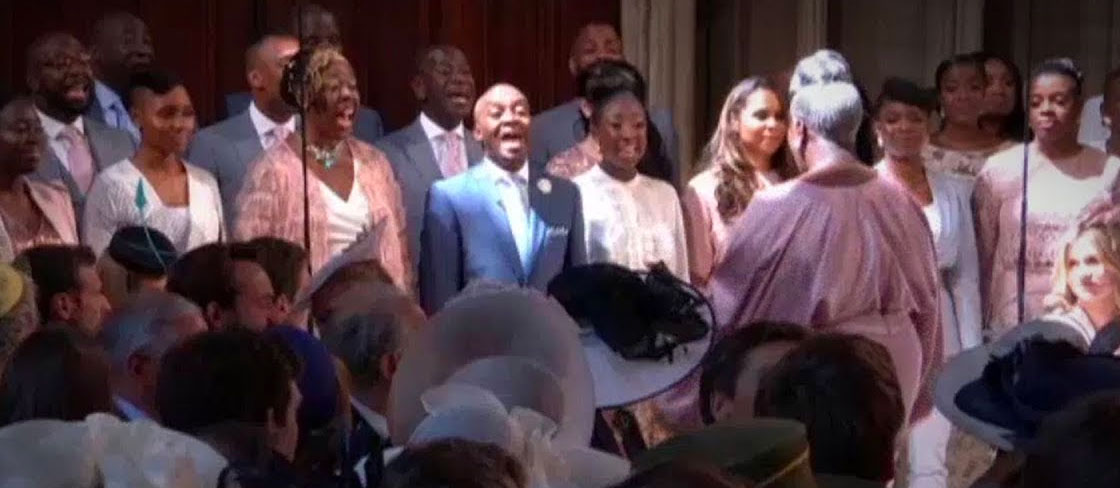 It was a dead cert that the choir which sang for the royal couple of Meghan and Harry would find a recording contract. So, it has come to pass. The Kingdom Choir have put pen to paper on a major record deal with renowned label Sony Music UK. Not only that, but the group will release an album on November 2nd followed by a headline show at London's Union Chapel on November 28th. Let's hope they will not be commmercialised or get given the gloss that makes them more saleable in the US. Will they sing familiar Gospel material or be adventurous and so rework songs that have a faith edge, as in their St George's rendition of 'Stand By Me'? It's wait and see.
Just released is Love Song in the City from Martin Smith (Integrity) and as you surely expect from the guy who fronted Delerious this is a corker. This is yer Greenbelt 2018 best-seller. Such a powerful vocalist, Smith out-vocals many in the rock world, and here on a 13-track 'live' set he powers away with those 'anthem style worship songs, and that feel immediately established with the opening heartfelt 'Jesus, Only You.' There are some favourites, such as my constantly chosen song in worship gatherings 'I will sing of Your love forever' - that has one of those sublime refrains. I never tire of singing it, with the only negative the process of trying to persuade traditional chapels that they can sing it. Another favourite is 'God's Great Dance Floor, here with its chugging rhythm that has the initial purr of a mighty coupe and a 5-litre V8 engine, aided here by strong drums and hovering guitars. There is his version of those familiar words from Ecclesiastes 3 set to a rock growl, and so not a take on the famous version by the Byrds. 'Song of Solomon'has a 'bell-like intro, a slowish reverent and almost contemplative feel with some interesting studio desk production colouring.The surprise listed track is Veni, Sanctus Spiritis, but as it happens, no vocals, just a sublime slab of atmospheric music to accompany the time-honoured classical worship words, and see them come alive in a contemporary music context.
Ace.
'Everlasting Arms' (Integrity) brings to the fore 32 favourite songs from today's women worship leaders and singers, and for anyone who doubts the influence of women, interestingly mostly from the independent church world where womens ministry is often sadly not accepted, this brims with so many splendid artists, such as Darlene Zschech, Jaci Velasquez, Alisa Turner. Kristyn Getty, Christy Nockles and Lou Fellingham. It is interesting that the press release says that throughout scripture and the millennia, women of God have stepped forwad to serve the Kingdom -  prophet-poets  and obedient servants."A new generation of women is inviting us to lay our hearts at Jesus's feet. To pour out all that we are and to rise up to carry His grace, mercy, rule and reign to every part of the earth."
I've stumbled upon a band who call themselves John 3:16, a title I'm sure you know in Christian terms is a reference to the majestic verse in John's Gospel, and some would say there in few words you have the Christian story and message. Is this a new band with Christian allegiance battling it out in pop land, like say, in time past, the underated but infectious After the Fire?  However longevity as a reviewer and DJ induced hesitation that I had now pleasingly discovered an outfit that alarmingly had not previously crossed my music awareness radar.
Yes, quite simply, there have been, and still are bands who adopt religious terms and language for their name. Quite why is a mystery, and in most cases there is little in their songs that might find its way into 'faith' territory. Perhaps from school days various group members have memories of 'bits and pieces' they took in when studying religious education. Certainly the unwary can be in for a surprise. Sometimes it just happens – your real name has overt religious connotation. Taking pride of place for unintended mis-information must be the band Christian fronted by Gary Christian and harmonizing with brothers Russell and Roger. They lay claim to have produced the highest selling debut album with their surname fronting, confusing I recall some 'faith' people, and for album number three the title  -  'Happy in Hell.'  A later group album was 'Harvest for the World'. Among other groups bearing 'religious' names –  many have a heavy metal or punk output - Judas Priest, Exodus, Testament, Lamb of God, Nirvana, Jars of Clay, The Jesus and Mary Chain, Sweet Jesus, Teenage Jesus and the Jerks, Genesis, The Church, Saving Abel, The Fall, Heaven 17, Young Disciples, Nazareth, A Man Called Adam,  Angelic, Black Spirituals,  and Grail  whose new album is entitled Chalice Hymnal.
As for alternative  group ' John3:16'  - this is a new guise of Philippe Gerber, once of From A  Deadstar. Tracks include"Visions of The Hereafter' and 'Ascent of the Blessed to the Heavens.' But no, this is not a worship album. A taste of this US outfit can be found on the free CD that accompanies the latest Wire music magazine issue 47 with their composition 'Into the Abyss
THEATRE QUOTES
I think rage can be harnessed. I find it exciting in women. That's something that goes through my work, for sure.
Phoebe Waller Bridge.Vogue. May 2018. P199.
Theatres are secular cathedrals that absorb the spirit of their plays.
Mark Shenton    The Stage
Sharing music is a sacred act.
Merrill Garbus.   New Review. The Observer
It's three hours of intense emotional, psychological, mental, physical labour.
Paapa Essiedu on playing Hamlet at the RSC.
A musical should not have to play for more than a decade to be considered a hit.
Richard Jordan
There are moments in the theatre where you hear a velvet silence of recognition, which is more exciting than laughter or even applase and you go, "Now that's it – that's worthwhile.:
Lia Williams.
I think about death "every day."
Sir Ian McKellen
When my agent called and said the first three words, I knew my answer. Those three words were "Wes Anderson wants".. I said yes before he had finished his sentence.   Bryan Cranston.
Creatively speaking, failure can be a great help. To learn what doesn't work can be as useful as knowing what works. It's the opposite side of the coin .(Stage 19.4.18)
Vivian Lee
Making theatre for everyone creates a compelling dynamism   
Jackie Wylie    The Stage
I was obsessed with how unattractive I was, at a time that should have been my glory years,
Sir Ian McKellen   ST Culture 13.5.18.
We need to have stories about minority experiences – rather than edge-of-frame stereotypes.
Prasanna Puwanarajah   (Guardian 16.5.18)
My way of bridging the gap etween Shakespeare's language and the mdeerm day was to set scenes in old buildings.
Richard Eyre
Reality is unbearable because it is unadequate to deal with whatever the spirit of man s ookig for. I'm trying to look for a better reality, which caters for this lostness, this longing that is within us.l
Tom Murphy  Guardian 21.5.18
It is important not to be 787too knowing, and not to be afraid of the characters you are playing.
Laura Linney   Observer New Review 27.5.18
For the first years of my career I was waiting for someone to say, 'Hold on, we've made a mistake, you've been wrongly cast."
Paul Anderson (Saturday Review. The Time. May 26. 18)
I strongly believe that my job is to persuade you that I am playing someone else, so exposing too much personally is just something I can't get on board with.
Emily Blunt   (Vanity Fair. February 2018
TONY JASPER SUPPLIES QUOTES TO RADIUS AND WHERE THESE FIRST APPEARED IN 2018.
WALK TALL CHRISTIANS
Do you realise that if you are a Christian of whatever ilk or kind, you are a "warm" and "loving person" ", generous in giving", and "yes, good-humoured", "hopeful," and "caring,? " Take a brief moment to feel good!
These  worthy and pleasing attributes were named by countless thousands who were asked to say what they thought of a particular Christian they encounter in their lives. The Barna Group, on behalf of the Church of England, Hope and the Evangelical Alliance has been exploring how the great mass of non-churchgoers view Christians, And the result came in the set of words listed in the first few sentences of this feature.
No one was more surprised than Steve Clifford, the general secretary of the Evangelical Alliance.
He thought Christians might be seen a "hypocritical," " homophobic,"  "uptight," "foolish," "uptight" and "narrow-minded."
It comes as a pleasant relief after a so-called survey found 53% of the British population said they were not Christian. Of course it was a selective bunch that were asked, unless someone failed to send me a voting form.  47% said the opposite. The press almost lost control of its desire to paint negative headlines and summaries as many articles more-or-less suggested it was all over for the Christian camp, as they saw for the first time Christians were in the minority, although if accepted it still represents something over 25 million saying 'yes'. In view of the latter figure they could have motored on a whole range of positive notes in saying there are far more Christians than Saturday football followers, than movie goers, than teenagers, than school children, than those on a Saturday night drinking away in public houses, than those daily eating cornflakes or even a Mac. Naturally, they did not – no story.
Apart from the last instance, in recent time Christians have fared pretty well. Just over a year ago, April 2016, the Daily Mail reported religious people are much happier and have more 'life' satisfaction. They ran a picture of happy jolly smiling Christians. The reporting body was the UK Office of National Statistics and it spawned enquiry into why people of faith constantly report higher levels of wellbeing in surveys than atheists. It set in motion the desire to find reasons for dismissing the idea that 'believers' might have the edge when it comes to feeling good. The cynic produced the view that "ignorance is bliss." Even Psychology Today entered the discussion arena, and found their conclusions consistent with the idea that "religion promotes well-being in the form of social connections and positive emotions." It was even said Christians live longer. Those unwilling to grant such observations could find a voice in a US University professor Dr Linda Papadopoulos who suggested the "in" aspects of happiness include "take care of your health," "be grateful", "Embrace a growth mindset:, "Live in the Now,." and "Be kind ad generous."
Of course some people are happy, whatever, or seemingly so to observers.  In a Times article, October 22, 2016, the former Arsenal football manager Arsene Wenger hit the God track. He is reported saying "I said if God exists, one day I go up there and he will ask 'Do you want to come in? What have you done with your life?' And the only answer I have is "I tried to win football games.' He will say , "Is that all you have done?" Even the Financial Times gives space and points the way to Christian understanding, shall we say "helping out the rich" to find greater happiness. Its writer Julian Baggini is concerned that many people find themselves torn between enjoying capitalisms riches and yet they find its excesses embarrassing. To this, and unexpectedly, he asks :"Can religious voices help to resolve these  conflicts and help us find a better way of life?" He doesn't suggest giving the money away, so there is no point enquiring.
Brits are far from the only people where there is suggestion Christians make for the happiest people. In the US, Trump or no Trump, three out of ten people claim they are pretty satisfied with life, happy, healthy and moral, too. 30 per-cent of US adults say they pray daily, attend church at least once a week. 62% of these are women, just over half are non-white. In one detailed survey it was found that the group with greatest sense of happiness is found in the 65-79 age bracket, whereas the lowest 45 to 59. According to UK Essays, said to be trusted by students since 2003, religion encourages the best nature, "which could lead us to act happily, willingly and
voluntarily." The questions asked by various survey bodies come wrapped in a rather different religious framework from a few decades ago. Yet, am I wrong to suggest that few preachers direct their sermons to the idea that if you believe, you will find an inner "peace'.
Once upon a time sermons focussed on a 'get-right' process with God. Sermons might have had a 'heaven or hell" aspect but conversely some preachers spoke of finding a new life, a peace in the valley of life's doubt and uncertainty. There were sermons and guidance as to how life might be lived, in such a way that it wasn't cloy to sing about the 'Everlasting Arms." Preachers talked of the happiness of knowing Jesus. Supreme in all this a British famed Methodist preacher of yesteryear - the eminent Dr Leslie Weatherhead, termed  by some as 'Doctor of Souls'.He talked of people acquiring the friendship of Jesus. Indeed, of course there was his book The Transforming Friendship that sold in the millions. The book had divisions, and so for instance: the gift of friendship, the reality of the gift, the intimacy and so on. It was designated as 'a young man's book; but it contained, said one critic, "flashes which make the heart dance." It focussed on the simplicity of Christianity. Humour is very much central to well being. It is documented, and doubtless some readers of the MR still remember, that the great man was not afraid of making his congregation "double-up' with mirth. On his first Sunday at London's City Temple, with Lloyd George and John D. Rockfeller Jr occupying pew space, he preached on the theme of Christ washing the disciple's feet, and according to his son's biography 'A Personal Portrait' he proceeded to contrast with this episode the human uses and manifestations of power and importance. He did so with wry humorous references, and naturally all delivered with the ease of someone who knows what public speaking and delivery is about. On the Monday, the then national paper, the Daily Herald ran the headline "2.500 Loud Laughs in Church." Still even the great man could be in error. Apparently, hundreds of "good honest-minded men and women" were taken aback by his sermon illustration that had two teams playing each other, Leeds United and Sheffield Wednesday. His friend chastened him: "Man, they're not even in the same division! They couldn't play each other!"
The man filled the large City Temple Sunday by Sunday in the days when all mainstream denominations in London could speak of a great preacher and thousands attending, but life is life, survey or no survey, and Kingsley Weatherhead describes his aged father taking his walk by the shore and sea at  Bexhill. He sees him standing erect, as a "whiteheaded prophet left over from the old days, looking down from every inch of him upon the incredible follies of a world in which he no longer has any part."
SEEN AND REMEMBERED
To be alive but dead is the worst possible thing.
Mario Vargas Llosa.
It's three hours of intense emotional, psychological, mental, physical labour.
Paapa Essiedu on playing Hamlet. RSC.
It aggravates me that one Day there will be a 'Tomorrow' that I'm not part of.
Helena Christensen
Artists are the shock troops of gentrification
Grayson Perry
Here is still this mad, competative world thrown up by the insatiabe appetite of investors to make more (and more) as we move towards toxic meltdown.
John Bird.
Back then, it was unusual. Women didn't get a chance to be an arsehole but men got to be an arsehole all the time.
Dennis Kelly
Hosptal and hospice deaths are considerably more convenient for the family than they are for the patient.
Joanna Burke.
In short, know this: Human loves are brief and trivial. Yesterday a blob of semen; tomorrow embalming fluid, ash.
Marcus Aurelius
'The make America Great Again hat is this generation's Ku Klux hood'
Pusha T.
I'm a Jewish person. I wasn't raised with Heaven and Hell, I don't believe in Heaven. There's something silly about it..right?
Aria Aster
It's like we all woke up one day and discovered we were fat Elvis. We had been young and beautiful once, but now we were addicted to all kind of quick fixes – consumption, carbohydrates, drugs, vanity, violece. Elvis did all this, and look where it got him.
Eugene Jareckiou
Hiseman had the idea of forming a new group, with no drug addicts, no time wasters and no passengers.
Spencer Leigh
JOKE TIME
1
Man: Excuse me pastor but do they play golf in heavnen?
Pastor: Give me a few days.
Man: Pastor, have you managed to find out?
Pastor: Good and bad news.
Man: So?
Pastor: Yes, there is. You are teeing off on Fiday at 11.
2
A pastor desperately wants a rest. He rings his curate and says he is unwell. Could the Curate take the service? He packs his bags and puts his golf clubs in the car boot. He drives 30 miles to a golf club and far enough away so that he feels he will not be recoginsed. For the first time in his lfe he manages a hole in one. He is overhwelmed with joy. St Peter in heaven asks God why this man has not been punished.
God says he has. St Peter is puzzled. "Simple," says God "He can't tell anyone."
GARTH HEWITT FOUNDATION
News from Garth
Lifeline of Hope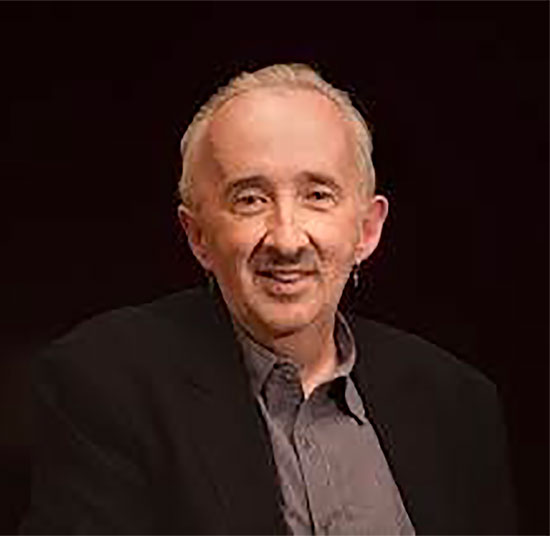 Dr Jeremy Reynalds, Founder, Joy Junction Albuquerque
Remembering Jeremy Reynalds - Founder of Joy Junction, Albuquerque, New Mexico
I wrote the tribute below to Jeremy when we heard the sad news of his passing – I was grateful that he had heard the song I had written about his work, Lifeline of Hope, which is on the new album Against the Grain. 
I actually finish my memoirs talking about Jeremy and Joy Junction (pages 132 and 133).
My tribute to Jeremy 
When I heard the news of Jeremy Reynalds passing on it was with shock and a feeling of emptiness. I knew he had been very ill but one always hoped against hope. It's interesting how much today I want to talk to Jeremy. I realise how much of an inspiration he has been to me - his extraordinary commitment to the homeless and those who are so easily forgotten; and it was his faith that motivated him to action. Jeremy took seriously the challenge of Jesus and the example of Jesus to make a difference in this world. He allowed the voice of the homeless to be heard. He built a place of hope and sanctuary. 
I wrote a song about Joy Junction and used words about Joy Junction being 'a sanctuary and a living prayer', and that was Jeremy's touch. In the song, Lifeline of Hope, I wrote a verse about Jeremy. We were out on the streets together with the Joy Junction truck, and as I stood and watched Jeremy talking with people I wrote this: 
"I stand and watch the founder - he's a quiet and humble man, 
He'd felt the cold and hunger many years before, 
Now he gives his life for the poor and the needy, 
But he keeps a humble spirit - I like it best that way." 
He gave everything to serve the community of the forgotten. He lived out the challenge of Jesus to serve others. 
I had a lot of laughter with Jeremy - I think he was a man of hope. I am so grateful to have known him, and now he is in the presence of the loving God that he served so faithfully. 
So today I remember Elma his wife, who brought Jeremy so much hope, love and companionship. I remember his children and his grandchildren, and all the members of his family, and of course the community of Joy Junction, who will be in our prayers.  And I thank God for Jeremy, for his witness and commitment, for his friendship and fun, and for his example of what it means to follow Jesus faithfully.
We've put the song Lifeline of Hope on youtube as a tribute.
Bill Latham – my ex manager and good friend at 80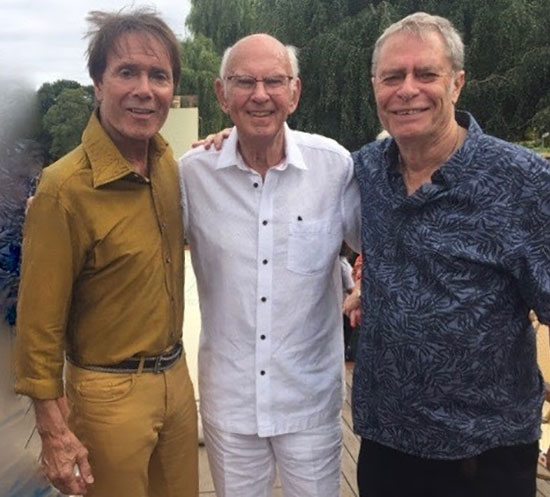 Garth with Bill Latham and Cliff
Also in my memoir Against the Grain I mention Bill Latham (page 50) who was my Manager for a key period of time.
Just recently it was his 80th birthday and we joined him, his wife Linda, and other friends for a trip on the Thames at Windsor. It was good to celebrate with Bill - he has always been full of good fun and good advice, and in fact he prompted me to write the book when I was uncertain about it. As you can see in this photo Cliff Richard was there – he had just won his court case against the BBC and it was very moving to see him so relaxed after that awful ordeal. It was great to reminisce with him about memories of touring, for instance in South Africa - and also recording. There are three tracks on the Against the Grain CD on which he does backing vocals - Goodbye to all the Heroes; Did he Jump or was he Pushed; and a love song called Physical Pain.
Hearing the love song Physical Pain again after so long Gill was very taken with it and especially Cliff's vocals, so my PA Isobel has put it on youtube with some great pictures – all very romantic! See the story of this song in the book, p 55. You can see it and listen to it on Youtube here
The witness of Sister Swee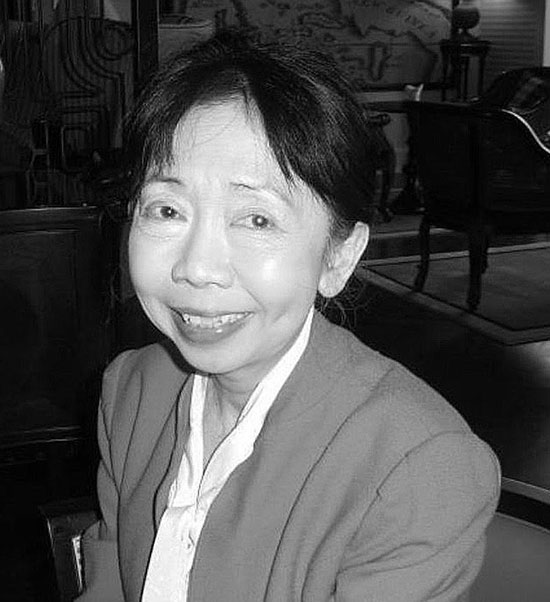 Dr Swee Chai Ang
Those of you who came to the Advent Concert (with the Wild East) or the book and CD launch at St.Botolph's Aldgate will remember Dr Swee Ang as I introduced her at both events. She is a surgeon at the Royal London Hospital, but also dedicated to taking a stand for the Palestinians. She was in the Palestinian refugee camps of Sabra and Shatila at the time of the massacre in 1982 where over 2,000 Palestinians were brutally killed. She has never failed to tell their story since then, and she has been down to Gaza to help out in various hospitals.
Most recently she joined the Freedom Flotilla to Gaza. This is a group of four ships originating in Norway and Sweden, taking humanitarian aid to Gaza. Before they left, Swee wrote, "We are not likely to be killed and we have trained hard to be non-violent. But we can be tasered, man-handled, threatened and beaten up of course!
But spirit and morale of all the participants on Awda, Freedom and Palestine are high knowing that we are doing this for the people of Palestine and Gaza, for justice, freedom and to bring hope to the Palestinians of Gaza living under military blockade."
So they knew that the Israeli military might board them even though they were in international waters, and this is indeed what happened.
You can read Dr. Swee Ang's amazing and moving report of what happened here in this link – it is shocking behaviour by the Israeli forces – unnecessary brutality – it is an act of piracy, kidnapping and even in the end an act of petty thieving. Indeed Swee was attacked and ended up with two broken ribs. It is bewildering why this was not reported here by the BBC and by only a few UK news outlets.
Sister Swee ends her account of events with these words: "BUT we will not stop, we must continue to be strong to bring hope and justice to the Palestinians and be prepared to pay the price, and to be worthy of the Palestinians. As long as I survive I will exist to resist. To do less will be a crime."
Sister Swee, you are prophetic and courageous and an example to us all. Thank you so much.
Gwyl Coda Festival
At the end of July Gill and I attended the Coda Festival - this is a new festival held in Wales, with the title 'Gathering Hope'.
Having been at the first Greenbelt Festival, it was a joy for me to be at the first Coda. It described itself as "a celebration for all kinds of arts, comedy, talks, workshops… a place to rest and have fun, a weekend to think forward, a catalyst for change."
Karen Chalk had been one of the key thinkers and organisers for Coda and I want to pass on both thanks and congratulations to Karen and her team for putting on this festival. I liked the fact that it was distinctly Welsh and perhaps because in these early days it was a small festival I found that it was genuinely a place to relax and to rest as well as to enjoy and take in.
Gill and I had just decided that we would go to the first event, which was being held under a beautiful tree - it was an interview with, and poems by, our long time friend Martin Wroe - at exactly that point the heavens opened and the rains came down! Because it was in such a beautiful setting down by the riverside, somehow the rain didn't matter.
Other good friends Wisam and Rasha Salsaa from Beit Sahour/Bethlehem were there with their children. Wisam is known to many people who have been on pilgrimage in the Holy Land, because he was always our guide - and now of course he is the Manager of Banksy's Walled Off Hotel. My greatest joy of the weekend was to see their children, Leah, Sarah and Daniel (my godchildren) running around and enjoying the massive freedom of the beautiful countryside - Bethlehem having had 87% of its land taken by the Israelis including almost every green space. At one point I watched Daniel just running up and down staring at the grass. It was a vivid expression of the joy of freedom.
Prayer - Thank You for our Friendships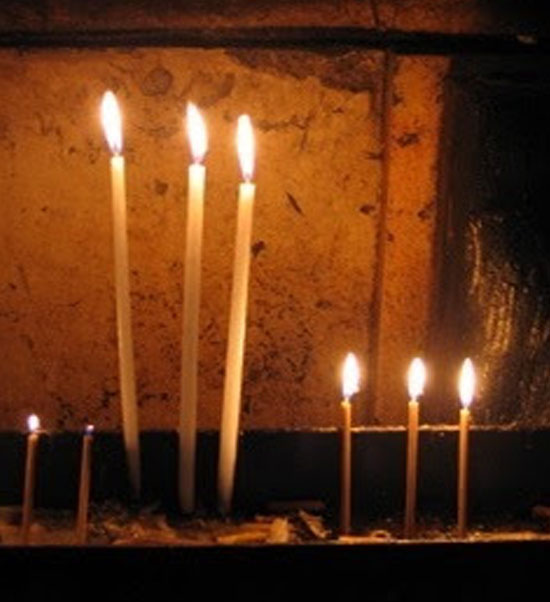 First some words of Pope Francis:
We may be sure that none of our acts of love will be lost, 
Nor any of our acts of sincere concern for others. 
No single act of love for God will be lost, 
No generous effort is meaningless, 
No painful endurance is wasted. 
All of these encircle our world like a vital force.
From "The Spirit of St. Francis" by Pope Francis
Generous God thank you for our friendships
Thank you for lives that have encouraged us and inspired us, 
Thank you for the joy and the gift of creativity that brings hope, 
Thank you also for those whose witness has been an example not only to us 
But also to all those they have supported, 
Sometimes in situations of hopelessness and despair – and situations of injustice. 
Thank you for those who bring hope, against all odds and by their courage. 
Thank you for those who carry the cross and don't count the cost, 
May they be reminded that no act of love is wasted – no act of love that reflects the character of God is lost.
Amen