CRISIS is edited and compiled by Tony Jasper and is intended to cover various areas of the arts largely from Christian perspective with an open-ended approach.
Material is welcomed and should be sent in a process read by an Apple computer, with the addition of  a few words on the writer is asked.
Crisis reserves the right to edit or reduce but will first inform the author of this is necessary. Articles should be around 1000 words but longer work may be acceptable.
EMAIL to  a.jasper1@virginmedia.com.
CRISID; Milsrof, Eglos Road, Ludgvan Chuchtown, Penzance, Cornwall TR298HG United kingdom
CRISIS appears monthly and usually mid to the end of a month.
CRISIS runs with the view expressed by the broadcaster, author, and minister Colin Morris who wrote "Human beings cannot survive without drama, pageant, play and creative fantasy. Their imagination needs to be nourished, their spirits raised." (as printed in The Methodist Recorder, August 17. 2012. p 11)
Music, music, music! Zap into Tori. Beatles, Uncle Bob, Queen, Bond and…
REVIEW
N0 LET UP IN MUSICAL EARTHQUAKES FROM TORI
BY KAREN BURKE
Tori Amos chased the muse around the Royal Albert Hall when she performed with the Dutch Metropole Orchestra as part of her Gold Dust tour this October. Dressed in an elegant green floral suit and black rimmed glasses, Tori evoked the woman behind the image of her 2003 album "Tales of a Librarian" when she played a selection of songs from her impressive twenty year repertoire to an orchestral accompaniment arranged by John Philip Shenale. The black rimmed glasses only came off when the muse turned around and chased her back, inspiring an improvisation – She Calls My Name – in between "Snow Cherries from France" and "Ribbons Undone" during the first half of the evening. Tori's 12-year-old daughter, Tash, and her friends gave a shout out from one of the loggia boxes when Tori called to her down the mic, saying she hoped Tash would use discretion with her candy and give her best at school in the morning. Assuming Tori's husband, sound engineer Mark Hawley, was among the crew operating the sound deck, it felt like Tori was very much at home in the grand London venue after overcoming a racing heart at the beginning of her opening number, "Flying Dutchman". Tori left the stage to a standing ovation in a show that peaked with highlights, "Hey Jupiter", "Programmable Soda", "Leather" and "Precious Things". Her art has been an inspiration to so many people over the past twenty years and the people who love what she does look forward to what's still to come.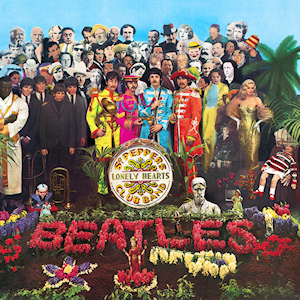 Expect an avalanche of Beatle anniversaries in the next five to six years as the ominous '50 years ago' attaches itself to Beatle single releases. Love Me Do has kicked things off.. This was a minor hit enough to make people sit up and take notice, yet who then thought  that the four guys from Liverpool would become global stars and make their home city one of the most famous and known places on earth, Originally schoolboy Lennon ran  the Quarrymen, met McCartney, and Paul had John say hello to George Harrison. In the early days Ringo was not in the inner circle, drums were hit by Pete Best, and Stu Sutcliffe played bass. The big three let school in 1959. Their first recording was as backing musicians for Tony Sheridan. Sutcliffe did not stay with the group since he wanted to continue his musical studies, and PM took up the bass mantle. Sadly Sutcliffe died in 1962 from a brain haemorrhage. For a long time his sister lived in the flat above me).  And so the story  rolled on!  Beatlemania  would kick-in when the single Please, Please Me topped the NME chart, although only number 2 in Record Mirror.
DARK FOREBODING WINDS WITH DYLAN
(review notes from Jesus Music, The Methodist Recorder)
My friend Stuart despairs. Some years back he lapped up the overt Christian singer songwriter called Bob Dylan. He knew little of the man's early recordings, but then he's not of the generation that tossed and turned through prospects of World War Three with nuclear bombs being tossed here and there, or the Berlin blocade, of  China's  threats to then Formosa and the US support for the latter, Cuba and the missiles. and of course the folly of the US in Vietnam. Dylan to him was not a protest singer, or the guy who mirrored a generation in a long song epic entitled 'Luke A Rolling stone'. Dylan was the artist who produced albums such as New Morning, more so Blood on the Tracks – an album of confessional songs – but more and more so, on hearing Slow Train Coming, Saved and Shot of Love, the latter having 'Every Grain of Sand'  the song springing from Dylan's conversion experience. Of this powerful and moving song, one reviewer said some years back: "If all the songs inspired by his Bible studies had been this compassionate and non-self righteous, he would have escaped a great deal of criticism." All this made Stuart happy. Bob was in the fold. Stuart was in the same camp.
Gradually over the years Dylan's Christian outpourings have become less and so with Dylan's first new set of songs in three years, and album number 35, Stuart is just hoping it could be a  Gospel set.>In broad terms I run with  the Uncut magazine reviewer Allan Jones who says:  "Dylan returns with a story-telling masterpiece  dark, passionate and violent." It all blends with Shakesperian thoughts and its title, Tempest (Sony). The mother of Jesus gets a 'call - in' on the foot-tapping opening cut ''Duquesne Whistle.' There is Gospel roots in Pay in Blood, and some awkward thoughts on faith in its lyric as it travels the mystery of suffering. The title song has 45 verses and no less than 14 minutes, length and focuses on the sinking of the Titanic. This track and the following 'Roll on John' bring us into the them of 'judgement' with the terrific line 'in the dark illumination, he remembered bygone years" He read the book of  Revelation, filled his cup with tears.' John Lennon takes centre stage in that last track, and Dylan moves into some more evocative searing words:  'Shine a light/Moves it on/You burned so bright/ Roll on, John. 'Stuart isn't too keen on this kind of realism, he prefer the more modern 'we're 0K, 'cause Jesus loves us." It means Stuart can be happy with himself Never mind Stuart, the rest of us think this is an album gem, and we find the words of Jesus troublesome, let alone Dylan's.