November 2018
Crisis is published by Tony Jasper.Correspondence, features, suggestions should be sent to tony.jasper@btinternet.com.  
An archive of all 69 past issues is available on line by going to www.jasperian.org/crisis-magazine. Issue 71 will list the content of all 70 issues. There is no charge or subscription for this magazine, and it will sent to you with relevant details that you make available and with your permission to send to comply under UK data protection.
Crisis is mainly concerned with the Arts and popular culture and offers a broad Christian  perspective, it also takes contributions from some writers who write from a different standpoint or are simply commenting and reviewing within disciplines of an art form. Unless stated all material is by Tony Jasper.
CURRENT MUSIC
BRIDGE OVER TROUBLED WATER GETS ANOTHER VISIT
NENEH CHERRY RETURNS
Originally set on guitar, but then piano to emphasize a gospel feel, Paul Simon's much recorded song with Art Garfunkel," Bridge Over Troubled Water" has a new lease of life. The beautiful singer Katie Melua has recorded it on her  praiseworthy double CD, Ultimate Collection (BMG). In music history the original version of this song from its birth in 1970 has topped the charts in ten countries, collected Emmy Awards, and sold in excess of 25 miillion copies. By 1974 over 80 artist  'covers' were listed. Recording artists of this song have spanned many musical genres from Elvis to Aretha Franklin to Bob Marley to Leona Lewis to gospel choirs, and countless unlisted, unrecorded, public performances by club singers and male voice choirs. Less known is the 1971 album Rock Gospel that brought together some of Motowns great names. On that set the Jacksons and Michael deliver an interesting version of "Bridge Over Troubed Water'.
In terms of the song's broad derivation writer Paul Simon had been entranced by a recording made by The Swan Silvertones of a 1950s song 'Mary Don't You Weep' that can be found on the album "Platinum Gospel – The Greatests Hits of Black Gospel." This superb American black gospel group were famed for their tight harmonies and sophisticated vocal arrangements. The recording of theirs has the line that stayed with him:  "I'll be your bridge over troubed water/If you trust in me." It also has the line;"Well if I could I would surely stand on the rock where Moses stood and Pharaoh's army drowned."
Singer Art Garfunkel says he's sung it around six thousand or more times and every time "I get a little vistation of the power of a great song."  It was the last song recorded for the fifth and final album from Simon and Garfunkel. In the oft-practised method the recording took place in different studios, in this case the vocals were cut in New York and the instrumentation in California. The arrangement has often compared to Phil Spector's work on "Ol' Man River' for the Righteous Brothers in which a gospel chorus is used but held back until the end for maximum impact. Many have been puzzled by the melodic line "Sail on silver girl" which someone obtusely makes reference to Simon's wife of the time Peggy, who had grey hairs! The song preceded the album with the same name.
The year of recording was ominously the year the famed twosome would split. Is it one of the greatest songs ever recorded? It was placed at number 48 in the top 500 songs named by the prestigious US magazine Rolling Stone. Novelist Martin Amis has described as "Therapy" while Leonard Cohen is instanced saying "That might a song that gets someone through a dark hour."
And now 40 years on Katie Melula has produced a fascinating vocal version where you feel she genuinely takes it as she feels it, and so doesn't fall into the usual trap of most artists where you surmise there is a voice that shouts in their head  "Don't forgt the 'power' ending."
To be sure there is plenty of feeling and emotion, but she does the song her way, with acoustic guitar introduction, and soon with strings serenading in the background. Her interpretation pulls things back, and you listen and hear something new. Her album is a double-set plus what is termed bonus tracks, of which 'Bridge' is one, and interestingly also has the Evie Sands emotive associated "Fields of Gold." For less than a tenner, what can I say?!
Last year she released In Winter (BMG), a collection of songs about winter with vocal adorning in parts from her home Gori Women's choir and in song selection to include 'All Night Vigil-Nunc Dimittis' and especially the powerful carol 'O Holy Night.'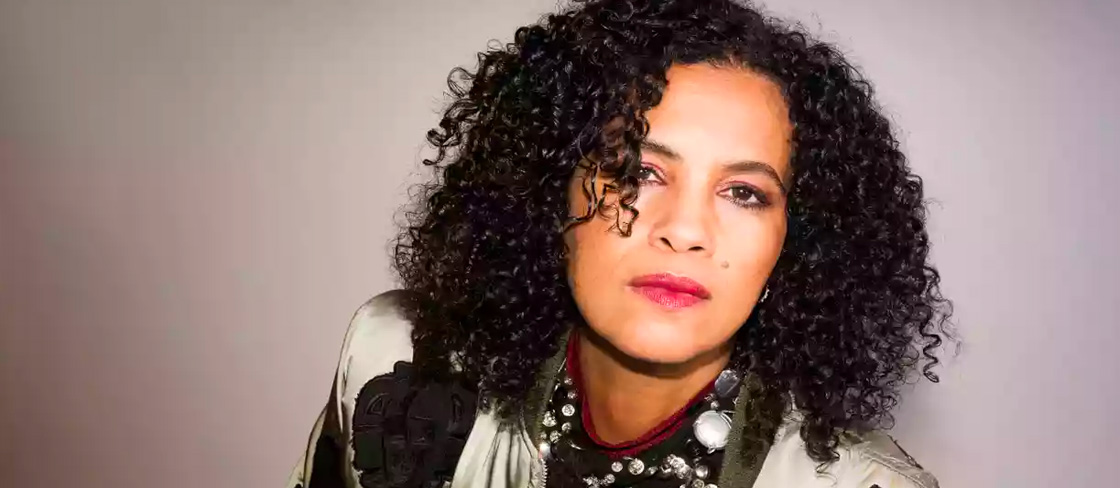 Neneh Cherry has a new set entitled Broken Politics (Smalltown Supersound).  You can trace the 54 year old back to the late 1980s and early 1990s. Her first album was "Raw like Sushi." She would collaborate with the likes of Cher, Chrissie Hynde and Tricky, and mix in the art-punk scene.  She is the daughter of renowened trumpeter Don Cherry who among other things was a member of the infectious Ornette Coleman free-jazz quartet. Interestingly the album was recorded on February 2017 and to complete the little story, a month after the inaugaration of President Trump. This is an album bursting with issues – so refugees (Kong), Abortion (Black Mondays) unsuprisimglfor this US artist, guns (Shotgun Shack), Disinformation (Faster than the Truth) women's rights (Soldier).  A meditative feel pervades other tracks, and as has been said elsewhere she wields her "convictions in lithe, airy medlodies." The computersised musical colouring is fascinating. It is engrosing hearing say the background to her vocals on 'Faster Than The Truth' And then there is immediate change of musical attack on the next cut 'Natural Skin Deep.'
On this varied album she sings of  "living out day at a time," and her "politics living in a small jam/ living in a slow dance," and asks to be led to the Garden of Eden'as she searches for sense today. She tells the New York Times " W're trying to figure it out, like a lot of us now, how do we move forward? How does one stay hopeful in life right now?" Not the easiest of albums to 'take in' but it rewards on a number of plays.
This article first appeared in The Methodist Recorder, November 9. 2018.
ART REVIEW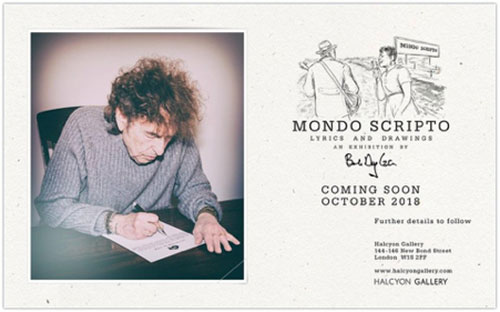 PAINTER BOB
Rob Murdoch, a great Dylan scholar has been visting the special London display of painter Bob Dylan.
All the world's a stage?
All London – based Bob Dylan fans should every now and again say 'Thank You' to Bond Street's Halcyon Gallery for its regular major exhibitions of Dylan's work. Crisis Magazine's Dylan correspondent has, with his dearest companion, been to see the latest : Mondo Scripto, a collection of 60 handwritten song lyrics accompanied by pencilled sketches illustrating each theme or as often a specific line or phrase from the song. In many cases the original lyrics have been changed slightly here and there. Which is consistent with so many years' live performances; he's never been reluctant to change the lyrics from one tour to the next.
The exhibition's subtitle, taken from an unpublished interview in 2016, is :
"Life is not about finding yourself. Life is about creating yourself."
Or maybe, re-creating yourself.
As ever, a host of questions…but starting with an answer : if you have to ask the price, you should know you can't afford them. Upwards of £90k, signed and authenticated, if you really must know. Although you can have a limited edition print for £2k. There's plenty of money around Bond Street of course. The friendly and very helpful Halycon staffer who gave us a tour of the building, this exhibition and other original paintings and sculptures on the upper floors, may have thought I was an ageing bass player from an obscure band. Or even a well known band. She wouldn't be the first. Apparently U2's Bono and Led Zep's Jimmy Page had preceded us.
And Mondo Scripto – what does that mean? Let's keep it simple : Scripted World. It fits. I'm hoping it's not a nod towards that shocking and exploitative 1960s documentary film Mondo Cane, although as we know Bob has a long memory.
Let's have a look at a couple of the pieces.
But be warned : these cribbed shots will let you see what it's like; but this is an exhibition which really has to be seen to get its full impact.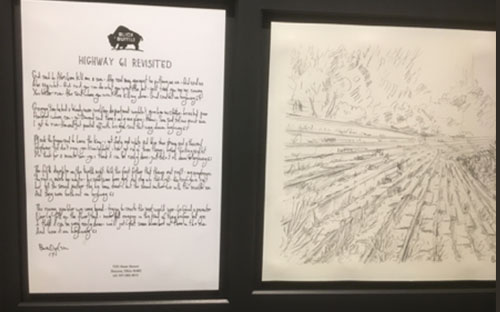 An all time favourite, Highway 61, but the sketch doesn't look like a highway. It's not, it's cheap  open air sports ground seating : the 'bleachers'. The clue's in the last verse of the text. The roving gambler is trying to create the next world war. He finds a promoter who thinks it can be very easlly done; "we'll just put some bleachers out in the sun. And have it on Highway 61".
Convoluted or what…
'All I Really Want to Do'…and this one's a bit more obvious. The girl is in chains, but (verse 3) Bob "ain't looking…to lock her up", all he really wants to do is be friends with her. One of the seducer's lines since time began.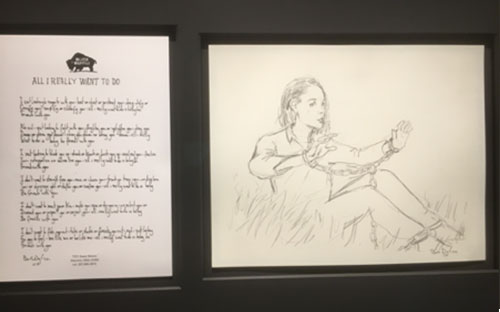 There are another 58, go take a look. Truth is though, this is an exhibition for real Bobcats. If you are one you'll be fascinated for hours looking for lyric changes and connections to the sketches. And if you can afford close on £100k for one, you'll be over the moon. Less obsessive, and more cynical, fans may just wonder for a moment why Bob spent untold hours writing out all those songs. It can't just be for the money…
As he said somewhere, songs are to be sung and heard, not read or looked at. Although some of the sketches are nice.
RM
POETRY
Poetry Alive took place at London's, Methodist Central Hall on Saturday November 17.
The special guest was Lord Leslie Griffiths, a world renowed Methodist speaker. Christine Smith of Canterbury Press spoke about her role in publishing and love for poetry. A wide selection of poetry with a Christian and religious understanding was read by Emma Danby and Tony Jasper. Music was provided by Paul Hill. All three winners were present to receive certificates, cheques and the special Jack Clemo plaque, and which, since there were two people voted number one in the national ACG poetry competion named after the Cornishman, each will hold the plaque for six months. The winners were Susan Mansfield – Silence: Philip Burton – The Carpenter.  In third place was Philip Burton.
RELIGIOUS AND CHRISTIAN MUSIC
KINGDOM CHOIR
ALL SOULS  HILLSONG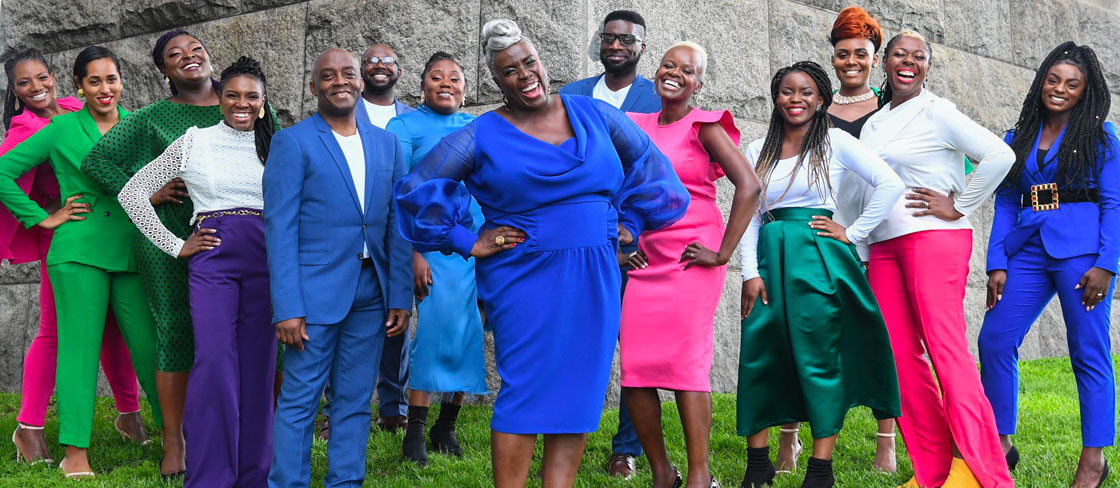 The relatively unknown Kingdom Choir were into rehearsal version 13 on the morning of the day when they sang one of those quasi-religious songs, Stand By Me, at the wedding of Prince Harry and Meghan Markle, now the Duke and Duchess of Sussex. The choir had leap – frogged more familiar gospel choirs for a wedding gig that went global., and ushering in the time of life for choir members who have a world tour beckoning. They will be known forever as the choir that sang for royalty on an historical occasion that saw gospel in song and no less powerfully gospel  in words and preached for fourteen minutes by a brilliant black preacher Bishop Perry.
The invite came because a former choir member knew Prince Charle's deputy head of communication, and that was that, well, almost, for there was the crucial simple, yet so important logistics, so agonisely not being able to tell the choir where and what was involved in a booking for May 19, even if some would wander why the extra practices, and why were they singing this old hit associated with legendary black artist Ben E King and numerous others. It was simply a  no nonsense shout from leader Ms Karen
Gibson, not able to spill the beans., other to say they had to be there, well, somewhere, on May 19..
And now with no surprise there comes a freshly recorded album (Sony) with gold colour adorning both the actual CD and the cardboard container into which it is placed., titled after the group, but with  a wording on the front cover to remind one and all of the 'event' and naturally the title of the song.
In terms of a concept to move beyond the one song everyone will associate them with  the album contains broadly speaking songs of love, hope and inspiration.
It was always interesting to speculate where they would go. Here is a world famous record company with such an illustrous history possibly wishing an album of quasi-religious material and those who might wish a solid gospel set that leaves no one in
any  doubt that this choir wishes you to follow Jesus. There is of course nothing new in a gospel choir treading into other than specifically religious fields for songs, and giving them a 'gospel' context, however wide, as for instance Britain's leading Gospel outfit of many years standing, London Community Gospel Choir on their album Glorious BMG) or on soul pastures various volumes of Soul Gospel (Soul Jazz records) or another compilation 'Soul Devotion' (Polygram). As it is we get some of each, and so the album brings us 'Lovely Day' associated with Bill Withers, and Harvest for the World, a hit for the Isley Brothers in 2007, John Legend's All Of Me, and the Aretha Franklin hit 'I Say A Little Prayer' which perhaps just makes it, in-spite of the word 'prayer' and perhaps included to remind us of her recent passng. In Gospel terms I love their 'Blinded By Your Grace' while they excell in a fiery take of J"You're the Voice."  And yes, there is a strong take on 'Hark the Herald Angels Sing' to the familiar music of Mendelsson. Kingdom Choir deserve plaudits and high sales. great stuff people! A UK tour commences on Tuesday, April 30. 2019.
However there are other releases quequing up to take the purchase.  Prom Praise Christmas from the All Souls Orchestra (Integrity) conducted by the evergreen and so talented Noel Tredinnick, simply sparkles in innovative arrangements to familiar Christmas music.  
At times this is a veritable power-house with charging takes, including  an early one to raise the roof on 'Joy to the World' and stridency to 'God rest ye merry Gentlemen' and from there taking us into a majestic ''O Come All Ye Faithful.'  There's organ before strings on a rich sounding 'It Came Upon the Midnight Clear' . The relatively unknown "'From the Squalor 0f a Borrowed Stable' has a lovely air although I am trifle uncertain about the drums. And yes, it's a relaxed sprightly air to 'Sleigh Ride'.
This album - play it loud, open the windows, and you might catch a Mr Scrooge walking by. And who knows from there?
Lastly, to Australia, but issued here, and the so powerful world of Hillsong and songs of
Christmas,  and here pastor Darlene Zschech and Hope UC on the album The Table – A Worship Gathering (integrity).  Mostly yes, the known and loved, with 'The Mystery' and 'Emmanuel (Glory to God) the less known. Familiar songs yes, but Darlene and friends simply lift everything in wondrous splendour to the Lord. They take something you know and anoint, this is the familiar Christmas music sung in a way that you may have never known – sheer octane praise, reworking of what you once knew that here cease to be lovely English carols, and instead power songs to celebrate the greatness of festive tide, in parts a little rough, but so.  Just joy at the young singing 'Away in a Manger' - well, yes, arguably Darlene has 'the' voice of contemporary Christian music, but I remember talking long with her in 2017 and found a spirit filled woman who gives her wondrous voice and projection to take one to higher things
THEATRE PEOPLE SPEAK
I'm not cheap. But I'm cheaper than Tom Cruise.
Michael Caine Sunday Times Magazine p 11 March 3. 2018
Period drama can sometimes feel like an exclusive club, which certain viewers don't feel invited to.
James Strong (directing Vanity Fair). Daily88 Telegraph. August 11. 2018.  P4.
You just shut up and do it (on the craft of acting)
Kathleen Turner
New York magazine/ Observer.Rebecca Nicholson, People. Observer.  August.12. 2018. P 41.
I hate that description, though, that all female character we have now have to be 'strong'.
Keeley Hawes
Sunday Times Culture. August 12. 2018. P 4.
To suddenly have a bunch of episodes that go up at the same time, you have to tell a big story, And it's been really fun. However it's its own torture.
Matt Groening (SImpsons creator) On his first show created for streaming services that can be consumed in a five hour binge.
New York Times
The older you get, the harder it is to play naivety because you know too much. So  I'm kind of enjoying being older and pretending I know more than I do.
Richard Madden. Marie Claire. September 2018. P82.
"Every character I draw is based on what I drew in the fifth grade."  Mr Groening said,"They all have the big, round eyes, little nose and big overbite."
Matt Grening. The  'Simpson's creator.
New York Times August 14. 2018. P 14.
If I'm appreciated for what I do as an actor or as an entertainer, then I wear that with pride and I'm thankful.
Idris Elba.  The Observer magazine  August 19. 2018. P15.
One you'v been labelled, or you've labelled yourself, one thing, you can't be another. It's so restrictive. And I just think.nah.
Jade Anouka, Culture Sunday Times. August 26. 2018.P23.
I like language that's quotidian but poetic. I like that quality of strumbling into beauty, and then it's gone.
Greta Gerwig  Observer The New Review February 4. 2018. P11.
When I take a character on, I love them....they make me a better person because of it ...I love that I don't understand how they walk in the world until I play them. And then I go: "Oh what a beautiful way of seeing!"
Hilary Swank. Guardian G2. August 30. 2018. P8.