HAPPY CHRISTMAS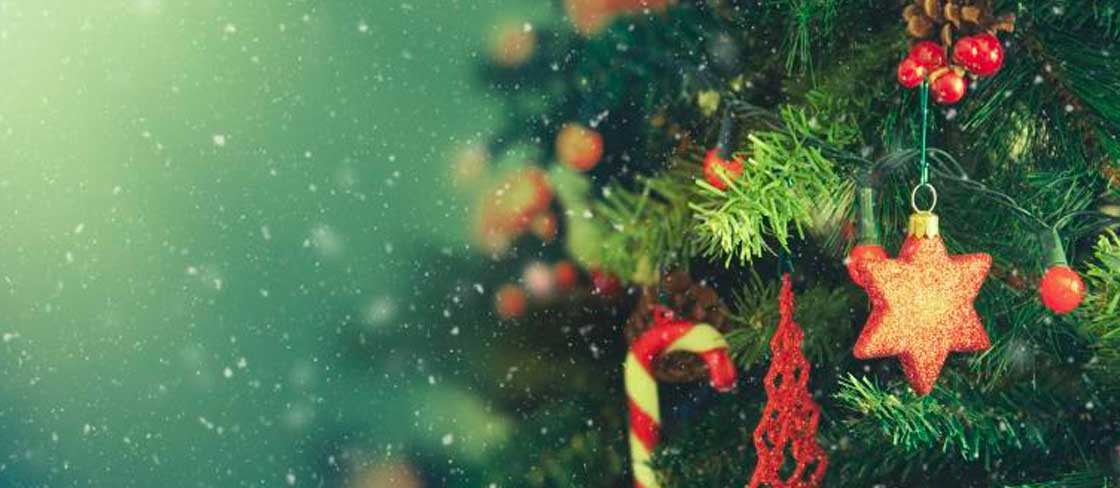 Crisis is published monthly by Tony Jasper. Articles, reports and features are welome, but it might be useful to email your proposed contribution idea. Crisis operates as a Christian based magazine with concerns for the arts and popular culture. Depending on the nature of a proposal Crisis will publish material that is written by someone with no allegiance as such to faith. Crisis makes no money and is subsidised by Tony Jasper. It is unable to pay for contributions. Just your joy at being in print and reaching lots of people.
ISSUE 71. Apologies for not being to carry the promised listing of material published in the first 70 issues. It is hoped this may be found in issue 72. Christmas -  its demands have swallowed time.
Due to data law protection we cannot at this stage bring you the winning poems in the recent Arts Group competition.
Tony Jasper takes a word ride through some of the events in 2018 that particularly, but not always, relate specifically to the Christian community and beyond
Most years are marked by special special anniversaries that for a while bring peoples across the world together in memory and sadness. 2018 sees the 50th anniversary in April of the assassination of Dr Martin Luther King Jnr. The Observer newspaper in its double spread recalling the tragic events, and offering interpretation on the many "whys?" brought things into the present with the Director of Diversity of Memphis-based Teach for America instanced: "If Dr King woke up here today, he'd probably say "Is this the city I left?' "There hasn't been a lot of change 50 years later."
It is said one in three black children live in poverty.
Writing in the April issue of the magazine Prospect Colin Grant says many saw the inaugaration of Barak Obama in 2009 as the culmination of Dr King's dream, the ascent of an African American to the highest office in the land, to live in a White House built by slaves.
For those with a taste for history millenium celebrations begin in Buckfast Abbey marking 1.000 years since the monestry was founded during the reign of King Cnut in 1018. In the West of England it attracts mostly Roman Catholic attention.
It is the 25th anniversary of the tragic death of Methodist teenager Stephen Lawrence. His father Neville tells the press that after the passing of time his Christian faith leads him to forgive his son's killers. With the killer still at large new information briefly suggests the police may be nearer to finding this person. The Recorder brings to public attention a special service that is held in St. Martin-in-the-Field. London to celebrate his life and speak of future.
There are special occasions marking close memories of terrorist actions including a ceremony in Manchester with 22 candles lit to commemorate those killed, and 800 injured in a horrific attack on young people attending a music event.
2017 had its Grenfell firedisaster and already commemorations and remembrances have taken place this past year whilst 2018 has seen the Grenfell enquiry, with further commendations to the role churches, including Notting Hill Methodist have played and continue to do so. Mike Long, the miister, tells Premiere Radio that he wants the church to be a source of hope for locals as the investigations continue.
A review of any year brings into play the passing of loved and respected people whose lives touched thousands, even millions, beyond their own immediate community. Edwin Hawkins known especially as the music man involved in the  creation of the Pop chart hit "Oh Happy Day" in1969, credited along with the likes of James Cleveland and Andrae Crouch as a founder of modern gospel music, passes on. Anti-apartheid activist and renowned musician Hugh Masekele dies at the age of 78. David Pilling in the Financial Times says the Movement loses one of its heroes and someone with a vision for a non-racist society. Interestinly at the age of 14 he received his first trumpet from a teacher at St Peter's Secondary School from Father Trevor Huddlestone. Winnie Madilizela-Mandela attends her Methodist church in Meadowlands, Soweto on Good Friday and Easter Sunday but dies within hours of returning home  from the latter rejoicing,
William Franklin Graham " is called 'home" – so headlined the journal Evangelical Times. The paper says not all agreed with his politics or inclusivist theology but in what some might call "Faint praise" they write "nobody can deny Billy Graham's ministry was well-known across many continents." Popular British evangelist Dick Saunders is with us no longer.
Philip Roth dies a few days after the passing of Tom Wolfe and two of America's most famous writers eave behind their many works. Wolfe at one time saw signs of a rejuvinated Christianity. He bewailed a sweeping aside of moral
standards. Methodist associated Kofi Annan, past UN Secrtary General and Nobel peace prize winner leaves this world.
Methodism in Britain loses valuable ministers and lay people year in and year out and within that compass it seems invidious to name those who have passed but in terms of someone who has had major impact within the church and outside there seems good reason to name Dr Colin Morris. Apart from numerous fine articles for the Recorder, he was a brilliant preacher whether in puplit or television studio. Ministry in Zambia and a frequent broadcaster on Thought for the Day, minister at London's esteemed Wesey's Chapel, and he was eventually  head of BBC TV Religious Broadcasting, to name a few credits in his remarkable career.
US President Trump causes consternation in saying the US Embassy in Israel will move to Jerusalem. Some with extremist biblical interpretation stand wth the Israeli Prime Minister and the US President, and speak of biblical prophecies toward the Second Coming coming to fruition at an unknown date but "soon".
Newspapers and magazines, come to that most media outlets, pay little attention to the non-comformist voice, but still gladly report on the machinations of Anglicans. The Archbishop of York dwells on the "national scandal" of rising inequality. Dr Santanu believes "government has got the mechanisms  to deal with tax "Avoidance." The current Archbishop Justin Welby scors many column inches when the Daily Mail gives him a front page, and another, page 10, as he calls for a £9bn inheritance "Super tax"
The Pope always fares well in press coverage and entering the topical arena of 'fake news" he says that those who do so are using the same tactic as the Devil did in the Garden of Eden.The Daily Mirror quotes him saying;" We need to unmask the snake tactics as the Devil did in the Garden of Eden." Snakes would feature in an article found in the Guardian's G2 (January 29) that features a US Pastor who follows Scripture literally and preaches with deadly vipers in close approximatly unfortunately one called 0ld Yeller killed him.
Never a year passes without reading of a great inspiring piece of innovation to raise valued monies for a deserving charity. Just to pick one – Christchurch Methodist-United Church, Ilkley,  linked together 48.000 pieces in a jigsaw measuring 25ft by 6ft in 24 linked panels.
Nor does any year not tell of often horrific persecutions of Christians by extremists of one kind of another. Unfortunately far too many stories of abuse come thundering from some Christian churches, especially in news and media terms, the Church of England and Roman Catholic with the latter fetching numerous articles in the New York Times. including one headed :Virtuous Catholic Anger". A chink of light comes in a remark by one worshipper, "I'm not coming to church for a priest. I'm coming because I believe in my heart there's something else." The Church of England finds itself embroiled even more in the long running affair of  the case involving Peter Ball and accusation of a string of offences. The charges come back to the time when he was Bishop of Lewes in the Diocese of Chichester. The charge relates to 16 young men in their late teens or early twenties.
Cliff Richard, the music star, long-time supporter of Tear Fund, finds himself embroiled in a running  muddy affair with BBC, Police and an accuser, as his case makes the Courts after a lengthy time lead-in. Eventually no charges are brought.
Considerable shock and damage to reputations, let alone the effect upon those reyling on their work, affect some major charities. Acusations of rampant misbehaviour of field workers are made and in some cases admitted. It is not a good year for a number of major organisations, not least Facebook as  the brave new world of Silicon Valley loses its lustre. The Recorder devotes three pages in one issue to the question of fake news and the use and mis-use of new forms of communication and the gathering of information. At one point an incredible $60 billion is wiped off Facebook shares.
The BBC proms bring 'gospel' into its repertoire and 'gospel' features big-time in the royal  wedding of Prince Harry and
American actress, Meghan Markle. The wedding features a 'gospel' choir and a mighty black American Bishop Curry. Both gain endless spots in the media reporting. The Church Times said the bishop "blew the place open" while former leader of the Labour party Ed Milliband tweets to the effect that the Bishop could almost make him a believer.
Channel four via Helen Bond and Joan Taylor tell the astounding or never thought-of news that Jesus had women followers. It is according to  Mike Bradley in The Observer's New Review an attemt to rewrite centuries of Christian history,. The two find that nearly half the disciples were women and ask : why have they been airbushed from history." A Bible said to be that owned by the late Whitney Houston is sold for £70.000. A Kenyan bishop is suspended because he is heard rapping – an obvious terrible sin to be delving into contemporary music genre. And hurrah as St Paul's Cathedral takes in its first female chorister. For those who have been trying to understand fully digital laws the horror story in the Financial times tells of The British and foreign Bible Society fined the crippling sum of £100.00 for hackers had according to the data watchdog accessed 417.000 of its supporters. It is announced that the UK's biggest Christian youth event Soul Survivor is ceasing in 2019. In the "Green" stakes 15 Anglican Cathedrals reveal they are on green electricity tarrifs while it is said 5.500 churches follow a similar path. I paper says the COE has an annual income of £.4bn and yet is still struggling with debt. The church owns 16.000 churches and 42 cathedrals. Financial collections have remained stable at £57million. In real terms allowing for inflation giving is down 22%.
Among religious people of the year given  major notice there comes Sarah Millally who  knocking on the door of St Paul's Cathedral becomes the 133rd holder of the post and first female Bishop of London. Billy Graham's son Franklin is booked for a festival  mission in Blackpool and the invite causes outrage in some circles. Graham's support for President Trump is one of a list of non-starters, and saying same sex marriages and LGBT rights are of the devil enough to bring cries that his invitation should be witdrawn.
William Rees Mog is questioned on the BBC programme `Newsnight about disarray in the Conservative party over Europe, and explains away division by remarking how the disciples had dissention among their ranks. So, you might say, "there you go."
In the somewhat rare 'good news' territory Ohio State University in the US lists Top Tips for a Longer Life and concluds that religious people live sixy years longer than those without faith. And  surely the most moving event in 2018 sees tears in abundance as families of South and North Korean meet. Some 350 South Koreans from 89 families meet with 185 lost relatives from North Korea. Two brothers meet for the first time in 68 years. As such, indeed not a religious event, but is not the Gospel the story of walls falling down and new life being born amidst pain and anguish?
In religious music-land Joseph and the Amazing Technicolor  Dreamcoat reaches its fiftieth anniversary. With its now lavish and spectacular lighting it is far removed from a once raw product but that said schools continue with their performances. Greenbelt has its 34th birthday. The Recorder and its reporter John Singleton produce a double page coverage. This is August and the Recorder tells of a Dave Barrett who has spent 40 years single-handledly compiling the firstcomplete list of Earth 10..000 existing religions and 38.830 denomimations! X factir star Sharon Osbourne hits out against "snowflakes" Britain as it appears her daughter's school will no longer present nativity plays since "it is not everybody's religion."
Apart from terrorist worries the US has seemingly periodic gun assaults and the end of October sees  a 45 year-old man storming the Tree of Life synagogue in Pittsburg shouting "All Jews must die." Unfortunately some did. Earlier in the year 17 pupils had been gunned owm in their clasrooms on Valentines Day.
Numerous plays, art exhibitions and such crop up in so many places, and often in cathedrals. As commemorations of the First World War and Remembrance Day approach so timely comes Contagion, a moving and impressive work from Shobaa Jeyasing, following upon a previous work TooMortal. Performed largely in halls, churches, museums and libraries, by eight women its disturbing images speak of wars futility and the role of women to pick up the pieces (injured or dead bodies). Olivia Rudgard in the Telegraph warns churches they must modernise or lose their buidings to supermarkets and dance studios.  Controversy comes in Gloucester where in a Grade 2 building there was a desire to instal new lighting systems, sound system, monitors and remove pews. To some people's annoyance, and others joy, Judge Chancellor June Rogers approves the plan. "Many church buildings may not receive the necessary financial support from non-church going people, who thought a church building "sweet' or picturesque, but only visited for a daughter's wedding or a Christmas card service."
And no year runs without someone emerging with statistics, and in this case the National Centre for Social Research. It says the number of people identifying as Church of England has more than haved sine 2002. The biggest loss is in the 44-54 age group. It appears men express less nclination to follow a religion than women. None-the-less all seems happier than in Sweden and where the head of the country's Uniting Church Lasse Svensson tells readers of the Financial Times magazine that "You can be almost anything in Sweden but if you say you are a Christian, people raise their eyebrows." 2018 has been the year of Thy Kingdom Come, launchd by the Archbishop of Canterbury as a worldwide ecumenical movemet calling on Christians to pray that people will come to know Jesus Christ.
As ever within Methodism  talented people beaver away in the HQ on Marylebone Road, London to remind us there is still life and good life to come with various  web sites telling of endless happenings in much of the country, not least the success of OneSound with its emphasis upon musicianship and singing, and a first summer school, and  the fairly recent 3 Generate with its event in 2018 between 23-25 November, taking the theme of "Be Courageous!' and finding its home `at Pontins in Southport. In 2017 1.000 children and young people discussed issues concerning them in relation to the Church and Society.
Meantime the world's most successful arts, faith and justice festival, namely Greenbelt, is already well ahead in its planning for 2019 at Boughton Hose, Kettering. The theme is  Wit and Wisdom. And every year needs some of each!
HEALTH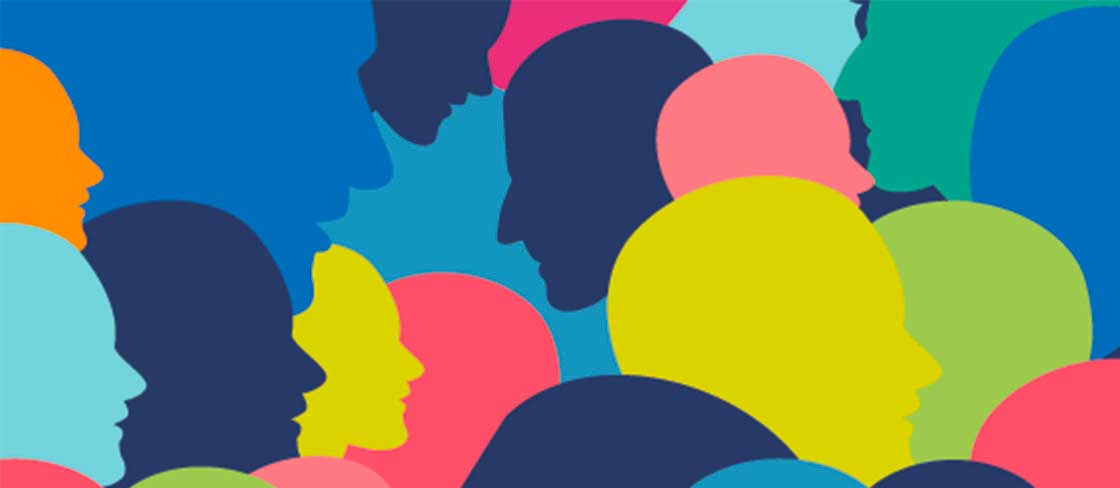 PEOPLE AND THEIR HEALTHY LIVES
Until fairly recent there could be little doubt as to what someone meant when they said they were "spring cleaning." It once adorned and occupied a period of  time around Easter.
You assumed they had entered into the tiresome process of giving rooms and walls in their home a thorough clean.
Visit them on as sunny day, and you see windows open everywhere, you hear the happy sound of a busy hoover,  and wafting through the air you take in the contents of an air freshner that spreads hints of raspberry , there is the home sound system is pumping out  Adele, or, if a Christian home, Hillsong, you note black bags beside an over-full bin or two and with due sense of giving, somewhat smaller, a charity bag doubtless with discarded clothing. It is the pursuit of well-being.
However, change is afoot and we can no longer assume the two words "spring cleaning" refer to domestic activity., even if the 'well-being' aspect remains. The other possibility, and growing in favour, is reference to one's health, and the need to fight the germs and dirt that lie awaiting to attack our physical well-being, and could cause us to miss Sunday morning at church, although it's always reassuring that some people will pray for us.  It is always good to be remembered.
Flicking through some American sites on Google, and looking for a Christian springboard, it is to find that for some people religious faith is equated with a desire to be safe, clean, and healthy. Don't talk about 'salvation" and "sacrifice' but focus on well-being, and tour the packed shelves of supermarkets and health shops where you can find offers of true happiness. You have alternatives to the claims made as you sing 'I heard the voice of Jesus say."
I'm sure Suzanne Duckett is one of many who ask" 'Heath obsessed, Me?  In a feature printed by Red magazine in its August issue, she recalls a Sunday when she stood at a Waitrose checkout "ramming bacon frazzles from a jumbo-sized family pack into my mouth. " That was not all, for with "Brick – red crisp dust around my lips" she simultaneously "took bites of an egg mayo sandwich and gulped down a lemon San Pellegrino."  Not surprisingly the face of the girl at the check-out bore an expression of horror. For Suzanne this recollection comes to mind as she asks: "Health obsessed, me?" At the time she was on day three of a five - day spring-cleaning exercise. She tells readers of swallowing twenty-five bottles of green liquid that "tasted like the bottom of a fish tank."  Otherwise we learn she's tried 'alkalising juice fasts, paleo and raw diets, daily "hot. hot, hot" Bikram yoga, naked saunas". And Luther and Wesley with their bowel issues would have been interested in her cleansing diet "supposedly to rid my gut of a candida yeast overgrowth."As the sub-heading says on page 175, she has 'in fact every wellness trend out there." A few months previous to the Red feature, July's Vogue carries an article headed 'Clean Fight' where it is said "the profitable clean-living moment dominates modern life"."  The writer Christa D'Souza has her question: "But is it healthy?." As she astutely observes "From smoothies to skincare there's nothing to which "clean' cannot be attached." Later she wrly concludes that the beauty of the word "clean' is that ' cannot be certified. "It means nothing and everything at the same time;" which is most useful to the trade that wants purchasers to feel they are buying into
a wholesome life-style. Seemingly it is about getting in touch with "Your inner soul."  And, of course, we can drift into being vegans without actually realising, as with the case of 'Deliciously Ella's vegan, gluten- free, sugar-free bircher muesli  that it adds up to 323 more calories per serving than a Starbucks cheesecake muffin." As they say: "Oh, dear. I thought....."
The desire for the 'clean' has other manifestations. Ms D'Souza tells of those who never open a door with their bare hands, or even press a lift demand without recourse to gloves or at very last a paper handkerchief.  She talks of the pursuit of flawlessness that is bred by the digital world that is bringing us oleophobic touch screens, immaculate selfies and pitch perfect sound."
I guess some Christians will find this  somewhat superfluous. And why, such a subject in a basically religious paper? To which it can be said that once upon a time Christians talked abut the "whole" person. The ethos of the once so successful MAYC had an element written deep within its consciousness that every aspect of ourselves is important. And, of course, John Wesley said much about diet and exercise, the avoidance of seasoned food, coffee and tea, of no sugar, and in something urged by many in the 21st century to eat  more vegetables than meat.  He was keen to emphasis that a correctly led lifestyle is crucial to a healthy body. It would be interesting to hear from anyone that they have heard a sermon on this subject.
Unfortunately of course an emphasis upon health and well-being (and for some part an important aspect of  faith) is also to lead one into the commercial bandwagon of the inevitable marketing of products. Run the eye along even the supermarket breakfast cereal shelf and you see all kinds of claims being made that such and such a product is good for us. Once the same manufacture had no qualms in throwing into their mix dollops of sugar for taste, now they say they are doing something good for us, and in their goodness they reduce sugar and salt.  Sometimes they add other undesirables. There is the commercial bandwagon which in various ways frightens people into believing a natural diet lacks, or its market claim to the positive plus factors in huge doses of vitamins. Every bottle or tube will have endless ingredients listed, and that in itself to give a sense of 'authority' and rightness.
I suppose Wesley and his views fall beneath the title of 'Primitive Physic' and the great man when say concerned with Scurvy suggested you might "Live on turnips for a month. He follows this with "tar water, boiled Burdock root, goose grass, then Seville Orange or a teaspoonful of lemon juice, and scurvy grass." One super plus in Wesley's advocating rests in his insistence that cures should be effective, but more so - available for the poorest. It can surely be said that many are the commercial concerns that deliver rubbish for the less well-off, often disguised in clever marketing, producing a product with hardly any nutritional value.  In one source consulted for this feature the writer says: "The modern natural heath movement appears to have adopted the rhetoric of Wesley, and maintained his simplistic empiricism." Interesting?
In the end Ms Duckett falls back on the time-honoured cry for a thousand and one things, that one so helpful word - "moderation."  She says she doesn't "ban' anything but she makes herself "very aware and very present when I do eat." But what say for the Christian? Even as a preacher I should be concerned. John Wesley has some trenchant health questions asked of anyone who they said they were called, and which would cause some in-take of breath at any current local preachers meeting.
Once we were happy in seeing well-being and faith run together, and there were I remember from my youth those ministers and lay-folk who related the two together, and who hunted with fervour through Philemon and other Pauline texts. As for recent books – Malcolm Rothwell's, Running the Race (Austin Macauley) touches on some aspects of this feature.

JOHN WESLEY: PREACHERS AND HEALTH
Call Mr John Gilpin.
You are the said person.
JOHN GILPIN.    I am.
JOHN WESLEY:Do you deny yourself every useless pleasure of sense, imagination, honour?
JOHN GILPIN    I do.
CHARLES WESLEY     What should we avoid most?
JOHN GILPIN    Idleness.
JOHN WESLEY.    Well spoken.
CHARLES WESLEY In food, do you eat no flesh suppers?
JOHN GILPIN    I do not.
JOHN WESLEY    No late suppers?
JOHN GILPIN    They destroy bodily health.
CHARLES WESLEY    Do you eat no more food than is necessary?
JOHN GILPIN    I am not aware.
CHARLES WESLEY.    You would indeed know, by virtue of a load at your stomach, by drowsiness, heaviness
JOHN WESLEY. And in a while by weak or bad nerves. suggest you do as I do, only vegetables on Friday, taking only toast and water in the morning.
Adapted fom Tony Jasper's play 'John Wesley 17.07'
TONY JASPER WRITES ON FREQUENT OCCASIONS FOR THE BRITISH, METHODIST RECORDER.  THESE ARE TWO FEATURES FROM THE PAST 12 MONTHS
WHEN DID PRAISE MUSIC THREATEN
TRADITIONAL HYMNODY? HAS IT IN FACT WON THE BATTLE? TONY JASPER GIVES HIS ANSWER.
Let's face it - in some present-day church services  hymns play a secondary role to 'praise songs' In-fact in some churches where I have taken the service, and when the music has been chosen by the worship group, there are no traditional hymns. A few take pride in this being so. When I began preaching I was told a 'proper' service should contain at least two hymns by Charles Wesley.
Some see this avoidance of the traditional hymn as posing the biggest single alteration in the life of an average congregation. Who is not aware that a so-called battle exists between what shall be done on the question of hymns or worship songs, and that it is a very much today a contentious question for some Methodist churches.
Writer Larry Eskridge says an "Irresistible, grassroots, pop-culture driven force met the immovable object of tradition and sentiment, and the ensuring years saw no shortage of conflict and controversy as a result." Just how this has been translated in general Christian expression
can for instance  be ascertained by delving through the pages of the fascinating book The Worship Mall by Bryan D Spinks (SPCK 2010).
Interestingly from personal observation 'praise worship' can involve the over 60s as much as the under 30s. It 's not necessarily an age, or even cultural question. There seems no existing research that agrees with my general feeling that older people who still play rock music have a greater willingness to enjoy 'praise' worship than those who have always disliked.
It is impossible to lay down a precise decisive moment when the traditional. found itself  under threat.. Some say it was felt when Methodists returned from the various conventions that had a charismatic thrust or they had experienced the new songs at the Easter People gatherings that were led by Rob Frost. At these events people found a new freedom, a more bodily involvement rather than the dollops of cerebral that can adorn conventional worship. Some Methodists found there was greater life beyond the five hymn sandwich worship.
All this is in stark difference from days when broadly speaking there was the mighty organ, perhaps a formal choir, even robed, with its anthems, soloists and four parts. Some wish this could still be the way. And yes, there were ponderous organists and desperate choirs – naturally, only sometimes.
Whatever the case, for many, hymn singing, possibly outside of Christmas, Easter and Harvest seems a relic from a bygone age. But yes, to some, the song experience at Easter People, Spring Harvest, Stoneleigh, Soul Survivor, in  Greenbelt worship and other gatherings represents a religious horror show.
One thing is sure  - at some point, undefined, in the 1960s, something 'new' was around. So it was that Conference in 1965 decided a` supplement was needed to the existing hymnbook that had been gathered together in the early 1930s. The preface of Hymns and Songs is a good illustration of diplomacy, in other words to suggest the publication was not replacing the existing and treasured collection, it had an air of  "we would not wish to upset anyone." It said there were lively discussions on hymnody taking place within the Church and a "great many items of experimental nature are being written for Christians to sing." Some of these were seen as no more than passing interest and not likely "to find a permanent place in congregational worship as normally understood at present." Of course for the purpose of fairness, or whatever, there was a quick added note that "this does not imply an adverse judgement about their quality or value." Absolutely.
At the same time folk music in worship was enjoying a reasonable popular appeal, and much of this was owed to a Methodist minister  Peter D Smith and his major selling songbook, Faith, Folk & Clarity issued by Galliard publishing and the ever watchful of movements, the late Bernard Braley. So it was that  Hymns and Songs included the American folk song, 'What Wondrous Love' and the British Sydney Carter, and his "Said Judas to Mary,' "Every Star Shall Sing A Carol', 'Lord of the Dance' and the rhythmic easily picked-up 'When I Needed A  Neighbour.' The latter two are in Singing the Faith with the addition of 'One More Step Along The World I Go.' This, for many, was the 'new' music. Around this period, and in the 1970s, a plethora of song books appeared with compositions by the living and sometimes young.
In the 1980s 'praise music'  accelerated at a fast and furious pace, and at the time failed to connect with content found in the much used publication of Hymns & Psalms. That came a little to early in 1982. Unlike Rejoice and Sing of the United Reformed Church that was published a decade later it missed out on the new songs. On the other hand Singing the Faith some thirty years after from H&P contains much of the best worship material. In its introduction the unnamed writer in discussing the use of 'songs' says quite bluntly: "Use of the piano rather than the organ is strongly recommended." It could not be said clearer! It also acknowledged that 'praise' worship does not have a familiar service structure with hymns interspersed between prayers and lessons. It talks of "using a sequence of songs." Worship would change, although seemingly never acknowledged in the  training of local preachers.
For many the big move away from traditional hymnody came with the publication of Mission Praise, a collection that originally was prepared for the 1984 Billy Graham campaign – a somewhat thin booklet with 282 pieces, with indeed some familiar hymns but also containing worship songs, although I do not recall an overpowering use of the latter. It was for some the bringing of charismatic movement songs into mainstream worship. It did include some of the more popular hymns, possibly to aid its potential sales. It could become a book for Morning Prayer in the Anglican church let alone the morning service across the mainstream denominations. As long ago as 1992  the Report of the Archbishops' Commission on Church Music found that 36 per cent of churches used both Mission Praise and Junior Praise compared with 28 per cent for the traditional Anglican book Hymns Ancient and Modern. It appeared that the greatest take came from Conservative parishes rather than those of the Anglo-Catholic wing.
By January 2015 an edition of Mission Praise included 1.385 hymns and songs. For some there was a choice in finding a good collection of the so-called 'new'. Some gatherings  went with one of the various editions of Songs of Fellowship with now an estimated 2200 songs and hymns in overall listing.
However things can move slowly in religious circles, and  some would say 'amazingly' it is still a question for many congregations –  'praise' or 'hymnody' or even both. Rather than be pulled into a wasteful debate about preference, and yes conflict, with many of one side leaving, many of our Methodist churches, even in seemingly solid traditional Cornwall, have taken action, and so doubtless after months of meetings, a decision is made to run two services: one at 9.30 a.m. known as 'Contemporary Worship' with probably a full blown rock-ish band  or a smallish orchestra, and 11.00, where at Penzance, Chapel Street, gains the slightly frightening title of "classical worship." In terms of a sermon you may preach longer at the traditional, and the contemporary calls for a particular relaxed style of worship leadership.
To be sure it's never easy finding the 'right word' and 'Contemporary' is not particularly useful for it can suggest incorrectly when contrasted with 'Classical' that the latter is a tired and weary form of worship, That of course may have some truth. but a 'Classical' might, just might, be full of light and contrast, and call upon quality and proven words and music that have inspired, and offer something of reflective depth for today. It can  utilise sources such as Iona, Wild Goose, Taize, or prayers and meditations or collections from say Walter Brueggemann, Miriam Therese-Winter, Bryan Owen, Myra Blyth and the outstanding Janet Morley. It might use visual aids and encourage more congregational participation beyond several members reading the set lessons of the day.
And who can say that a 'contemporary worship' service might not mis-fire? That service often without the support of well chosen words, sympathetic leadership, not least  a sensitive band, especially keyboards and singers, can be no more than an endless stringing together of supposedly big words, with the favourite - 'Awesome." Indeed 'Awesome. Fortunately CS passes the test.
IN PART TWO TONY JASPER finds the suggested beginning of  'Praise Music' and traces formative artist influences upon the present.
In this second feature on Praise Music Tony Jasper leaves the battle between traditional hymnody and worship songs to focus on the history of the latter. He names the most influential writers and singers whose songs are sung and loved by praise gatherings and beyond to many worshippers..
Musically, if the word is allowed, "Praise Music' that dominates 'praise worship' should not be conflated with "Jesus Rock" and what later became "Contemporary Christian Music," at least in origins, for in contrast to the early days some of present day popular 'Praise' can run with the venom of a fiery rock outfit, and can mean a 'performance' from the band and soloists, and inadvertently pushing the gathering into 'listening' mould. I remember this when my theatre company performed at Spring Harvest. Most of the cast were unfamiliar with the ethos of the event. At worship they were puzzled by how the band and singers dominated. There came a moment when a hymn was announced, and oddly it was The Churches One Foundation. Suddenly the place erupted with hearty singing, but yes, of course, many worship songs are relatively easy to sing, and yes some of Iona is not.
It has to be said that 'praise' style music, some of which critics and cynics alike say pleases people who listen to BBC Radio 2, finds much of its derivation from US Christian circles.  For yet again, something has come across the Atlantic, as it has done musically from rock 'n' roll and blues onwards since the 1950s. Indeed many of the best writers come from the country that gave the world Elvis. Calvary Chapel, California was one of the first worship centres to alert the world that hymn books were being discarded as their worship rang to songs from a Southern Baptist girl, Karen Lafferty. Sometimes it needs one song to bring about change or to cause people to search or want more, and Karen gave to the faith community the still much sung' Seek ye first the Kingdom of God.' In so much as anything can be pinned down that was the moment – the song came, and the hymn was under scrutiny for its relevance in words and music.  There at Calvary, and beyond, young people wanted to baptise the music of the charts and find spirit filled songs.
Some new hymns did arrive, although no one called them that – as indeed I know from worshipping on Parker Street, in Berkley, California. Sadly these days few seem to know the infectious arms swaying 'They'll Know We Are Christian by our Love' (in UK terms it can be found in a collection assembled by Barnet Methodist Church where the sadly missed Martin Caldwell ministered`), but Hymns & Psalms and Songs of Faith thankfully picked up on "Alleluia, Alleluia Give Thanks to the Risen Lord." Into the same groove comes 'I, the Lord of Sea and Sky'.
And of course the Psalmist cry to lift hands high in praise brought in a necessity for screens, for how can you give praise in such manner holding a book high, or at least being able to read it?  Worldly terms and music obtained new words. To anyone familiar and in love with say the development of religious music from the great composers of the 18th an 19th centuries all this must have been anathema, but then one assumes a Ms Lafferty was not doing anything more than singing the faith in the idiom she knew well, and which would be recognised by the millions at the time who bought and heard the output that made the pop charts.
Here in Britain the vibe was picked up by among others the then so 'with it' people of  MG0. The letters stood for Musical Gospel Outreach. Its influence was considerable. One of its aims lay in co-ordinating modern music for worship and to aid evangelism. It encouraged young people to sing the faith in the way they might do should they aim for the pop charts.
Arguably the intent was not to push traditional hymns aside, but once young people sang new words to tunes that were not a million miles from what they heard on Top of the Pops, and some were borrowed,  it was not exactly a surprise that much of conventional hymnody would be for them something out of the ark, which is not to say that certain hymns would not last, particularly if they had drive and energy. MGO had its record label, Key, a magazine Buzz, concert tours and other outlets, so it was able to give exposure to a growing list of song composers, some of whom sang or were part of a group. Astonishingly for some, that was several decades ago, and unfortunately nothing of such extent and influence has taken its place.
Kingsway  remains a driving force and in a changing world remains one of the few  British sources publishing songbooks and releasing albums that take the listener through literally hundreds of new worship songs. In record terms you can for instance purchase '100 Worship Songs' a five CD set or if you don't have a whole morning, there's 50 Worship Anthems, and for a little more time, even 60 Songs of Praise & Worship. The Songs of Fellowship songbooks run with a series of albums that take you into every item, in itself an ideal 'bird's eye' look and hearing 'praise' songs.
My joy at talking with Darlene Zschech convinces me she will not appreciate me saying she is something else – but then she is a wonderful leader of praise and her spirit filled work can be caught on the considerable Hillsong catalogue.. Instrumental versions of praise songs form another part of the Kingsway catalogue, and so among the many, Harp Praise – Everlasting Arms, or Wonderful Love – Classical Praise Quartet;. There is even a Worship 'Chillout Collection of several albums.
In terms of British worship there's 'who else' but Graham Kendrick! and his  ever growing song catalogue, the so sensitive and melodic Stuart Townend - hear his Monument to Mercy.  Soul Survivor releases live albums of worship from their yearly gathering, the Vineyard fellowship have a growing list ( goggle into The Vineyard  National Leaders Conference and music 2017, or listen to Take Our Lives) there is the continuing contributions from Keith & Kristyn Getty (hear their album In Christ Alone).  The Best of Celtic Worship comes with 50 tracks, and if good in content, a little stretched to reach the title.
Just to reel off some names to look out for or go to YouTube, Israel Houghton, Brian Doerksen, Robin Mark, Don Moen, MercyMe,Chris Tomlin, Kari Jobe, Tim Hughes, Lex Buckley, World Wide Messenger– oh, so many others. And, yes, do I dare not  mention Matt Redman? This survey can only go so far, and there is emerging a much harder edged music for worship that can be caught on such albums as A Gospel Funk Hymnal (VOC). Jumping in the House of God (Moved) from Manchester,     and look for Youth Revival, a double CD from Hillsong that grooves and grooves, and gives another facet to 'praise' gatherings. This is floor-disco music with gospel. It at the other end of the spectrum from say 'How shall I sing that Majesty'.
BOOK REVIEW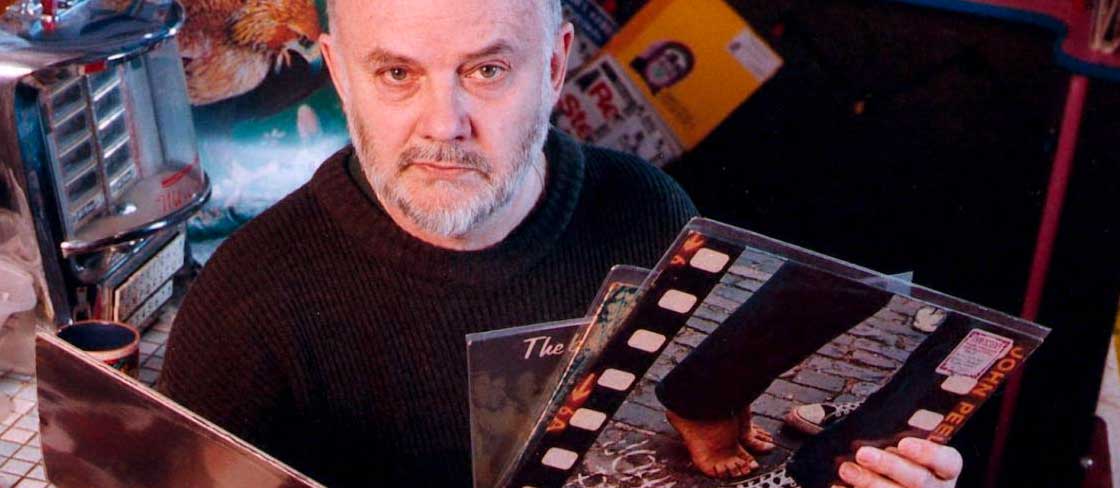 JOHN PEEL
John Peel did not like my book Understanding Pop. He had no time for those who sought to explain something to the uninitiated, in my case, teachers, ministers and social workers. For Peel, these people should experience, and not acquire some awareness second-hand. Paradoxically, Peel set about informing the nation that there is more to contemporary music than bubble-gum pop, and mass marketing of songs and artists. As the book 'Good Night and Good Riddance – How Thirty-Five years of John Peel helped to shape modern life' (Faber & Faber) so well illustrates, the late and  revered disc jockey brought into public domain what singer Robert Plant terms a "a vivid and dynamic variety of music."
Author David Cavanagh has produced an extraordinary 620 page book that both outlines and comments on endless Peel programmes that fell beneath the titles of The Perfumed  Garden, Top Gear, and much more than the others The John Peel Show. So we get play lists, and comment, and we receive notes on how the nation was faring at the time. It's a 'dip' text – fascinating and commendatory.  Essential for any collector, yet very readable in its entertaining style to anyone who lived through times when Peel was 'the' man who brought us great music.
Along with his brilliant and knowledgeable producer  (who deserves much more praise than the few lines in this book) John Walters, JP programmed many an artist and band who eventually became big time, although again paradoxically, he never liked the world of fame to which they would elevate.  At the same time, and more important, he gave airtime to the small outfit who in many respects had no 'pluggers' and record company finance to push their cause. That of course did mean that at times he played the not very good, but yet. Some 300 broadcast details  between 1967 and 2004 find space.
Cavanagh likes a religious twist to his chapter titles.  So we have 'The Garden', 'The Lord's Day', 'The Seven Categories' 'The Conversion Job' 'The Untouchables' and those are just some from part one of a three part book.  The second of these titles sees a brief dissertation on 'Christian' England, and the reverential air of a Sunday a long time back. Into the tranquil of course came Peel and the day became lighter. I feel Peel might wince and give a wry smile to the claims of the sub-title but undoubtedly he affected many in musical taste and life itself. But from personal experience I know that in the team of Radio One there were others who programmed  other kinds of music such as hard rock or Philly and even pure pop, who enthused, and whose choice brought joy to our lives, and so to could claim to exercise influence. Among these there was Tim Blackmore, and he would become an executive producer at Radio One. That said, Peel is well served by Cavanagh and the book is a worthy piece of work and publication.
THEATRE QUOTES
She adores one of Carter's repeated lines in the book. " what a joy it is to dance and sing!" This, for Rice, is a "simple truth" of this life. Holly Williams on Emma Rice. Wise Children (adaptation of the novel by Angela Carter).
I paper/October 16. 2018. P 26.
It was like walking through honey, the atmosphere seemed so thick. Every particle of dust – and there was plenty of dust – took on a life and magic.
Steven Payne(first theatre walk on stage memory) New York Times, August17. 2018. P14.
My day job is to pretend to be someone else.
Emma Thompson.Newsnight October 19. 2018.
Allisa Swanson/costume designer carefully gets my legs in my pants, pulls my tops over my head, buttons my coats and offers her shoulder to steady myself. I have multiplesclerosis.
Slema Blair. I paper, 0ctober 22, 2018. P 3.
Kneehigh to me represents the windswept cliffs of freedom, a process of play and emotion.
Ian Ross speaking about the Cornish theatre company, for some time the home of Emma Rice. I paper, October 16. P 25.
In reality, it was just because we'd become friends, or were spending too much time apart – amd that's actors for you – that's our industry. I mean, how many actors do you know that stay together?
Anna Friel, on parting from David Thewlis, and thoughts in general. Red magazine, November 2018. P49.
I wouldn't really call myself a celebrity....
that's a title that's networked on you as opposed to something you might choose yourself.
Charlotte Riley, Red, November 18. 2028. P59.78
`My greatest fear is having a self-centric life, in which my existence didn't serve the presence or make it easier for any other human to manoeuvre through this world.    
Yara Shahdi.Elle.November. 2018. P155
A small  but helpful scholarhip for a drama student or singer to study singing.
Vanesa Redgrave. Guardian Weeked September 15. 2018. P 10. (Asked how she would like to be remembered).
My dad loved playing Watson but he did get bored of saying "good heavens ,Holmes.
Tim Burke, Telegraph,Review. October 27. P12.
Even at the end of her life, when she didn't want to get out of bed I remember her finding an advert in The Stage. The Finborough or somewhere needed a corpse, and she thought "I could do this."
Tim Burke speaking about his mother, Telegraph. Review. October 27. P12
Becoming an actor has given me an insight into my own failings.
Mark Shenton. The Stage. October 11. 2028. P12.
When studios hire now, they 'll ask themselves – as they rightly should – is there a woman who is qualifed for this job.
Greta Gerwig. The Observer. The New Review, February 4. 2018. P8.
People are opening their minds to different kinds of relationships.
Jonathan Bailey. The Times, Times 2 October 31 p8.
To prevent actors from 'over-thinking' Shakespeare, she (Cicely Berry) would get them to speak their lines while kicking a beer can around the room.
Obit, no writer named, Daily Telegraph, October 6. P 27.
Today's cockeril is tomorrow's feather duster.
Chris 0'Dowd (speaking about casting) The Observer Magazine. November 4. 2018.p 23
I don't feel angry
I just feel that I had lots of colours and film makers only really wanted three of them.
Diane Lane. House of Cards final season, Guardian.G2 November 6. P4.
There aren't a lot of scripts out there about sadomasochist men  Jamie Dornan. Red. December 2018. P 77.
I get very frightened, I play so late on, in part 11, there is time for all the fears to creep in – which is no bad thing.
Vannesa Redgrave, FT Weekend, Life, 10/11 November 2-18. P 3. (the revered 81 year-old speaking in-part about her gruelling schedule in The Inheritance.)
I have been through many times when I didn't have the opportunity to play roles that were satisfying, strong or interesting
Nicole Kidman FR Weekend. Arts.24/25, 2018. P15.
If it's Christmas, then it must be 0livia Coleman.
Adam Sherwin. I paper. November 27, p 13.
I do find that there's a lot less yelling.
Diane Lane. GuardianG2, November 6. 2018. P 4. (reply to question: How have sets changed since people started speaking out).
Why do we only have to be the sassy black friend
Tessa Thompson. I paper. November 30. p 35.
You have to squint quite hard to make a Martin McDonagh play look like a Sarah Kane play.
Mark Ravenhill. FT Weekend. Arts.December 1. 2018. P 15.
It still feels like a challenging, dangerous place. You're never quite sure if you're cool enough for school.
Mark Ravenhill speaking about the Royal Court Theatre, London. FT Weekend,  Arts,December 1. 2018. P 16.
My parents were extremelty supportive, but by saying: we're not going to help you with your acting.
Rachel Aroesti, The Guardian, G2,November 28, 2018 p 8.
It is invariably the secular dramatists who write best about spiritual matters.
Michael Billington, The Methodist Recorder, November 30, 2018, p16.
We had lots of technicians- now one person controls everything.
Duncan Jump. The Stage, November 29. 2018. P 42.
To bring the sunlight into the darkness of a tragic play requires such a confidence and lightness of touch.
Simon Godwin.  The Stage, November 29, 2018. P 14.
 
BREXIT PRAYER TIME
It seems genuine and not a revue sketch.  English Cathedrals were asked include this vacuous prayer in service deliberations on the day if the important House of Commons vote on December 12.
GOD...BRING US TO THAT PLACE OF FLOURISHING WHERE OUR UNITY CAN BE RESTORED, THE COMMON GOAL SERVED, AND ALL SHALL BE MADE WELL.
Dominic Lawson a regular writer in The Sunday Times commented " Worth, a try, I suppose."
GARTH HEWITT FOUNDATION
NEWS FROM GARTH
The myth of redemptive violence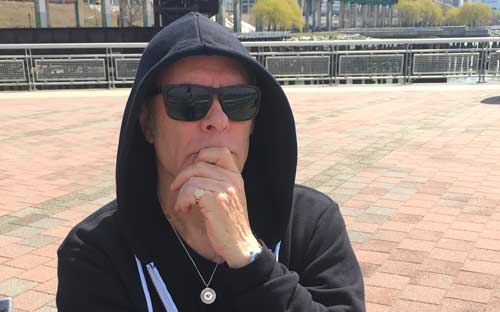 Around Remembrance Sunday I was reading some articles that brought home to me the huge quantities of weapons and violence in which our country and so many other countries are involved. Places like Yemen and Gaza were on my mind. Gill and I went to our church, St Botolph's Aldgate in London, on the 11th November, and Andrew Richardson, the Chaplain, preached reminding us of "The Myth of Redemptive Violence." This phrase, from the theologian Walter Wink, is a constant challenge to the speed with which our societies rush towards violence as some sort of solution.
Andrew went on to say, "War continues to wreak its terrible havoc on human life and community... War ultimately is never about victors and vanquished, it is wholly about death and waste, the failure of relationships, of life itself made into a battlefield. It marks our failure to be properly human and children of God together, and it is sin because life and creation, the very gifts of God to us all, are taken and by bomb, bayonet, bullet or gas, so very easily destroyed."
One of the articles I read was by Alan Storkey from July 2016. It was called "War Does Not Work, Disarmament Does" and includes these words: 
"Mutual disarmament is easier than mutual armament. Swords into ploughshares is more practical than arms races which bankrupt nations and produce catastrophes… Those who back arms are weak, because they are wrong; they can only destroy. Making peace works. Nation can speak peace unto nation and we can learn war no more… War does not work. Industrial militarism is destroying the planet. We can move from the woe of war to worldwide disarmament and the manufacture of peace. That is our Christian calling."
Another challenging article was by the great journalist Robert Fisk on November 19, called "We Remember the Great War, While Palestinians Live It" ending with these words: 
"As for the Palestinians who wake up every morning today in the dust and filth of the camps of Nahr el-Bared, Ein el-Helwe or Sabra and Chatila in Lebanon, Balfour's pen scratched his signature on this document of dispossession not in 1915, but only last night. For these refugees, still in their hovels and shacks as you read these words, the First World War never ended – not even now, today, on the hundredth anniversary of the "end" of the First World War."
Both very important articles reminding us to remember our history and to challenge the nightmare of the arms business bombing Yemen and Gaza even as we remembered "the war to end all wars".
At the end of our service in St.Botolph's we said this simple prayer before the blessing to send us out at the end of our Remembrance Sunday service:
Let us commit ourselves to responsible living 
And faithful service 
Will you strive for all that makes for peace 
We will 
Will you seek to heal the wounds of war 
We will 
Will you work for a just future for all humanity 
We will
Visit to Bethlehem
Gill and I have just had a most moving visit to Bethlehem. Local people were kind enough to put on a gathering for me, to say thank you for my work and commitment to Palestine. This was all brought together in the Walled Off Hotel – Banksy's hotel – by Wisam Salsaa, Manager of the hotel, former tour guide, longtime friend. His wife Rasha was also there, and one of my Goddaughters, Leah. It was impressive to be with such a good group of friends and partners; right in the shadow of the huge separation wall, but here they were, all committed to beautiful ways of non-violent resistance.
Friends and partners included Zoughbi Zoughbi and Elaine from Wi'am, Elias D'eis from Holy Land Trust, and Abdelfattah Abusrour from Alrowwadd, Dr. Mitri and Najwa Raheb – Pastor of the Lutheran Christmas Church, Dr. Mazin and Jessie Qumsiyeh - Founder of the Palestine Museum of Natural History, Jeff Halper - Israeli academic and Founder of ICAHD, Marwan Fararjeh - friend and tour guide, Rafat Shomali from Peace by Piece, Rev Danny Awad from Baraka Presbyterian Church and Dr. Bishara Awad, President Emeritus of Bethlehem Bible College.
Mitri Raheb summed up the appreciation, saying, "When I think of you, Garth, three things come to mind. The first thing is creative resistance - you use songs as a way to resist. Secondly a commitment to justice - justice for Palestine but also in so many other places that need it. The third 'C' is Christian values - because all that you do comes out of the Christian values that you believe. These values in your songs and writings are not exclusive but they are inclusive, they are human values." 
Mitri concluded by thanking Gill also for being such a friend to Palestine, echoing the words of many of the other speakers.
Amos' Director Chris Rose sent a very moving message for the occasion – 
"Your commitment to the Palestinian people through your friendship, music and writing has been and still is hugely important. Your commitment to speaking out is inspiring and has given others confidence to do the same."
The whole evening of such warmth and friendship in the shadow of the apartheid wall made me think if there is any hope today it is with people like this. These are the hardest times Palestinians have faced since 1948 – they are still there, still forgotten, still ignored, and their land is still being taken. As I sang No Injustice Will Last Forever that night, I was looking out the window and a patrol of the Israeli Army passed, right by the devastating apartheid wall – signs of the harsh occupation - in stark contrast to the love and steadfastness being expressed within the Walled Off Hotel. So deep thanks to the friends who gave such a warm and meaningful evening – because of you Palestine is always in our hearts."
Rabbi Jeremy Milgrom and Rachel's Tomb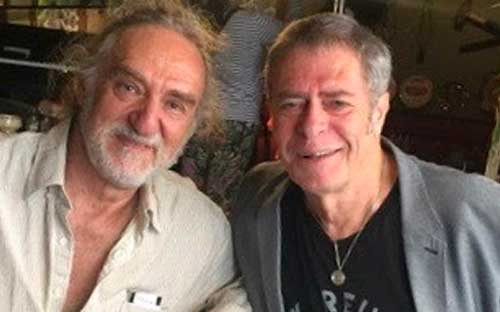 Rabbi Jeremy Milgrom with Garth in the Walled Off Hotel
While in Bethlehem we had a message from another old friend, Rabbi Jeremy Milgrom. Years ago we used to meet up regularly, and I've quoted him several times in my books. On our last day this time we managed to link up again. He came out to Bethlehem with a Palestinian friend of his. It was great to be reminded of the warmth of his friendship, his utter rejection of oppression and violence, and his support for the Palestinian people – it was very good to be in touch again.
There's a song I'm including on tour at the moment called Song For Miriam which is about my first visit to Gaza, and in the chorus I quote some words of Rabbi Jeremy – he had talked to me about the soul of their nation being at stake because of what they were doing to the Palestinian community, and so the chorus of Song for Miriam says:
What's this war against the children, against the women too, 
What's this war against the refugees – what's it do to you? 
What's it do to your soul, soldier boy, power only makes you weak, 
You've become what the gun has made you, 
You're the one we fear to meet, you're the terror on the street
Talking to an Israeli soldier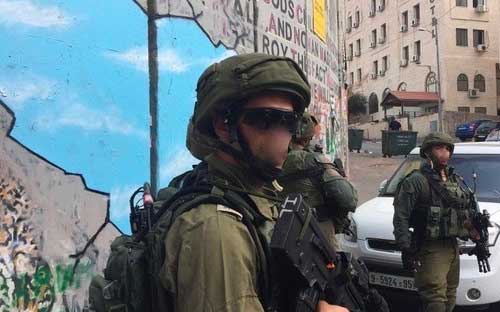 Soldiers on the streets of Bethlehem
While we were in Bethlehem there was a Jewish festival connected to Rachel's Tomb. Rachel's Tomb is right beside the Walled Off Hotel, but you can't get to it from the Palestinian side because it's blocked off by sections of the huge separation wall. Because it was a Jewish festival the army closed down access to Bethlehem.
The first historically recorded pilgrimages to Rachel's Tomb were by early Christians, and Christians talked about devotion to the shrine by local Muslims and then later also by Jews. It was seen as a place to be shared and it was held in esteem equally by Jews, Muslims and Christians.
The OHCHR (Office of the United Nations High Commissioner for Human Rights) Special Rapporteur John Dugard noted that: "Although Rachel's Tomb is a site holy to Jews, Muslims and Christians, it has effectively been closed to Muslims and Christians."
I had visited it before the separation wall was around it and wrote about that visit in my book A Candle of Hope. I also quote Rabbi Jeremy, "Today Rachel's Tomb has been turned into a fortress - it's a monument to our insecurity, to our inability to recognise the Palestinians would respect Jewish yearnings and worship and attachment to a holy site. If only we allow them to do that and not turn it into another act of 'this is mine' and 'I'm gonna call the shots'. My Palestinian friend Omar mentioned to me the other day that they used to call the tomb 'our mother' - that this was shorthand for the tomb. Now we could all relate to Rachel as our mother, and then we would be one step closer to understanding."
At one point as we were walking beside Wi'am Conflict Resolution Centre a gate opened in the separation wall and we were looking at the road that was the main entrance to Bethlehem a few years before, and there was Rachel's Tomb and a group of Jewish Orthodox people. There was an army patrol in front of the gate and I chatted to one soldier and asked him who could visit Rachel's Tomb, and he said it was for Jewish people only. But as he said that I could see it in his eyes, that he had the good grace to be embarrassed.
Prayer for Advent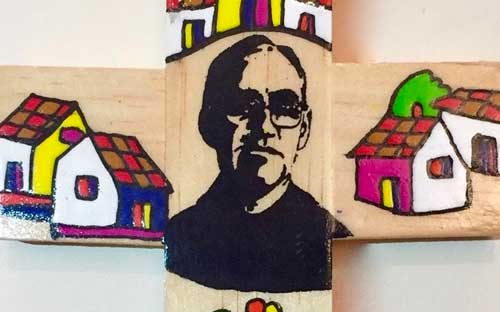 I love the Advent words of Oscar Romero and since this is the year in which he has been made a saint, I think it would be the correct way to finish this newsletter and I believe these words are needed more now than ever.
Advent should admonish us to discover 
In each brother or sister that we greet, 
In each friend whose hand we shake, 
In each beggar who asks for bread, 
In each worker who wants to use the right to join a union, 
In each peasant who looks for work in the coffee groves, 
The face of Christ. 
Then it would not be possible to rob them, 
To cheat them, 
To deny them their rights. 
They are Christ, 
And whatever is done to them 
Christ will take as done to him. 
That is what Advent is: 
Christ living among us. 
Oscar Romero