HAPPY  NEW YEAR
TO THE MILLIONS WHO READ THIS MAGAZINE!
THE END OF THE CHRISTMAS RECORD
So it's over – Christmas!
Question: Is it the end for Christmas records with a  message? Look around you in 2012 and what did you hear and see on CD new release wracks? – well hardly anything, save the old cuts repackaged.  So it is that  the long established religious songs and hymns find their way onto those triple CD Christmas sets that also feature seasonal wishes and wants by the way of  such songs as Winter Wonderland, Twelve Days of Christmas and Frosty the Snowman. They congregate on the shelves of a price-cutting supermarket. 
Where is something such as Happy Xmas war Is Over from Lennon and the  Plastic 0no Band or the delicious slice of song and delivery from the Pogues and Kirsty McColl, Fairy Tale of New York.
Yet, having said there is a dearth of goodies. An article in the 'I' newspaper said Noddy Holder (Slade) receives around 60 demos a year for potential Xmas hits. There you go!
HEY HOW ABOUT THIS!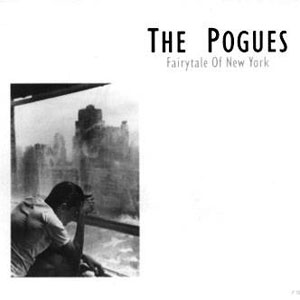 On January 1, it was announced that after 25 years, The Pogues sell a Fairytale million copies  . According to the British Charts Company it reached this milestone after reaching number 12 in the chart this Christmas. Amazingly it all coincides with the 25th anniversary of its release. It became the 126th million single in the British charts. The only downer of course rests in the sad death of vocalist Kirsty MacColl at the age of 41 in 2000 in a boat accident. Her father is the revered folk singer Ewan MacColl. Her great British hit single was There's A Guy Down the Chipshop Swears He's Elvis. She also made the top twenty with A New England and Days. Fairytale of New York did make number two in 197 with further entries in 1991 and 2006.
 I'm Your Man: The Life of Leonard Cohen – Sylvie Simmons (Jonathan Cape)
The New Penguin Book of English Folk Songs – edited by Steve Roud and Julia Bishop (EFDSS. Penguin Classics)
Governing the World: the History of an Idea – Mark Mazower (Allan Lane)
Faith in the Public Square –Rowan Williams (Bloomsbury)
Dennis Hopper –Peter. L. Winkler (Robson)
Speaking Christian – Marcus J Borg (SPCK)
Waging Heavy Peace – Neil Young (Viking)
JASPER'S  CURRENT MUSIC PLAY
(N- New: 0-Old)
Retrospective – The Best of  Buffalo Springfield  (Atco) 0
Stuttgart Meditations – Charlie Mingus (Get Back) 0
Sing the Delta – Iris DeMent ( Redeye N
Martha Wainwright – Come home (V2) N
Various – Protest (Proper) N
Spirit – 0riginal Album classics (Sony) 0
Celebration Day - :Led  Zeppelin (Atlantic).N
 Swing – Beginners Guide TO (Nascene) 0)
The Demonstration of  St Martin – Martin Rossiter (Drop Anchor) N
Marr and Friends – Johnny Marr (Mojo freebie)