JASPERIAN THEATRE
The new Lent and Easter production for 2013
NAILING EARTH AND HEAVEN TOGETHER
MUSIC AND WORDS: tony jasper
Over the years the Jasperian Theatre Company has produced a series of plays for Lent and Easter. These have been extremely well received, and churches and groups have spoken of positive input into the life and witness of their fellowship.
JTC is a professional theatre company that offers its work to theatres, schools, churches and beyond.
BOOK NOW - ENQUIRIES 01736741333
TOURING LENT/EASTER.
BROCHURE COVERING 1992-2012 AVAILABLE
GENUINE ENQUIRIES ONLY.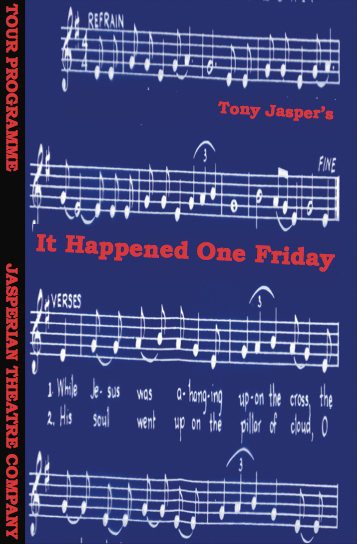 | | |
| --- | --- |
| | |
| Linda Slade | Nicola Blackman |
JTC SHORT TOUR OF
IT HAPPENED ONE FRIDAY'
The CENTRE, NEWLYN, PENZANCE.
Renowned West of England theatre critic Frank Ruhrmund reviewed the production for The Cornishman. These are a few of his comments.
At the outset of his piece the theatre critic decried the low attendance.
It said everything for the dedication and professionalism of the three members of the cast that they performed so admirably…its success relied on the words and those who delivered them…two members of the cast had close American connections which added a transatlantic and international flavour to the whole thing…both Linda Slade and Nicole Blackman were excellent….Very much a play for today, one which emphasised the fact that "nothing in life is simple, and few of us can start any day with a seeming clean sheet", while looking at the whole question of giving one's life for the greater good of "meeting head on the sceptre of being misunderstood", of coming to terms with the fact that 'resurrection comes through crucifixion." ….It also raised the question of where on the night were all the believers or non-believers, too, for that matter?
CAST: Nicola Blackman, Tony Jasper, Linda Slade. It was directed by Robert Meadwell.
JTC will send a programme free for the sending of a C5 stamped addressed envelope with a second or first class stamp. Send to JTC, Milsrof, Eglos Road, Ludgvan Churchtown, Penzance, Cornwall. TR208HG.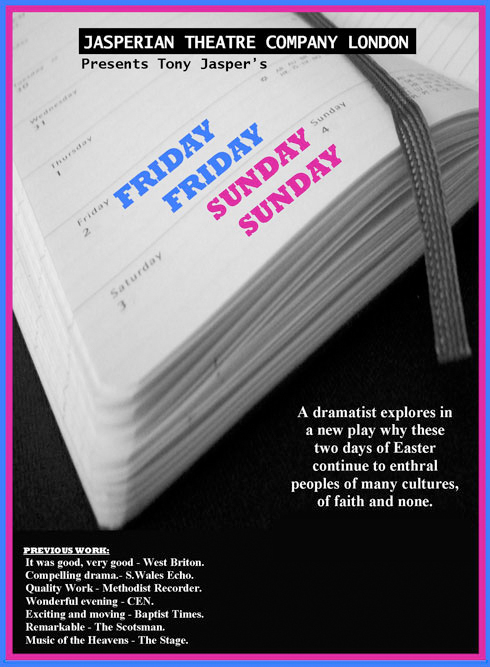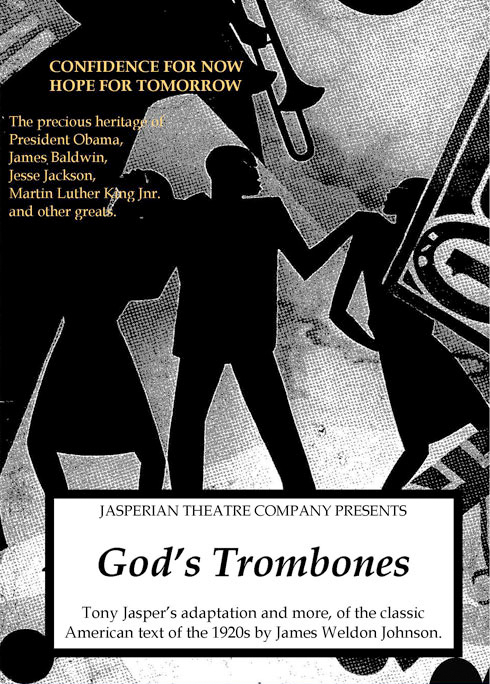 TOURING AGAIN AND IN 2011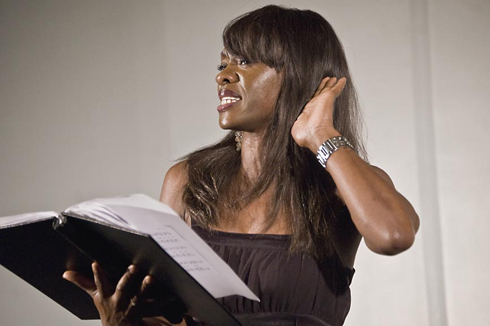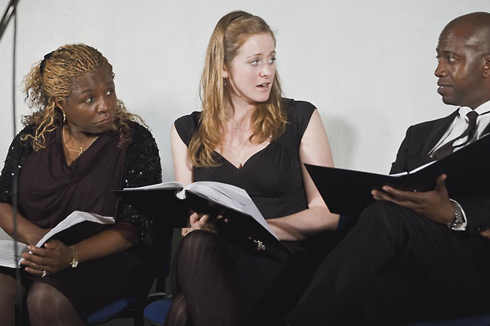 GOD'S TROMBONES
(James Weldon Johnson)
FINDING CONFIDENCE FOR NOW,
HOPE FOR TOMORROW
For all peoples
What joins together the celebrated trio of President Obama, Jesse Jackson and James Baldwin outside of the obvious? This powerful piece gives the answer. The preacher. This is a classic and extraordinary written work from the Afro-American literature. To send for more details go to Contact. Bookings currently being taken. Limited period only.
Touring OCTOBER.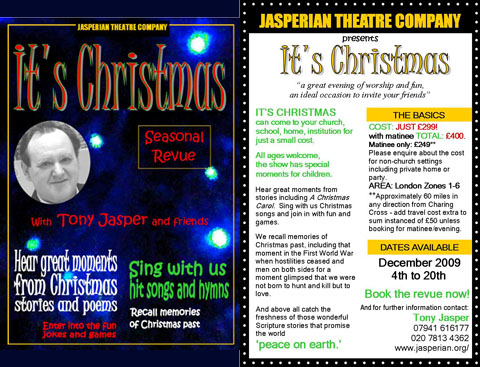 TOURING AGAIN AND IN 2010
2007/2008 Major Production