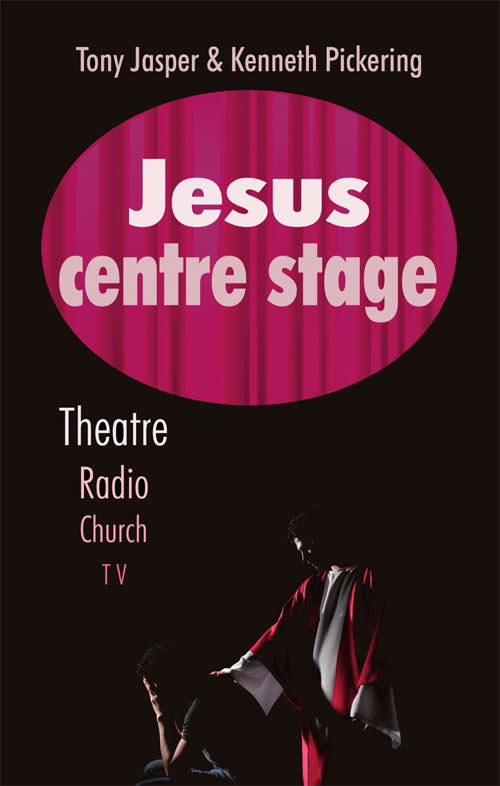 PUBLISHED: NOVEMBER 8 2010 PUBLISHER HIGHLAND ISBN 97-1897913--87-1 The first ever book to trace the continuing saga of Jesus as given and written about and portrayed dramatically. REVIEWS: IT IS AN OUTSTANDING BOOK Anna Wheeler. Magaxine of Religious Drama Society of Great Britain. It is a powerful overview of the ways in which Jesus has been portrayed in drama.' Isobel Hariades: Frognal Review. 'Jasper and Pickering's book explores the rich tradition of dramatic portrayals of Jesus.' Martin Hazell: Reform. 'Comprehensive study, It is both interesting and very thought- provoking.' David Gamble: Methodist Recorder. 'Thoroughly enjoyable......the net cast far-wide.' Keith MILES. adapter of Coventry Mysteries, script-writer for The Archers over 12 years. For a copy of the book, please enclose a cheque or postal order for the sum of £11.99 to include postage, or from your local bookshop, published by Highland Books, and send to BOOK ORDER, Milsrof, Eglos Road, Ludgvan Churchown, Penzance, Cornwall, TR208HG. Three or more copies £10 each book, total £30.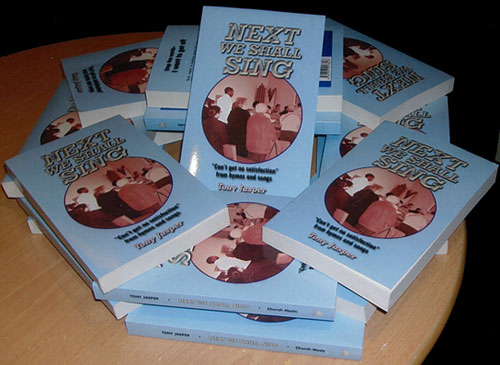 NEXT WE SHALL SING
Tony Jasper
PRICE:  £9.99
BOOK PUBLISHED  MAY 16 08
( Highland Books)
ISBNISBN - 10: 1 897913 82 6      13: 978 1 89791382 6
£9.99 shop purchase
To order by mail please enclose a cheque payable to Jasperian Publishing for £11.99 to include postage and packing., 29 Harvard Court, Honeybourne Road, London NW61HL.
REVIEWS
CHRISTIANITY BOOK REVIEW BY PAUL DAVIS  Independent House Church/New Christian Music Association.
NEXT WE SHALL SING (BOOK)
As a lifelong fan of hymns, choruses and sacred songs, as expected, the experienced Tony Jasper's informed critique of the near-and-distant history of the subject is an essay worthy of contemplation. This fascinating commentary is high on subjective attitude (Tony's); objective documentary (well researched); and nostalgic anecdote. The book will be snapped up by the serious "hymns- buff" who enjoys the history-of-the-genre and its theological dissection. Here's an arty book that displays the author-broadcaster's perspective on where he thinks hymnody and choruses ought to go. Tony successfully carved his unique career path closely observing the subject-matter over serveral decades so his controversial book of critique-and-sentiment, plus a healthy dose of humour and cynicism, is hard to put down. Tony's complex comments sometimes cut-to-the-heart with a rough edge which makes fascinating reading
LUTHERAN CHURCH
The Rev'd Jana Jeruma-Grinberg
."NEXT WE SHALL SING", Tony Jasper's latest book, is by turns highly
erudite, amusing, knowledgeable, rueful, opinionated and passionate; above all it breathes Jasper's lifelong love for hymnody of all kinds. '
JOHN MARSH  MODERATOR ELECT UNITED REFORMED CHURCH
"Jasper's passion for hymns in worship that are as true to life's realities as to Gospel perspectives makes this book as restless, compelling and visionary as he is.  'Next We Shall Sing' is bound to annoy and inspire in equal measure.  Hymnological applecarts are upset like moneychangers' tables.  'Old hat' hymns and 'new praise' songs are considered with both scorching criticism and warm sentiment, to be either brutally assassinated or thoughtfully rehabilitated.  Jasper's cry is for a new deal, hymnologically."
PHILIP CARTER METHODIST MUSIC SOCIETY
You have attempted a huge task, and suceeded, with honours.  Several times I found myself heartily disagreeing with your comments only to then discover, in the next chapter, or next page even, that you present the opposite point of view with equal wieght and impartiality.
HOWARD MELLOR FORMER PRINCIPAL CLIFF COLLEGE
Tony Jasper is renowned for his perceptive writing on Christian music and
hymnody. His views on hymn writing will give guidance to authors and help to those who week by week choose the diet of hymns for our congregations. This book will delight some and scandalise others, but no-one should doubt the commitment of the author to jolt the modern church into singing its faith with both heart and mind in gear.
A personal, entertaining and often controversial take on hymns by a writer who knows them intimately.  But from his standpoint as a much-published author on contemporary music, he has plans for their makeover.  Some of his proposals I can't support but many others get my vote.  Be prepared for a roller-coaster ride!
Douglas Galbraith
Ecumenical Officer  Church of Scotland
SALVATIONIST
Major Bruce Tulloch
Let it be said immediately that this book is likely to provoke both traditionalists and modernists in equal measure. The author is not afraid to state his opinion that much of what is sung in churches today is an unbridled diaster. ..this book has valuable things to say, and Tony''s essential plea for relevance is timely.